Eating out at a restaurant is fun, especially when you pick a fun way to start your meal from the appetizer menu! Appetizers are everyone's favorite part of the meal, so why not bring some of that fun home and pick out easy appetizer recipes for dinner each evening? Not only can this keep hungry children satiated while you cook, but this can also be something nice for you to snack on while you are waiting for the oven timer to go off.
No matter what your tastes might be, there are appetizers out there to suit every palate. We have compiled a list of 50 easy appetizer recipes for you to try with any meal. Whether you want something easy, for a party, or just a little extra something savory, you are bound to find the perfect appetizer on this list.
What Are Some Common Easy Appetizer Recipes?
As previously mentioned, the appetizers you can make are almost endless! But there are a few appetizers that tend to pop up more often (and are typically easy appetizer recipes to make) and they are as follows:
Bruschetta
Stuffed Mushrooms
Shrimp Scampi
French Fries
Garlic Bread
Spinach and Artichoke Dip
What Are the Most Popular Easy Appetizer Recipes in America?
As you travel, you will find that appetizer menus look a little bit different everywhere you go. In an American restaurant, you are likely to find fewer appetizer items like Bruschetta and more options similar to spinach and artichoke dip. This is because American appetizers tend to feature more meat and cheese than other cultures.
Here is a list of the most popular easy appetizer recipes in America that you will probably find at a popular American chain restaurant.
Mozzarella Sticks
Hot Wings
Mac n Cheese Bites
Bean Dip
Meatballs
Pigs in a Blanket
What Are the 7 Types of Appetizers?
Did you know there is actually a classification system when it comes to appetizers? No joke! There are seven different types of appetizers. Learn a little bit about each type so you can be sure you are serving the right easy appetizer recipes type for your event.
Cocktail Appetizers
Cocktail appetizers are called such because they are typically served with cocktails(or juice cocktails for those that don't drink alcohol). They can be made out of almost anything, but they are classified in this group because of their attractive look that appeals to the eye.
Cocktail means mix, so a fruit cocktail, shrimp cocktail, and a seafood salad would all fit into this category. But in order for it to be a cocktail appetizer, it needs to be bite size, like a shooter of seafood salad or shrimp cocktail is a good example for this category.
Canape
A canape is another bite size appetizer, but it is specifically one that has three parts. A canape appetizer should have a base, a spread, and a topping, but can be served hot or cold. Bruschetta would classify as a canape because it is a small piece of bread with a savory spread, then topped with a tomato topping.
Hors d'oeuvres
Known for their French name, Hors oeuvres are characterized by their simplicity. You should not take as long to make these as you would a canape or a cocktail appetizer. They are also traditionally highly seasoned, designed to awaken the palate before the main course.
Relish/Crudité
Relish and crudité items are typically served on a tray, and there are options to choose from. They can be pickled items, or raw items, but should not contain any cooked items. For best results, these are best served in a deep boat shaped dish.
Salads
Salads are only classified as an appetizer when they are served in bite size portions. This is easily done with large pieces of lettuce that you can build a mini salad on, or a salad like cucumber salad, that can be eaten with a toothpick or cracker.
Chips and Dip
This one is a bit self-explanatory. If it's got chips, and something to dip the chips into, then it qualifies as a chip and dip appetizer. These are a fan favorite and commonly found as popular party appetizer idea.
Soup
Soup, like salads, can be considered an appetizer depending on its size. If it's a large bowl, then it becomes part of the meal. But there are plenty of ways to serve soup in small individual portions. You can make soup shooters, or go with an Asian flair and make soup dumplings.
What Ingredients Are Used to Prepare Easy Appetizer Recipes?
Appetizers can be anything from small bites of meat and cheese, to a fancy menu item split into tiny portions. Either way, the list of ingredients used to prepare appetizers is endless. But there are some ingredients that tend to show up in easy appetizer recipes more than others.
These ingredients are:
crackers
small bites of bread
puff pastry
butter
cheese
chicken
caviar
foie gras
shrimp
bacon
How Do You Prepare an Attractive Easy Appetizer?
If you haven't noticed, one of the main attributes of a good appetizer is that it is appealing to the eye. Thus, you should take some extra time to make sure your appetizers look amazing before you put them out on the table!
Here are a few tips to have your appetizers looking the best they can be.
Use toothpicks, or small skewers to hold food in formation.
Choose cute, small, and nonconventional plates and bowls to serve your appetizers on.
Use garnishes like parsley and flowers to decorate the plate.
Take the time to arrange your appetizers in a cute formation.
Pair brightly colored appetizers with darker colored appetizers to make the entire table appear colorful.
Sounds easy right? Well, without further ado, it's time to take a look at some of the easy appetizer recipes so you can experiment with serving attractive appetizers!
50 Best Easy Appetizer Recipes for Any Meal
1. Easy Bacon Wrapped Stuffed Jalapenos Appetizer Recipe
There is nothing like a little bacon to get your appetite ready for your meal! And these Bacon Wrapped Stuffed Jalapenos definitely do the job.
They are creamy, salty, savory, and slightly sweet all in one. This recipe is for a baked version, but you could additionally make these on the grill as well.
2. Carne Asada Fries
Looking for an easy appetizer idea to keep the kids occupied while you cook? Carne Asada Fries are the perfect appetizer for you.
They're simple to make, quick to serve, and won't create too many extra dishes! But the cool part is, they are also nutritionally balanced enough to serve as meal when you just want something fun the whole family can enjoy on a Friday night.
3. Garlic Parmesan Wings Appetizer Recipe
Wings are the original party appetizer. Why shouldn't they be? They are tasty, don't require utensils, and they're a fan favorite!
But when you don't want everyone walking around your home with messy sauce fingers, consider making these Garlic Parmesan Dry Rub Wings. They've got all the flavor and fun of saucy wings without the mess. Give them a try on your next game day party—your guests will love them.
4. Roasted Jamaican Jerk Cauliflower
Sometimes it can be difficult to make party appetizers when you have a lot of people with dietary restrictions at your event. This recipe for Jamaican Jerk Roasted Cauliflower is perfect for any event as it is vegetarian, vegan, and even gluten free! It doesn't matter who attends, they'll be able to enjoy this crunchy appetizer, so might as well make a little extra!
5. Onion Dip
When it comes to party appetizers, you are likely looking for a simple way to feed a crowd. There is no better way to do this than with this Onion Dip recipe.
It does take 45 minutes to make, but once it is made it can be served with chips, crackers, or even veggies making it one of the most versatile appetizers out there. Your guests will definitely hover around this dip until it is gone.
6. Buffalo Chicken Dip Appetizer Recipe
While on the subject of dips, take a look at this Buffalo Chicken Dip recipe. It's quicker to make than the onion dip, but is just as versatile and can be paired with bread, chips, or crackers (don't rule out veggies just yet either!)
It's creamy, but also has that spice that everyone is craving. Better yet, make both this dip and the onion dip and let your guests try both with their dipping vessel of choice!
7. Fajita Steak Nachos
Need a savory appetizer recipe? Stop your search with this idea for Fajita Steak Nachos. Grab your chips and load them with beans, cheese, steak, and veggies for an appetizer that will keep everyone full for the entire game.
They only take about 20 minutes to cook, so if you have some vegetarians at your party, it's a piece of cake to make two trays of these—one with meat and one without to keep everyone satisfied.
8. White Cheddar Pimento Cheese
Dips are usually a favorite when it comes to party appetizer ideas, but when you get tired of the typical dips, it can be tough to know where to look next. Try this recipe for White Cheddar Pimento Cheese.
It's made with a mix of cheeses and contains pimentos, bacon, mayo, and garlic to depend the rich flavor. It's recommended to serve this dip with crackers, but veggies or chips would be tasty too!
9. Zucchini Fritters
This recipe for Zucchini Fritters is another great appetizer recipe. These bite size fried veggie bites are perfect for kids and adults alike, and can be served with or without dip!
They do take a bit of prep work to create, but you can make them ahead of time, freeze them, and deep fry them on the day of your event—making these truly a hassle-free appetizer.
10. Taki Topped Stuffed Jalapenos
When designing your appetizer menu for your next party, these Taki Topped Stuffed Jalapenos must absolutely be on it! Stuffed with cream cheese as well as two types of shredded cheese, these are just the savory appetizer you were looking for. They aren't for the lighthearted however, because the crushed Taki chips you put on top will pack a serious punch!
11. Summer Charcuterie Board
No appetizer layout would be complete without a charcuterie board that is not only delicious but also eye-pleasing! Charcuterie boards are great because you can fill them with whatever you want and they are great practice when it comes to arranging appetizers to make a beautiful layout. This Summer Charcuterie Board is specifically for the summer season, but you can make a charcuterie board for any season you please!
12. Hot Chocolate Charcuterie Board
Speaking of charcuterie boards, you can even make your beverage bar into one! Check out this good appetizer idea for a Hot Chocolate Charcuterie Board.
This way you aren't bogged down with making an additional dish as an appetizer, but friends and family still have something to keep them occupied while you finish cooking dinner. Or, maybe this is best saved for after dinner if you intend to put out all that candy!
13. Spanakopita
Spanakopita is a Greek appetizer made out of a flaky crust and stuffed with spinach and cheese. It makes a great appetizer for a sit-down dinner where everyone will be served a plate, but it can also be pre-sliced and put out as a party appetizer as well. It does take a little bit of skill to get the shape quite right, but at least you can have delicious mistakes to eat while you learn.
14. Million Dollar Dip
This appetizer recipe for Million Dollar Dip is likely one you are unfamiliar with, which is crazy because this dip is SO good! An award-winning mix of cream cheese, mayo, bacon, and spices, you'll quickly see why this dip is called the million-dollar dip! Place it out with some bagel chips or crackers for best results, but don't be afraid to try it with veggies as well!
15. Hot Brown Dip
Of course, everyone's taste is different when it comes to dips, so this means that you should probably have a few different ones on your appetizer list. Check out this recipe for Hot Brown Dip, which is made in a bread bowl for easy consumption.
You'll also need some sour cream, cream cheese, cheese, bacon, turkey, and tomatoes, but this dip is easily made in about ten minutes. Just be sure you factor the 50-minute cooking time into your preparations for the evening!
16. Hot Gouda Shrimp Dip
Still looking for more dips for your party appetizers? You've got to try this Hot Gouda Shrimp Dip! Shrimp and gouda will never taste better than they will in this dip!
The only downside to this flavorful dip is that it has to be served hot—it simply doesn't taste good cold. But if you make it in a cast iron skillet or crockpot it should stay warm for a couple hours without issue.
17. Blue Cheese Sausage Pizza
Party appetizers sometimes need to be more filling than appetizers for a traditional dinner party. This is because at parties, it is highly likely that you are serving snacks instead of a proper meal. When this is the case, this recipe for Blue Cheese Italian Sausage Pizza must absolutely make the appetizer list. It's filling, savory, and obviously a fan favorite!
Just cut the pizza into small slices, or maybe even squares, when you serve it to keep it from distracting people from the other appetizers on the table.
18. Bacon Wrapped Shrimp
For those that haven't noticed yet, wrapping things in bacon is a good idea when you want to make a great appetizer that everyone will love. Thus, these Bacon Wrapped Shrimp will fit the bill quite nicely.
Plus, you'll absolutely adore how easy they are to make, just take shrimp, wrap them in bacon with a little brown sugar, and bake! Voila, appetizers are served!
19. Spanakopita Spinach Dip
Did you love the taste of the aforementioned spanakopita recipe, but couldn't figure out the complicated folding to make it look pretty enough to put out for a party? Well, this recipe for Spanakopita Spinach Dip is ideal for you.
Not to mention that spinach dip is one of the most popular appetizers in the US! You can serve this with crackers, or make your very own puff pastry bites, the choice is yours.
20. Garlic Parmesan Pretzel Bites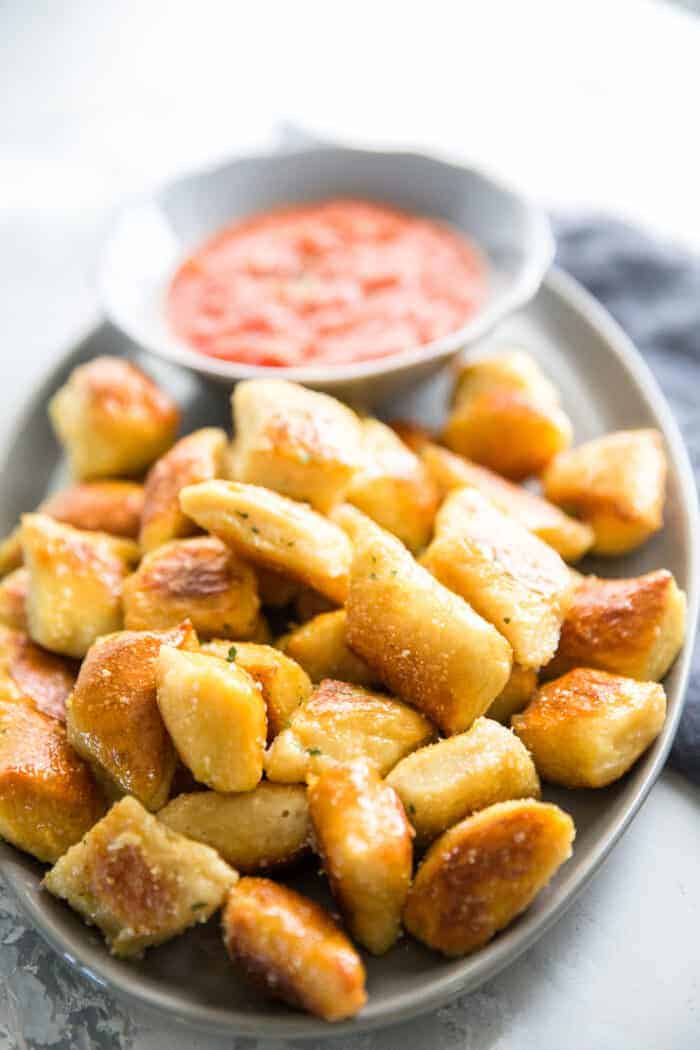 Specifically wanting an hors d'oeuvres recipe? Remember that these appetizers are characterized by their simplicity and taste at the same time.
Consider using this recipe for Garlic Parmesan Pretzel Bites, as they are loaded with flavor, and very easy to serve to guests! Place them all on a plate with dip for a party, or serve them in small portions with a drizzle of sauce for a fancy event.
21. Tuscan 7 Layer Dip
Okay, enough of that fancy stuff, now back to everyone's favorite appetizer—dip! This Tuscan 7 Layer Dip is the ideal party appetizer. It can be made in a big pan, and serve a lot of people.
Additionally, it can be made in advance and placed in the fridge until game time. And there's no denying that your guests will love this new twist on a traditional favorite!
22. Spanakopita Hand Pies
First it was a traditional spanakopita, then a dip, and now an easy appetizer to pass around at any event. These Spanakopita Hand Pies are sure to be a favorite of everyone who attends your event, and they are much easier to make than the original version(and require less cleaning up!) You will be baking these in the oven, which does take a bit of time, so make sure you put these on your appetizer list early on!
23. Tzatziki Dip
While you are on the Greek kick with all this spanakopita, you should also make this Tzatziki Sauce to serve as a dip for your veggies. This sauce is a piece of cake to make in a blender, and there is no cooking required, meaning it only takes 10 minutes from start to finish. It's a nice alternative to heavier dips like onion and chicken dip, so adding it to your spread will really balance the dip offerings!
24. Thai Spice Dry Rub Chicken Wings
The cool thing about offering chicken wings as a party appetizer, is that it is really easy to make multiple flavors of wings to make everyone happy. This recipe for Thai Spice Dry Rub Chicken Wings still doesn't include sauce, allowing you to keep the mess at bay, but will offer your guests an amazing flavor profile. They're also baked instead of fried—making them a bit healthier of an option.
25. Corn Fritters
Frying corn fritters is a good appetizer idea—as long as you aren't afraid of a little hot oil! This recipe for homemade Corn Fritters is a great place to start if you have no experience frying foods.
But if you are lucky enough to have a deep fryer at your home, then this appetizer is a must for your next get-together. Don't forget to make extra and freeze them for an afternoon snack later in the week, because you will fall in love with these guaranteed!
26. Fig and Walnut Baked Brie
Baked Brie is a favorite appetizer all over the US. With French origins, you are sure to impress your guests with this Fig and Walnut Baked Brie easy appetizer recipe.
It will look sophisticated on your appetizer list, but won't take a whole lot of preparation. Simply purchase a round of brie on your next grocery trip, put everything together, and toss it in the oven for 25 minutes, it's that simple!
27. Cajun Dry Rub Wings
The main purpose of an appetizer is to accent the main dish you are serving. Therefore, when you are preparing for an evening of Cajun cooking, it's best to start with these Cajun Dry Rub Chicken Wings. Like all the other dry rub chicken wing recipes on this list, they are mess free and made in the oven to save you the extra calories (and time!) that accompany making deep fried wings.
28. Queso Fundido
Preparing for a party is a lot of hard work, which makes any recipe that you can plug in and leave ideal to keep your preparations to a minimum. Add this Crockpot Queso Fundido to your appetizer menu to complete the table without overloading yourself with prep work.
Just put everything in the crock pot, turn it on, and it's ready to serve in a little over an hour! You can also serve the queso in the crockpot to keep it warm all party long.
29. Baked Brie Pull-Apart Bread
If you enjoyed making the baked brie recipe mentioned above, but want something a little more challenging next time around, try making this Baked Brie and Jam Pull-Apart Bread. It still has a wheel of brie to keep you guests satisfied, but it is paired with bread and jam to make it twice as filling!
This great appetizer recipe takes the same time to make as the other baked brie recipe, so there is no reason not to try this one.
30. Hot Crab Dip
Don't have enough dips on the appetizer list yet? That means it's time to try this recipe for Hot Crab Dip.
Combine cream cheese, shredded cheese, lump crab meat, and some spices in a dish, mix it all up and toss it in the oven. It'll need to bake until it's bubbly (about 35 minutes), and then you'll want to serve it immediately.
31. Chicken BBQ Nachos
Nachos are an easy crowd pleaser and the perfect party appetizer. This is because they are so easy to make, and a breeze to customize to fit any diet!
These Chicken Nachos with White Alabama BBQ Sauce are unique, savory, and pack a tang that will have your guests wondering how you did it! They're also the perfect choice for game day parties, or even a baby shower, there is simply no reason not to serve these nachos!
32. Hanky Panky Dip
This next appetizer dip recipe might throw you for a loop. Hanky Panky Dip is like nothing you have tried before, cheese, tomatoes, and sausage mixed together in one delicious pot! This recipe does require a bit of prep, but then you can toss it in the crockpot and it'll stay tasty and hot all night long.
33. Baked Feta Artichoke Dip
The dips on this list aren't done yet! This Baked Feta Artichoke Dip is a good appetizer recipe for those chilly fall and winter evenings.
A fresh take on the classic spinach and artichoke appetizer, you'll love snacking on this creamy dip around the fireplace with friends. This dip can be paired with bread, crackers, chips, and even veggies!
34. Baked Dill Pickle Dip
Ready for something really unique? This recipe for Baked Dill Pickle Dip will certainly keep you on your toes.
Instead of painstakingly frying dill pickle chips for hours on end, make this one dip and pass it around to family and friends. It will taste like the farmhouse favorite without all the work. This dip is a bit unique though, so probably best just to serve it with crackers or chips.
35. Garlic Bread Cheese Dip
Garlic bread lovers look out! This Garlic Bread Cheese Dip appetizer idea takes the typical side dish and transforms it into a shareable appetizer you can leave out on the table while you cook.
As you can imagine, this dip is mostly cheese, but you'll need garlic and parsley as well. Mix all the cheese together, put it in the oven for about 20 minutes, and enjoy this hot gooey dip while the main dish is in the oven!
36. Reuben Dip
Ever had a Reuben sandwich? It comes from Ireland, and is typically rye bread with corned beef, cheese, sauerkraut, and a special dressing typically served hot. As tasty as these sandwiches are, it would be too much of a hassle to make one for each of your guests.
Rather, make this Reuben Dip that combines all of the above ingredients in a pan that you bake in the oven. Then serve with chips and watch your guests' faces light up with delight when they recognize the familiar flavors!
37. Mango Salsa
Tired of all the heavy, creamy appetizer recipes? During the summer months, you will likely want something a bit lighter with this Mango Salsa recipe.
Cube some fresh mango, and toss it with salsa ingredients to make a sweet and spicy salsa your family will love. This recipe can be spicy, depending on how hot the jalapeno is, so consider leaving it out if your family is spice adverse.
38. Salami Dill Pickle Dip
For lovers of the baked pickle dip above, this Salami Dill Pickle Dip is a must try fun appetizer recipe. Mix cream cheese and mayo until smooth, then add bits of salami and dill pickle to give the dip some pizazz.
You'll also be adding some garlic and Italian seasoning, but as you can see this dip takes only a few minutes to make. Place it in a bowl, surround it with crackers, and enjoy!
39. Guacamole
Guacamole is the quintessential party appetizer recipe, and frankly this is for a reason. It's cool, not as heavy as creamy dips, and who can turn down chips and guacamole! Regardless of the dips that may already be on your appetizer list, you have to add this recipe for Easy Guacamole, you won't regret it.
40. Conch Fritters
Conch fritters are an especially tasty one of the easy appetizer recipes made using conch meat typically found in places like the Caribbean. Because you may not have access to conch in your hometown, this savory appetizer recipe for Conch Fritters isn't for everyone. But for those that have access to the meat, either fresh or frozen, this easy appetizer is perfect for your next party.
41. Chocolate Covered Strawberries
Fruit is often used as an appetizer, but just putting some fruit on a plate is so boring! Instead, make this awesome party appetizer for Pink Champagne Chocolate Covered Strawberries that you can enjoy before your main course. Best served before a light summer meal, these strawberries are quite versatile and could also be a nice side plate to a hot chocolate charcuterie board.
42. Parmesan Ranch Dip with Tortellini
Need a kid friendly appetizer? This Parmesan Ranch Dip that is served with tortellini for dipping is perfect for small mouths.
Unlike some of the other dips on this list, it's served cold with an easy flavor profile for young palettes to enjoy. It only takes 15 minutes to prepare, so no need to cancel one of the other appetizers you have planned, simply add this one to the spread.
43. Chipotle Black Bean Dip
This recipe for Chipotle Black Bean Dip is great savoy appetizer to pull out in the summer without overwhelming your guests with a heavy dip. You'll need some beans and cheese, plus several different spices. But this is another appetizer recipe which you will be mixing together in a pan, then letting the oven do its magic.
You will want to serve this dish with tortilla chips, as any other dipping items might not pair well with the beans.
44. Olive Oil Bread Dip
Bread is the perfect appetizer to serve when you really don't have time to make a dish especially for the occasion. But don't just serve the bread plain, take a few minutes to make this Olive Oil Bread Dip and your family will love it. It takes literally 5 minutes to mix, as it's just olive oil and spices. Yum!
45. Roasted Pumpkin Hummus
Throwing a fall or Halloween party this year? Then this Roasted Pumpkin Hummus is definitely one of those easy appetizer recipes that is a necessity!
There is nothing like a pumpkin flavor dip to help get you and your guests into the mood for the holiday season. This dip can also be paired with almost anything, so grab those veggies and make this a fresh and healthy addition to your appetizer menu.
46. Hot Broccoli Cheese Dip
For those that want something that is cheesy and creamy, but still a little healthy, look no further than this Hot Melty Broccoli Cheese Dip. It is the perfect appetizer to serve with chips or crackers, and if you have some leftovers, it goes great on sandwiches the next day. There is simply no reason not to enjoy this dip!
47. Lemon Pepper Dry Rub Wings
Wings really are the perfect appetizer. They are easy to make, can be made in multiple flavors, and everyone loves them.
When you are looking to add another type of dry rub wings to your easy appetizer recipes list, try this one for Lemon Pepper Dry Rub Wings. They've got a little kick to them from the pepper, but the lemon keeps them tasting fresh and not too spicy—making them perfect for the young and old alike!
48. Vegan Stuffed Portobello Mushrooms
The only problem with all these creamy delicious dips is if you've got a vegan coming to your party! Don't panic, as you can make these Vegan Stuffed Portobello Mushrooms so they have something to snack on besides just vegetables!
They do take a little bit of time to make, but the instructions are straight forward and there is nothing complicated about putting some cut veggies into some mushroom caps.
49. Muffuletta Hoagie Dip
Muffuletta Hoagie Dip is the second appetizer dip based on a tasty sandwich on this list. Just like you did for the Reuben dip above, you'll be collecting everything you use to make the sandwich, but baking it into a dip instead.
This dip does have a lot of ingredients to be considered on this list of easy appetizer recipes, so be sure you have them all before you start. But otherwise, it's just 10 minutes of preparation and you'll be snacking in no time at all.
50. Stuffed Andouille Mushrooms
Love the stuffed mushroom recipe above, but not feeling the vegan version? Then this recipe for Easy Stuffed Mushrooms with Andouille is exactly what you should make for your next appetizer event.
More bite size than the aforementioned stuffed mushrooms, these are easier to pass around as an hors d'oeuvres appetizer than some of the others on this list. And your guests will enjoy the burst of flavor that comes with every bite!
FAQs
What Are Heavy Appetizers?
Heavy appetizers can still be easy appetizer recipes and are any sort of appetizer that is considered very filling, or so rich that someone would only eat one. Examples include bacon wrapped scallops, oysters, beef wellington bites, and deviled eggs.
Is Salad an Appetizer?
Salad can be considered an appetizer if it is served in small, bite size portions.
Is Soup an Appetizer?
Soup can be considered an appetizer if it is served in a small portion before the main course of the meal.
What are the Best Easy Appetizer Recipes in the World?
Because appetizers vary widely by culture, it will widely depend on who you ask. In the United States, the most popular appetizers are spinach and artichoke dip, mozzarella sticks, and hot wings.
Why Are Appetizers Important in a Food Menu?
Appetizers are important because they prepare your palette for the main course. This is why appetizers are usually chosen after the main course is selected.
Which Should be Served First, the Appetizer or the Salad?
Serving the salad or appetizer first generally depends on your country of origin. In the United States, the salad is usually served before the appetizer.
Is Appetizer a French Word?
Appetizer is not a French word, but it is derived from the French saying 'bon Appetit' which means 'eat well.' Thus, it's easy to see why the English kept the word to indicate something tasty that is eaten before a meal!
Conclusion
Appetizers are the best. As you have seen on this list, they can be made savory, sweet, or creamy to fit any meal you are wanting to pair them with!
No matter what easy appetizer recipes you pick from this list for your next event, your guests will certainly go home raving about your amazing cooking.
But appetizers aren't just for events, you can try one of these with any dinner you plan to make and your family is sure to love whatever you choose to make.
Happy appetizer cooking!