It's almost here – the Super Bowl. And we have all of the game day recipes you could possibly need to make your party a success. Whether you're in it for the game, the commercials, or the array of delicious foods, it's a day everyone looks forward to.
What's not to love about getting ready for the big game day? The Easy-to-eat appetizers and snacks have become some of the most important kinds of foods served.
With this broad collection of the BEST game day recipes, you'll surely please even the harshest food critic guests. In all honesty, some may not even watch any of the game. But it doesn't really matter, does it? You don't have to actually watch the game to enjoy fantastic food!
However, if you're going to bring it to the game, it's going to take some work. Some recipes can be handled the day of, but others need a little ahead-of-time prep. And, of course, you've got to get to the store and stock up on all your supplies beforehand.
Having a game plan of your own will make sure your Super Bowl party, or any game day, is one people will be talking about for months or even years to come.
How to Host a Perfect Game Day Party in 5 Steps
A few simple steps can make all the difference in planning your next Superbowl or game day party.
Step 1
Make sure your house is clean, and there's a place for everyone to comfortably sit or stand
Step 2
Decide what game day recipes to include in your menu and how best to arrange them.
Will you serve in courses? If so, how many? How often will you bring food out? Are you willing to miss a commercial to prepare or get the next course? Or part of the game? If it's a nail-biter, will your buns be burning in the oven? All these things need to be considered.
Prefer to set up buffet-style? Do you have space for everything? Will you be putting dishes in different areas or all in one spot? Do you have a way to keep cold items cold and hot ones hot?
Step 3
Decorate and prepare for spills. Simply Shellie recommends putting kraft paper on your tables and keeping rolls of paper towels around the room.
The paper can be used by your armchair quarterbacks to plan their gameplays. And it makes for quick cleanup at the end of the day.
Step 4
Plan games to keep everyone entertained and interacting. Some suggestions are football bingo, prediction pools, and big game trivia.
Step 5
Settle upon any prediction pools and start cleaning up. You could assign tasks to people or make those who rooted for the losing team responsible for the messiest of jobs.
Or simply divide and conquer. This is probably the best option if everyone at your party wants the same team to win.
Most Popular Game Day Foods
If you're ordering take-out for game day, there are a handful of foods that seem to be fan favorites. These vary by region in the US, but there are a few that everyone seems to love.
CBS Sports reported five nationwide favorites in 2019
Smoked Brisket Sandwiches
Cheeseburger Empanadas
Pepper Burgers
Roasted Chicken
Buffalo Mac and Cheese
In the Midwest, fried pickles and roasted potatoes landed near the top of the list of game day recipes. Garlic knots and salmon avocado rolls were favorites in the Northeast.
The South also liked fried pickles, but egg rolls and lettuce wraps were on their list as well. And the West liked lemon chicken and Mongolian beef.
Best Desserts for Your Game Day Party
People don't talk as much about dessert recipes for your game day party. And we won't talk too much about them below because, let's face it, they aren't typically the stars of game day. After all those appetizers and rich main dishes, who even has room for dessert?
But just in case the game goes into overtime, here are some suggestions for keeping the home team satisfied.
Chocolate Chip Blondies
Chocolate Caramel Cookies
Margarita Truffles
Cookie Cheesecake Bites
Oreo Brownies
45 Game Day Food Recipes
Now, on to the main event. Game day recipes come in many shapes and sizes. Dips and wings are often contenders for the MVP.
But maybe you're looking for something a little healthier, or just something different. Not to worry. We have you covered with 45 game day recipes that are sure to satisfy you.
Game Day Dip Recipes
1. Cheddar Brat Cheese Dip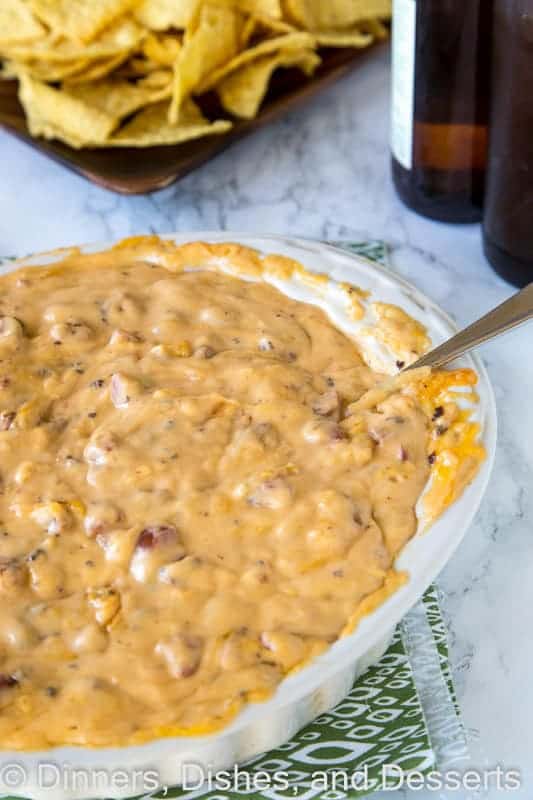 Nothing is better on game day than cheese and sausage. And this hot dip from Dinners, Dishes, and Desserts delivers both. Cheese brats, cream cheese, and cheddar make this the cheesiest choice out there.
2. Fully Loaded Bacon Cheddar Ranch Dip
About the only way to get better than cheese and sausage is with cheese and bacon… and ranch. This bacon cheddar ranch dip is a cold version containing all your favorite flavors. You can cook and crumble the bacon yourself or use bacon bits.
3. Baked BLT Dip
Did I mention bacon and cheese make for a fantastic game day recipe? This dip from Let's Dish is another hot one. And in addition to cheese and bacon, this one has tomatoes and green onions. It's practically good for you.
4. 7 Layer Dip
Okay, so not everyone likes bacon and sausage. And maybe you have vegetarians attending your game day party. This bean dip recipe from Yummy Healthy Easy will keep your herbivores happy.
5. Roasted Red Pepper Dip
More game day recipes for your less carnivorous guests. You can prepare this dip in advance and mix everything upright in your food processor.
6. Cheesy Bacon Corn Dip
Yep, it's more cheese and bacon. But this Cheesy Bacon Corn Dip from Mandy's Recipe Box brings more than just those two ingredients to the table. Corn and jalapenos join the party, and it broils up all bubbly and brown in the oven.
7. Hissy Fit Dip
Our final dip recipe brings us right back to where we started – cheese and sausage. Hissy Fit Dip calls for Velveeta and sour cream, upping the creaminess quotient to wow.
Crock Pot Game Day Recipes
The crockpot is great for game day recipes. You can start these recipes early on game day, or in some cases, the night before, then move on to your other recipes or party preparations.
8. Crock Pot Game Day Italian Meatballs
These meatballs take only twenty minutes to prep, then cook unattended for four hours. You can eat them as appetizers or put them in a roll to make sandwiches. You could even turn these into sliders.
9. Cheesy Slow Cooker Bacon Ranch Potatoes
Looking for something to go with your meatballs? Try these potatoes from Damn Delicious. You can cook them on high for 3-4 hours or low for 7-8 hours. Either way, you'll have plenty of time to take care of your other preparations.
10. Slow Cooker Party Mix
Here's a snack you can make in your crockpot for game day. You could also make this party mix in the microwave or oven. Chex, cheese crackers, and pretzels combined with ranch dressing mix and Worcestershire sauce to recreate your favorite childhood snack.
11. Slow Cooker Firecracker Chicken Meatballs
You can spice up your game day with these meatballs from Chef Savvy. Buffalo sauce, brown sugar, and soy sauce make firecracker sauce, and since these are chicken, you can make these Italian meatballs and suit the needs of all your guests.
12. Crock Pot Honey Garlic Lil' Smokies
Crock Pot Ladies will make your game day even more delicious with these little delights. They cook in 2 hours on high or 4 hours on low, and you can serve them right out of the crockpot.
What could be better than cookware that also keeps your food at just the right temperature for serving?
13. Slow Cooker Tater Tot Casserole
This is one of those game day recipes that could work just as well as a weeknight meal. It's as sure to please the kids as the grownups. Slow Cooker Gourmet combines tater tots, ground beef, whipped cream cheese, beans, and corn for one of the most filling options on our list.
Game Day Wings Recipes
Wings are one of the most popular game day recipes. And there are so many variations of them, you could serve just wings and still satisfy all of your meat-eating guests. And best of all, they're so easy to make.
14. Garlic Parmesan Baked Wings and Drumettes
You can cook these wings in the oven in an hour or in an air fryer in 30 minutes. They're seasoned with granulated garlic and parmesan before baking and then sprinkled with a second coating before serving.
15. Hawaiian Huli Huli Grilled Chicken Wings
These tasty wings from Serious Eats will make your taste buds feel like they are on vacation. The perfect game day recipe, these wings are coated in a sauce made from ginger, pineapple juice, brown sugar, and chili sauce.
They are tangy, sticky, and delicious. Shouldn't game day be a little messy?
16. Bloody Mary Wings
You can start serving these wings early in the day since bloody marys are basically a breakfast beverage. Pre-game, anyone? You get your drinks and wings all in one tasty treat here. See if you can't use these to lure your guests into the kitchen to help with prep and cooking.
17. Honey Sriracha Baked Chicken Wings
Joyful Healthy Eats has a new favorite wings recipe for all of you who like things spicy. Sriracha and ginger give this recipe a delightful zing, and the honey mellows things just enough that they will likely be the first thing you run out of on game day.
Healthy Game Day Recipes
We'll admit it. Most game day recipes focus on delicious and not necessarily healthy food. But some of us count our calories, even on game days. If you have fans coming to your party who do, we've got you covered.
And this stuff is so delicious, if you mix it in with your other offerings, even the people who didn't come for the healthy food might end up devouring it.
18. Mediterranean 7 Layer Dip
You know the traditional 7-Layer dip. You can buy it at just about any grocery or big box store. It goes something like this: guacamole, sour cream, salsa, bean dip. Or some variation on that theme. Why not spice things up, and health things up a bit on your next game day?
Mediterranean 7-Layer Dip has cream cheese, Greek yogurt, hummus, feta, black olives, and seasonings. Adding this to your game day recipes is like taking your taste buds on vacation. And who couldn't use a little more vacation these days?
19. Tropical Mango Shrimp Ceviche
We talked about vegetarians at your party. But what about the pescatarians? They'll be delighted by this recipe from Lexi's Clean Kitchen.
If you're worried about using raw shrimp in this one, you can cook it instead. But the citrus will do the cooking for you if you want to try it as is. Just make sure your shrimp is super fresh.
20. Green Goddess Hummus
Love green Goddess dressing? Well, meet your new best friend in a hummus version from Downshiftology. The prep on this is super fast, and you can make it as thick or thin as you like by adding more or less aquafaba, the liquid your canned chickpeas are packed in.
21. Healthy Hummus Deviled Eggs
Keeping with the healthy hummus trend, these deviled eggs from Nutrition in the Kitch are a much healthier version of the original. The recipe only serves two, so if you're making these for your party, you'll want to at least triple the recipe.
But they're so delicious game day recipes may require multiplying this recipe by five times or more to prevent running out.
Game Day Slider Recipes
Sliders are another great game day food. They're easy to make and probably shouldn't follow our healthy food recipes in this list. But if you put the healthy recipes out next to these sliders, your guests may just have the best of both worlds right at their fingertips.
22. Touchdown Brat Sliders
Taste of Home delivers this touchdown of a recipe. It has bacon and bratwurst, beer, cream cheese, and crushed cheddar and sour cream potato chips.
This one is certainly not for your calorie-conscious guests. But they taste so good, you might just skip the calorie counting on game day.
23. Slow Cooker Buffalo Chicken Sliders
This one could have fallen into almost any of our game day recipes categories. It's buffalo, like your game day wings. It cooks in a crockpot. You could make it ahead, and it's finger food.
But we have a slider category. And it certainly wouldn't be complete without pulled chicken dressed in buffalo sauce, served on a slider roll with ranch dressing.
24. Beef Short-Rib Sliders with Whiskey-Bacon Barbecue Sauce
These sliders from Noble Pig will take a bit longer to prepare than the rest of our game day recipes. But they are absolutely worth the wait. And the slow cooker does most of the work anyway.
The trick is cooking the meat on low for eight and a half hours. You can do most of your other prep while the short ribs are cooking. Just make sure you save some time to make the barbecue sauce. They won't be the same without it.
25. Jimmy's Bang Bang Chicken Sliders
Here's another option from Taste of Home. These tangy treats are sure to impress your guests with both their look and their taste.
The chicken is doused in sriracha, lime juice, and ginger, then served up on mini pretzel buns with a topping of mozzarella and crushed red pepper. Put the Sriracha-Lime Dipping Sauce out next to them and watch these babies disappear.
Game Day Finger Foods Recipes
Few game day recipes are as successful as finger foods. They're easy to make and even easier to eat. And there are so many different varieties you can satisfy everyone's taste and never leave anyone wanting more. Just make sure you have lots of napkins on hand.
26. Jalapeno Ranch Pull-Apart Bread
Pull-Apart Bread is an excellent addition to your list of game day recipes. It's easy to make, ready in less than thirty minutes, and served hot from the oven. It starts with a storebought sourdough or French bread bowl, and you can serve it with storebought ranch dressing.
Just don't forget to pick up a packet of ranch mix as well. You need to mix that with melted butter and drizzle it over the loaf before melting all the cheese into those nooks and crannies.
27. Buffalo Blue Cheese Deviled Eggs
We gave you healthy deviled eggs. This twist is brought to you by Cupcakes and Kale Chips. There's hot sauce and blue cheese in the filling, and you can sprinkle more of both on top to finish them off. And they do use Greek yogurt. That's healthy, right?
28. Baked Chicken Tenders with Buffalo Blue Cheese Sauce
You can't have too much blue cheese. This recipe from Culinary Ginger uses buttermilk in both the chicken marinade and the blue cheese dipping sauce. And then there's more hot sauce, of course.
They do require a bit of prep, though. You'll need to let the chicken marinate for at least an hour in the fridge before coating in panko breading and popping these tasty bites in the oven.
29. Fig Gruyere Crostini
These crostini can't help but elevate your game day recipes. You could buy pre-made crostini, but That Skinny Chick Can Bake shows you how to quickly make your own.
Half a baguette, some olive oil, and just twelve minutes in the oven. Then they get sprinkled with gruyere and blue cheese and topped with a dollop of fig spread.
Five more minutes in the oven, and you have a game day recipe that would be just at home at your next wine tasting. Maybe keep it in mind for that, so you can wow on two entirely different fronts.
30. Cream Cheese Stuffed Peppers with Bacon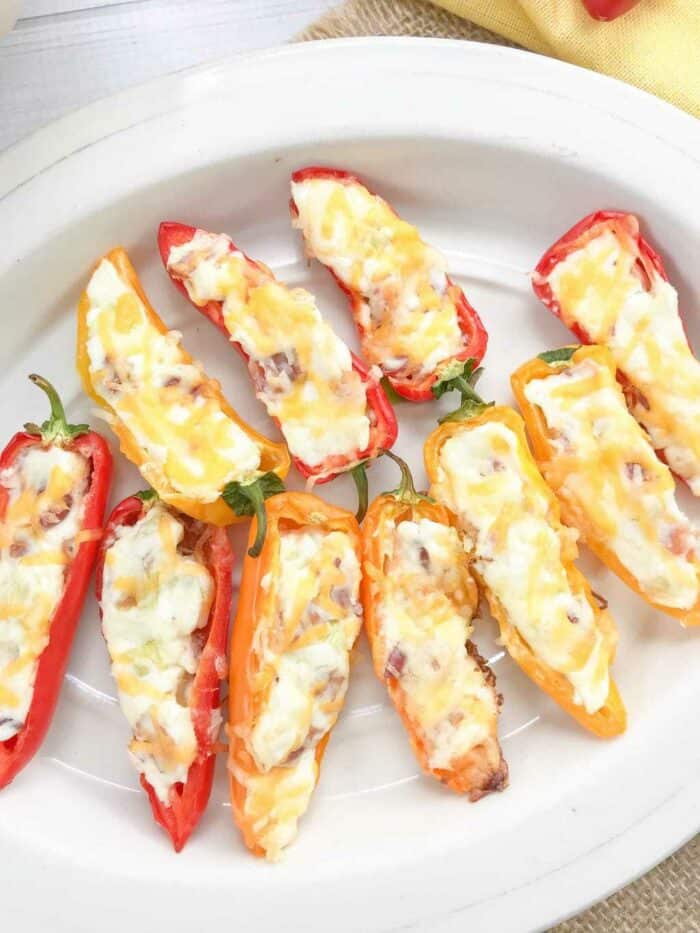 And we're back to cheese and bacon. However, this time it's cream cheese, cheddar, garlic, and green onion that are stuffed into little sweet peppers, in a recipe courtesy of Life Family and Fun.
And you know you've seen those adorable, multicolored packs of mini peppers at the store. They are the delivery device for this cheesy deliciousness. You're welcome.
31. Italian Cheese Bombs
These miniature inside-out pizzas will be gone before you can say yum. Self Proclaimed Foodie uses a can of biscuit dough, cheese, salami, and some seasonings to make finger food guests aged 8-80 will devour.
32. Bacon Spinach Pizza Roll-Ups
Hardier than some of our other finger foods, these bacon spinach pizza roll-ups also get their start with storebought ingredients. Premade pizza dough is your base, and it's filled with spinach artichoke dip, cheeses, and bacon.
No one will know you didn't spend all morning making these from scratch.
33. Philly Cheesesteak Taquitos
These taquitos pack a savory surprise. They're stuffed with Philly cheesesteak fillings. Like your favorite sandwich, but much easier to eat sitting on the couch, watching the game. Better yet, Love Bakes Good Cakes shows us how to make them in under thirty minutes.
34. Chicken Enchilada Bites
These tiny treats take a bit more time, but they are so worth it. The chicken cooks upright in your crockpot, both before and after shredding.
Then you fill tortilla scoops with the filling, top with cheese, tomatoes, and cilantro. Then drizzle with a creamy enchilada sauce you can whip up while the chicken is cooking.
Make-Ahead Game Day Recipes
As you can see, you could spend all day cooking for your next game day party. The problem is, you'd miss the whole game in the process.
The following recipes can be made ahead, so you don't miss a minute of the action. And everyone at your party will still rave about the food. And the company, of course.
35. Pepperoni Pizza Football Cheese Ball
What could be better than making game day recipes that look like footballs? This cheeseball from Mom on Timeout is a perfect replica. And a tasty one, too.
The filling is cheese, green onions, bacon, and pimentos. And it's topped with mini pepperonis, making this game day treat as fun to look at as it is to eat.
36. Almond Crusted Baked Ravioli
These delectable little gems start with frozen ravioli. You can use fresh if the frozen ones are unavailable or out of stock in your area. Lemons for Lulu coat the ravioli with ground smokehouse almonds, bake them and then serve with white barbecue sauce.
What's white barbecue sauce, you ask? Mayo, Greek yogurt, cider vinegar, garlic, and ranch seasoning.
37. Texas Caviar
What is Texas Caviar? A humane, vegetarian-friendly version of the caviar you've likely heard of but probably couldn't afford.
Texas caviar is full of black-eyed peas, jalapenos, scallions, shallots, mustard, red wine vinegar, honey, and Italian spices. In other words, it's your new favorite snack. For every day, but especially for game day.
38. Fried Mac and Cheese Bites
I'm not going to lie to you. These are probably the most labor-intensive of our game day recipes. But, oh my. They are the height of indulgence. Plan to start these fried macaroni and cheese bites a day ahead or very early in the morning.
Your homemade cheese sauce (set some aside for dipping) gets mixed with your cooked pasta and summer sausage, then frozen for four to eight hours.
That is step one. You still have to cut, dip, and deep fry these treats, but all the time you spend will be worth it for every single fantastic bite.
39. Smoked Sausage Pretzel Bites
Pigs in a blanket? No thanks. I'll take smoked sausages in pretzels, please. This is one of those game day recipes that just keeps getting better.
Besides the incomparable combination of sausages and pretzels, the dip for these is crazy: creole mustard, mayo, and honey. Just try and stop people from coming back for seconds.
40. BBQ Bacon Cheese Balls
Lemons for Lulu makes pre-gaming an art form with this cheese ball recipe. You could make it the day before the game if you wanted and then spend your time on game day prepping the snacks and foods that are more time-sensitive. Or, you know, watching the game.
Game Day Pasta Salads
No matter how easy your make-ahead snacks are, they will never top pasta salads. Since they tend to be better the day after they're made, these game day recipes are the MVPs of your next party.
41. BLT Pasta Salad
Yep, this is a pasta salad with bacon. Because you can't have too many game day recipes that include bacon. You even use the bacon drippings in your dressing for this recipe from Love and Food Foreva.
42. Easy Southwestern Pasta Salad
This recipe is a cornucopia of fruit and vegetable delights. Dash of Sanity combines red and green peppers, cherry tomatoes, green onions, avocado, black beans, and corn. It's doused in dressing and topped with Cotija cheese.
43. Parmesan Ranch Pasta Salad
Cheese and ranch are right up there with cheese and bacon or cheese and sausage for game day recipes. This pasta salad has both in spades.
You can use any kind of pasta you want, then top it with creamy dressing and sprinkle it with parmesan. And it has bacon bits, too.
44. Healthy Pepperoni Pasta Salad
Like sausage and bacon, pepperoni is pretty much a staple in game day recipes. It may not be required, but it sure is appreciated.
And this recipe from Well Plated is a bit healthier, calling for turkey pepperoni. But you could just as easily use the traditional kind. It also has feta, black olives, a host of veggies, and Italian dressing.
45. Healthy Dill Pickle Pasta Salad
This one is dairy-free, gluten-free, and tastes like a day at the park. Dill pickle is an excellent flavor to add to your game day recipes. You don't use the actual pickles in this Nutrition in the Kitch recipe.
You use the pickle juice in the pasta salad dressing. Along with mayo, honey, dill, and avocado.
All of these pasta salads would pair perfectly with the rest of your appetizers, sides, and main dish game day recipes. They would also be a perfect complement to your summer picnic.
This might just be the ideal time to give them a trial run before all those outdoor get-togethers later in the year.
Game Day Recipes FAQs
What goes with wings?
Besides blue cheese dressing, you mean? Or maybe ranch? This is a tough call to make when talking about game day recipes and not summer barbeque recipes. There are things you need to consider.
Are you eating your wings as a meal or a side dish? Even on game day, the question must be asked. There are so many different types and flavors of wings you could serve nothing else and still keep your guests happy on game day.
But maybe that's not what you're looking for. After all, the crowd you're catering to makes all the difference. So, here are some suggestions, both for wing sides and wing main dishes, for the carnivores and herbivores alike:
Twice Baked Potatoes
Edamame
Veggie Platter (because you can dip those in blue cheese and ranch dressing, too)
Pasta Salads
Pickles (or maybe dill pickle pasta salad?)
Air-Fried Onion Rings
Grilled Sweet Potato Fries
Air-Fried Jalapeno Poppers (or bacon stuffed mini peppers)
Avocado Fries
Charcuterie Board Flatbreads
Whether you are serving them as a main course or a side dish, it seems that pretty much everything goes with wings.
Why not try a couple with your game day recipes and a handful of different ones with your Spring and Summer picnics? That way, you can decide which options best suit the guests you most want at all your parties.
What are some healthy snacks for your game day party?
It goes without saying that game day recipes and snacks trend toward the less-healthy side. We made a few suggestions already, but oh, there are so many more.
Buffalo Roasted Cauliflower
Grilled Jerk Shrimp and Pineapple Skewers
Broccoli and Cheddar Quinoa Bites
Crispy Parmesan Lemon Zucchini Chips with Basil Aioli
Skinny Taco Dip
Oven-Baked Apple Chips
Air-Fryer Everything Bagel Chicken Tenders
Creamy Cucumber Layered Dip
What is the number one game day food?
If only things were that simple. In the United States, there are fifty different number one game day foods, depending entirely on where you live. And they are as varied as the people who live in each of those locations.
But, if you're looking for game day recipes that are universally popular, pulled chicken and pork were near the top of the list. Philly cheesesteak flavors also rated pretty high. Anything buffalo-flavored was popular nationwide.
And many of the things included in our list – dips, wings, finger foods – are among those favored around the nation.
Conclusion
As long as you buy enough food and plan your preparation accordingly, it's pretty hard to go wrong with game day recipes. There are universal favorites, of course.
But no one knows your party guests better than you do. You know who is a vegetarian, vegan, pescatarian, and who isn't interested unless it's loaded with meats and cheeses.
You already know what kinds of food to make for your game day party. You're here to get some new ideas or find new ways to make the kinds of food your guests will love.
Or maybe you're just trying to pre-game like a pro and determine the most time-efficient way to feed your guests fabulous foods while not missing out on the entire main event yourself.
If you can find some way to manage it, wrangle friends and guests into helping with the food prep. Who knows? They might enjoy the task or the time they get to spend with you in the kitchen. After all, you can't gossip in front of a crowd.
If all else fails, recruit someone whose team is losing to help out in the kitchen with the game day recipes. If nothing else, you can always wrangle them into helping with cleanup. After all, isn't that what prediction pools are really for?