Apple Butter Bacon Waffle Sandwich is a wonderful lunch when you want something new.
Sweet apple butter, crisp bacon, and creamy fontina cheese make this waffle sandwich as delicious as it is unique!
Just in case you needed more apple butter sandwich ideas, here's a great one for brunch! Belgian Waffles, spiced apple butter, and crispy salty bacon come together in this cheesy sandwich that is perfect for mealtime. You're going to love this bacon waffle sandwich because it's so simple and easy to make and the flavors just work so incredibly well together.
A Brunchtime Sandwich
I love a sandwich with excellent cheese; bacon is always a bonus and what holds the sandwich together has to be perfect. Belgian waffles are thick, buttery and just slightly sweet. Because of the hint of sweetness, they lend themselves perfectly to savory dishes. They are the perfect "bookends" for sandwiches because you can sink your teeth into them! Apple butter is a real treat this time of year, especially if it's homemade. This recipe does not require homemade apple butter, so just use your favorite kind. You will place a big dollop of apple butter along with bacon and fontina cheese. The sweet apple butter, salty bacon, and creamy cheese blend nicely together, each bite is filled with flavors and textures. It is nothing short of heavenly.
Ingredients
Belgian Waffles
Butter
Apple Butter
Fontina Cheese
Cooked Bacon Slices
For the exact amounts needed, please see the recipe card below.
How to Make Apple Butter Bacon Waffle Sandwich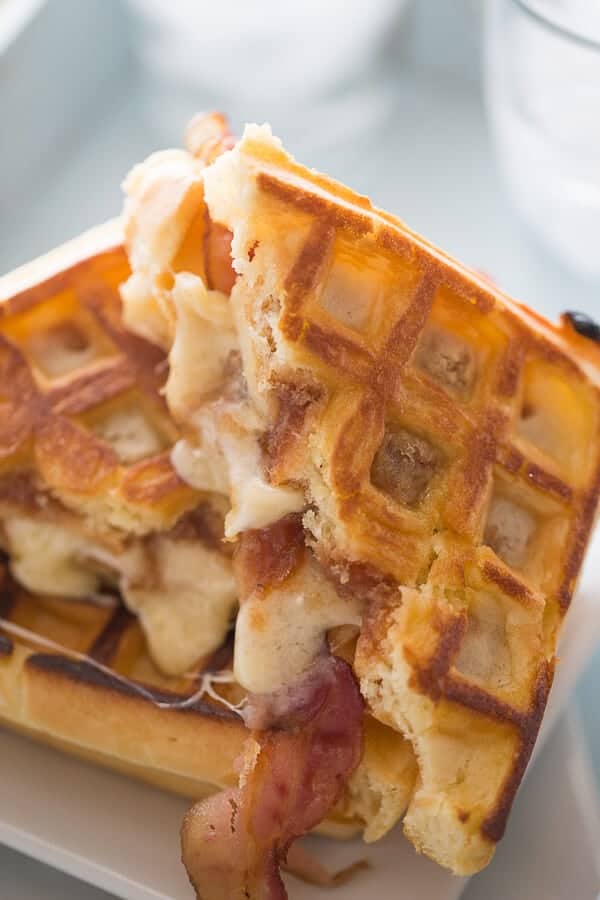 FAQs
Can I use applesauce instead of apple butter?
Yes, apple butter is basically a thickened version of applesauce with added spices so feel free to use spiced or plain applesauce instead, depending on what you have on hand.
What cheese goes well with apple butter?
We use fontina cheese in this recipe because it pairs wonderfully and gives a melted cheese appearance that every sandwich should have. That said other cheese like Munster and Sharp cheddar can also work well and add a nice contrast of flavor.
Why is apple butter called butter?
While there is no actual butter in apple butter the food gets its name from the buttery-like smooth texture that happens as a result of the long slow-cooked processing.
For more delicious waffle recipes, check out this Chicken and Waffles Pizza Recipe or these tasty Browned Butter Homemade Waffles with Spiced Pear Topping.
Yield: 4
Apple Butter Bacon Waffle Sandwich
Prep Time
5 minutes
8 seconds
Total Time
5 minutes
8 seconds
Ingredients
8 Belgian Waffles
4 teaspoons Butter
4 tablespoons Apple Butter
6 ounces Fontina Cheese
8 slices Cooked Bacon
Instructions
Heat a grill pan over medium heat. Butter ½ teaspoon on one side of each waffle.
Place buttered side down onto hot grill pan. Place a tablespoon of apple butter onto each waffle, layer bacon over butter and then top with cheese slices (about 3 slivers).
Next place remaining waffle and butter the tops.
Cook sandwiches for about 4 minutes per side or until toasted and cheese has melted.
Serve immediately.