Sweet apple butter, crisp bacon, and creamy fontina cheese make this waffle sandwich as delicious as it is unique!
My idea of what makes a good sandwich varies from day to day. Sometimes a little spice is all that is required to make my sandwich complete. Other days I dream about a hot, toasted sandwich piled with meats and cheeses. And on other days, I crave a sweet sandwich. It really depends on my mood.
I do have a few consistencies, however. I love a sandwich with excellent cheese; bacon is always a bonus and what holds the sandwich together has to be perfect. Notice I didn't say anything about bread. A sandwich does not need bread to be a good! In fact, a sandwich can be downright extraordinary without a single slice of bread. This waffle sandwich is just that, extraordinary.
I LOVE Belgian waffles and think they should be served with every meal. They are thick, buttery and just slightly sweet. Because of the hint of sweetness, they lend themselves perfectly to savory dishes. They are the perfect "bookends" for sandwiches because you can sink your teeth into them!
Apple butter is a real treat this time of year, especially if it's homemade. This recipe does not require homemade apple butter, however, just your favorite kind. You will place a big dollop of apple butter along with bacon and fontina cheese. The sweet apple butter, salty bacon, and creamy cheese blend nicely together, each bite is filled with flavors and textures. It is nothing short of heavenly.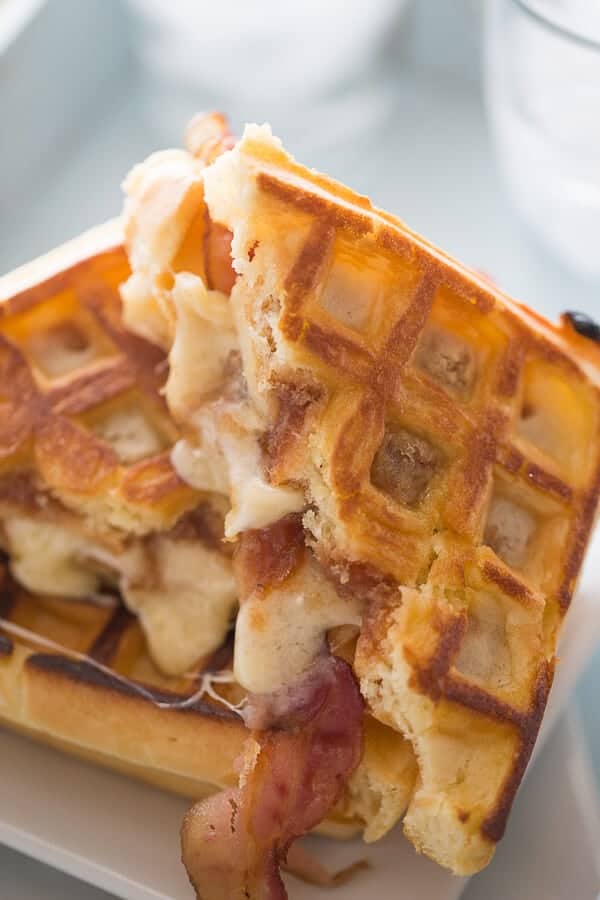 This sandwich has me so inspired, now I'm dying to try all sorts of new fillings for waffle sandwiches! Maybe next time I'll do a chicken or maybe eggs. Or I could even try chocolate and strawberries. The sky is the limit. Ok, well I better wrap this up; I got waffle sandwiches to make!