What's so great about chicken and waffles? It turns out crispy fried chicken and sweet Belgian waffles are the perfect pair. I can't always have my favorite culinary duo, but this pizza recipe is quick, easy and a pretty darn good substitute!
My kids and I have become somewhat predictable. Well, when it comes to our birthday meals anyway. I will cook anything for the kids for the special day, but more often then not, the kids and I all want chicken and waffles for our birthday.
I can make almost anything I set my mind to but it takes a special touch to chicken and waffles the right way.
We have a local restaurant that makes THE best chicken and waffles. The chicken is thick and juicy and it is fried up extra crispy.
The Belgian waffles are super thick and they are coated in almost a sugar crusty. My description doesn't even do them justice, they are so good.
The first time I tried chicken and waffles together, I fell hard in love. There is something so magical about the way crispy, seasoned chicken and tender, sweet Belgian waffles taste when eaten together.
Drizzle maple syrup and hot sauce on top and let yourself feel the smile spreading across your face. I'm giddy just thinking about it.
What Is Chicken and Waffles Pizza?
I cannot recreate the flavors of my favorite restaurant's chicken and waffles recipe. Instead, I try to come up with clever alternatives. Chicken and waffles salad (a winner), or a chicken waffles sandwich will all do when my craving hits.
Now with this chicken and waffles pizza in my arsenal; I can enjoy the flavors of my favorite meal without ever leaving the house!
The best part is this meal is made with easy to find, store-bought ingredients. This is pure comfort food and you can have it in minutes!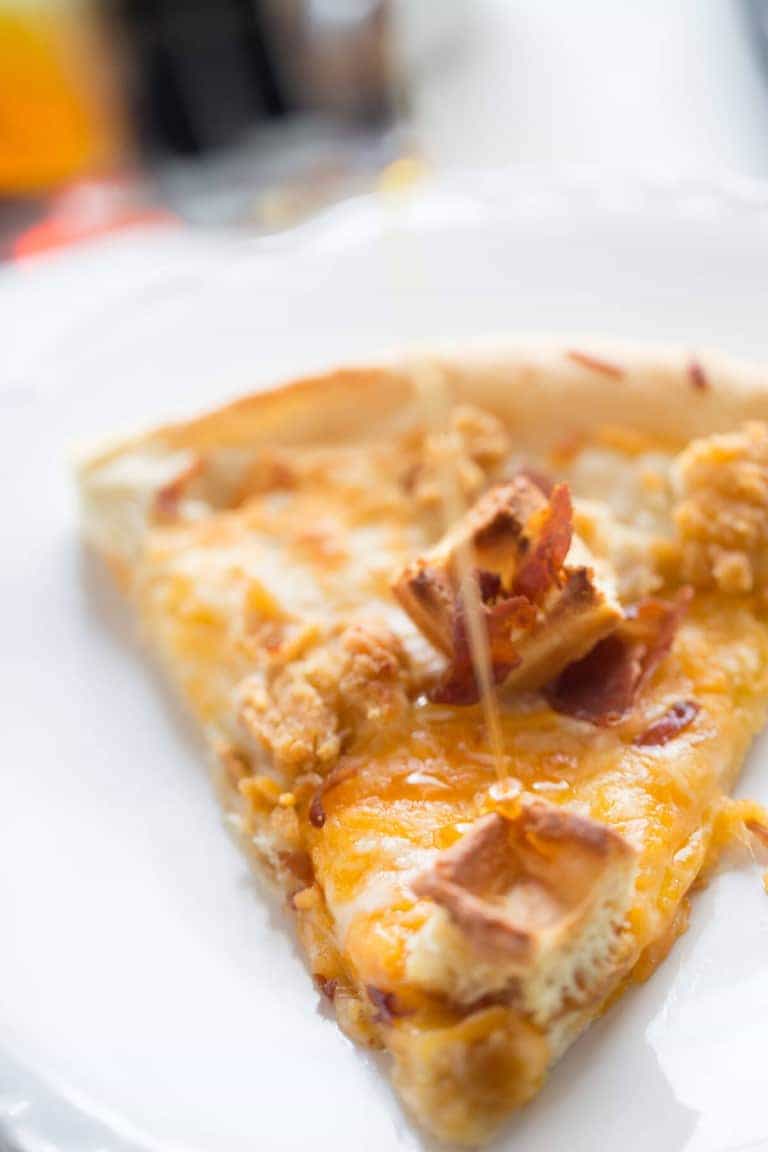 How To Make Chicken and Waffles Pizza
I used a thawed frozen pizza dough which I pressed into a pizza pan. Brush the dough with melted butter and sprinkle garlic powder and onion powder over the butter.
Cover the dough with shredded cheese; I used a combination of mozzarella and cheddar cheese, but you could use any combination you like!
And now for the fun toppings….I used frozen (thawed) chicken tenders. You can literally use any kind or brand you like. I chose Tyson because they are my family's favorite and they taste really good. You just want something on the crispier or with more breading (it will crisp up nicely in the oven).
I cut up (thawed and toasted) Belgian waffles. I like the size and sturdiness of Belgian waffles, but you can use buttermilk waffles if you'd like. Plus Belgian waffles have a hint of sweetness that works well with all the other savory ingredients.
The pizza only takes about 10-15 minutes to bake up golden brown. Serve this pizza with a drizzle of maple syrup and perhaps some hot sauce and you are on your way to happiness!
What To Serve With Chicken and Waffles Pizza
I like to keep things like and serving this Lemony Kale Salad, Easy Spinach Salad, or this Quinoa Tabbouleh Salad. Keep your side simple and let this pizza shine without the distraction of the side dishes!
Yield: 8
Chicken and Waffles Pizza
It turns out crispy fried chicken and sweet Belgian waffles are the perfect pair. I can't always have my favorite culinary duo, but this pizza recipe is quick, easy and a pretty darn good substitute!
Ingredients
1 ball frozen pizza dough, thawed
2 tablespoons melted butter
1/4 teaspoon garlic powder
1/2 teaspoon onion powder
2 cups mozzarella, divided
2 cups cheddar, divided
2 cups chopped fried chicken tenders (frozen, thawed)
1 Belgian waffle, lightly toasted and chopped
3 strips of cooked bacon, crumbled
Instructions
Preheat oven to 425 degrees.
In a stand mixer fitted with a dough hook, combine 1 cup of flour, yeast, sugar and salt. Mix slowly; stir in water and oil until blended.
Gradually beat in enough flour until the dough forms a soft ball. Dough will be sticky.
Knead dough on a floured surface until smooth. With floured hands, pat your dough to fit a greased pizza pan.
Spread melted butter over your pizza dough and sprinkle with onion powder and garlic powder. Top with 1 cup of mozzarella cheese and 1 cup of cheddar cheese. Arrange chopped chicken and bacon over the cheese followed by the remaining cheese. Sprinkle waffle pieces over cheese.
Bake for 10-12 minutes or until edges are golden and cheese is bubbly.
Serve with maple syrup and hot sauce if desired.
Nutrition Information
Yield
8
Serving Size
1
Amount Per Serving
Calories

794
Total Fat

41g
Saturated Fat

15g
Trans Fat

1g
Unsaturated Fat

23g
Cholesterol

97mg
Sodium

1470mg
Carbohydrates

71g
Fiber

3g
Sugar

2g
Protein

34g