There is nothing quite as comforting after a long day as enjoying a hot chicken dinner. But chicken can also be a bit finicky to cook—and this can leave you scouring the internet for easy chicken recipes that you can make stress-free right when you get off work.
Whether you like your chicken whole, or in pieces in a pasta or casserole, this list has all the easy chicken recipes your heart could ever desire. So keep reading to learn all about chicken and the easiest ways to cook it!
Before we jump in on our list, you may have a few questions about cooking chicken. Not to worry, as we have all the answers. Scroll down to find out more.
What Are Some Different Ways to Cook Chicken?
There are many different ways to cook chicken, and generally the method you use will depend on what exactly you are trying to make. Some recipes call for baking, and some for roasting, while others need to be fried.
And with items like crock pots and pressure cookers, there are even more ways to make chicken delicious than ever before. Below is a list of all the ways chicken can be cooked.
Poached
Grilled
Roasted
Fried
Baked
Braised
Broiled
Sauteed
Pan-Fried
Smoked
Air-Fried
Sous-Vide
Instant Pot
In a Soup
Is your head spinning yet? There are so many ways to enjoy chicken! So if you think you don't like chicken very much, chances are you probably just need to try a different method of cooking it.
Is Chicken Healthy?
Eating chicken is actually quite healthy for you. It is filled with an array of nutrients that are essential to a healthy and well-balanced diet.
Unlike other proteins, such as beef and pork, chicken is a low-calorie way for you to get your protein. This makes chicken an important part of several different diet plans that are currently recommended for weight loss.
What is the Healthiest Way to Cook Chicken?
Just because chicken is a healthy meat, this doesn't mean that all cooking methods are healthy for you. If you are consuming chicken as part of a diet intended for weight loss, you should stick to baking your chicken in the oven, or stir-frying it in a pan as these are the healthiest ways to cook chicken.
How Do Restaurants Make Their Chicken So Good?
Restaurants typically make their chicken tasty and tender via a tenderizing process. And when you want to have the same experience at home, you should consider tenderizing your chicken before using it in any sort of recipe.
There are several ways you can tenderize chicken. The best way is by using a tenderizing mallet to pound the chicken.
But you can also use a marinade, soak the chicken, or baste it in its own juices. All of these will help the chicken be more tender as well as retain more liquid as it cooks.
How Should Chicken Breasts Be Cooked for Best Results?
Although there are many ways to make chicken, chicken breasts are one part of the chicken that can end up dry and chewy if you aren't careful with your cooking methods. To be sure your chicken breasts come out moist and juicy, it is best to buy the ones that have the bones in and skin on, then poach them for best results.
Do You Season Chicken Before Cooking?
Another way to be sure your chicken breasts turn out as moist and flavorful as possible is to season them before you cook them. You can do this by soaking them in a salt water solution, or other marinade of your choice, allowing the seasonings to soak deep into the chicken before cooking.
What to Make With Chicken Breast?
Something amazing about cooking chicken breast is that it truly can go with anything. For those on a diet, stick it with the veggies of your choice for a meal that is tasty and balanced.
So when you aren't on a diet, feel free to pair it with rice, pasta, or even potatoes. The combinations of dishes that go with chicken are simply endless!
Best Side Dishes for Chicken Breast:
Roasted Carrots
Boiled Broccoli
Mashed Potatoes
White Rice
Wild Rice
Sugar Snap Peas
Green Beans
Brussel Sprouts
Potato Salad
Macaroni and Cheese
Cornbread
Fettuccine Alfredo
Veggie Casserole
Salad
Baked Potato
Corn on the Cob
How to Cook a Chicken Breast in the Oven
Cooking a chicken breast in the oven is one of the most popular and healthy ways to cook a chicken breast. And the good news is, it is also one of the easiest ways to cook chicken breast.
Step 1: Brine Your Chicken
Start out by placing your chicken in a bowl of warm salt water and let them sit there for at least 15 minutes. After you remove them from the water, rinse them off and dry them with some paper towels.
Step 2: Brush on a Coating
It's a big mistake to put chicken in the oven without at least coating it with something before you do! You can use butter or olive oil, depending on your preferences. Then place your chicken breasts in a glass pan or other oven safe dish for baking.
Step 3: Add Seasoning
Here is where you can get creative and add whatever spices you want to your chicken. Or if you don't feel like getting too crazy, some salt and pepper will suffice.
Step 4: Bake the Chicken
Preheat the oven to 450 degrees, then cook your chicken breasts for 15-18 minutes depending on thickness. You will want to use an oven thermometer to be sure that your chicken is done.
This is because undercooking chicken can lead to infections like Salmonella. Before you remove your chicken from the oven, it should be cooked to 165 degrees.
Step 5: Let the Chicken Rest
Your chicken will likely smell amazing by this point. But before you dive in, it's essential that you allow your chicken to rest for a few minutes.
This allows the juices from the meat to soak in and keep the meat moist. You will generally want to let your chicken rest for 5-10 minutes.
How to Grill Chicken Breast
Even though cooking chicken breasts in the oven might be the most popular cooking method, there is nothing quite like a delicious grilled chicken breast, especially during a summer BBQ. Grilling a chicken is slightly more difficult than baking it, so be sure to follow the steps below if it is your first time.
Step 1: Marinate Your Chicken
Just like in the oven baked recipe, you never want to grill chicken that hasn't been marinated beforehand. You can look up a recipe for marinade online, or a simple one of oil, vinegar, and salt and pepper will suffice.
Step 2: Preheat and Clean Your Grill
You will want to preheat your grill to 400 degrees, then spend a few minutes brushing off any remnants from the last time that you grilled. Now your grill is ready for your chicken.
Step 3: Grill the Chicken
Place your chicken on the grill and keep the lid closed as they cook—this is important for ensuring your chicken is cooked all the way through. Cook the chicken for 6-8 minutes, then use tongs to flip your chicken and cook the other side for an additional 6-8 minutes.
Step 4: Check the Temperature
Before you remove your chicken from the grill, you will want to be sure the internal temperature reaches at least 165 degrees Fahrenheit. If it isn't quite there yet, be sure to cook it for a few minutes more, then check the temperature again.
Step 5: Let it Rest
Like any other meat on the grill, you will want to let your chicken rest before you cut into it. For best results, let your grilled chicken rest for 5-10 minutes, then you are free to dive in and enjoy!
How to Cook Chicken Breast on a Stove
Don't have a grill? Not a problem! Chicken breasts can also be cooked to tasty perfection on the stove. But you have to be careful, because this is one of the easiest ways to overcook chicken!
One of the best ways to prevent this from happening is by using a cast-iron skillet if you have one. If you don't, that's ok, just be sure not to use a non-stick pan as this will mess with the flavor.
Step 1: Dry and Season the Chicken
After you pull the chicken breast out of the wrapping, spend a few minutes patting it dry with a paper towel. Then you will want to add your desired seasoning mix to the chicken. Salt and pepper mixed together always works great.
Step 2: Heat Oil
Pour oil into the pan you plan to use and heat it for about 3 minutes, or until it is simmering. Remember not to use a non-stick pan.
Step 3: Add the Chicken
Make sure the hot oil is evenly coating the pan, then add your chicken. You will want to let it cook for 5-7 minutes before you attempt to flip it. If when you try to flip the chicken, it feels stuck, this means it needs another minute before you try to flip it again.
Step 4: Add Butter
Flip the chicken following the steps above, then add some butter to the pan. Cook the chicken breasts for an additional 5-7 minutes.
Step 5: Check the Temperature
As with every chicken cooking recipe, be sure to check the temperature of the chicken before you remove it from the heat. The internal temperature should be at least 165 degrees before you remove the chicken from the pan.
Step 6: Let the Chicken Rest
Place the chicken on a cutting board and let them sit there for about 5 minutes before you slice and serve them.
40 Easy Chicken Recipes You Should Try
Now that you've learned a little bit about the dos and don'ts when it comes to cooking chicken, let's take a look at 40 easy chicken recipes to get you started!
1. Lemon Pepper Dry Wings
Wings are a crowd favorite and sure to quiet any hunger pangs you may have in your stomach after a long day of work. This easy chicken wing recipe for Lemon Pepper Dry Wings is full of flavor, without the mess that typically accompanies wings. And best of all, they only take about an hour to make from start to finish, so you'll be snacking on these tasty morsels in no time.
2. Mediterranean Baked Chicken
Ready to try out your new baked chicken skills? Put them to the test with this Mediterranean Baked Chicken Recipe.
You'll be making your own spice mixture to brush on the chicken, and since this recipe is so simple, don't be afraid to make a little bit extra to add to salads or pasta later in the week. Just be sure you watch the size of the chicken breasts you choose to cook, as this will affect your cooking time.
3. Southwestern Chicken Stew
On a cold winter's day, this recipe for Southwestern Chicken Stew is all you need to warm you up. This recipe only requires about 10 minutes of prep time, combined with 30 minutes of cook time so you'll have dinner on the table in no time at all. Even though you'll need several different ingredients to make this dish a reality, chances are you already have a lot of them in your fridge and cupboards waiting to be used!
4. Chicken and Waffles Pizza
This next easy chicken recipe is something so unique, you just have to make it and take it to your next party or potluck. It's Chicken and Waffles Pizza, and it is absolutely to die for.
You'll be using chicken tenders, waffles, cheese, and onion and combining them all on a pre-made pizza dough crust (or if you are feeling adventurous, feel free to make your own!) The result is a crispy delicious dish like no other, so just be prepared for your friends to ask you for the recipe!
5. Pineapple Chicken Kabobs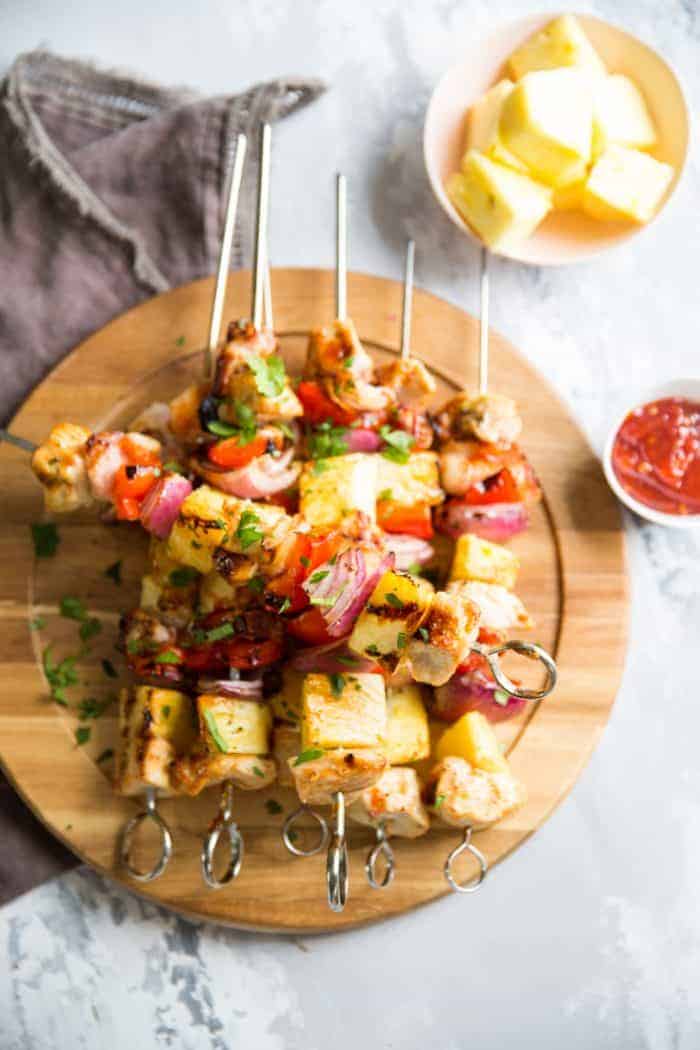 Looking for an easy grilled chicken recipe? Then look no further than these Pineapple Chicken Kabobs which will give you an introduction into grilling chicken and help you build your confidence in this department.
Simply cube your chicken, and put the pieces on a metal skewer with cubed onion, pineapple, bell pepper, bacon, and tomato then place them on the grill. They'll need to cook for about 15 minutes, and you'll want to turn them at least once. Serve with a little barbeque sauce or ketchup and you can guarantee this will be your family's new favorite dish!
6. Chicken Lettuce Wraps
One of the coolest things about chicken is its ability to work for almost any part of the meal. While most people think of chicken as the main dish, don't be afraid to make it an appetizer with this recipe for Chicken Lettuce Wraps with Mango Salsa. Plus, the chicken for this recipe can be served cold, meaning this is a great way to repurpose chicken that you may have had left over from earlier in the week.
7. Chicken and Broccoli Stir Fry
Asian dishes are usually very easy chicken recipes to follow, and a great way to make a lot of food to serve a lot of hungry mouths. So when you are looking for something savory and salty, look no further than this Chicken and Broccoli Stir Fry recipe. Just be aware that this recipe is full of both peanuts and peanut butter, and therefore not an ideal recipe for a home where there is a peanut allergy.
8. Chicken Noodle Casserole
Want all of the comfort of chicken noodle soup without the hassle of a soup? Then you will love this recipe for Chicken Noodle Casserole.
One of the best reasons to make a casserole is because they are easy to freeze and reheat at a later date, which means you can make this dish on the weekend and easily pop it in the oven after a tiring day at the office.
9. Jamaican Jerk Quinoa Bowl
Eating healthy is a breeze when you have easy chicken breast recipes like this one for a Jamaican Jerk Quinoa Bowl. This recipe takes a little longer to make, as you will be marinating the chicken for at least 30 minutes, then grilling them afterwards.
But this recipe makes great leftovers, so consider making it once, but making more than enough so you can eat the leftovers for lunch later in the week. Talk about diet planning!
10. Baked Chicken Parmesan Pasta
Now it's time to try a favorite all time classic easy chicken recipe, and this is none other than the revered chicken parmesan. If you think breading and pan frying your chicken sounds complicated, don't panic, because this Baked Chicken Parmesan Pasta requires none of the sort.
Not to mention that it can be made in one pot so that you can save on dishes! And with a cook time of only about an hour, there's no reason not to give this amazing dish a try.
11. Chicken Nachos
Need an easy chicken appetizer for a party? Then you'll want to check out these simple Chicken Nachos with White Alabama BBQ Sauce. They are tasty, and very easy to eat when you've got a crowd of guests coming over.
You'll need to rotisserie a chicken for this recipe, which does take some time, or you can pick one up at your local grocery store if they have that option available. That part aside, this easy chicken recipe will be ready to serve in just about 20 minutes.
12. Spicy Grilled Chicken Drumsticks
While wings may be a crowd favorite, don't forget how much everyone loves those drumsticks! This Spicy Grilled Chicken Drumstick recipe is one of a kind, basted with sugar but with enough spice to keep you interested. You'll be making these on a grill, but for households without one, you don't have to miss out because there are oven instructions for these as well!
13. Chicken Chow Mein
If the chicken stir fry recipe above wasn't your jam, then check out this Chicken Chow Mein recipe. It follows much of the same steps as the aforementioned recipe, but this dish is without the peanuts and peanut butter. Instead you will use lo mein noodles and soy and oyster sauce to create the flavors in this dish.
14. Dry Rub Chicken Wings
These Dry Rub Chicken Wings are another easy chicken wing recipe that is sure to keep everyone happy on game day. When making these tasty wings, you'll be mixing together an array of spices to make a flavorful but not too spicy flavor.
Then you will be baking these in the oven—making them much less of a hassle than recipes that call for deep frying! Plus, when you serve them, there will be less mess there too, making these an all-around great choice when you want to make chicken wings.
15. Skillet Chicken Pot Pie
Everyone loves a good chicken pot pie. But for those who are tired of the same old chicken pot pie recipes, it's time to wow your family by creating this Skillet Chicken Pot Pie.
With all the comfort of its namesake, this dish is much easier to create than individual pies and you won't have to mess with trying to create a pie crust. And less cooking and prep time means a win for the entire household.
16. Chicken Kiev
Ever heard of Chicken Kiev? It's an old-fashioned dish that comes from Russian origins. Not only is this dish delicious, but it is another easy chicken recipe to serve to your family on a special occasion.
To make Chicken Kiev, you will be rolling ingredients inside of chicken, then breading it and baking it in the oven. The reason this dish is more of a special occasion dish is because it takes almost two hours to prepare, but if you've got this type of time on a weekday, go for it and make this dish another one in your family's rotation!
17. Southwest Cobb Salad
With all of these easy chicken recipes where you bake, grill, and fry your way to dinner, it's easy to forget that chicken can also be served cold on some dishes, like this Southwest Cobb Salad. Cobb salads have long been known for their array of colorful ingredients, and this one is no different.
If any of the ingredients don't work for your family, don't be afraid to swap it out. Just be sure to set it up in the signature row and pile the set up so that it lives up to its name!
18. Chicken Gyros
In addition to being great for pastas and salads, chicken is also great for all kinds of sandwiches and wraps! For example, check out this Chicken Gyro recipe, which is a quick and easy chicken recipe to create a dish that can go with you wherever you go! You can also use mini pitas to transform this dish into an appetizer—the choice is all yours.
19. Buffalo Chicken Chili
Chili is an essential recipe to keep on hand for those rainy days when you just don't feel like going anywhere! And this recipe for Buffalo Chicken Chili will fill that craving for something just a bit heavier than soup, while also giving your taste buds a nice kick. Garnish this dish with the crumbled blue cheese as directed and you will be in buffalo wing heaven with every bite!
20. Sriracha Chicken Bundles
Although most chicken recipes require flatware to enjoy, there are some easy chicken recipes out there like this one for Sriracha Chicken Bundles that can be enjoyed easily with your hands. For this recipe you'll need some Pillsbury biscuit dough, rotisserie chicken, cheese, and sriracha, but if you buy the rotisserie chicken pre made, they only take 20 minutes to make and can make a great snack or addition to any party spread!
21. Southwest Chicken Skillet
Chicken is the perfect addition to any southwest dish you may be dreaming up. Don't believe it? Just take a look at this recipe for a Southwest Chicken Skillet.
It deftly combines chicken with a variety of southwest vegetables in a skillet so you can have dinner on the table in just 10 minutes. Yes, you read that right. This dish only takes 10 minutes to prepare. Therefore, you have no reason not to step out of your comfort zone and give it a try!
22. Buffalo Chicken Tater Tot Recipe
Are you a buffalo sauce fiend? Then in addition to the above easy chicken recipes, these Buffalo Chicken Tater Tots are a must. This is another recipe where, if you pick up a fully cooked rotisserie chicken on the way home, you can have it on the dining table in a number of minutes.
And since this dish has veggies, meat, and tater tots, you won't even have to make a side. This dish does it all!
23. Stuffed Chicken Enchilada Bread
For those that like the idea of making one dish and being able to skip the sides, try this Stuffed Chicken Enchilada Bread. Grab a loaf of French bread from the deli, along with a rotisserie chicken (or grill your own chicken, your choice) and some enchilada sauce and this recipe couldn't be any easier!
You'll simply hollow out the bread, stuff it with all the ingredients, then bake it in the oven for about 30 minutes. Just like that, dinner is served!
24. Slow Cooker Chicken Chili
Having a slow cooker makes fixing a chicken dinner even easier than ever! Not sure where to start?
Try this Slow Cooker Chicken Chili recipe that you can either put in your crockpot and leave on low while you are at work all day, or cook at high for 4 hours for a nice weekend supper. Load the top with delicious toppings like avocado, cheese, and sour cream and this is guaranteed to become your new favorite easy slow cooker chicken recipe.
25. Tex Mex Chicken and Dumplings
Chicken and dumplings have long been known as the ultimate comfort food. Warm, hearty, but with a soup base, this is a dish that will stick to your bones and keep you full for hours to come.
But regular chicken and dumplings can get boring from time to time, and that's when you should pull out this recipe for Tex Mex Chicken and Dumplings which call for all the usual ingredients, but with some added cheese and spice.
26. Caprese Chicken Portobello Mushrooms
Sometimes, you're going to want something a little bit lighter for dinner, especially on warm summer evenings. When this is the case, grab this recipe for Caprese Chicken Portobello Mushrooms which are full of veggies, cheese, and of course, chicken!
You'll have to turn on the oven to make these, but just for a few minutes to use the broiler. Beyond that, this is a quick recipe which is ready to eat within 20 minutes of preparation.
27. Buffalo Chicken Fettuccine Alfredo
You've heard of chicken alfredo, but have you ever tried Buffalo Chicken Fettucine Alfredo? This easy chicken recipe has all the draws of Italian comfort food with the spice that your taste buds are craving! The chicken in this is pan fried, but if you want to go with a slightly healthier option, you could also grill or rotisserie your chicken instead.
28. Lean, Green Buddha Bowl
While on the subject of health, it's time to mention this next easy chicken breast recipe that is perfect for anyone who is on a diet. It's called the Lean, Green Buddha Bowl and it is filled with apples, Brussel sprouts, arugula, and avocado—everything you need to keep you going all day long. It does call for the chicken to be grilled, but you can also use poached or baked chicken breast if that's more up your alley.
29. Mediterranean Chicken Farro Bowl
If the lean, green Buddha bowl wasn't quite your style, then consider making this Mediterranean Chicken Farro Bowl instead. It's light, dairy-free, and the perfect pick-me-up on a hot summer's day. Consider doubling, or even tripling the recipe, then leaving the dressing on the side so you can have this delicious bowl for lunch multiple days of the week without having to do any extra work.
30. One Pot Chicken
Besides just being a good meal for a night at home, chicken is also a great meal to take camping. When you and your family are enjoying some alone time in nature, bring along this easy chicken recipe for One Pot Chicken.
You will additionally need to bring along some foil pans, as well as some veggies and rice, but then this meal can easily be made on an outdoor grill. And you will absolutely love the easy clean up!
31. Fillo Wrapped Chicken Parmesan Meatballs
Have a party on the horizon? These Fillo Wrapped Chicken Parmesan Meatballs make the perfect appetizer to pass around the room.
Follow the easy instructions to construct chicken meatballs, wrapping them (with cheese!) into a fillo wrapper and baking them in the oven. There are also instructions included for a homemade marinara dipping sauce—it doesn't get much better than that!
32. Penne Noodles With Vegetables and Chicken Sausage
One easy chicken recipe that hasn't been covered on this list yet is one for chicken sausage. So take a look at these instructions for making a delectable Penne Noodles with Vegetables and Chicken Sausage.
The recipe calls for premade chicken sausage, but if you are feeling adventurous, it is possible to make your own at home! Otherwise this dish is very straight forward and you will have a balanced dinner ready for your family in just 40 minutes.
33. Sesame Ginger Chicken
Every now and then, it's just better to go back to the basics. So when you are looking for an easy grilled chicken recipe, it's time to make this delicious Sesame Ginger Chicken.
First you will make a delicious sesame ginger coating, and then you will be dipping your chicken in it and placing it on the grill. You will need to keep an eye on the chicken, and turn it frequently but other than that, this is one of the easiest chicken recipes out there!
34. Chicken Curry
Curry is an easy to customize dish that is filled with flavor and originalyl comes from India. In this Easy Chicken Curry Recipe With Cashews, chicken, yogurt, cashews and a combination of spices are mixed together to make a savory and crunchy combination.
Have someone in your house that is dairy free? Simply replace the plain Greek yogurt with a non-dairy variety as this recipe already calls for non-dairy milk.
35. Chicken Teriyaki
Like curry, teriyaki is another easy chicken recipe staple that is sure to become a favorite in your household. This recipe, for Chicken Teriyaki With Noodles is easy to make while also being filled with all the veggies you need for a balanced diet. The best part is, the sauce is made with Splenda—meaning you can enjoy this dish without worrying how it will affect your sugar intake!
36. Roasted Chicken Recipe
Of course, this list wouldn't be complete without teaching you how to properly roast a chicken! Follow the instructions in this easy Roasted Chicken Recipe, to learn how to properly roast a chicken in your oven. This will take some time, so don't be afraid to make chicken roasting your weekend project, roasting two, or even three chickens, then using them in recipes all week long!
37. Grilled Chicken Wings
Tired of all of the dry rub, baked wings recipe, but not ready to conquer the deep fryer? Then check out this recipe for Grilled Chicken Wings with a Spicy Comeback Sauce.
It's as easy as prepping the chicken wings, putting them on the grill, and turning halfway through! You can make the sauce while the chicken cooks, making this a meal that takes only 35 minutes to prepare from start to finish.
38. Chipotle Peach BBQ Chicken
Chicken is the perfect dish for summer BBQ season. You'll need a slow cooker for this Chipotle Peach BBQ Chicken recipe, as you will be combining all the ingredients in it, then letting it cook on high for three hours! There isn't anything else to do other than to return to a full cooked meal once the timer goes off and enjoy this sweet and flavor chicken on a bun or slice of bread.
39. Jalapeno Chicken Grilled Cheese
Featuring chicken for lunch doesn't have to just be in a salad or in one of the bowl recipes from this list! Rather, you can give this Jalapeno Chicken Grilled Cheese with White BBQ Sauce a try.
This easy chicken recipe is the perfect way to put a pre-made rotisserie chicken to work or test out the roasted chicken recipe you had leftovers of over the weekend. Either way, you won't regret making this delicious chicken recipe.
40. Kid-Friendly Chicken Pot Pie
Kids can be picky, especially when it comes to chicken pot pie recipes! Don't fret, as this Kid-Friendly Chicken Pot Pie recipe will have them eating what you cook and loving every bite!
And unlike traditional recipes, this one doesn't require making an individual pie for each person. So you can portion this out much easier for younger children. It's so easy to make, that they can even help you in the kitchen if they want!
FAQ
How Long Does it Take to Bake Chicken Breast?
How long you will need to bake a chicken breast will generally depend on the temperature the oven is at and how thick your chicken breasts are. For an oven set to 375 degrees it will take 20-30 minutes to cook a large boneless chicken breast.
How Many Calories Are There in a Chicken Breast?
The calories in a chicken breast will depend on the size of the breast. For every 4.2 ounces, or 120 grams of chicken breast, you will consume 198 calories.
How Long Do You Bake a Chicken Breast at 400 Degrees?
When your oven is set to 400 degrees, you should start out by cooking your chicken breast for 15 minutes, then use a thermometer to see if the internal temperature has reached 165 degrees. If not, cook them for another 5 minutes then check again.
How Long Do You Grill a Chicken Breast?
How long you will need to grill a chicken breast will largely depend on how hot your grill is set to. If your grill is set to between 425-450 degrees Fahrenheit, you only need to grill your chicken for 10-15 minutes, flipping the chicken halfway through.
How Long Do You Boil a Chicken Breast?
To fully cook a chicken breast, boil it for 15-20 minutes, until the internal temperature reaches 165 degrees. If the chicken breast is frozen when you begin, you will want to boil it for 20-30 minutes.
How Much Protein is in a Chicken Breast?
The amount of protein in a chicken breast will depend on its size just as calories do. For a 4.2 ounce (or 120 grams) serving, you should expect to consume about 37 grams of protein.
How Long Do You Bake a Chicken Breast at 350 Degrees?
When your oven is set to 350 degrees, you will want to bake chicken breast for 45 minutes, checking to ensure the temperature has reached 165 before you remove it from the oven.
Should You Cover Chicken Breast When You Bake it in the Oven?
Covering chicken breasts while they cook is always a great idea to prevent the chicken from drying out and keep all the moisture and flavor inside.
Should You Flip Chicken While it is Baking?
While you do want to flip chicken while it is being grilled or sauteed, when you are cooking chicken in the oven you will want to simply leave it alone. Do not flip it halfway through.
How Long to Bake Chicken Wings?
The length of time you will need to leave chicken wings in the oven will widely depend on how hot the oven is set to. For an oven set to 350 degrees, you will want to let them back for 60-70 minutes.
How Long Does it Take to Deep Fry Chicken Wings?
How long it takes to fry your chicken wings will depend on if they are fresh or frozen. Fresh chicken wings take about 8 minutes to fry, while frozen ones will take 10 minutes to be cooked completely.
How Long to Bake Chicken Wings at 400 Degrees?
When you have your oven preheated to 400 degrees, you will want to let your chicken wings bake for 40-50 minutes.
How Long to Air Fry Chicken Wings?
Frying wings in an air fryer is a great idea. You will want to fry them for at least 30 minutes, using a low temperature at first, but increasing it the last few minutes. You will want to check to be sure your wings are done using a meat thermometer before you take them out of the air fryer.
How Many Calories in a Chicken Wing?
The calories in a particular chicken wing will depend on the size of the wing. But for one medium wing you are looking at about 92 calories. For a larger wing of 4 oz, this will amount to approximately 173 calories.
How Long to Smoke Chicken Wings?
Smoking chicken wings is a great way to cook chicken wings without the hassle of deep frying. You will want to set your smoker to 250 degrees and let the meat smoke for about 35-45 minutes for every pound of meat you place in your smoker.
No matter which recipe from this list you decide to try first, these easy chicken recipes are sure to make your family fall in love with this healthy meat! From pastas, to casseroles, to salads, chicken really does go with everything. And now that you know some easy and simple ways to prepare it for any meal you have in mind, you'll definitely be eating more chicken. Bon appetit!