This appetizer is sure to impress!
Tender chicken parmesan meatballs are tucked inside a buttery, flaky fillo dough!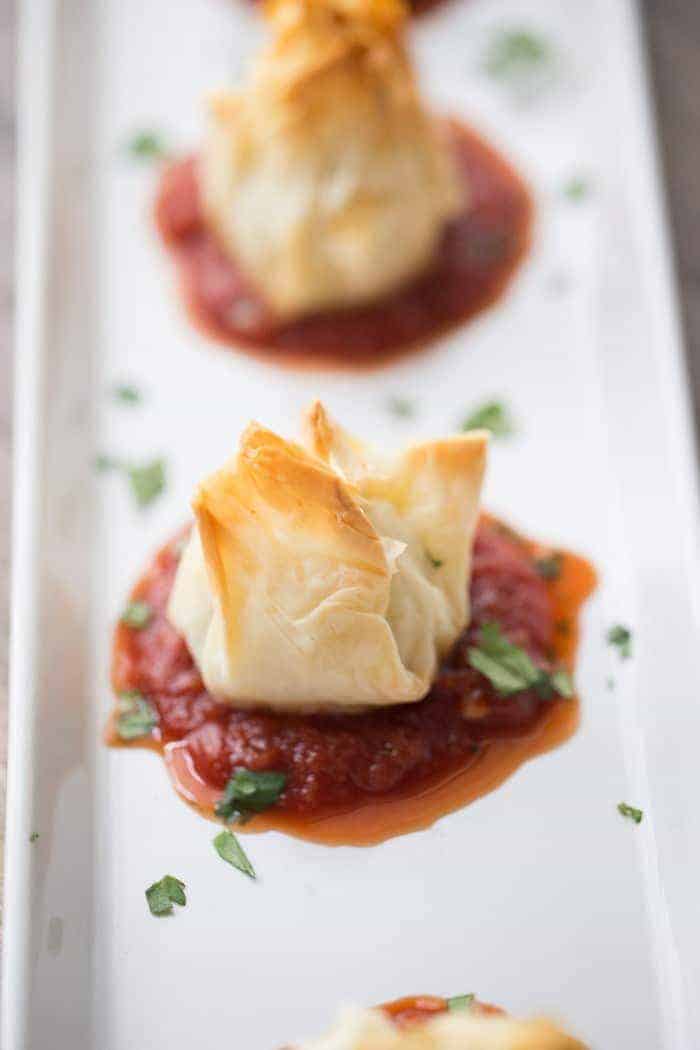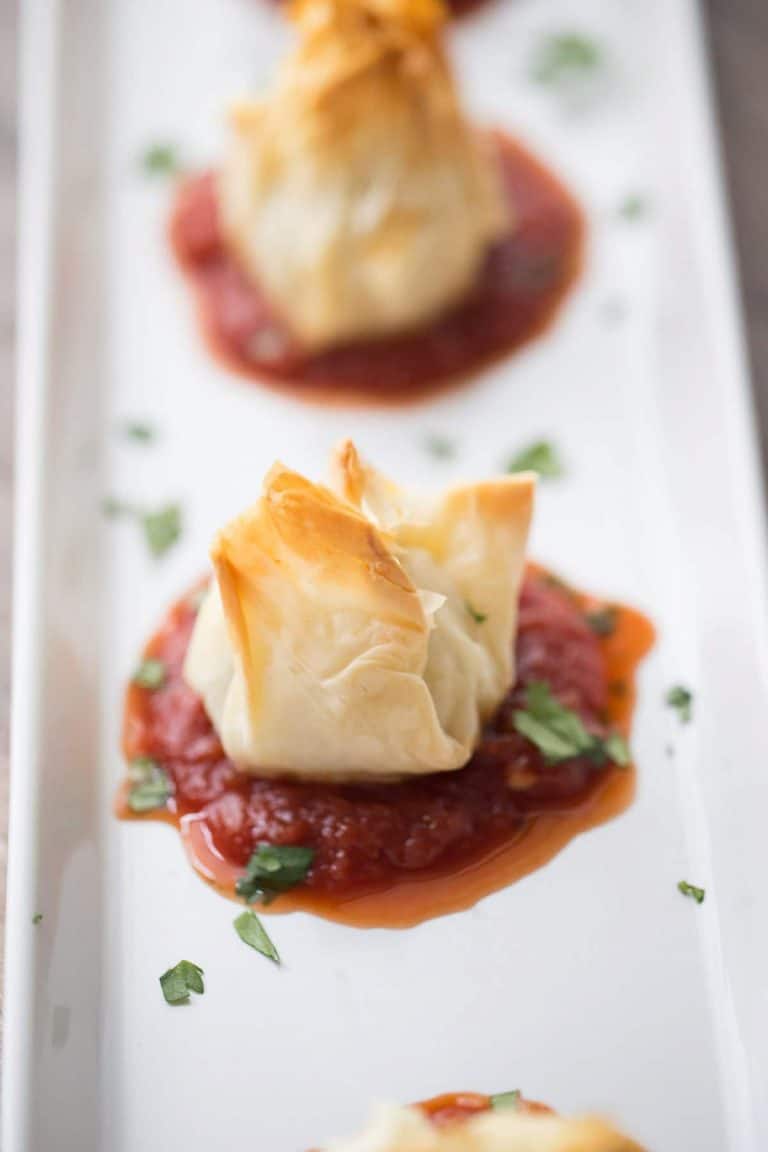 When you think of meatballs as appetizers, your mind immediately goes to saucy cocktail meatballs with cute little toothpicks, doesn't it? It's those toothpicks! Honestly, food on sticks get our attention every single time!  Bite-sized finger foods hold some power over me.  I think I convince myself that because I'm eating bite-sized foods that I can eat as many of them as I want without consequence.
These chicken parmesan meatballs are going to revolutionalize the cocktail meatball.  For starters, there are no toothpicks!  Instead, I used Athens Fillo Dough to surround each tender little meatball.  The delicate, buttery dough adds a crisp contrast to the soft, succulent meatball.  And speaking of the meatball, these guys are lean but flavorful; ground chicken and spices are combined and then baked just until golden.  Mozzarella cheese gets added to each little fillo pouch just before baking.  Serve these appetizers with a very simple, homemade marinara and you have yourself an impressive chicken parmesan appetizer that will be a huge hit wherever they will be served!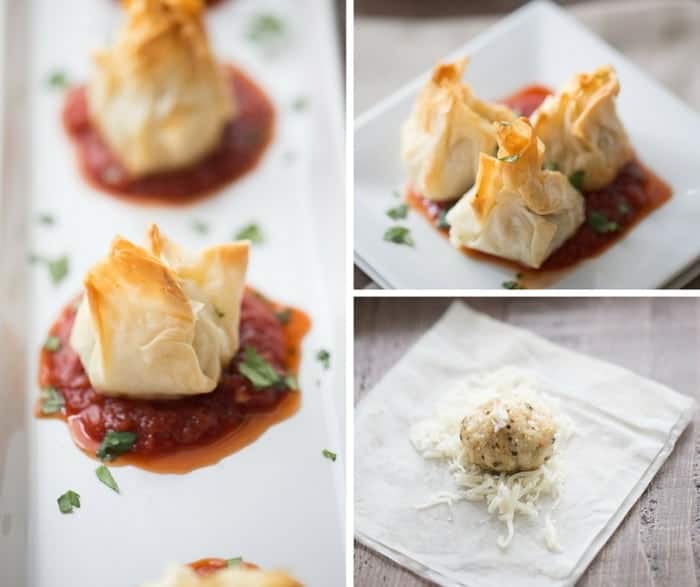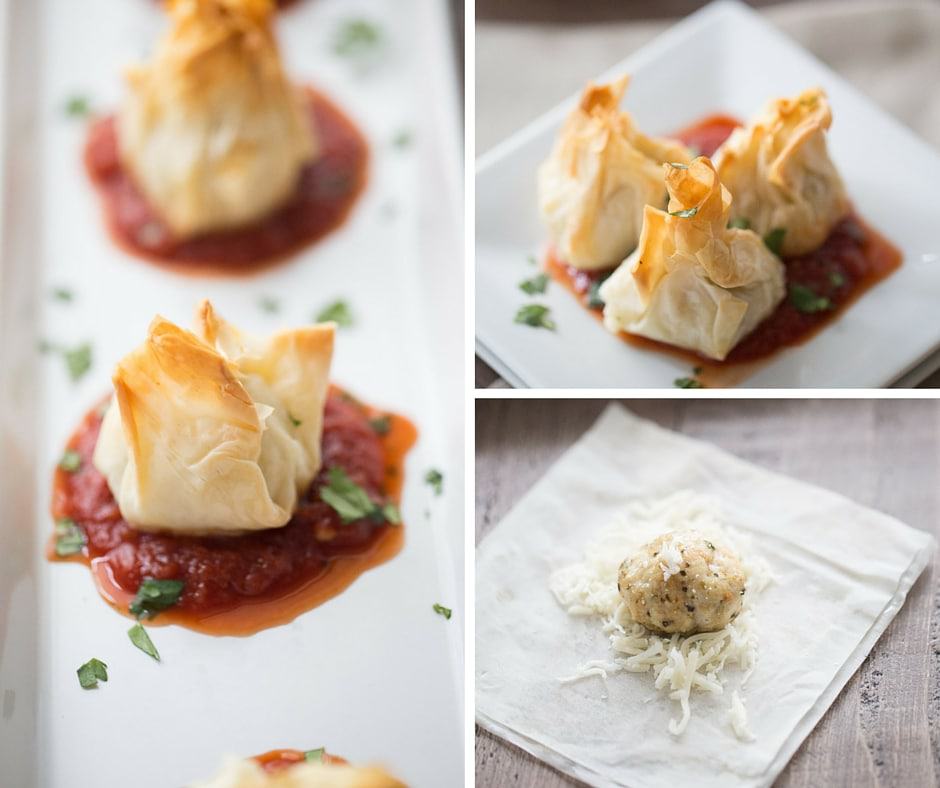 Notes about the recipe:
Do not over mix your meatball ingredients!  Over-mixing leads to tough meatballs.  Mix by hand JUST until combined.  

I used my hands to form my meatballs, but a small cookie scoop would work.  My meatballs were

roughly

the size of a large gumball or 2-inches.

When working with

fillo

, always keep your dough topped with a piece of plastic wrap and a damp kitchen towel.  This will keep the dough from drying out and becoming brittle.  Once the dough becomes brittle, it becomes very difficult to work with.   

Work quickly with your dough and be generous with the butter! I cut my stack of dough into 6 equal squares, but if your meatballs are larger, you may have to adjust the size of your squares.

I lightly sprayed the tops of my bundles with non-spray just before baking.
Fillo Wrapped Chicken Parmesan Meatballs
36
adjust servings
Fillo dough is wrapped around tender chicken meatballs and mozzarella then served with a homemade marinara!
Ingredients
For the meatballs
2

lbs ground chicken

1

teaspoon dried basil

1

teaspoon dried oregano

1/2

teaspoon dried thyme

1/2

teaspoon garlic powder

2

tablespoons fresh parsley

1/4

cup grated Parmesan cheese

1/2

cup Italian style bread crumbs

3/4

cup shredded mozzarella cheese

3/4

cup butter, melted

1

box Athens® Foods Fillo Dough (16 oz)

Non-stick spray

For the marinara

1/2

teaspoon olive oil

1/4

cup diced onion

1

clove garlic, mined

1/4

teaspoon crushed red pepper flakes

1 1/2

teaspoons Italian blend seasoning

1 28

oz can crushed tomatoes

3

tablespoons tomato paste

2

teaspoons sugar

1

teaspoon salt
Instructions
Preheat the oven to 425 degrees. Spray a baking pan with non-stick spray and set aside.
In a bowl, combine chicken, basil, oregano, thyme, garlic, parsley, cheese and bread crumbs. Mix chicken by hand just until combined. Form chicken into 2-inch meatballs; roughly the size of large gumball.
Bake meatballs for 18 minutes or just until browned, remove the meatballs from the oven and let them cool.
Open both packs of fillo dough. Cover the dough with a piece of plastic wrap, followed by a damp cloth. Keep the dough covered.
Working quickly, place one piece of dough on your work surface. Brush sheet with butter, top with a second sheet of fillo. Butter the second sheet; continue with two more sheets of dough. Cut dough vertically into thirds, then once across horizontally so that you have 6 equal sized squares. Place 1 teaspoon of cheese on your dough, topped with one meatball. Pinch up corners of each square so that your dough is bundled into a little purse. Place bundle on your baking sheet. Continue with remaining meatballs.
Lightly spray tops of bundles with non-stick spray. Bake bundles at 375 degrees for 15 minutes or until golden brown.
While bundles bake, prepare your marinara. Heat oil in a saucepan over medium heat. Add onions, garlic, red pepper flakes and Italian seasoning. Stir in crushed tomatoes, tomato paste, sugar and salt. Reduce heat and allow sauce to simmer while bundles bake.
Place marinara on a serving plate, top with chicken bundles; serve.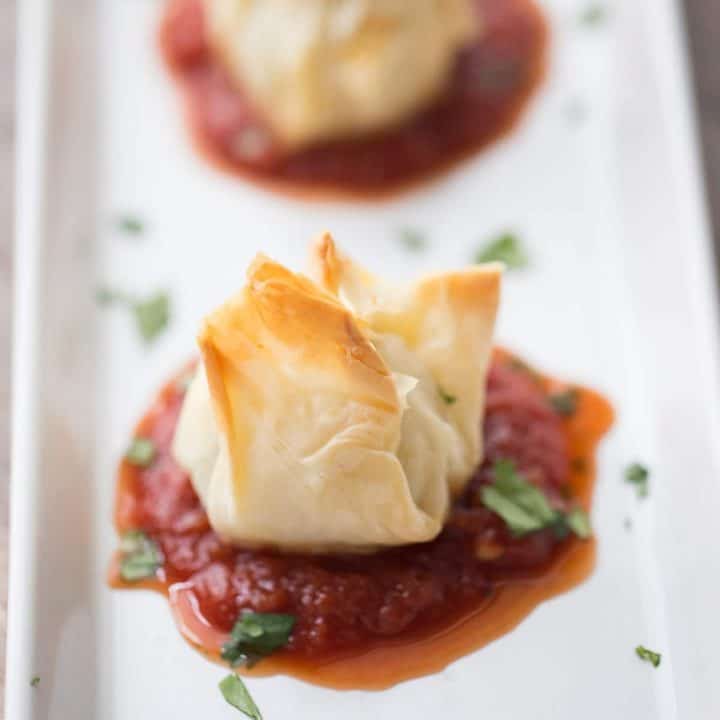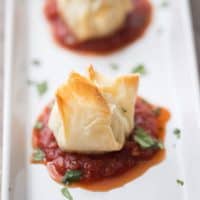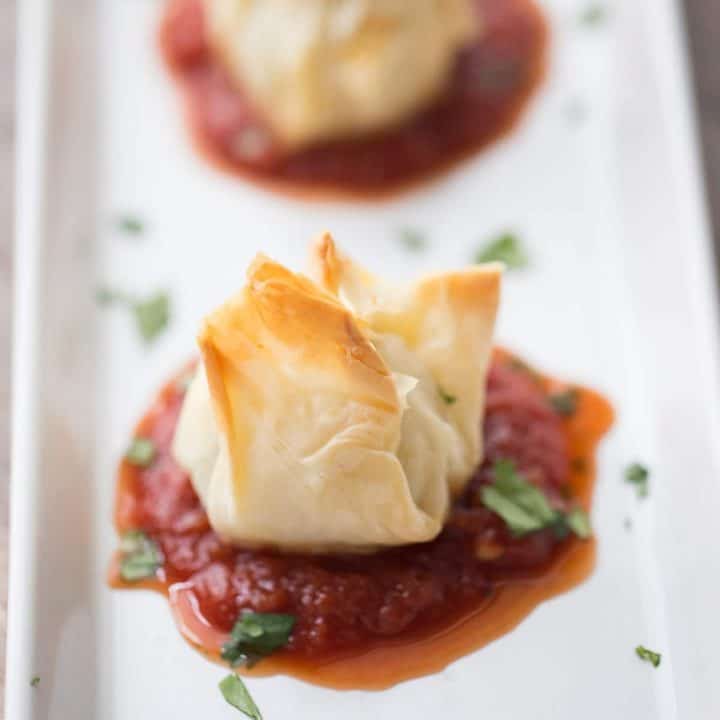 Want more ways with Fillo?  Visit Athens Foods:
Web | Facebook | Twitter | Pinterest
Disclosure: I received compensation from Athens Foods for recipe development purposes. All opinions are my own.