Skip the jarred stuff, a homemade marinara sauce is the way to go!
This simple sauce has many uses and it's incredibly simple to make!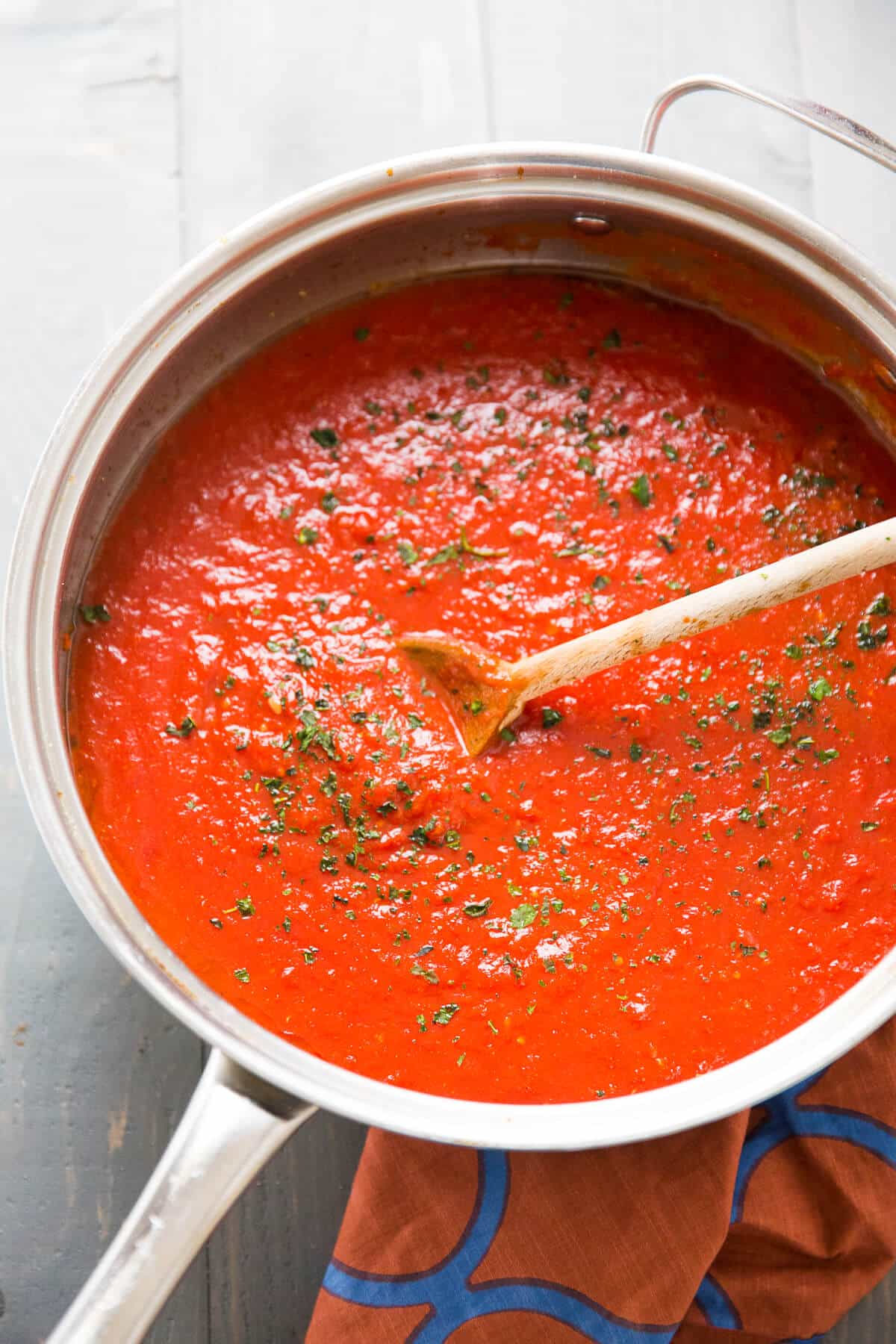 This homemade marinara sauce is a game changer.  The other day I was talking in my Ramen Noodle Soup post about my college staples.  Ramen noodles were certainly a college staple, but so were jars of spaghetti sauce.  As the saying goes, with age comes wisdom.  It took me awhile to realize that there is rarely a need to buy jarred pasta sauce.  Homemade marinara is so easy and so good and only requires a few readily available ingredients.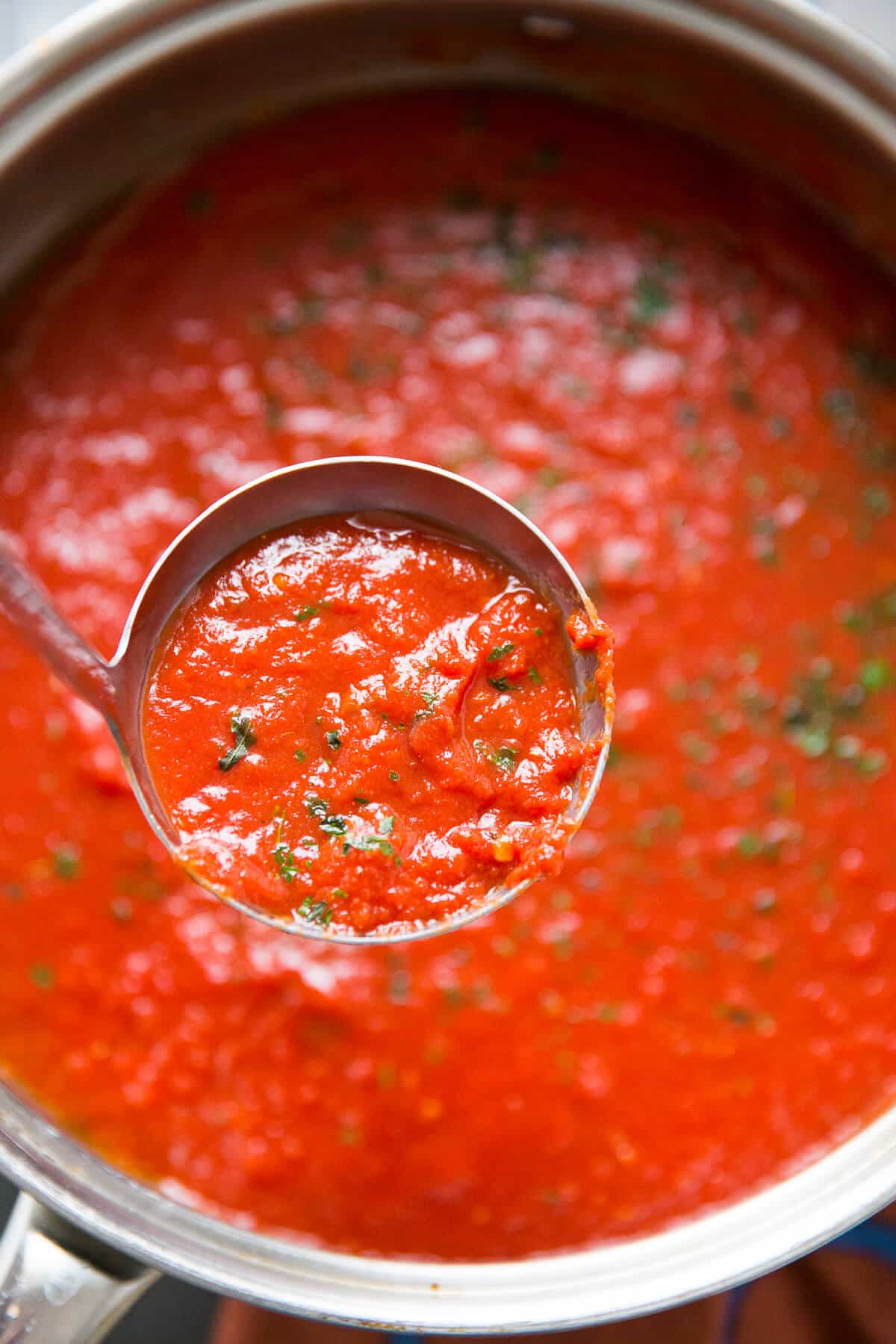 This recipe uses a few canned ingredients, garlic, and spices.  It takes very little time to prepare.  I like to use a large can of crushed tomatoes, a can of petite diced tomatoes, tomato sauce, garlic, a pinch of sugar to combat the acidity and a blend of Italian seasonings.  You can change this up if you need.  I like to have only a little to zero"chunks" to my canned tomatoes or else my son won't eat it.  But honestly diced tomatoes, chopped Roma tomatoes would be fine in this recipe. This is your preference, the tomato style will not affect the taste.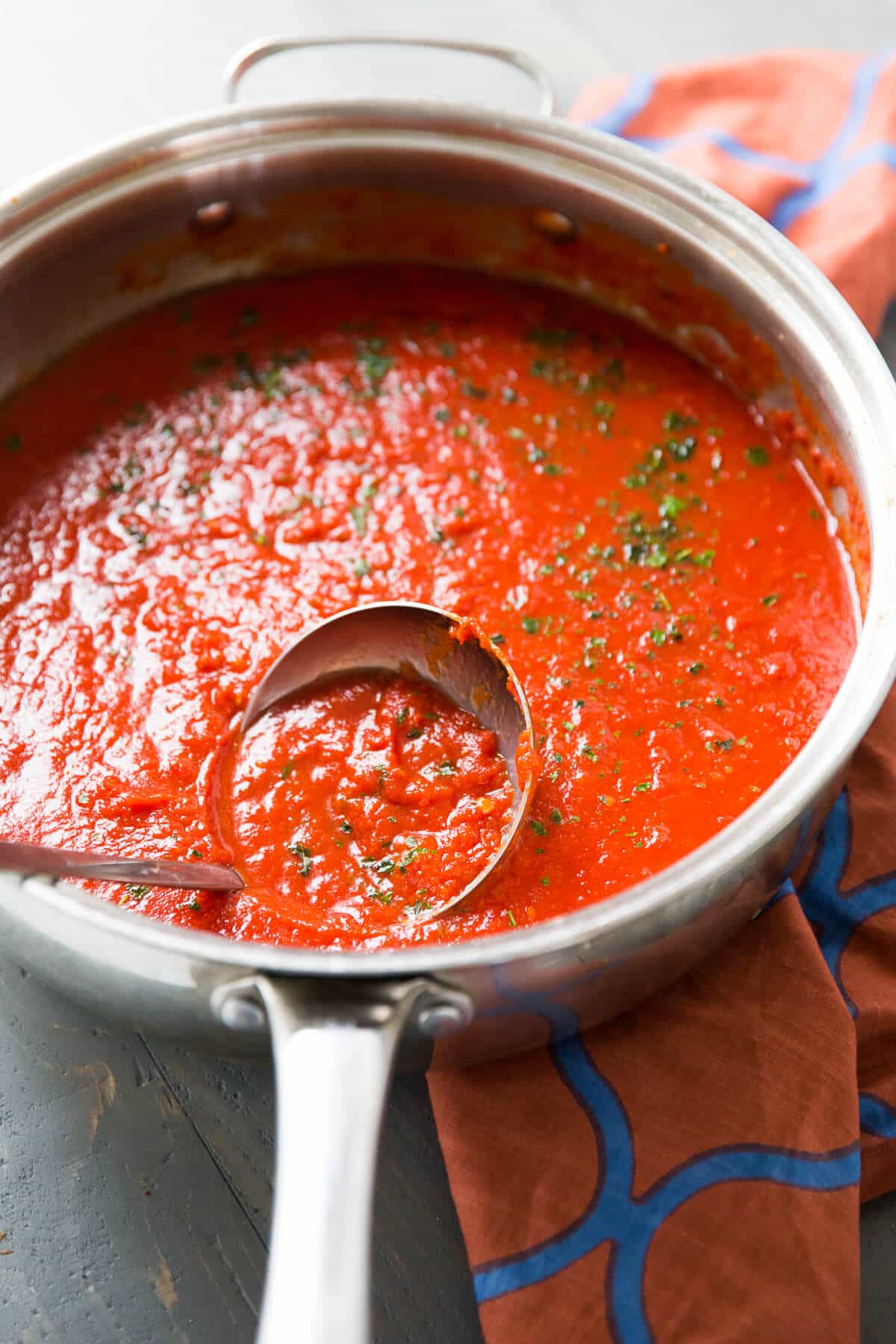 I like to season my sauce with dried oregano, basil, salt, pepper, and few red pepper flakes.  Those seasonings are pretty standard, but I say use what you have at home.  Fresh herbs are always good, but I would add those at the end of the process.  I think adding them just before serving the sauce would really maximize the flavor.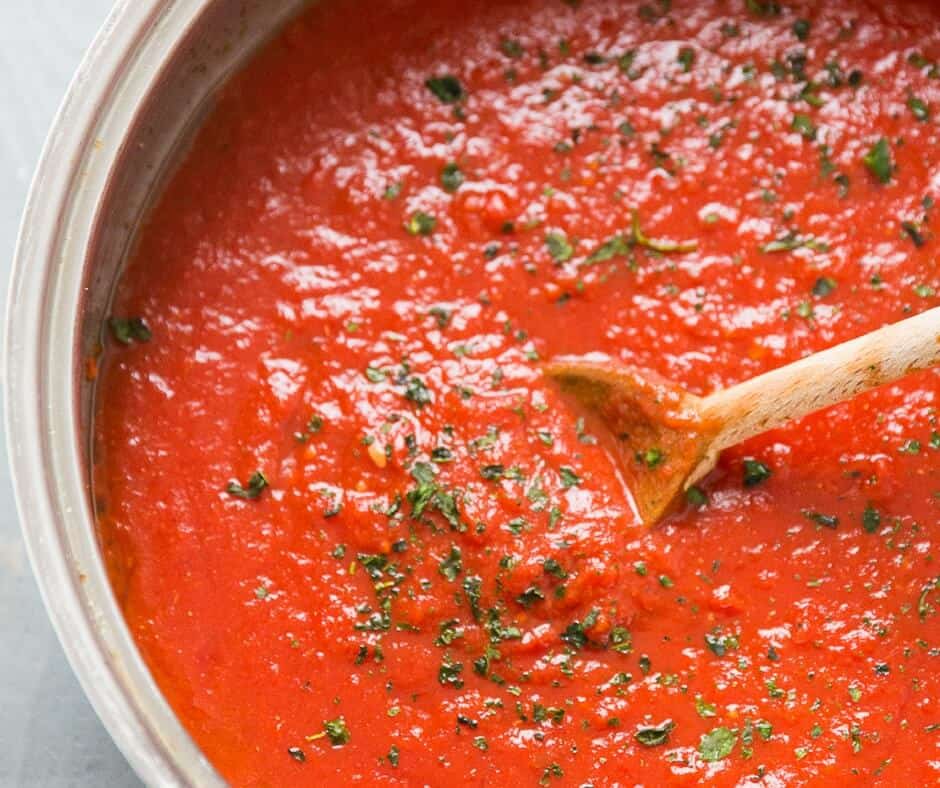 This homemade marinara recipe is well-suited for recipes like this Pork Parmesan or this Basil Ricotta Dumpling recipe.  It works a base for both these Homemade Parmesan Soft Pretzel Bites, and this meaty marinara.  Basically, this sauce will work anytime you need a red sauce. It freezes well so there is no reason you cannot make a double batch each time.  When the craving for spaghetti hits, you will always have the sauce ready!


More Pasta Sauces:
Roasted Garlic Cauliflower Alfredo
Pasta with Yellow Pepper Sauce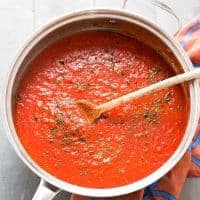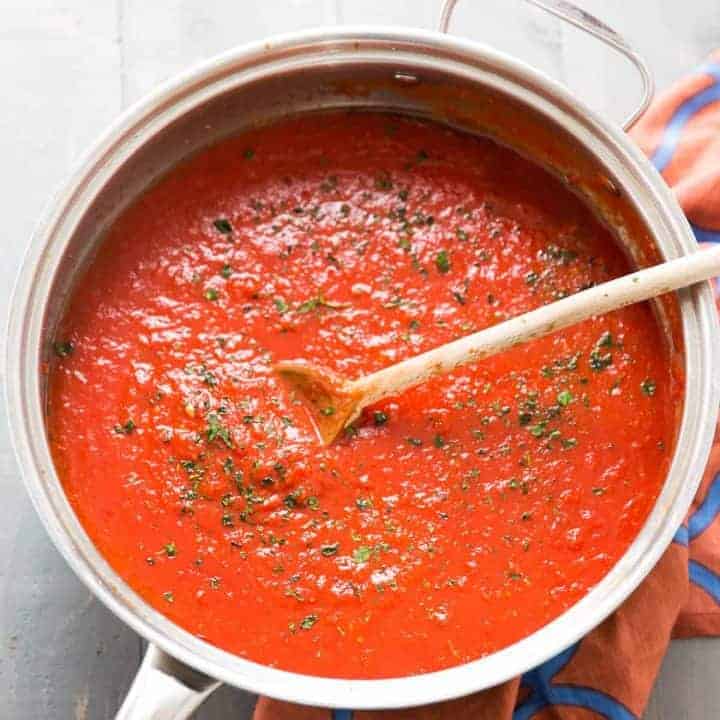 Homemade Marinara Sauce
Skip the jarred stuff, a homemade marinara sauce is the way to go!This simple sauce has many uses and it's incredibly simple to make!
Ingredients
1 tablespoon olive oil
2 cloves minced garlic
1 28 oz can crushed tomates
1 14 oz can petite diced tomatoes
1 8 oz can tomato sauce
2 teaspoon sugar
1/2 teaspoon salt
1/2 teaspoon dried oregano
1/2 teaspoon dried basil
1/4 teaspoon red pepper flakes
Instructions
 Heat olive oil in a medium saucepan over medium heat. Add garlic and cook for one minute. Add crushed tomatoes, diced, tomatoes and tomato sauce. Stir in sugar, salt, oregano, basil, and crushed red pepper. Cook until mixture begins to simmer. Reduce heat to low and cover until ready to serve.
Nutrition Information
Amount Per Serving
Calories

0
Total Fat

0g
Saturated Fat

0g
Cholesterol

0mg
Sodium

0mg
Fiber

0g
Sugar

0g
Protein

0g
SaveSaveSaveSaveSaveSave
SaveSave
SaveSave