Homemade soft pretzel bites with buttery Parmesan topping are as easy to make as they are to eat! Served with zesty marinara dipping sauce.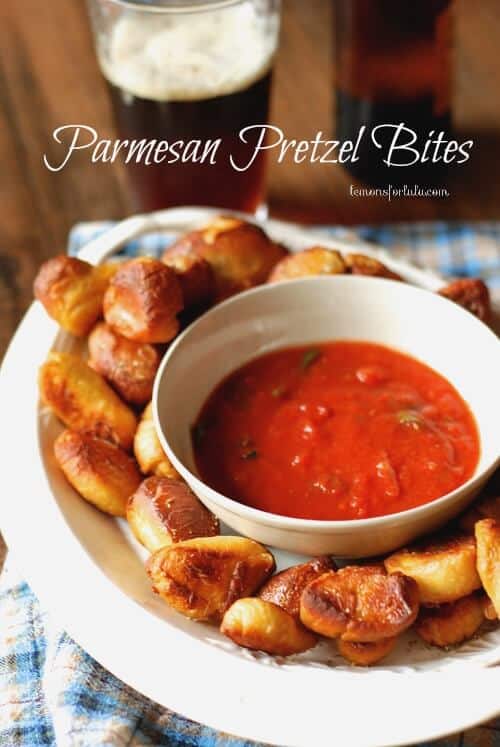 I was all set to write you a narrative about how obsessed I became with making these soft pretzel bites after I received a jar of homemade spicy mustard from my neighbor. I was ready to discuss how once I focus on an idea, I cannot stop thinking about it until it becomes a reality. And the example I was going to give was how I badgered my husband multiple times a day to hang pictures in our home after we moved in because that's all I could think about.
The more I obsessed, the less patience I had, so I hung them up myself. Which is no big deal, except they are ALL crooked and uneven because I am too impatient to measure anything! I was then going to tell how I feel ( and my husband would agree) that my obsessive nature is somewhat of a character flaw, but I am too distracted to tell you all this in detail.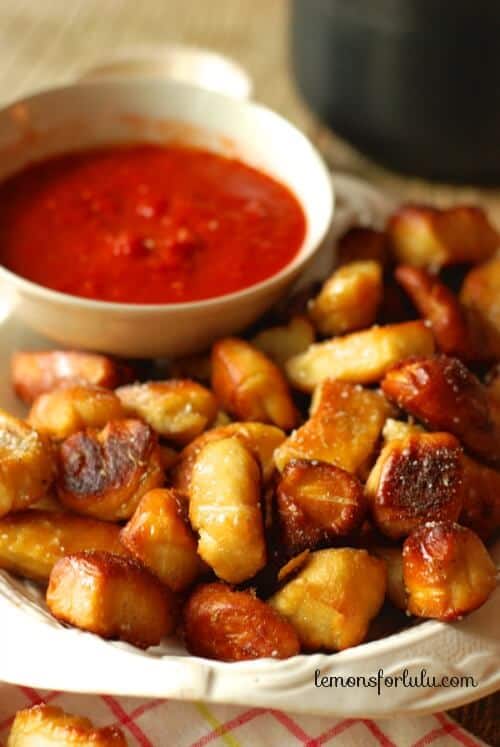 Want to know why? Because as I type this my 8-year-old son is standing behind me making the most thunderous fart noises with his mouth and his hands. And now I'm obsessed with this resounding noise spewing from that little mouth that I normally think is so sweet. How does he make them so loud?
I'm surprised I can type this, because all I can focus on is how he continues to make these noises as he is making his way up the stairs to get ready for bed. But what baffles me most is how loud and clear they sound despite the fact that he is at the opposite end of our house! Then he stops and laughs uproariously at his ability to imitate this embarrassing bodily function! What exactly is it with boys and fart noises? I ask my husband this but he has no answer. He sheepishly admits that he still thinks fart noises are hilarious.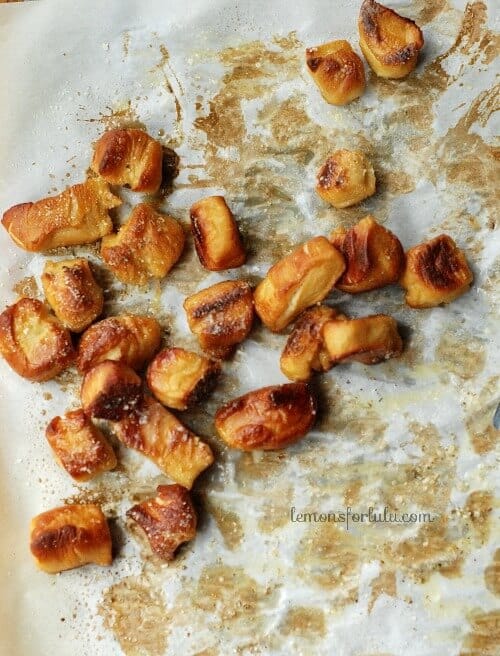 One thing I can say for sure is that there were NO wind-breaking noises when I served these soft pretzel nuggets!
Instead, there were lots of "mmm-mmm's". My family is as obsessed with these soft pretzels as I am! These pretzels are soft little pillows of yeast….just perfect for the hot butter and Parmesan cheese smothered all over each nugget! Each little soft pretzel swims in homemade marinara dipping sauce. Soft and tender on the inside, golden and crusty on the outside. Darn, I'm obsessing again. All I can think about is my next batch.
WHO'S BRINGING THE SNACKS?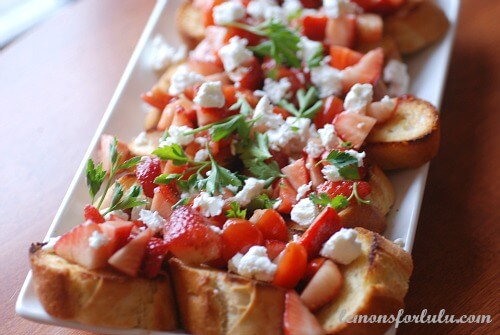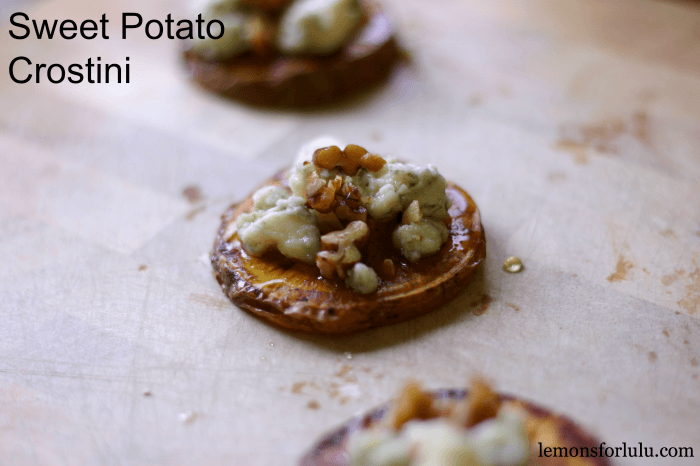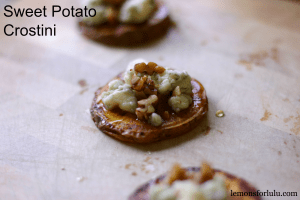 NEVER MISS A RECIPE! SUBSCRIBE TO MY EMAIL TODAY!
FOLLOW ME:
FACEBOOK | RSS | TWITTER | GOOGLE + | BLOGLOVIN | INSTAGRAM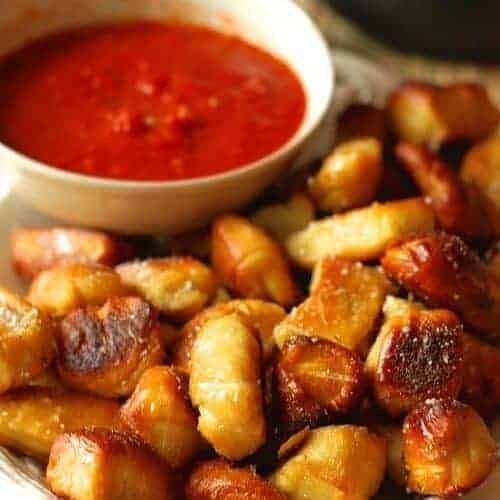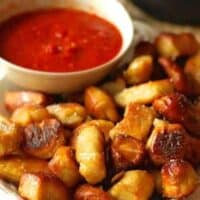 Parmesan Homemade Pretzel Bites w/ Marinara Dipping Sauce
Prep Time:
1 hour
10 minutes
Total Time:
1 hour
40 minutes
Homemade soft pretzel bites with buttery Parmesan topping are as easy to make as they are to eat!
Ingredients
1 1/2 cups warm water
1 tablespoon sugar
2 teaspoons salt
1 package active dry yeast
4 1/2 cups flour
4 tablespoon butter, melted
10 cups water
2/3 cup baking soda
1 egg yolk lightly beaten with a splash of water
salt
4 tablespoon butter, melted
1 tablespoon dried Italian seasoning
1 tablespoon grated Parmesan cheese
1 teaspoon garlic powder
1 tablespoon olive oil
2 cloves garlic minced
1 14.5 oz can crushed tomato
1/4 teaspoon crushed red pepper
1 tablespoon chopped flat leaf parsley
Instructions
Combine water sugar and salt in the bowl of a stand mixer. Sprinkle yeast over water and allow mixture to sit for 5 minutes or until yeast begins to foam. Using the dough hook, mix in the flour carefully along with the melted butter. Mix on low until dough begins to pull away from the sides of the bowl. Remove dough and wipe out bowl. Drizzle about a tablespoon of oil over bowl. Return dough to bowl, coating well with the oil. Cover bowl with plastic wrap and place in a warm place for about an hour or until dough has doubled in size.
Preheat oven to 350. Line two baking sheets with parchment paper that has been coated with cooking spray. Set aside.
Bring 10 cups of water and the baking soda to a boil.
Remove dough from bowl and place on a floured surface. Divide dough into about six equal balls of dough. Roll out each dough ball into a rope and using a pizza cutter, cut each rope into 1-inch pieces.
Drop dough in small batches into boiling water. Allow dough to cook for about 30-45 seconds turning halfway. Remove to baking sheets. Continue until all the dough has been boiled. Brush pretzels with egg wash. Bake for about 10 minutes or until golden brown. Remove and brush with melted butter. Sprinkle Italian seasoning, Parmesan and garlic powder over pretzels. Serve with marinara.
For the marinara:
Heat oil in a small saucepan. Add garlic and cook for one minute. Stir in tomatoes and red pepper. Allow sauce to come to a slow boil for about 15 minutes.
Notes
Pretzels adapted from Alton Brown
Nutrition Information
Yield

6
Serving Size

6 pretzels
Amount Per Serving
Calories

549
Total Fat

20g
Saturated Fat

11g
Trans Fat

1g
Unsaturated Fat

8g
Cholesterol

72mg
Sodium

7846mg
Carbohydrates

81g
Fiber

4g
Sugar

6g
Protein

12g
SEE THIS ON MY PINTEREST BOARD!
SaveSave