Easter is one of the few times a year when the entire family comes together. Hosting Easter at your home this year? It can be difficult to do so when you don't have any Easter recipes on hand to serve your family.Don't panic just yet, as our favorite recipes for Easter will see you through. From starters to dessert, we have you covered no matter what dietary restrictions or preferences your family may have.
Traditional Easter Foods
When it comes to collecting Easter recipes to make the perfect Easter dinner menu, it can help to start with some of the more traditional Easter foods from around the world. Don't know what qualifies as a traditional Easter food?
Take a look at this list below to get some ideas, many of which may surprise you.
Roasted Lamb
Ryemeal Soup
Braised Red Cabbage
Glazed Ham
Ham Salad
Italian Wedding Soup
Pizzelle Cookies
Tiropitas
Kalitsounia
Stuffed Grape Leaves
Scalloped Potatoes
Oven Roasted Potatoes
Spanakopita
Hot Cross Buns
Roasted Asparagus
Glazed Carrots
Chocolate Easter Eggs
Carrot Cake
Creamed Peas
Stuffed Chicken Breast
While this is a long list, it certainly doesn't contain all the traditional Easter foods as there are just too many. So don't be afraid to pick a few dishes from this list and serve them with a few of your own.
How to Make Easter Ham
There is no Easter dinner recipe quite as famous as the traditional glazed ham. If you have never made a glazed ham before, know that it is much easier than you may think and you likely have most of the ingredients in your cupboards already. Just follow the instructions below.
Ingredients:
Spiral sliced ham
Brown sugar (1 ¼ cup)
Honey (1/4 cup)
Orange juice (1 cup split in 2 ½ cup portions)
Orange zest
Step 1: Preheat Oven
Start by preheating your oven to 350 degrees. Move the rack to the lowest shelf, this Easter recipe needs room.
Step 2: Make the Glaze
Combine all of the ingredients, except for one-half of the orange juice in a bowl.
Step 3: Add Glaze to Ham
Rub the mixture into the ham, taking extra care to get between each slice.
Step 4: Rest the Ham
Put the remaining orange juice in the bottom of the baking dish and put the ham in the dish, ensuring the cut side is in the orange juice. Cover the ham with foil.
Step 5: Bake the Ham
Bake the ham for 1.5 hours, then remove the foil and rub with additional glaze. Return the ham to the oven for 15 minutes or until the center of the ham reaches 140 degrees in temperature. Remove from the oven and cool for 15 minutes before serving.
35 Scrumptious Easter Recipes to Serve Your Family This Year
Easter Brunch Recipes
Celebrating your Easter meal early in the day? Then you better plan a brunch instead of a dinner.
These Easter brunch recipes can help you get inspired to design an Easter meal that will wow your family and friends.
1. Simple Deviled Eggs with Garden Vegetables
Easter brunch wouldn't be complete without at least one egg recipe. Make these garden vegetable Deviled Eggs from Lemons for Lulu. Not only are they easy to make, but they also make a great appetizer to put out for your guests to snack on while you focus on making the main dish.
2. Easter Charcuterie Platter
Speaking of appetizers, no Easter brunch would be complete without one of these amazing Easter charcuterie platters from Lemons for Lulu. Filled with fruits, veggies, and even some sweets, this appetizer will keep your guests busy (and out of the kitchen) for as long as you need to prepare the main dish.
3. Koularakia Lemon Greek Easter Recipes Cookies
Koularakia may have a funny name, but they are traditional Greek Easter cookies that are just sweet enough to serve with coffee or tea, but not sweet enough to ruin your craving for dessert.
Find the recipe on Lemons for Lulu, but definitely put this recipe on your to prepare the night before list, as they take 45 minutes from start to finish, 30 minutes of which require active prep time on your end.
4. Cinnamon Rolls with Blueberries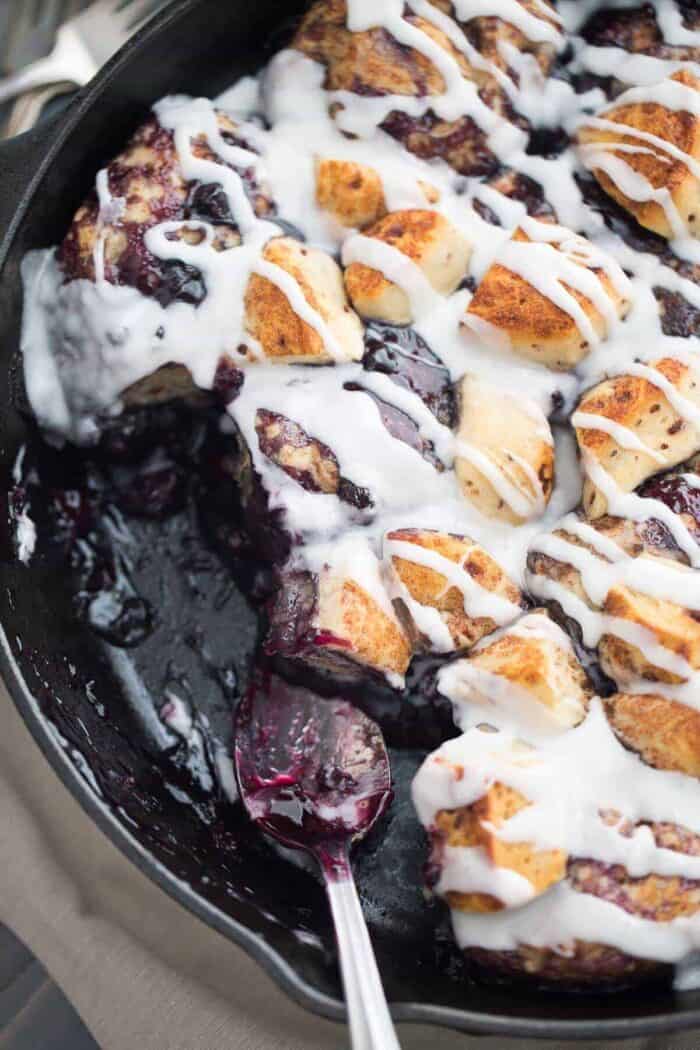 Looking for a more simple Easter brunch recipe? Look no further than these cinnamon rolls with blueberries from Lemons for Lulu.
They're delicious and filling, and you can make them in just 30 minutes. Serve these with a fruit plate, or perhaps an Easter charcuterie board, and you won't have to worry about preparing anything else.
5. Carrot Cake Cinnamon Rolls
If brunch is the only meal you are serving for Easter this year, then you should bake these carrot cake cinnamon rolls by Taste of the Frontier. They are cinnamon rolls, classifying them as breakfast or brunch, while also being made of cake, making them a dessert.
Put these on the table after everyone has finished brunch and there will be no need to cook dinner.
6. Deviled Eggs Benedict
Deviled eggs are tasty, but not a meal on their own unless you make these Deviled Eggs Benedicts from Bread Booze and Bacon. All you have to do is make regular deviled eggs, then top them with chopped bacon, and some chives.
Then place it on a toasted English muffin and drizzle hollandaise sauce over it, and just like that, brunch is served.
7. Carrot Cake Cream Cheese
Even if you aren't going all out for Easter brunch, you can still set out some bagels and cream cheese during the lunch hour for guests to enjoy while they await the main event. Keep it Easter themed though with this carrot cake cream cheese from Cupcake and Kale Chips that can take your bagel game to a whole new level.
8. Orange Ricotta Dutch Baby
Orange Ricotta Dutch Baby is a dessert dish that is made by combining flour, sugar, salt, milk, eggs, butter, and ricotta cheese. Add a little orange zest and powdered sugar to the top and you have a sweet, but savory breakfast pastry reminiscent of a cheese Danish.
Find the full recipe on Bread Booze Bacon.
9. Hemp and Carrot Oat Easter Recipes Cups
Need a gluten-free option for your guests? Make these hemp and honey carrot oat cups from Nutrition and the Kitch, which will curb that desire for bread and sweets, all without containing gluten.
The best part is, they save well in the fridge so don't be afraid to make them in advance.
10. Hash Brown Egg Casserole
Making eggs for all of your guests at Easter brunch can be a hassle. Rather, you should prepare this Hash brown egg casserole from Life Family Fun, which can be easily pulled out of the oven when everyone is ready to eat.
You can even make it the night before and put it in the fridge so that brunch is easy to prepare after returning from Easter church service.
Easter Dinner Recipes
Easter dinner is one of the few meals a year that brings everyone together. Make this year extra special when you include one (or more) of the following Easter recipes on your table this year. Don't be afraid to mix and match.
11. Easy Scalloped Potatoes with Boursin Cheese
Every Easter dinner needs a few Easter-themed side dishes. Scalloped potatoes have long been served on the Easter holiday, and it is easy to see why.
Cheese, crispy, and delicious, there is no way anyone can resist an extra serving of these calorie-ladened potatoes. Find the recipe on Lemons for Lulu.
12. Tangerine Glazed Ham
Now it's time for the main event, the glazed ham. Check out this recipe from Dinner, Dishes, and Desserts, which features a tangerine glazed ham made with olive oil, sage, butter, tangerines, brown sugar, cinnamon, and some cloves.
The dish will be so aromatic while it is cooking, that your mouth won't stop watering until you can finally taste this ham.
13. Easter Carrot Cheese Ball
Every Easter Dinner recipe deserves to be served with an appetizer. Make this Easter carrot cheese ball from Yummy Healthy Easy which is as tasty as it is easy to make.
You'll be covering cream cheese with onion, carrots, and a variety of other savory flavors. Serve with both veggies and crackers to keep your guests satisfied until the ham is cooked to perfection.
14. Parmesan Scalloped Potatoes
There is more than one way to make scalloped potatoes, so when you are looking for a different variation of the traditional Easter recipe, try these parmesan scalloped potatoes from Let's Dish Recipes.
They are made by combining milk, whipping cream, and parmesan cheese with some savory toppings like green onion and parsley to create a combination you will want to make again and again.
15. Mascarpone Mashed Potatoes
Although most people associate scalloped potatoes with Easter, there is no reason not to make an old favorite like mashed potatoes instead. Try this recipe from My Suburban Kitchen to try a unique twist on this dish which is as old as time itself.
16. 30 Minute Homemade Dinner Rolls
Every collection of Easter dinner recipes needs a recipe for rolls. They can be dipped in the gravy (if you have mashed potatoes and gravy) or used to scoop up that extra glaze from the carrots or ham.
Here is a recipe for some tasty dinner rolls from Wishes and Dishes that will be a much-needed addition to your holiday table.
17. Air Fryer Easter Recipes Carrots
Serving glazed carrots with your glazed ham has long been an Easter tradition. But when you want to switch it up a little (and lower the calories) consider making these air fryer carrots from Nutrition in the Kitch instead.
You can even add a little sugar instead of salt if you wanted to keep them sweet.
18. Slow Cooker Ham
There is more than one way to make a ham, and you may decide that instead of messing with your oven, you'd rather make it in the slow cooker.
Check out this recipe from Life Family Fun, which will walk you through the process of glazing your ham with pineapple and brown sugar and then putting your ham in the slow cooker for 3-4 hours.
Easter Dessert Recipes
No holiday meal is complete without a dessert you can impose on your guests even as they are so full they feel they will burst. Here are some of our favorite Easter dessert recipes you and your family will certainly enjoy.
19. Lemon Crumb Cake
Lemon crumb cake is a tasty, but not a too sweet dessert that fits with the spring theme of Easter. You can find the recipe on Lemons for Lulu, but basically, you will make lemon curd, then layer it on a homemade cake.
Top the creation with a homemade lemon crumb and you have yourself an irresistible dessert.
20. Lemon Sugar Cookies
While on the subject of lemon, consider making these lemon sugar cookies from Dash of Sanity. They are a little easier to make, as well as easy to serve, as everyone can just grab a cookie.
Just be careful making these the night before, as you will find it difficult to resist snacking on them.
21. Lemon Pie Easter Recipes Cups
Headed to an Easter party and need a more child-friendly dessert? Try these Lemon pie cups from Mandy's Recipe Box which are adorable, namely when topped with a couple of Cadbury mini eggs.
The recipe makes 12, so be sure to double or triple it depending on the size of the party.
22. Berry Chantilly Cake
Make Lemon isn't your ideal flavor, and that's okay, just grab this recipe for a berry Chantilly cake from Dinner at the Zoo instead. Filled with fluffy whip cream and topped with berries, this is a cake you won't regret serving.
23. Cadbury Creme Egg Chocolate Lava Cakes
Did you buy too many of those Cadbury Eggs? Try something new this year and bake them into a lava cake using this recipe from Culinary Ginger.
You'll need some eggs, flour, sugar, as well as some espresso powder, cocoa powder, and, of course, some Cadbury Eggs. You'll be pouring the mixture into individual molds, making this an adorable, individual dessert to serve at your Easter event.
24. Strawberries and Cream Pie
One nice thing about the timing of Easter is that you know summer is right around the corner. If strawberries are already in season where you live, buy a bunch and make these delicious strawberries and cream pies from The Taylor House.
It only has a few ingredients and is a dessert you can have ready in minutes making it an ideal last-minute Easter dessert.
25. Easter Cookie Cake
Cookies are a great choice for dessert, but when you want to change things up a little, you should make this Easter cookie cake from That Skinny Chick instead.
It has all the same ingredients as regular cookies, but you'll bake it in a large pan and serve everyone slices. The recipe is sweet enough as is, so you shouldn't need frosting, but you can also add some if you would like.
26. Carrot Cake Cupcakes with Orange Spice Frosting
The most obvious dessert choice for Easter is, of course, carrot cake. Carrot cake is a delicious mixture of savory and sweet, especially when you top it with a little cream cheese frosting.
Follow this recipe by Taste of the Frontier to make carrot cake cupcakes, so everyone can have their own little mini cake to enjoy.
27. Old Fashioned Cream Cheese Pound Cake
For those responsible for providing a brunch and a dinner for Easter, it can seem overwhelming to also provide dessert. When that's the case, grab this recipe for Old Fashioned Pound Cake from Love Bakes Good Cakes.
It only contains a few ingredients which you will spend a few minutes mixing together before you put it in the oven. Pull it out, slice it, and serve it with berries and cream and that's all there is to it.
28. Jell-O Divinity Easter Recipes
Unfamiliar with divinity? It's a type of candy that is very similar to meringue in its shape and somewhat crunchy texture. Use an easy trick from Mom Time Out involving Jell-O to transform your divinities into bright Easter colors to display in piles on your table.
Your kids will love these, so be prepared to store them out of reach.
29. Easter Egg Hunt Surprise Cookies
These Easter egg surprise hunt cookies from 365 Days of Baking are not the easiest to make, but if you take the time to do so, they will certainly steal the show.
You'll be using an upside-down muffin tin to make the basket shapes, then filling each with green frosting. Place a few jelly beans on top and you have some adorable edible Easter baskets.
30. Peeps S'mores Easter Recipes
How do you feel about the candy Peeps? For most people, it's either a love or hate relationship.
For those who aren't a fan of eating them plain, try this recipe for Peeps S'mores from Domestic Superhero. They're quick and easy to make and you may just find you like Peeps after all.
31. Lemon Meringue Pie
Are all these desserts making your mouth water? Well, the last one on this list is a Lemon Meringue Pie—a classic dessert that will please everyone if you aren't up for trying a more unique one on this list.
Follow the directions found on The Love Nerds, and you'll be able to make this Easter recipe without any problems.
Easter Salad Recipes
No Easter meal would be complete without a salad. No, we don't mean one of those leafy green ones (though there are some of those too) but a traditional, Jell-O, fruit, or other fancy salad which usually takes center stage during the Easter holiday.
Scroll down to see some of our favorite Easter salad recipes.
32. Strawberry Pretzel Salad Bites
These strawberry pretzel salad bites from Lemons for Lulu are really more of a snack than a salad, but they are great to set out before your meal.
They are made by crushing pretzels into a crust, then topping with a cheese and cream mixture, then finished off with strawberries. They aren't healthy, but they are delicious.
33. Mandarin Orange Pretzel Salad
Mandarin orange pretzel salad is called a salad, but really this dish should probably be served as dessert. Its base is a crunchy pretzel crust, with cream, Jell-O, and mandarin oranges all placed on top.
You can find the recipe on Bellyfull, just keep in mind you will need to make it in a pan, and serve it with a spatula, but this is one salad even the youngest kids will like.
34. Pina Colada Fruit Salad
Fruit salad is always a favorite on the Easter table, especially because it is spring and a bunch of new fruits are in season after a long winter.
Grab some pineapple, melons, mandarin oranges, grapes, strawberries, and some pina colada mix, and toss them all together in this amazing fruit salad recipe from Lemons for Lulu. You won't regret it.
35. Kale Tahini Salad
So, maybe you are looking for a little something healthy to balance out all those scalloped potatoes and glazed carrots. In this case, try this recipe for Kale Tahini Salad by Nutrition in the Kitch.
It's made with just a few simple ingredients, namely kale, cucumbers, and pomegranate, then tossed in a homemade tahini dressing that everyone will enjoy.
36. Brussels Sprouts and Farro Salad
Brussel sprouts are commonly served at Easter dinner, but they aren't always a crowd favorite. Mix them in this farro salad by Lemons for Lulu to change it up this year and make a dish that everyone will enjoy.
Just ensure you cook the Brussels sprouts long enough so they are tender and edible.
How to Make Easter Bread (Recipe)
Easter bread has been served on tables across Europe for centuries. While less popular in America, this traditional Easter bread recipe can make a great addition to your Easter brunch spread. Here is how you make it.
Ingredients:
Unsalted Butter (1/2 cup)
Milk (1 ¼ cup)
Yeast (2 ¼ teaspoons)
3 Eggs
Vanilla (1 teaspoon)
Flour (4 cups)
Sugar (1/2 cup)
Water
Sprinkles
Step 1: Combine Milk and Butter
In a saucepan on low heat, combine your milk and butter until the butter is melted. Pour in a bowl.
Step 2: Add Yeast and Sugar
Add yeast and sugar after the butter cools. Stir, then let the mixture stand for 10 minutes.
Step 3: Beat Eggs
Beat 2 of the eggs together in one bowl, in another bowl, beat one egg then add 1 tablespoon of water and stir.
Step 4: Mix
In the bowl with the butter mixture, add the 2 beaten eggs, the vanilla, and 2 cups of flour. Start the mixer (or if it's handheld, grab an assistant). Add the remaining flour ½ cup at a time until the dough is the desired consistency and not sticky.
Step 5: Knead
Knead the dough for 5 minutes.
Step 6: Melt Butter and Coat
Melt 1 tablespoon of butter and coat the dough with it. Cover the dough and allow it to rise for 90 minutes.
Step 7: Divide and Roll
Coat a surface with flour then divide the dough. Roll them into rope shapes, then braid them together.
Step 8: Let it Rise
Place the braided rope on parchment and allow to rise for an additional 60 minutes.
Step 9: Preheat Oven
Preheat the oven to 350 and brush the braid with the single egg mixture.
Step 10: Bake
Bake for 20-25 minutes until golden brown. Allow to cool for 10 minutes before serving.
Easter Recipes FAQ
What is the Most Eaten Food on Easter?
The most eaten food on Easter depends on where you live. In America, most people enjoy a nice Easter ham recipe, while in Europe, the most commonly eaten food is Easter bread. But, worldwide, there is nothing quite like a chocolate egg after you have finished your supper.
Why is Ham an Easter Tradition?
Easter ham is a tradition because ham has always been widely available in the United States. Think about it, ham, when cured, lasts longer than most other meats, and lamb, while available year-round in the present day, historically wasn't available until later in spring.
Meanwhile, ham was slaughtered in the fall and conveniently ready to eat around the Easter season.
Do You Eat Lamb on Easter?
Although lamb is popular for Easter in the present day, it wasn't throughout history. Why? Well, Lambs aren't naturally born in December, and if they are, they have to be artificially fattened to be ready in time for Easter.
Instead, lamb is more of a modern Easter option, and it is thought that it is served because it is symbolic, since, in the Christian religion, Jesus is referred to as the slaughtered lamb. But yes, you can eat lamb on Easter if you so choose.
Why Do We East Easter Eggs?
Easter eggs were originally created and given to others to represent new life and rebirth, and historically, they were very difficult to come by so it was a real treat to eat them on Easter Sunday.
There were also many superstitions that people believed about eggs laid on Good Friday and eaten on Easter, such as that they were good luck or would prevent death.
Although they have come to represent fun over the years, in the form of hunts for kids, many people still eat them on Easter Sunday because they are tasty and fun—and why not, since the tradition has gone on for this long, there is no reason to discontinue it now.
Easter Recipes Conclusion
Feeling a little more ready to host your family this Easter season? No matter which Easter recipes you pick from this list, you can guarantee your family will love whatever dishes you make.
Just be sure to pick an amazing Easter dessert recipe to finish the night off right, and have a bowl of delicious chocolate Easter eggs on hand to keep with tradition.