Whether you're a rum connoisseur or just someone looking to try some new spirits, you might wonder what the best and most popular rum brands are.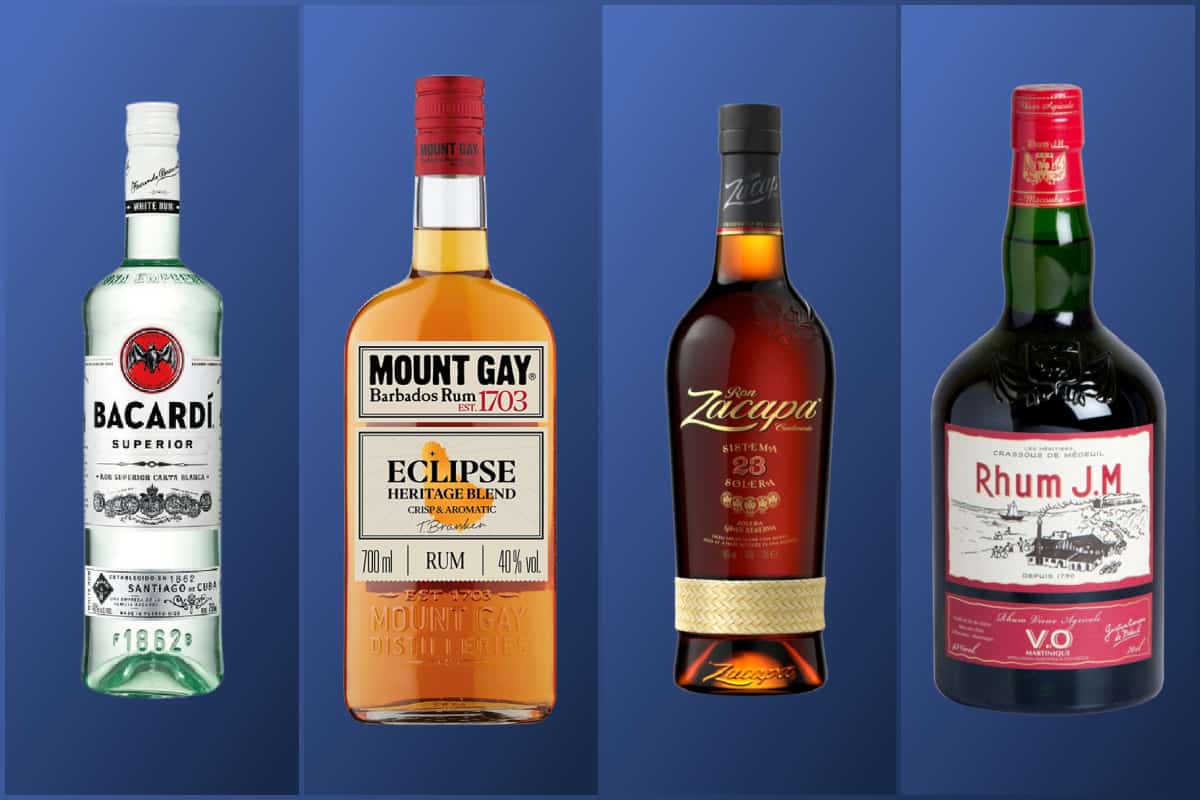 We've got you covered and have scoured the market for the best brands of rum. We gathered our picks from all over the web, including exclusive sites such as The Rum Authority and Liquor.com.
Here is a quick recap of our rum brands:
Some brand names that we'll cover today may be found at your local shop, such as Bacardi. While others might need to seek out on the web or a specialty store for liquors, such as Rhum J.M. Vo Vieux Agricole. Brands and their assortment of options will range in price, flavor, and quality.
So pour yourself a tall glass of your favorite dark rum brand and sit back, we will guide you through rums that cost more than a small mortgage on a house.
Here's our list of rum brands on the market today.
---
Mount Gay Barbados Rum
The first rum on our list is one you've probably seen on a shelf near you—you may have even tried it! Mount Gay is known for being aged in American whiskey barrels to give it its fruity vanilla quality.
Mount Gay Barbados Rum has been a popular choice for mixed drinks and is a go-to for many mixologists. The best part: it comes at a low starting price of $20 per bottle and goes way up from there.
---
Bacardi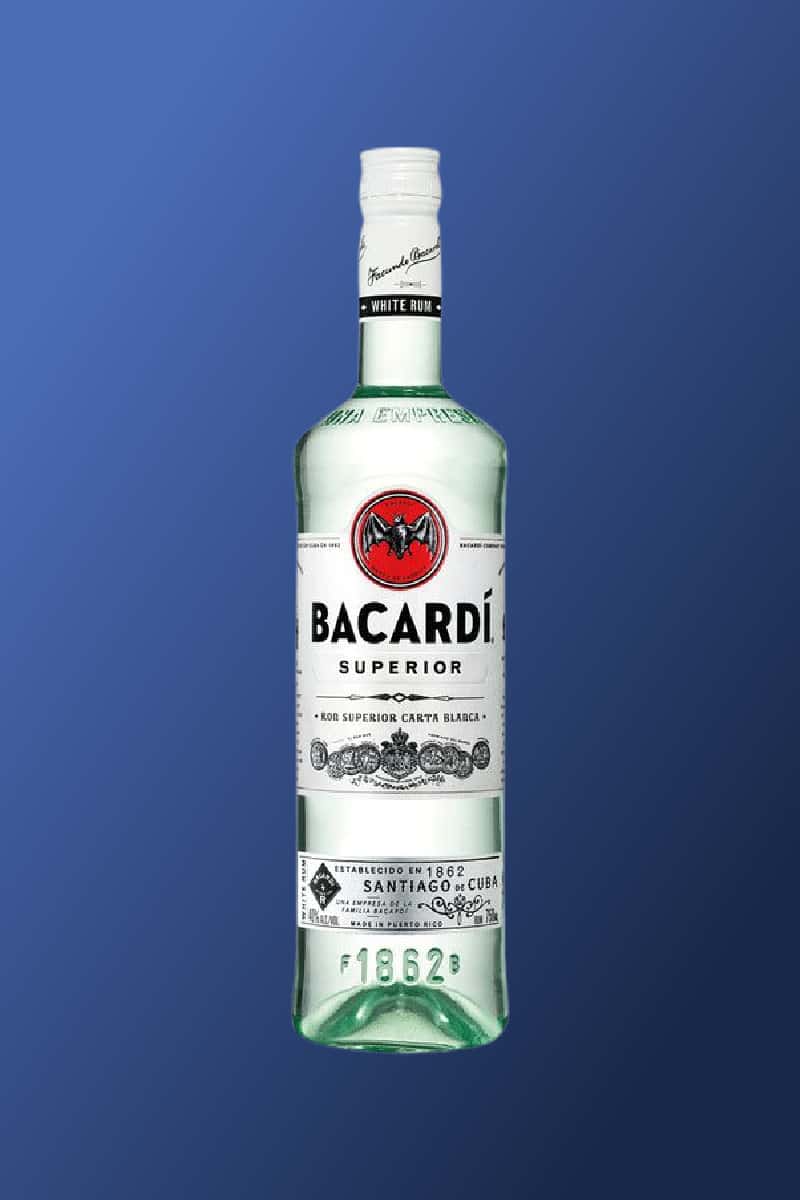 Bacardi has made a name for itself as one of the most-popular rum choices globally. With its celebratory nature and recognizable flavor, it's the dark and light rum brand we all know and trust.
But there's more to Bacardi—founded in Havana, Cuba, the brand built its name around symbols of luck and fortune, and their floral, tropical flavor says it all.
With its light body and smooth delivery, Bacardi stays at the top of the rum game with its many selections, all made with blackstrap molasses.
---
Ten To One
Ten to One has been getting a lot of buzz lately, not only for being the "rum meant for whiskey lovers" but also for being a black-owned distillery.
Aged in oak bourbon barrels, Ten To One Dark Rum brings together the traditions of Jamaican pot still rum and Trinidadian rum into one spirit. It has banana in the nose, brown sugar, and classic vanilla in the profile.
This company is new, but certainly, one to watch out for.
---
Don Q
Our first Puerto Rican Rum on the list, Don Q is the country's top-seller—and for a country that produces over 50% of North America's rum. That's saying a lot.
Don Q is a white rum brand with notes of coconut shell, tropical fruit, and a seven-layer bar. There is a fresh bite with a dry body. The finish is as smooth as the region it comes from and finishes with more notes of sugar, lime, and spice cake. Don Q's selections are truly one of a kind.
---
El Dorado
El Dorado is a Guyana-made rum. The profile is smooth and spicy, with hints of citrus fruits. After the sip, the spice is overtaken in flavor by a caramel essence. This comes from how the rum is made: with caramel in the barrels rather than added sugar.
The 15-year aged rum can also mix in cocktails as its body is vigorous enough to cut through added flavors and maintain its character, though this particular rum is to be sipped neat.
---
Rhum J.M. Vo Vieux Agricole
Rhum J.M Vo Vieux Agricole is aged for at least 3 years in oak barrels—this is is what designates it as Rhum Vieux Agricole (old rum). Martinique, where Rhum J.M. Vo Vieux is distilled, has only 14 distilleries which put out rhum agricole.
Another distinction of Rhum Agricole from other rums is that it differs in the way that it's distilled. This process is from squeezed cane sugar rather than fermented fruit juices or molasses. Also, they must come from the French Caribbean regions.
The taste profile is where it makes a difference though. Its one-of-a-kind flavor is full of aromatics that can be earthy and natural, and have notes of banana, pineapple, and papaya.
---
Chairman's Reserve
Chairman's Reserve offers a mix of pot style and column-still rums. They are based in St. Lucia, where a healthy offering of notes including banana, caramelized fruit, cocoa, tobacco, and vanilla are available.
The rum is one of the best aged and has a full-body with sweetness especially good for sipping on a hot day or mixing with pineapple juice for a cocktail in the sun.
---
Ron Zacapa
Ron Zacapa blends quality aged-rum-making techniques honed by a chemist named Alejandro Burgaleta. What stands out about Ron Zacapa is how it ages in a high-altitude distillery. This increases the cool temperatures needed to make it and prevents drying out the product's required moisture.
It offers hints of caramel, vanilla, cocoa, oak, bananas, licorice, along with citrus fruitiness and spiciness from cinnamon and ginger. The rum is sweet from the nose forward and is for mixing or sipping alone.
---
Old Line Aged Caribbean Rum
Old Line Aged Caribbean Rum is aged between seven and eleven years inside bourbon casks. Old Line is located in the tropics and was created by a team of master rum creators.
Old Line is rich in notes of vanilla, butterscotch, pineapple, coconut, and oak. Similar to how whiskey gets its flavor, rum must be aged in wooden casks.
Old Line Aged Rum has several barrels, so each bottle is different and can pick up additional notes of spice and tropical fruit.
---
Goslings
Distilled in Bermuda, Goslings is a 5-star dark rum brand. Its name is synonymous with quality all over the world, Gosling's is a well-known name in the rum world due to its full flavor, barrel-aged flavor.
Goslings combine 3 unique triple pot-distilled rums, then put away in (ex-bourbon) oak casks for 3-6 years.
Goslings rum is Bermuda's greatest export, and its flavor profile is deep and well-rounded. In it are notes of vanilla, fruit, and spices for your rum-sipping pleasure.
---
Rum Brands: Conclusion
A good rum takes a lot of time to make correctly, and it is important to know a bit more about some of these top rum makers around the world so that you too can enjoy them more—and maybe even find your new favorite rum brand.
FAQ
Here are answers to some questions you might have about rum.
What is rum made from?
Rum is made in full from sugar cane. This includes raw cane juice, white or brown cane sugar, cane syrup, and molasses.
Is rum gluten-free?
Yes, rum is gluten-free as it is made entirely from sugar cane, there should be no gluten involved in the making of any rum.
One thing to beware of though is gluten that is contained in added flavorings, such as coconut or orange-flavored rum.
What is good to mix with rum with?
The classic rum mixer is Coca-Cola, which you can garnish with a lime twist. Other mixers that work well with rum include fruit juices (all-natural is best) and soda water with flavored bitters.
Does rum go bad?
When kept closed, a bottle of rum will maintain its quality and profile. But if you open the bottle, it can then be kept for years as long as it isn't left next to a heat source or in sunlight.
How many calories are in rum?
50 grams of rum (around one-shot) has roughly 165 calories.
What are the ways to drink rum?
Rum can be drunk in endless ways and depends on your tastes. Rum neat is a classic favorite, but it also goes well over ice. A classic cocktail is a rum and Coke, but pairing it with fruit juices or mixing it into a pina colada is a great way to enjoy rum.
Does rum have sugar?
Unless sweeteners or flavors have been added, rum is a sugar-free spirit.
What does rum taste like?
Rum has a complex flavor—which makes sense considering how it's made. The liquor is initially distilled from sugarcane which gives it a sweet essence of warm sugar.
Does rum have carbs?
Rum is a 0-carb spirit and is keto-friendly along with vodka and gin.
What gives rum its color?
When rum is stored in oak casks (or any other wooden barrel types) it is a clear liquid. Over time, the wood, flavorings (common ones include molasses, brown sugar, caramel), spices, and anything else put inside the barrel ages the clear liquid and turns it brown.
This not only changes the color but the flavor as well.