This rum punch recipe is going to make you feel like you are on vacation with every sip!
Throw your cares away, sit back, relax and enjoy this simple rum punch recipe!
If you're looking for a tropical-flavored drink for yourself or a party then look no further. This tasty drink only needs a few ingredients and steps to pull together, making it simple and easy for any occasion. Scale it up for a punch bowl or scale it down for a single glass and you're sure to enjoy it either way. This versatile rum punch recipe is always a huge hit.
What Is Rum Punch?
So, I did a little research on the origin of rum punch. Apparently, the word "punch" comes from a Sanskrit word that means "five", as the drinks were originally made with five ingredients; alcohol, sugar, lemon juice, water, and tea or spices.
The drink eventually made its way from England to the West Indies where it took on the more tropical notes that we know today. Native island fruits lent themselves perfectly to rum punch; their natural sweetness has always been a perfect match for most kinds of rum.
When it comes to making rum punch, keep this rhyme in mind: One of Sour, Two of Sweet, Three of Strong, Four of Weak." This means punch is made with: one part lime juice, two parts sweetener, three parts rum, and four parts water. This doesn't mean that we have to follow this rhyme exactly, but it does help to get a rough idea of how much of everything you'll need. You can always adjust the amounts to your own tastes to make the drink stronger or weaker.
The best Ingredients for a rum punch:
Orange juice
Pineapple juice
Lime juice
Rum
Dark rum
Grenadine
For the exact measurements, please see the recipe card below.
How To Make Caribbean Rum Punch
You are going to LOVE how easy this recipe is! It makes a pitcher's worth so it is perfect for entertaining.
This recipe starts with pineapple juice and orange that I poured into a pitcher.
I then stir in lime juice, both light and dark rum, and grenadine.
You can alter the amounts of juice and alcohol to suit your tastes and as mentioned above, coconut rum would make this punch especially tropical as would a splash of coconut water. This recipe is quite adaptable.
Recipe Tips
Want to make a larger batch? Rum Punch can easily be doubled (or tripled) and placed in a punch bowl if you are going to be serving this to a crowd.
Make ahead instructions and tips. If you are going to make this in advance and for a crowd, freeze pineapple juice in ice cube trays and add this to your pitcher or your punch bowl to add flavor to your punch.
Another way to spruce up your party drink. You could freeze small slices of oranges, lemons, or limes in your pineapple juice cubes! You can always turn it into sorbet as I have done with this Mango Rum Punch Sorbet!
Variations
There are many variations on rum punch and a Barbados rum punch is one of them! This rum punch recipe uses Barbados rum and a dash of Angostura bitters.
Any flavored rum could be used in place of the traditional white and spiced rum.
Here are a few great options for changing up the flavor a bit:
Coconut Rum Punch made with coconut rum (and or coconut water) instead of your traditional rum.
Trinidad Rum punch adds raw sugar and nutmeg to the mix and omits the grenadine
Hawaiian Punch can be used in place of grenadine and fruit juices.
Don't want to use rum? You could also add in vodka, triple sec, Prosecco or champagne, ginger beer, lemon-lime soda, ginger ale, club soda. Rum punch is like a chameleon, it can change to suit your tastes!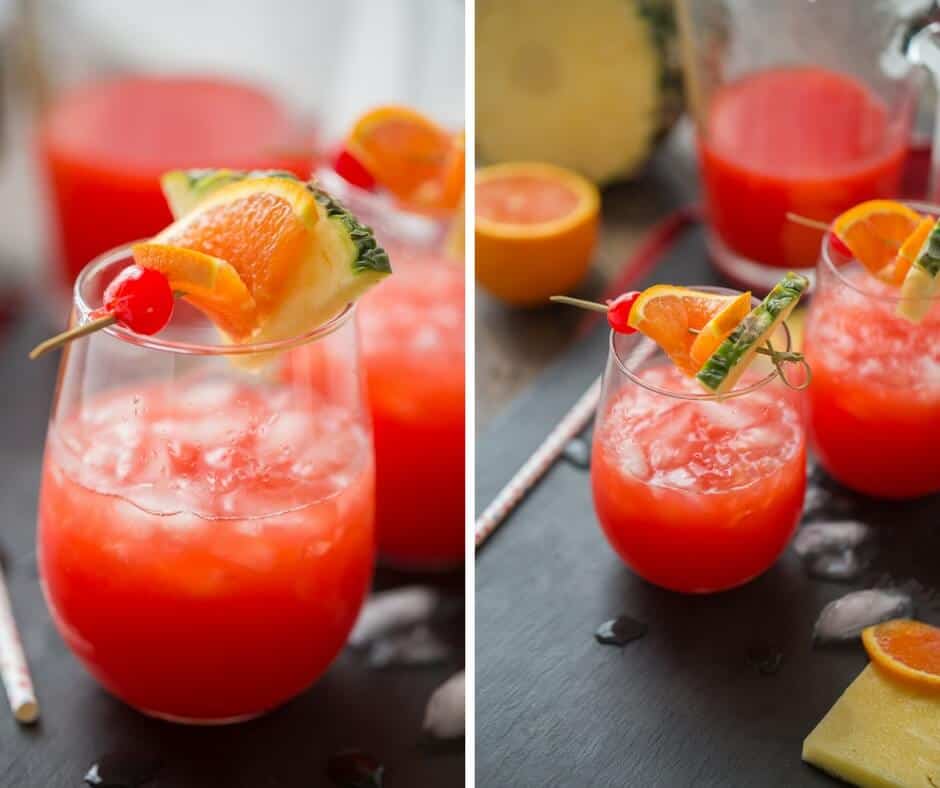 FAQs
What's In a Rum Punch Cocktail?
Rum punch cocktail recipe usually consists of rum (light, dark, or coconut) and lots of fruit juice like pineapple, orange juice, lemon or lime juice, and grenadine for color. Some of these can be swapped out and the amounts may vary, but these ingredients are usually the basics of a rum punch.
The most popular rum punch is the Jamaican rum punch. The drink is sweet, strong, and has a generous amount of fruit flavor.
How Long Does Rum Punch Last?
This recipe can be made 24 hours in advance, however, do not add any fruit to the punch if you are using fresh fruit like orange slices, lemon slices, or cherries to garnish. Add any garnishes just before serving.
Can Rum Punch Go Bad?
Yes, the citrus in this punch might turn a little if the punch is kept too long. I should add that the chances are slim that you will have to worry about storing leftover punch. This rum punch cocktail disappears quickly…maybe a little too quickly!
Rum Cocktails
Rum cocktails that are sweet, fruity, EASY and so fun to share!
Yield: 4-6
Caribbean Rum Punch
Summers and fruity cocktails go hand in hand that is why you need this rum punch recipe!
Ingredients
1 cup of orange juice
1 cup of pineapple juice
1/4 cup lime juice
1/4 cup rum
1/4 cup dark rum
1/2 cup of grenadine
Instructions
In a pitcher, combine the juices, the rum, and the grenadine. Stir. Pour into ice-filled glasses and serve with an orange slice and maraschino cherries.
Nutrition Information
Yield
6
Serving Size
1
Amount Per Serving
Calories

149
Total Fat

0g
Saturated Fat

0g
Trans Fat

0g
Unsaturated Fat

0g
Cholesterol

0mg
Sodium

9mg
Carbohydrates

29g
Fiber

0g
Sugar

20g
Protein

0g