Coconut milk is a nutritious pantry item that makes an ideal ingredient in many recipes, adding a delicious flavor and creamy texture. Not to mention, most of these coconut milk recipes are dairy-free by using this ingredient to substitute regular milk or cream.
Coconut Cream Versus Coconut Milk
Coconut cream and coconut milk are both made by boiling coconut flesh with water. To clarify, the cream is made from simmering four parts coconut meat with one part water. Yet, coconut milk is made from simmering one part coconut meat with one part water.
While coconut cream has a much thicker and richer consistency, coconut milk has a similar consistency to cow's milk. As a result, coconut milk has a fewer fat content.
Coconut Milk Nutrition
Since coconut milk contains important vitamins and minerals, there are many nutritional benefits to coconut milk recipes. However, the values vary by product.
For example, raw, canned coconut milk will have a different nutritional profile than sweetened coconut milk beverages.
Calories: 445
Water: 7 grams
Protein: 6 grams
Fat: 2 grams
Carbohydrates: 4 grams
Calcium: 41 milligrams
Potassium: 497 milligrams
Magnesium: 104 milligrams
Iron: 5 milligrams
Vitamin C: 3 milligrams
Nutritional values of one cup of sweetened coconut milk beverage (USDA Food Composition Databases):
Calories: 74
Water: 227 grams
Protein:5 grams
Fat: 5 grams
Carbohydrates: 7 grams
Calcium: 451 milligrams
Potassium: 46 milligrams
Manufacturers will often fortify these beverages with vitamins A, B-12, and D2.
Are coconut milk recipes good for you?
Coconut milk is a dairy-free alternative that has many nutritional benefits including vitamins and minerals that are essential for your health.
Since coconut milk is higher in fat than other non-dairy kinds of milk (like almond or soy) and contains low amounts of carbohydrates, it is an ideal ingredient to incorporate in keto diets.
However, coconut milk is high in saturated fat – about 12 grams in canned coconut milk and about 4 grams sweetened coconut milk beverages.
Although the milk is made up of small amounts of medium-chain triglycerides (MCTs) which are readily metabolized by the body for energy, the high saturated fat content may promote cardiovascular disease if high amounts are consumed.
In addition, coconut milk may also increase "bad" LDL cholesterol, slightly.
While coconut milk can be a beneficial addition to your diet and a crucial component of many recipes but due to the high-fat content, it should be consumed in moderation.
Coconut Milk Recipes Benefits
Aside from being packed with nutritional vitamins and minerals, coconut milk has other health benefits.
Here are some benefits that coconut milk provides (Healthline):
Coconut milk contains a small amount of MCTs, medium-chain triglycerides, that may increase metabolism and help with weight loss. However, the low levels are unlikely to have a significant effect.
Although coconut milk intake may slightly increase "bad" LDL cholesterol, it also helps increase "good" HDL cholesterol.
In addition, studies have found that the lauric acid found in coconut milk helps reduce inflammation.
Furthermore, Lauric acid found in coconut milk has anti-bacterial and anti-fungal properties that may help fight viruses and bacteria that cause infections.
Coconut Milk Calories
The calorie content in coconut milk depends on the form of coconut milk. For instance, raw, uncanned coconut milk is a high-calorie food, with about 445 calories found in one cup.
But, sweetened coconut milk beverages, on the other hand, contain about 74 calories per one cup.
35 Best Coconut Milk Recipes – From Flavorful Side Dishes to Decadent Desserts
1. Easy Coconut Milk Rice
Ahead of Thyme offers us this recipe for Coconut Milk Rice that is a simple dish that pairs well with many Thai or South Asian entrées. Likewise, Jasmine rice complements coconut flavors for a quick but delicious side dish or accompaniment for a weekday family dinner.
2. Coconut Corn Muffins
With the same moist consistency of corn muffins that use buttermilk, this recipe from Simmer and Sage uses coconut milk for a dairy-free version of the muffin we all know and love.
In addition, this recipe also adds shredded coconut for a tasty texture that's ideal for the summertime.
3. Baked Vegan Mac and Cheese
Jessica in the Kitchen shows us how simple it is to make an irresistible sauce right in your blender for a creamy Baked Vegan Mac and Cheese.
The recipe uses coconut milk and cashews for an incredible, creamy consistency that complements the savory breadcrumb topping.
4. 3-Ingredient Coconut Milk Ice Cream
A 3-Ingredient Coconut Milk Ice Cream that holds a thick and creamy texture while frozen is easy to make with this recipe from Plum Street Collective. Plus, the recipe has no eggs or dairy, so you can enjoy it as a healthy snack or dessert.
5. Coconut Milk Chia Pudding
Nuts for Naan gives us this Chia Pudding recipe that uses coconut milk for an added creaminess and natural sweetness to this decadent breakfast, snack, or dessert.
With chia seeds being a powerhouse source of protein, nutrients, omega-3 fat, antioxidants, and fiber, you can enjoy this delicious recipe knowing how healthy it is.
6. Creamy Coconut Chicken Curry
Rich, creamy, savory, and flavorful, are a handful of words to describe this Creamy Coconut Chicken Curry recipe from Rumkis Golden Spoon.
In this recipe preparation, tender chicken pieces are cooked in a spicy onion-tomato gravy with coconut milk for a unique combination of flavors. Serve with rice or naan for a delicious holiday dish or special weekend dinner.
7. Easy Coconut Milk Yogurt
Minimalist Baker demonstrates how quick and easy it is to make homemade coconut yogurt with two ingredients. Combine coconut milk and probiotic capsules, wait for activation (24-48 hours), and refrigerate.
The yogurt comes out rich, creamy, and tangy like store-bought yogurts, so you'll be opting for the homemade version a lot more.
8. Vegan Thai Red Curry with Tofu and Vegetables
A vegan and vegetarian-friendly dish can be made flavorful thanks to this recipe from Green Bowl 2 Soul for Vegan Thai Red Curry using a base of coconut milk. ​​
The dish is loaded with vegetables and tofu and features a homemade red curry paste, so it's packed with protein and healthy ingredients.
9. Filipino Cassava Cake
Simply Bakings offers us this recipe for Cassava Cake that is a classic dessert in the Philippines. The cake is one of those coconut milk recipes that is rich, creamy, custard-like and has an incredible coconut flavor and texture from grated cassava.
The recipe is easy to prepare and can be baked, steamed, or broiled.
10. Chicken Bicol Express – Filipino Stew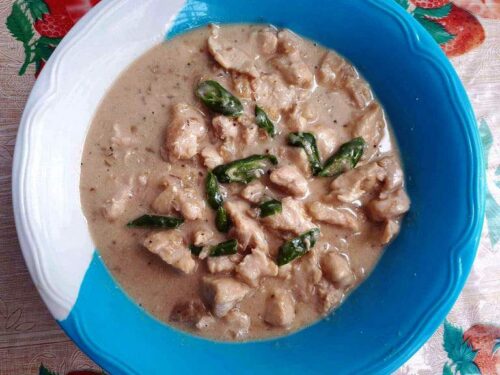 Chicken Bicol Express is a traditional Filipino stew dish that mixes sweet, salty, and spicy. The recipe is made with coconut milk, ginger, garlic, onion, and chicken, although other meats can be used.
The Odehlicious adds some shrimp paste to this recipe for a necessary saltiness and green chilies for a mild spiciness.
11. Vegan Creamy Mushroom Pasta
Hello Frozen Bananas shows us how to create this recipe for Vegan Creamy Mushroom Pasta which features a sauce made with coconut milk, vegetable stock, spices, and mushrooms.
Not only is this dish one of those easy and cheesy coconut milk recipes, but it is also creamy, thanks to the combination of nutritional yeast and coconut milk. Onions, garlic, and mushrooms are the cherry on top with this delicious weeknight dinner dish.
12. Pumpkin Miso Ramen with Maple Mushrooms
A comforting autumn soup can be made with this recipe from Sticks Scratch Kitchen. Pumpkin Miso Ramen is made with a salty-sweet broth of coconut milk, pumpkin, white miso paste, vegetable broth, and ginger.
The ramen is then loaded with brown rice noodles, chickpeas, oven-crisped kale chips, and maple-marinated mushrooms.
13. Easy Almond Joy Pie
Two Sugar Bugs presents a delicious Almond Joy Pie featuring a creamy coconut-filled pie with a chocolate shortbread crust.
The pie is finished off with a topping of crunchy almonds and drenched in a layer of luscious milk chocolate ganache for a decadent dessert everyone will love.
14. Tom Yum Soup With Noodles
Tom Yum Soup is a seafood coconut milk soup loaded with hot and sour flavors typically found at Thai restaurants, and it can be made right at home with this recipe from The Short Order Cook.
The soup features creamy coconut milk, a fish sauce-flavored chicken broth, citrusy lemongrass, fresh lime juice, and red chile-garlic for the broth. Plus, this is one of those coconut milk recipes that is a healthy, low-calorie, gluten-free dish.
Enjoy this soup as is or add noodles to make it a filling meal full of delicious Asian flavors.
15. Vegan Coconut Pudding
The Spruce Eats shows us that a delicious and luscious dessert can be made without milk, butter, or eggs thanks to vegan confections like coconut milk.
The pudding is easy enough to whip up right before dinner, place in the refrigerator, and serve one hour later. A tasty make-ahead dessert or a quick afternoon snack.
16. Curry Smashed Potato Stew
A comforting and flavorful Curry Smashed Potato Stew can be made with a warm coconut sauce with this recipe from Cooking on the Weekends.
The stew is loaded with aromatic curry spices and creamy, buttery Dutch Yellow Potatoes, making a hearty and cozy meal ideal for the cooler months.
17. Vegan Pumpkin Mousse with Coconut Milk
Lettuce Veg Out shares this recipe for Vegan Pumpkin Mousse that is made with coconut milk, pumpkin puree, and loads of seasonal spices.
Not only is this dish a dairy-free and eggless recipe, but it is also light, fluffy, and easy to make as a quick dessert, especially in the autumn.
18. Butternut Squash Soup with Coconut Milk
Making this Butternut Squash Soup with Coconut Milk recipe from Everyday Delicious is easy and requires a couple of ingredients. The soup is made with a whole butternut squash, ensuring ample flavor.
Adding cooking spices like ginger, garlic, cinnamon, and cayenne and seasoning with maple syrup and lime juice adds even more flavor.
19. Red Curry Sweet Potato Soup with Peanut Butter Swirl
Rhubarb and Cod's recipe for Red Curry Sweet Potato Soup is a silky smooth mixture of coconut milk, red curry paste, fish sauce, and puréed vegetables. For the finishing touch, a swirl of peanut butter is added to balance smooth, spicy, and nutty flavors.
Hearty soups make an excellent appetizer or side dish and with this recipe being gluten-free and vegan, you can expect almost any guest to enjoy it.
20. Coconut Milk Panna Cotta
Everyday Dishes shows us how to create this recipe for Coconut Milk Panna Cotta is vegan and oh-so-delicious. The dessert has an irresistible flavor thanks to blueberries and thyme and a creamy texture from the coconut milk.
Use strawberries, cherries, or peaches to cater to your tastebuds.
21. Creamy Vegan Carrot Ginger Soup with Coconut Milk
Carrot, ginger, and coconut flavors combine in this creamy soup recipe from Dances With Knives. The flavor doesn't stop there as ground coriander adds depth to the flavor profile and the acidity from lime juice brightens up the soup.
The simple dish is made in 35 minutes and serves well as a starter soup or as an entrée if served with bread.
22. Pointed Gourd Curry
Potoler Parwal Malai Curry, or Bengali-style Pointed Gourd (Parwal) Curry, is a unique dish that can be made for special occasions with this recipe from Saffron Streaks.
Soft and dainty-looking pointed gourds are simmered in a rich and flavorful coconut milk sauce with added Bengali garam masala.
The dish has a touch of heat from green chiles, fragrance from fried coconut, and an aroma of cardamom and bay leaves.
23. Coconut Oatmeal Porridge
A healthy, nutritious breakfast can be prepared in less than 15 minutes with this Coconut Oatmeal Porridge recipe from The Crazy Peanut. The porridge is similar to traditional rice pudding, minus the sugar and dairy that come with it.
With a mild coconut and cinnamon flavor and a creamy texture, this dish will provide a delicious start to your morning.
24. Wild Rice Jackfruit Casserole with Vegan Parm-Panko Topping
That Vegan Nephew brings together shredded young jackfruit, hearty wild rice, a creamy coconut base, and broccoli florets in this lavish Jackfruit Casserole recipe.
The recipe doesn't end there, however, as baked and broiled vegan parmesan and panko breadcrumbs make the topping of this casserole crunchy, rich, and creamy.
25. Bacon Pumpkin Bake with Coconut Milk
A delicious Bacon Pumpkin Bake is made with creamy coconut milk in this recipe from The Yummy Bowl. Seasoned with spices and fresh thyme, this bake is an easy and quick side dish for any dinner, especially on the Thanksgiving dinner table.
26. Coconut Milk Shrimp Curry
Masala Herb gives us this recipe for Coconut Milk Shrimp Curry that is a one-pot shrimp curry prepared with coconut milk and Indian-inspired spices for a simple yet wholesome dish made in 35 minutes.
Shrimp, tomato, and onion simmer in a curry made with vegetable broth or seafood stock, coconut milk, and flavorful spices for a quick weeknight dish packed with flavor.
27. Thai-Style Peanut Pork
The comforting recipe for Thai-inspired Peanut Pork from Kitchen Sanctuary is simple as the ingredients are cooked in one pan, with the oven doing the majority of the work.
In this recipe, the pork is slow-cooked in a flavorful Thai sauce until it's fall-apart tender. The delicious dish is finished off with fresh beansprouts and coriander for an impressive yet easy weeknight dinner.
28. Gluten-Free Jamaican Sweet Potato Pie
Only Gluten-Free Recipes takes a unique twist on fall-classic sweet potato pie with this Jamaican Sweet Potato Pie made with coconut milk and warm Jamaican spices. The pie is made without a pie crust but is moist, indulgent, and gluten-free.
Impress your guests with this unique version of sweet potato pie at your next Thanksgiving gathering.
29. Roasted Eggplant and Tofu Coconut Curry
The recipe for Roasted Eggplant and Tofu Curry from Vibrant Plate combines hearty eggplants and tomatoes with warm and spicy flavors of a comforting curry.
Serve with cooked jasmine rice, chopped spring onions, and a sprinkle of sesame seeds for a filling and delicious vegan and gluten-free dinner.
30. Mango Sticky Rice Waffles
Gourmet Vegetarians offers us this recipe for Mango Sticky Rice Waffles that is a unique take on the popular Bruneian dessert, mango sticky rice.
Chewy rice is mixed with sweetened coconut milk then lightly browned in a waffle iron before a sweet coconut milk topping and accompaniments of fresh mango slices are added.
31. Shrimp Coconut Fried Rice
A quick and easy dish filled with tropical flavors can be made in just 30 minutes with this recipe for Shrimp Coconut Fried Rice from Sims Home Kitchen.
As a result, you'll get this colorful dish. It is a favorite on this list of coconut milk recipes which includes rice, shrimp, and vegetables making it mostly savory with a hint of sweetness.
32. Easy Vegan Key Lime Pie
Key Lime Pie is a simple dessert with a filling made from sweetened condensed milk. However, this recipe from Steph Sunshine is made vegan with sweetened condensed coconut milk, non-dairy Greek yogurt, and vegan graham crackers.
In short, you'll get to enjoy this sweet treat any time of the year, from summer to Christmas, and as a healthier alternative thanks to vegan confections.
33. Cilantro-Lime Chicken Skillet
Sugar Spices Life makes a creamy, cilantro-lime sauce made with coconut milk instead of heavy cream for this flavorful Cilantro-Lime Chicken Skillet recipe.
The recipe instructs you to season boneless, skinless chicken breasts with simple seasonings: salt, black pepper, chili powder, onion powder, and coriander for a flavor combination that's tough to beat.
34. Vegan Cream of Broccoli Soup
A rich, creamy, and silky smooth soup is made dairy-free with this recipe for Vegan Cream of Broccoli Soup from Connoisseurs Veg. As a result of substituting coconut milk, this dish will still be the comforting soup we all know and love.
And you will still get that oh-so-creamy and rich texture, thanks to the consistency of coconut milk.
35. Coconut Tres Leches Cake
Hummingbird High shows us how to make this recipe for Coconut Tres Leches Cake that is made with a coconut-flavored sponge cake soaked in three different kinds of milk: coconut milk, sweetened condensed milk, and evaporated milk.
Topped off with fluffy whipped cream and coconut flakes, this recipe is a decadent dessert ideal for special occasions.
Coconut Milk Recipes FAQs
What Can You Do With Coconut Milk?
With the endless ways you can use coconut milk in the kitchen, you can replace dairy products in a simple, efficient way without losing creaminess and flavor.
Here are some of the options for using coconut milk:
Use it as a dairy replacement
Give cocktails or smoothies a tropical flavor
Whip up dips, marinades, and sauces
Stir it into curries or soups
Make homemade dairy-free cheese
Rich, creamy desserts
Use it as a velvety coffee creamer
Add subtle sweetness and nuttiness to food
Make homemade dairy-free ice cream, whipped cream, or yogurt
Use it as batter for tofu, meat, or fish
Make breakfast porridges
Can You Bake With Coconut Milk?
Yes, you can. In fact, coconut milk is an ideal non-dairy alternative for baking. As long as the subtle coconut flavor won't interfere with your recipe, go ahead and make the substitution.
How Long Does Coconut Milk Last In The Fridge?
Once opened, canned coconut milk will last four to six days in the refrigerator.
Can You Freeze Coconut Milk?
If you have an opened container of coconut milk that will not be used within a week, you can store it in the freezer. However, freezing does affect the quality of coconut milk.
After coconut milk thaws, the milk solids and liquids separate so it loses its creamy and smooth texture. It is recommended that you avoid freezing coconut milk. That is to say unless you plan on using coconut milk for cooking and baking.
How Do You Store Leftover Canned Coconut Milk?
Coconut milk can be stored in several ways. But storing the leftover canned coconut milk will depend on whether the milk is opened or unopened.
Unopened coconut milk should be stored in a dark, dry place in your pantry or kitchen cabinet. Furthermore, if storing coconut milk after it has been opened, transfer the milk to an air-tight plastic or glass container.
Doing so will prevent the tin from seeping into the coconut milk. Then simply store the coconut milk in the refrigerator.
Can You Substitute Coconut Milk For Regular Milk?
Yes. The general rule of thumb when using coconut milk for milk replacement is to replace it 1:1 for the milk in the recipe. However, pay close attention to the type of milk or cream your recipe calls for.
When following coconut milk recipes that call for whole milk, you can use full-fat canned coconut milk as it's a replacement. Moreover, if the recipe calls for lower-fat milk, use a light version of canned coconut milk that contains less fat.
If your recipe calls for heavy cream, opt for full-fat canned coconut milk or coconut cream. Doing so will give the recipe the extra fat and creaminess that heavy cream offers.
How To Tell If Coconut Milk Has Gone Bad?
There are a few signs that your coconut milk has gone bad.
Here are some indicators that you should discard your coconut milk:
If it tastes like tin
The presence of pink-colored moldy spots or patches on the surface
If it curdles or chunks
A sour and rancid odor
If it appears darker in color
Bulging or swollen container
Coconut Milk Recipes Conclusion
Coconut milk is ideal for those wanting to cut down on dairy or for those that have chosen to go dairy-free in their diets. Opt for coconut milk for a healthier substitution for the creamy ingredient for regular milk or creams.
From decadent desserts to savory entrées, this roundup of the best coconut milk recipes will impress your family and guests and have you substituting dairy products more often in the kitchen.