Did you buy an air fryer but aren't quite sure what to do with it? Don't fret, because you can use it to make almost anything, including some delicious air fryer vegetable recipes.
Making vegetables in the air fryer is a little bit different than making meat or a pre-made snack in the air fryer, so you'll want to look up some recipes before you begin. We've done most of the work for you, however, and have put together this amazing list of the best air fryer vegetable recipes for you and your family to enjoy.
What Vegetables Can Be Air Fried?
Before we begin, you probably have a few questions about using your air fryer for vegetables. The first of which is what vegetables you can air fry.
The good news is, you can air fry almost any vegetable you please. But there are some veggies that hold up better than others in the air fryer. Below is a list of vegetables that taste great when prepared in the air fryer.
Zucchini
Summer Squash
Mushrooms
Cauliflower
Asparagus
Red Peppers
Avocado
Onion
Brussel Sprouts
Potatoes
Pickles
Sweet Potatoes
Green Beans
Of course, this isn't all the vegetables out there, and chances are, no matter what vegetable you pick up at the store, it should be safe to put in an air fryer.
What Cannot Be Cooked in an Air Fryer?
Although most vegetables do well in an air fryer, there are definitely a few that will not taste so great after spending a few minutes being air fried.
Because of the way air fryers cook by circulating air, they do better cooking more dense foods. This means very thin foods will cook unevenly or even burn. While there aren't many thin vegetables out there, they do exist, and they should not be put in your air fryer.
Vegetables that shouldn't go in an air fryer:
Spinach
Kale
Romaine Lettuce
Cabbage
If one of these veggies was on your 'must try in the air fryer list' don't despair, as there are some ways to air fry these vegetables when they are prepared properly, or mixed in with another dish. Just note that they should never be placed in an air fryer as is.
Is Air Frying Vegetables Healthy?
Vegetables are a healthy food group that provides you with much of the vitamins and minerals you need to survive. But what happens when you cook them in an air fryer, are they still healthy?
Generally speaking, if you were planning to deep fry your vegetables, cooking them in an air fryer instead is healthier, as it cuts the calories by 70-80%. Additionally, air frying is great for the nutrition retention of vegetables.
That being said, raw vegetables, with no cooking at all, are still considered to be healthier than air fryer vegetables. But for those planning to cook their veggies anyway, the air fryer is a healthy method to choose!
How to Air Fry Any Fresh Vegetable
Below are some fancy air fryer vegetable recipes for you to try. But, with an air fryer, you can pick up and fry any vegetable you want at any time as a side for any dish! Here's how:
Step 1: Choose Your Veggie
Pick the veggie that you want to cook in your air fryer. Remember that thicker, crunchy veggies work best. If the veggie you pick is on the larger size, you will want to take some time to chop it into more manageable pieces.
Step 2: Preheat the Air Fryer
Preheat your air fryer to 375 degrees Fahrenheit or 190 degrees Celsius.
Step 3: Prep the Veggies
Veggies in the air fryer will taste differently depending on what you put on them. Drizzling them with oil will make them taste more roasted. Alternatively, you could put salt and pepper on them. Whatever you choose, add that now.
Step 4: Air Fry Your Veggies
Add your veggies to the air fryer in as thin of a layer as possible. Spreading them out will help them to cook more evenly. Set your air fryer for 10-15 minutes, pausing to shake the air fryer 1-2 times during the cook time.
And voila, you now have some delicious air fryer veggies to go with any dish!
How to Air Fry Frozen Vegetables
For those that live a busy life, sometimes it can be difficult to keep fresh vegetables on hand and use them before they go bad. Luckily, frozen vegetables can be just as tasty, especially when you prepare them in the air fryer.
Plus, when you put frozen vegetables in the air fryer, this dries them a bit while cooking, meaning the final result will taste as if the veggies started out fresh. Air frying frozen vegetables really is the one of the best tricks to pull out of your sleeves when you are short on time and have guests to impress.
Step 1: Do Not Defrost
Most people are used to defrosting frozen vegetables before they cook them. Do not do this. Cooking them in your air fryer directly from frozen really will yield the best results. Leave them in the freezer until you are ready to toss them in the air fryer.
Step 2: Preheat the Air Fryer
Preheat your air fryer to the same temperature as you would if the veggies were fresh. Which is generally 375 degrees Fahrenheit or 190 degrees Celsius.
Step 3: Spread Your Veggies Out
Once your air fryer is preheated, it's time to dump in the veggies. For best results, keep the vegetables in a single layer if you can. Set your timer for 15 minutes.
Step 4: Season Halfway Through
Because the veggies are starting frozen, you can't season them before you put them in. Therefore, about halfway through the cooking time, you should pull out the tray and toss in any seasoning you would like to add. Salt and pepper are recommended. It is also a good time to give the veggies a shake to ensure even cooking.
Step 5: Add Extra Time
After the timer goes off, take a look at your veggies. Sometimes, frozen vegetables need a little extra time than fresh vegetables. If you look and think that your veggies aren't quite done, then pop them in for another 2-5 minutes just to be sure.
Just like that now you've got a delicious vegetable side dish, and they'll be so crisp and fresh tasting no one will even know they were frozen to begin with!
How Does the Air Fryer Make Vegetables Taste Better?
If you've used the above two sets of instructions to air fry vegetables for your family, you are probably now asking yourself how it is possible that the air fryer actually makes vegetables taste better?
The answer is quite simple, an air fryer uses convection to circulate the air around your food. The process also removes some moisture from your food naturally, giving those veggies the extra crunch you desire.
That is why frozen vegetables taste fresh when cooked in an air fryer—because the air fryer naturally removes the excess water that tends to be present in vegetables that have been frozen.
Ready to make some delicious vegetables in your air fryer? Scroll down to find 50 of the best air fryer vegetable recipes.
50 Tasty Air Fryer Vegetable Recipes for Any Occasion
1. Air Fryer Zucchini
Looking for something crispy and crunchy but also healthy? Try this great alternative to French fries—air fryer zucchini!
You can find the recipe on Delish and although it takes a little bit of prep work, this side dish is well worth the wait. Just be sure to make a tasty dip to go with it. We recommend marinara for an Italian feel or Tzatziki if you'd rather go Greek.
2. Air Fryer Stuffed Sweet Potatoes
Vegetables don't always have to be a side dish, and there are some recipes, like this one on Taste of Home, that can make them the main event. In this particular recipe, you will be chopping up vegetables and loading them in sweet potato shells.
Then, you'll place them in your air fryer for about 10-12 minutes or until the cheese is melted. There has never been an easier way to make a full dinner in the air fryer than with this recipe.
3. Air Fryer Chickpeas
There is simply no limit to the types and varieties of foods you can make in an air fryer. Next up, we have this recipe for air fried chickpeas from Cook It Real Good.
The recipe calls for chickpeas, oil, and a few spices, which you will toss all together and air fry. After they are done, you can eat them as is, or save them as a salad or soup topping.
4. Air Fryer Asparagus
As far as air fryer veggies go, air fryer asparagus is the king. Crunchy, crispy, and loaded with vitamins and minerals, it doesn't get much better than this.
Follow the steps in this recipe by Taste of Home to make delicious air fried asparagus in just 20 minutes. Although the recipe recommends serving with lemon wedges, you could also make a mayo dip that would pair well with this dish.
5. Crispy Air Fried Okra
Okra is a vegetable you don't see every day, but is an amazing air fryer vegetable! Because Okra has a strong flavor, you're best off breading it like in this recipe by Savory Spin.
This breading allows you to add all sorts of spices to your okra, and gives the dish a special crunch. Watch out because once your kids discover this delicious air fried okra they will never fight you about eating it again.
6. Air Fried Mushrooms
Stuffed mushrooms are a versatile menu item. They can be served by themselves as an appetizer, or they can be paired with a dish as a scrumptious side. Follow this air fryer vegetable recipe by Spice Cravings to create some stuffed mushrooms for your next family dinner or party.
7. Avocado Fries
The next recipe on this list is another alternative to fries but is the perfect snack for those who want to increase the healthy fat in their diets. Say hello to Avocado Fries, the recipe where you will be breading slices of tender avocado in panko bread crumbs and some spices to make a crispy treat.
The full recipe is on Delish, but be careful not to make too many of these, because they are filling!
8. Garlic Herb Air Fryer Squash
Squash is a vegetable staple during the fall season. So when your kids are tired of eating it sauteed, serve them this air fried treat from Taste of Home.
All you have to do is cut the squash, season it, then place it in the air fryer for 15 minutes. Easiest vegetable side dish to make hands down.
9. Air Fryer Mogo/Cassava Chips
Mogo, also known as Cassava, is a root vegetable that closely resembles (and cooks like) a potato. Thus, it should come as no surprise that they cook really well in an air fryer.
Check out this recipe by Jagruti's Cooking Odyssey to make Cassava into a savory and spicy snack. You can also make this recipe using yucca instead of cassava, or just plain potatoes if you prefer.
10. Air Fryer Eggplant
Eggplant is a healthy, albeit less flavorful vegetable which makes a good meat replacement for vegetarian and vegan dishes. Because eggplant doesn't have a lot of flavor of its own, it's important to season it properly as it is in this air fryer vegetable recipe by Watch What U Eat.
The eggplant in this recipe is dipped in an egg wash, then breaded with a mixture that includes a variety of spices. It is then air fried, and topped with marinara to make mini eggplant parmesan that is ready in minutes.
11. Onion Rings
There is nothing like a side of onion rings with a sandwich on a cold day. Take a look at this recipe for the perfect air fryer onion rings from From my Bowl.
They are easy to make, and best of all, made without oil so they are fat free for those on a diet. You will be battering the onion slices yourself, however, so be sure to allow time and be prepared to get a bit messy.
12. Kale and Potato Nuggets
Kale and potato nuggets are the ideal vegan replacement for chicken nuggets. Kids will love how portable and easy to eat they are, as well as enjoy dipping them in whatever sauce you provide.
These are made in the air fryer, and do take a bit of time to make—but you can cook extras and save the leftovers. Find the full recipe on Dianne's Vegan Kitchen.
13. Spicy Cauliflower
Sometimes it can be nice to make some veggies with a little bit of spice, especially if you are making them as an appetizer. The prep for this recipe is simple, and you'll only need to fry this tasty cauliflower in the air fryer for 12 minutes.
Thus, this is a recipe that you can have on the table and ready to eat in 22 minutes. Find the full recipe for this delicious dish on Delish.
14. Air Fryer Beets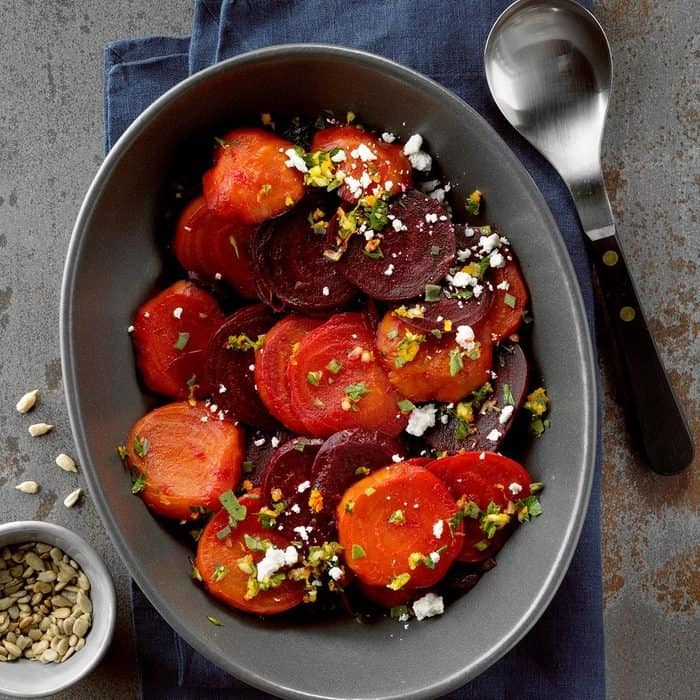 Did you know that you can make beets in the air fryer? No joke!
Air frying beets is much easier than boiling them meaning you and your family can enjoy this tasty treat more often. You can find this recipe on Taste of Home, and while it does take a few minutes to make and cook, the final product is worth the wait.
15. Roasted Carrots
Carrots are such a versatile vegetable, they can be served raw, roasted, or even boiled. Roasting carrots is usually a fan favorite, but it can take a long time to roast them to perfection.
Cut the time in half using this recipe for air fryer roasted carrots by Kalyn's Kitchen. You'll need carrots, oil, and a mix of spices that you likely already have in your pantry. Mix the spices, coat the carrots then air fry them to perfection—it's that easy.
16. Garlic Chips
Do you love garlic? Then this air fryer vegetable recipe by Air Fry With Me for garlic chips is for you.
It's very simple, as you will cut garlic into slices, drizzle with olive oil and salt, then air fry for 10 minutes, stirring in the middle. You will want to let them dry on a paper towel after you pull them out of the air fryer to soak up any extra oil, but they are otherwise ready to eat.
17. Kale Chips
Although it isn't recommended to air fry kale on its own, if you season it properly like in this recipe by Insanely Good, it is possible to make tasty kale in the air fryer. You'll need to ensure that the kale is completely coated in oil to keep it from breaking while cooking.
You will also want to cook extra because kale will shrink as it air fries, but otherwise, these are easy to make and you'll be left with an appetizing, low-calorie snack.
18. Air Fryer Buttered Spinach
Spinach is another vegetable that doesn't fare well in the air fryer on its own. But if you coat it in butter and seasoning to keep it from burning and breaking, it is possible to make spinach into an air fryer veggie.
Follow this recipe on Recipe This, knowing in advance that this recipe contains a lot of butter and isn't for the faint of heart (or those on a low-fat diet).
19. Air Fryer Portobello Melts
After a busy day at work, the last thing you want to do is spend a long time preparing dinner. That's why you should pull out this recipe from Taste of Home to make delicious portobello melts. Thanks to the air fryer, this is a meal that you can have prepped and on the table in 25 minutes—and your family will love it!
20. Air Fryer Corn
Corn is a vegetable that is vest enjoyed fresh during the fall season. But it can also be a bit of a hassle to make with all that shucking, boiling, and then grilling. Cut out half the steps, and instead of boiling your corn after it is shucked, place it in the air fryer for 14 minutes.
You'll have delicious corn that is ready to eat when it is done. Find the full instructions for this air fryer vegetable recipe on Watch What U Eat.
21. Air Fryer Tater Tots
Does your family love tater tots? Then they will love this healthier version that you can make in minutes in you air fryer.
Follow these instructions on Delish as you peel, boil, and shred your potatoes. Then, you'll form them into little balls and cook them in your air fryer for 20 minutes—it's as simple as that. Do note, however, that if you are cooking for a crowd you may need to cook these in batches to cook enough for everyone.
22. Air Fryer Potatoes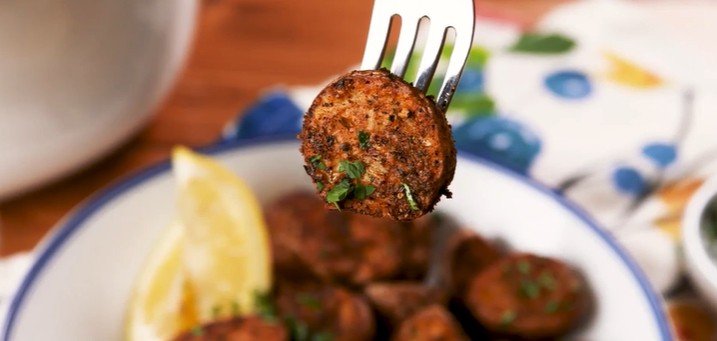 If tater tots sound like a little bit too much work for an after work evening meal, then save those for the weekend and make this Air Fryer Potato recipe by Delish instead. It is much simpler, only requiring that you cut and season the potatoes before you air fry them.
Drizzle them with a little lemon when they are done and serve them as a side with your favorite fish, chicken, or even beef dish,
23. Potato Chips
Even though potato chips don't real count as a vegetable, potatoes are the perfect air fryer veggie. You can cook them as is, chopped, or sliced as in this recipe by Moms Dish for air fryer potato chips. While this isn't considered a healthy side to a meal, it is a healthier and fresher alternative to the potato chips you will find in the store.
24. Air Fryer Broccoli
Broccoli is a hard vegetable to eat. Not only is it not very good raw, but it typically isn't very good boiled either. Next time you want to add some vitamin A to your diet but don't want to force down unappetizing broccoli, try this recipe for air fryer broccoli from Gimme Delicious instead.
Your air fryer will keep the broccoli crisp, but also cook the inside, making it easier to eat. Plus you'll add spices which will make it less boring than boiled broccoli.
25. Portobello Pizzas with Hummus
Pizza is crowd and kid favorite, but it isn't all that healthy. Use your air fryer to make this healthier alternative from Fat Free Vegan using portobello mushrooms, hummus, and a variety of additional vegetables. Serve them as the main dish for dinner, or as an appetizer for a party—you can even serve them as a healthy after school snack if you would like.
26. Avocado Egg Rolls
Vegetables don't always have to be the side dish on the table. With this air fryer vegetable recipe from Skinny Taste, you can make vegetables the main event in avocado egg rolls.
Grab some egg roll wrappers, avocados, tomato, limes, cilantro, and salt and you are in business. It will take a bit of practice to master rolling these, but then you will place them in the air fryer basket and let your air fryer take it from there.
27. Air Fryer Blooming Onion
Blooming Onions are fancy fried onions that are often served at a restaurant as an appetizer. But, when you have an air fryer, you can make this tasty treat at home whenever you please.
Follow these instructions on Delish to cut, bread, and air fryer your onion to perfection. Don't forget to make the delicious dip in the recipe to go with it and leave your guests wondering how you made such an amazing restaurant-quality dish at home.
28. Air Fryer Stuffed Peppers
Chances are, you've made stuffed peppers in the oven before. But did you know that you can also make them in your air fryer?
It's true, making them in the air fryer is not only easier, but quicker as well. We recommend this recipe from Taste of Home that features bell peppers stuffed with chicken, but you can also stuff them with beans, other veggies, or beef—whatever your heart (or stomach) desires.
29. Thai Veggie Bites
Eating vegetables cooked the same old way every day can get boring. Spice up the vegetables in your life with this air fryer vegetable recipe from Recipe This.
It combines lots of healthy vegetables into a bite size snack that is easy to enjoy. They don't take long to make, and between prep work and air frying you can have this dish on the table in 25 minutes.
30. Zucchini Fritters
There are many ways to enjoy zucchini in your air fryer. From chips to roasted, there is just no end to how this vegetable can be cooked.
Expand your zucchini repertoire with this recipe from Watch What U Eat, you'll be grating or mashing the zucchini and pressing it with chickpea flour to make a nice dough. Then, you'll place the fritters in the air fryer for 12 minutes, turning them halfway in between. Let them cool, then serve them with ketchup or a tzatziki sauce for dipping.
31. Air Fryer Green Beans
Roasted green beans are delicious, but they take a long time to make in the oven. With your air fryer, you can make delicious green beans that taste just like the oven roasted version in under 20 minutes. Preheat the air fryer, combine all the ingredients from the recipe on Taste of Home, and air fry for 16-20 minutes—it's that simple.
32. Vegetable Kabobs
On a warm summer evening there is nothing tastier than a grilled vegetable kabob. Firing up the grill takes a lot of time though, so try out this air fryer vegetable kabob recipe from Recipes From a Pantry instead.
Cut the veggies of your choice, put them on a wooden skewer, and place them in the air fryer for 8 minutes. Zucchini, tomatoes, mushrooms, bell pepper, and onion tend to work best, but you can experiment with any veggies you want!
33. Air Fryer Acorn Squash
Acorn squash is a specific type of squash that is usually served roasted or in a soup. Try something new this year and roast acorn squash in your air fryer instead.
Don't be scared, it's not difficult at all, just follow this air fryer vegetable recipe from Project Meal Plan. You may just discover your new favorite way to enjoy acorn squash.
34. Air Fryer Radishes
Yes, you read that right, you can actually air fry radishes. Gone are the days where you have to sneak these into a salad in order to get your kids to eat them. Air fried radishes are crisp, crunchy, and more of a treat than a veggie.
Season and air fry your radishes to perfection following this recipe by Taste of Home. They only take ten minutes to make and can be an accompaniment for almost any dish.
35. Air Fryer Brussel Sprouts
Getting kids to eat Brussel sprouts can be difficult, so give yourself a break and try serving them to your kids air fried. Air frying Brussel sprouts makes them crispy and tender in a way that your child will enjoy—plus, they still retain most of their nutrients.
You can find this recipe on Delish, and have some tasty Brussel sprouts on your table in under 40 minutes.
36. Air Fryer Heart of Palm
Heart of palm is a white vegetable that is underrated and for that reason can sometimes be difficult to find. But if you come across a can, pull out this recipe from Strength and Sunshine to cook heart of palm in your air fryer.
The recipe called for chopping and breading the heart of palm, which makes it look like calamari. You can serve it as a vegan calamari as the recipe suggests, or stick to calling it air fryer heart of palm, whichever will go over better in your house.
37. Cabbage Fritters
Cabbage is difficult to make in the air fryer. It tends to wilt, break, and become inedible. If you really want to include cabbage in your diet, however, grab this recipe for air fried cabbage fritters by Urban Farmie.
It'll take about 10 minutes of prep work to make the fritters themselves, then 15 minutes in the air fryer, turning (or shaking) them halfway through. Serve these as an afternoon snack with tea, or as an accompaniment to a spicy curry.
38. Air Fryer General Tso's Cauliflower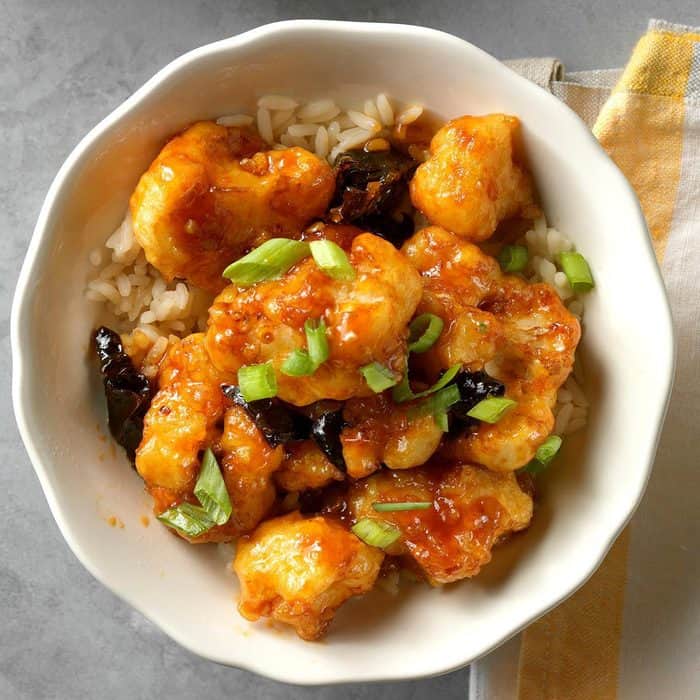 Although the real story behind food labeled 'General Tso's' is shrouded in mystery, there is no denying that anything you make this style is absolutely delicious. Use this recipe from Taste of Home to make delicious General Tso's Cauliflower right in your air fryer.
Tasty and filling, this recipe can be the main dish or aside. It also is a good idea to make extra and use it to meal prep your lunches for the week.
39. Hasselback Potatoes
Hasselback potatoes are a unique style of potato that is somewhere between a baked potato and a pile of potato chips. While these can take a while to cook in the oven, you can speed up the preparation of this unique side dish by using your air fryer. You can find the recipe on Dish by Dish and have this side dish on your table in no time at all.
40. Garlic Air Fryer Mushrooms
Fried mushrooms have it all, a crispy outside, with a tasty inside, in an easy-to-transport vessel that is also ideal for dipping. Garlic mushrooms are easy to make in your air fryer and only require a few ingredients. You can make these dairy-free and vegan by following the instructions on A Veg Taste from A to Z, but you can also use regular milk if you prefer.
41. Air Fryer Sweet Potato Fries
Sweet potato fries are a crowd pleaser and great addition to any meal—and they are super easy to make in your air fryer! Delish has an excellent recipe for sweet potato fries that will have you making these as a side dish and even as an afternoon snack.
Just be sure that you shake or rotate the fries as they air fry as this allows them to cook evenly and become crisp all over.
42. Bacon Wrapped Air Fried Avocado
There comes a time when not every vegetable you serve needs to be healthy, and for those on the keto diet, these bacon-wrapped avocado slices by Taste of Home are the perfect snack. They are easy to make and don't require very many ingredients. Be careful not to overload the basket as you cook these, however, as the avocado may stick together.
43. Mashed Potato Balls
Did you know you can make mashed potatoes in your air fryer? Well, maybe not the mashed potatoes you are thinking of, but check out this recipe from Watch Learn Eat to make mashed potato balls that have a crispy outside and warm soft inside.
They don't take long to make, and they are easy to make in mass, so don't be afraid to make a few extra and have these on hand in the freezer for the next time you need a rainy day snack.
44. Air Fryer Oyster Mushrooms
There are many different types of mushrooms that you can purchase in the store, and each one requires a different style and method of cooking. If you've recently grabbed some oyster mushrooms, check out this air fryer vegetable recipe by Rachina Cooks to learn how to make them taste great.
You'll be dipping them in batter and air frying them, so this is not the healthiest option when you are trying to find a way to air fry your veggies, but it sure is tasty.
45. Air Fryer Pumpkin Fries
Are you a pumpkin lover? Then this recipe from Taste of Home for pumpkin fries is for you. There is no pumpkin snack that is more simple or easy to make.
Cut your pumpkin, coat in the seasoning mix, and air fry for 12-13 minutes, stopping to reposition or shake the pumpkin fries halfway through. Serve with the suggested sauce and your pumpkin craving will be satiated in no time.
46. Air Fryer Bell Peppers
Bell peppers are often served stuffed, or in a dish of mixed veggies, but they are also delicious and healthy all on their own. Try out this air fryer vegetable recipe from Melanie Cooks to discover how to make bell peppers that taste like they are roasted even though they were made in your air fryer.
These make a great accompaniment for meat or can be served on rice all by themselves.
47. Air Fryer Tomatoes
You may be surprised to find out that tomatoes can go in the air fryer all on their own. Although they are frequently served with other vegetables, you can serve a roasted tomato as a garnish, or spread it on bread for an appetizer.
Cooking them in the air fryer is simple, as you just cut them in half and put them in the air fryer for a few minutes. Just be careful removing them from the air fryer because they will be very hot. Find the full recipe on Gastroplant.
48. Air Fried Green Tomatoes
Green tomatoes were once something that kids only read about in storybooks. But thanks to the air fryer, you can now make air fried green tomatoes whenever your heart desires.
The recipe for these can be found on Taste of Home, and while they don't need long to cook, they do require a bit of prep work so you'll want to plan to make these a bit in advance. Once they are done, you can serve them on bread, or as a snack to dip in ranch—the choice is yours.
49. Air Fryer Pickles
Do pickles count as vegetables? If you decide the answer is yes, then you will definitely want to make this air fryer pickle recipe from Delish for your next dinner or event. They are easy to prepare and make, and even more fun to eat.
All you have to do is make the breading mixture, then dip the pickles in after dipping them in egg. Place them in the air fryer for 10 minutes and you will have yourself a tasty and crispy snack.
50. Air Fryer Breaded Summer Squash
You've breaded zucchini, avocado, and green tomatoes, but have you ever thought of breading summer squash? The result is a healthy, crunchy, and easy-to-eat snack!
The recipe can be found on Taste of Home, and it is a breeze to follow. For those that like spice, feel free to add some red chili flakes to the bread mixture to give this recipe an extra kick.
Air Fryer Vegetables FAQs
Can You Put Aluminum Foil in an Air Fryer?
Yes! It is perfectly safe to put aluminum foil in an air fryer, but when air frying vegetables, parchment paper, or cooking the veggies directly on the basket is usually a better choice.
Can You Put Paper Towel in an Air Fryer?
It is never recommended to put a paper towel in an air fryer. You can, however, use a paper towel to dry your vegetables or to set your vegetables on as you season them before you put them in the air fryer.
Can You Put Wet Vegetables in an Air Fryer?
While it is fine to put vegetables with a little bit of water on them in the air fryer, it is generally better if whatever you are putting in the air fryer is dry. Therefore it is best to freeze anything that is dipped in a batter before you air fry it.
Do Vegetables Need to Be a Single Layer in the Air Fryer?
It is not required for your vegetables to be in a single layer in the air fryer, but for best results, you will want them as close to a single layer as possible. The more layers of vegetables you have, the more frequently you should shake the basket while cooking.
What is the Rack for in an Air Fryer?
The rack in an air fryer is for layer food for more even cooking. Although you typically can't use it to layer smaller vegetables like corn or peas, the rack in an air fryer can help you layer larger vegetables like potatoes, whole carrots, and asparagus.
Can You Use an Air Fryer Without a Rack?
You can use your air fryer without a rack. Just be careful not to overload the air fryer when you do this, as it can block the air flow and result in uneven or undercooked foods.
Do You Need to Preheat an Air Fryer?
Preheating your air fryer is always recommended. This will make it easier to follow recipes and ensure your air fryer veggies are cooked to perfection each time.
Overall, cooking vegetables in the air fryer is easy, and after reading this list of air fryer vegetable recipes, you may find that you don't even need your oven anymore. No matter which recipe you pick, you are sure to end up with a delicious veggie thanks to your air fryer. So next time you head to the store, grab some of the veggies off this list because eating your vegetables just got easier!