A tangy dip made from fresh eggplants, tomatoes and creamy Greek Yogurt!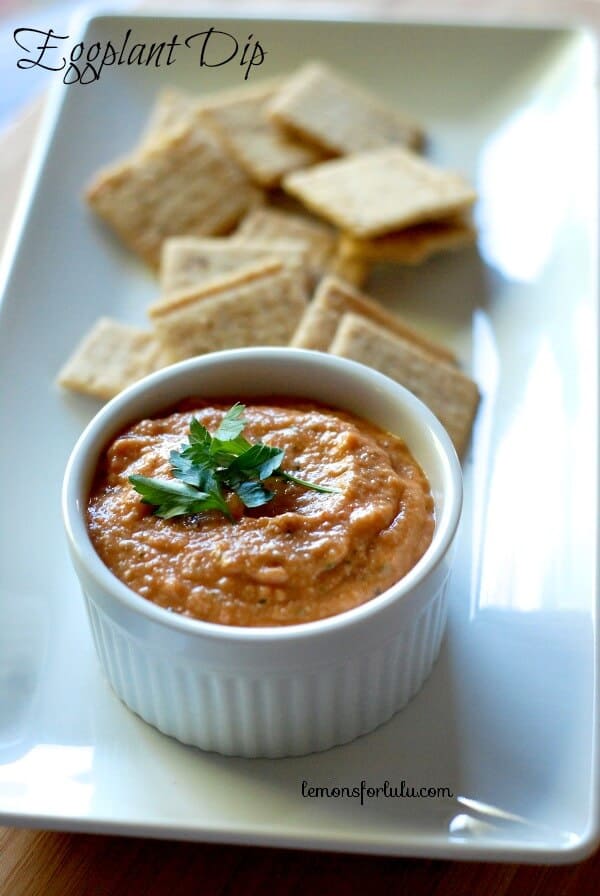 I hadn't planned on erasing Christmas, it just happened.    I even told the family  since Christmas came so quickly this year, I was going to leave the Christmas decorations up until after the New Year.  But….it was 50 degrees outside.   I don't know about you, but I would rather take down Christmas lights when my fingers aren't frozen.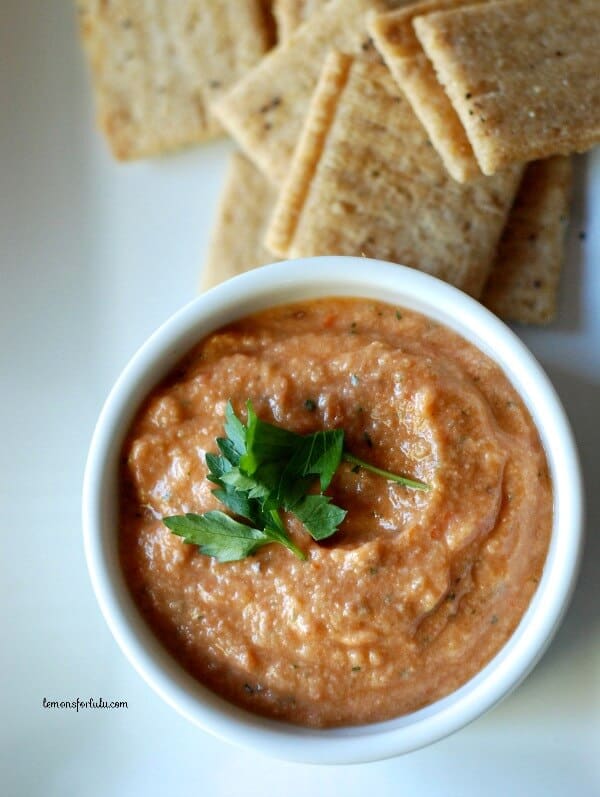 Down came the lights, the light up snowmen, the twinkling presents, the wooden signs and the velvety bows.   I swiftly unplugged each and every one of them with Grinch like enthusiasm.    I enjoyed every moment of Christmas, but it felt so good getting  everything back to normal.  As I was shoving the last strand of lights into my red and green storage bin, I knew in an instant that every single decoration would find it's way into storage as well.  I made no apologies and I noticed that no one in my family seemed to care.    We are a family that moves on quickly.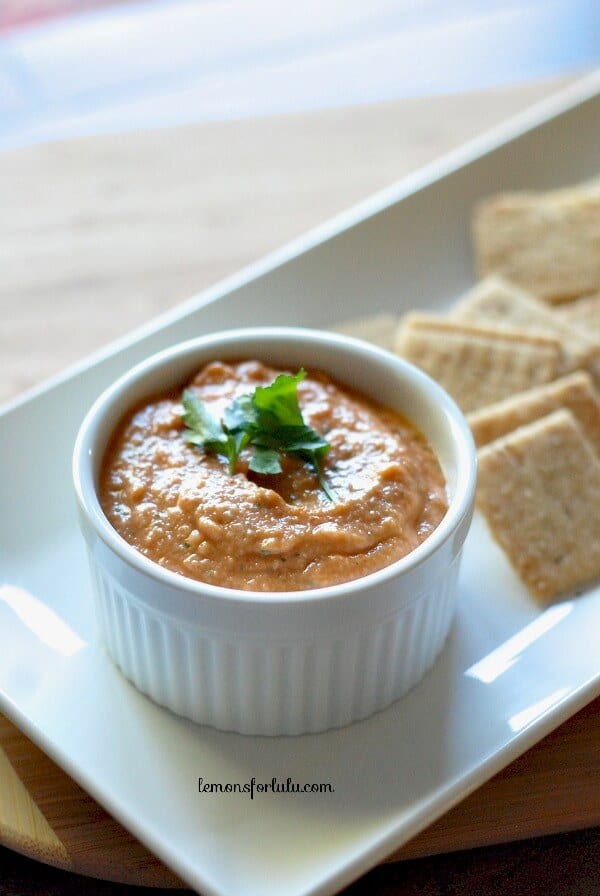 As we prepare to celebrate the New Year, I've already made mental notes of what to do differently for Christmas 2014.  Next year, I'm going to try harder to keep up my decorations until the beginning of 2015.  Yes, I'll be sure to do that NEXT year!
We spend every New Years Eve with good family friends.  It is the best excuse to have snacks for dinner!  I tend to gravitate towards cheesy dips, but I believe it's time to change things up.  I'm going to make this eggplant dip to keep things on the lighter side (getting a jump on the New Year's resolutions).  Don't worry if you aren't a fan of eggplant.  That isn't what you taste when your first dig in.  The eggplant adds texture and thickness.   The tomatoes are more pronounced than the eggplant. The Greek yogurt makes this dip creamy and the vinegar keeps it tangy.   This eggplant dip makes quite a bit, actually I see this dip moonlighting as a pasta sauce very soon!!   My mouth is watering at the thought.
Be safe this New Year's Eve!  See you all in the New Year!
IT'S ALL ABOUT THE DIP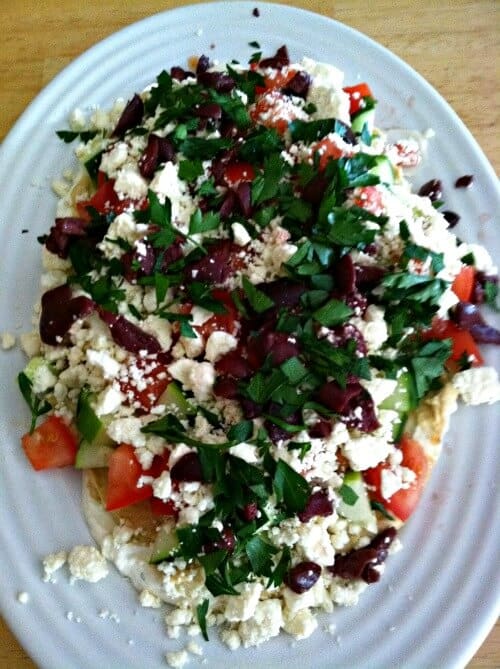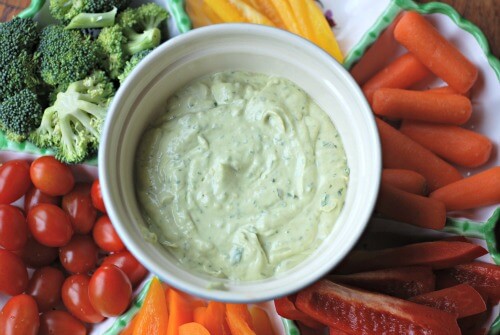 NEVER MISS A RECIPE! SUBSCRIBE TO MY EMAIL TODAY!
FOLLOW ME:
FACEBOOK | TWITTER| GOOGLE +| BLOGLOVIN | INSTAGRAM
Ingredients
1

large eggplant

2

roma tomatoes, chopped

2

tablespoons parsley

2

cloves garlic

1/2

cup dried breadcrumbs

1/4

cup olive oil

2

tablespoons red wine vinegar

2

tablespoons plain Greek yogurt

Salt, pepper
Instructions
Pierce eggplant with a fork. Place eggplant on a microwave safe dish and cook for 5 minutes or until soft. Immediately plunge eggplant in an ice bath to cool. Remove and peel skin.
Chop eggplant and place in a food processor along with remaining ingredients. Mix until blended and creamy.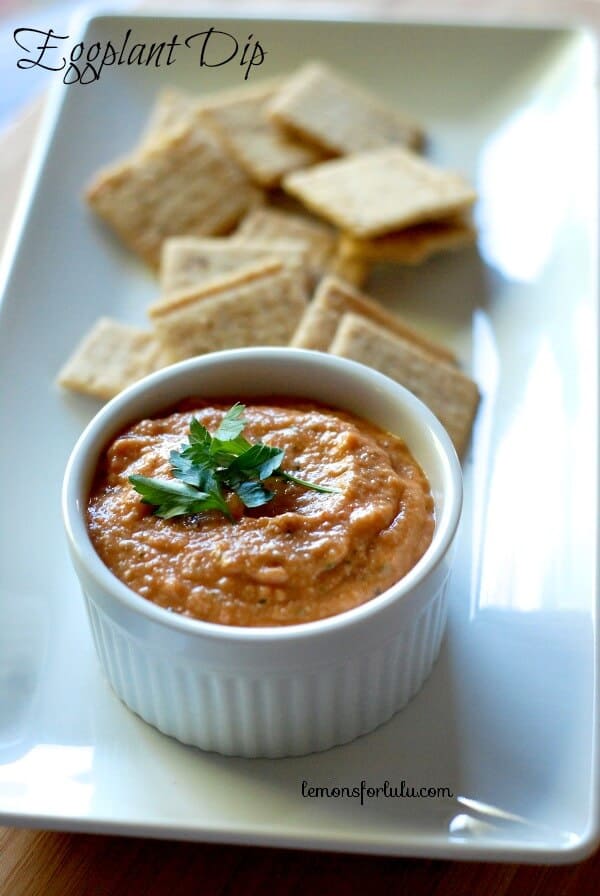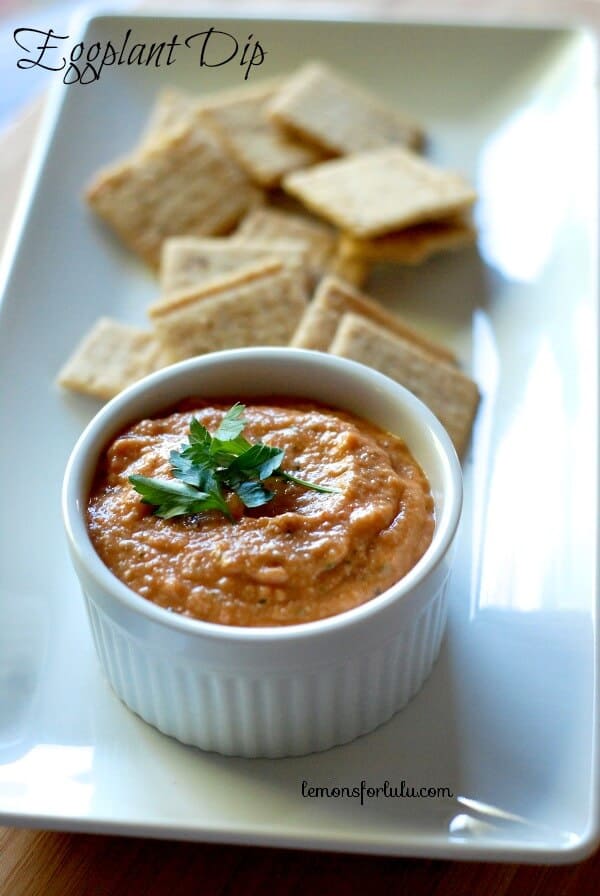 SEE THIS ON MY PINTEREST BOARD!
Follow Tanya Schroeder @lemonsforlulu.com's board What a dip on Pinterest.
I may be linking this up to these parties and to