Salmon is a delicious fish that can be cooked in several different ways and served to suit any taste. But you can't just serve salmon by itself. You will need a collection of tasty salmon side dishes to make your meal complete.
Salmon itself is versatile, thus it makes sense that the sides that go with it are just as variable. You can serve salmon with almost anything, from potatoes to veggies, but the right side for your salmon will depend on how it's cooked.
So without further ado, let's take a look at some salmon side dishes you should consider for your next meal.
What is Salmon?
Salmon is a common fish that is characterized by its high omega-3 fatty acid content and the pink appearance of the meat. There are several different species of Salmon, the most famous of which are found off of the Norwegian and Alaskan coasts.
There are many health benefits to eating salmon, and most people like to incorporate it into their diet at least once per week.
Different Ways to Cook Salmon
Salmon is unique in that you can cook it in several different ways and achieve the completely different flavor and taste profiles. You may find that you enjoy salmon cooked a certain way, but dislike it when it is cooked using a different method.
Below are the most common methods used to cook salmon.
Pan-fried
Roasted
Broiled
Baked
Grilled
Pan-Seared
Poached
Smoked
So if you have tried salmon previously, and didn't enjoy the taste, it may be time to try it cooked using a different method. You may just find you like salmon after all.
Healthiest Way to Cook Salmon
Although you have your choice when it comes to cooking salmon, not all cooking methods are considered equal. Certain methods, like pan-frying, can actually take some of the vitamin content out of Salmon.
For this reason, the healthiest way to cook salmon is any method where it is put in the oven and cooked more slowly, such as baking in the oven.
How to Cook Salmon in the Oven
Cooking salmon in the oven is the easiest and healthiest way to prepare the fish. Here is how you do it.
Ingredients:
Salmon
Salt
Pepper
Lemon
Garlic Powder
Directions:
Step 1: Preheat the Oven
Preheat the oven to 400 degrees Fahrenheit. Transfer your salmon to an oven-safe dish, glass preferred.
Step 2: Prep the Salmon
Score the salmon in a few places with a knife. Squeeze an entire lemon over the salmon, ensuring there are extra juices in the pan. These juices will keep the salmon moist as it cooks. Sprinkle salt, pepper, and garlic powder on top of the salmon.
Step 3: Cook the Salmon
Place the Salmon in the oven for 12-15 minutes, checking it to be sure it's done using a temperature probe. The interior of the fish should reach 125 to 130 degrees, although if you prefer medium-rare salmon, you can stop cooking it once the interior temperature reaches 120.
Step 4: Rest and Serve
Let the salmon rest for a few minutes after you remove it from the oven to allow it to finish cooking. Serve immediately with a salmon side dish.
How to Make Pan-Fried Salmon
While oven salmon is tasty, some people prefer their fish to have a bit of a crunchy crust. To achieve this, you will want to pan-fry your salmon. Follow these directions to do so.
Ingredients:
Salmon
Lemon Juice
Olive Oil
Garlic
Parsley
Salt
Pepper
Directions:
Step 1: Prepare the Salmon
Start by patting your salmon dry then rubbing it with lemon juice, salt, and pepper.
Step 2: Heat the Pan
Heat the olive oil in a large pan over medium heat. Once the oil is hot, place the filets in the pan, the skin side facing out.
Step 3: Sear the Salmon
Leave the salmon face down for 3-4 minutes, then flip it over and allow it to cook an additional 4 minutes. Take this time to add in the garlic, parsley, and more lemon juice to the pan.
Step 4: Garnish and Serve
Remove the salmon from the pan, garnish with parsley (and extra lemon if you like), and serve immediately.
Best Side Dishes for Salmon
Picking side dishes for salmon can be difficult, as there are so many to choose from. Below are the best side dishes you should consider serving with your next salmon dinner.
Brussel Sprouts
Grilled Asparagus
Roasted Potatoes
Mashed Potatoes
Couscous
Baked Sweet Potato
Baked Potato
Green Salad
Steamed Rice
Fried Rice
Green Beans
Pasta
French Fries
Cucumber Salad
Quinoa
Broccoli
Don't see the side you want to make on the list? Chances are it can still go great with salmon. Keep reading to discover 30 amazing salmon side dishes you will be dying to try.
30 Amazing Salmon Side Dishes You Need to Try
Thinking of the perfect side dish for your salmon can be difficult. We've made the process easy by sorting the best salmon sides into categories so you can find the recipe that suits your exact situation.
Healthy Salmon Side Dishes
Salmon is known to be a healthy dinner, but not if you pair it with French fries. Choosing the right healthy salmon side dish can be essential for keeping your dinner balanced. Here are the best healthy salmon side dishes.
1. Cucumber Salad
Cucumber is a low-calorie vegetable, mostly thanks to the fact that it is over 90% water. Prepare this low calorie cucumber salad from Lemons for Lulu which is dressed with a few tablespoons of Greek yogurt, and some lemon and vinegar.
It only takes 15 minutes to prep, meaning you can easily make it while your salmon is baking in the oven.
2. Healthy Zucchini Fries
Just because you are eating healthy doesn't mean you need to exclude the idea of fries as a side entirely—rather you'll just need to switch them out for zucchini fries instead.
Follow this recipe from Health Food Radar which will guide you through the process of making zucchini fries so crispy and satisfying you'll forget they're actually healthy for you.
3. Garlic Parmesan Zucchini Noodles
You may have also put the idea of having pasta with your salmon out of your mind. Well, bring it back because you can make these delicious and healthy zucchini noodles from Nutrition in the Kitch to serve as a side dish for your salmon.
They're quick to make, tasty, and best of all, low-calorie.
Side Dishes for Baked Salmon
Baking salmon in the oven is an easy and healthy way to prepare the fish. It also gives you plenty of time to whip a unique salmon side dish, or even better, make a side dish in the same oven so you can put your feet up while they cook at the same time.
4. Herb and Garlic Tater Tots
Tater tots are perhaps one of the most fun ways to eat potatoes, and they are always a crowd-pleaser even among the little ones. Grab this recipe from Nutrition in the Kitch and toss these in the oven with your salmon for a flavorful side that is also fun to eat.
Feel free to serve these with sour cream for dipping.
5. Maple Roasted Kabocha Squash
Maple is a flavor you will commonly see paired with salmon, therefore there is no reason you shouldn't make a maple-based side dish to serve with your baked salmon.
Take a look at this recipe from The Frizzled Leak which will direct you to soak, slice, and season some kabocha squash to cook in the oven right alongside your salmon.
6. Hummus Roasted Potatoes
There is nothing quite like some tasty roasted potatoes served with baked salmon. They do take a little longer to cook, however, so you'll want to prepare these hummus roasted potatoes from Lemons For Lulu before pulling your salmon out of the fridge.
When the timer has only 15 minutes left, put your salmon in for an easy dinner ready right when you need it to be.
Smoked Salmon Side Dishes
Unlike other methods of cooking salmon, when you smoke it, you will need to think more carefully about the sides you serve. Smoked salmon has a unique flavor that can be difficult to pair with. Here are some easy smoked salmon side dishes to keep you on the right track.
7. Classic Crunchy Vegetable Salad
A vegetable salad is a great place to start when serving smoked salmon, as its lightness will help to balance the smoky flavor of the salmon.
Try this recipe for a classic and crunchy vegetable salad from Nutrition in the Kitch which contains broccoli, cauliflower, bell pepper, tomatoes, corn, carrots, and celery which you will be tossing with a light vinaigrette dressing.
8. Roasted Brussels Sprouts with Almonds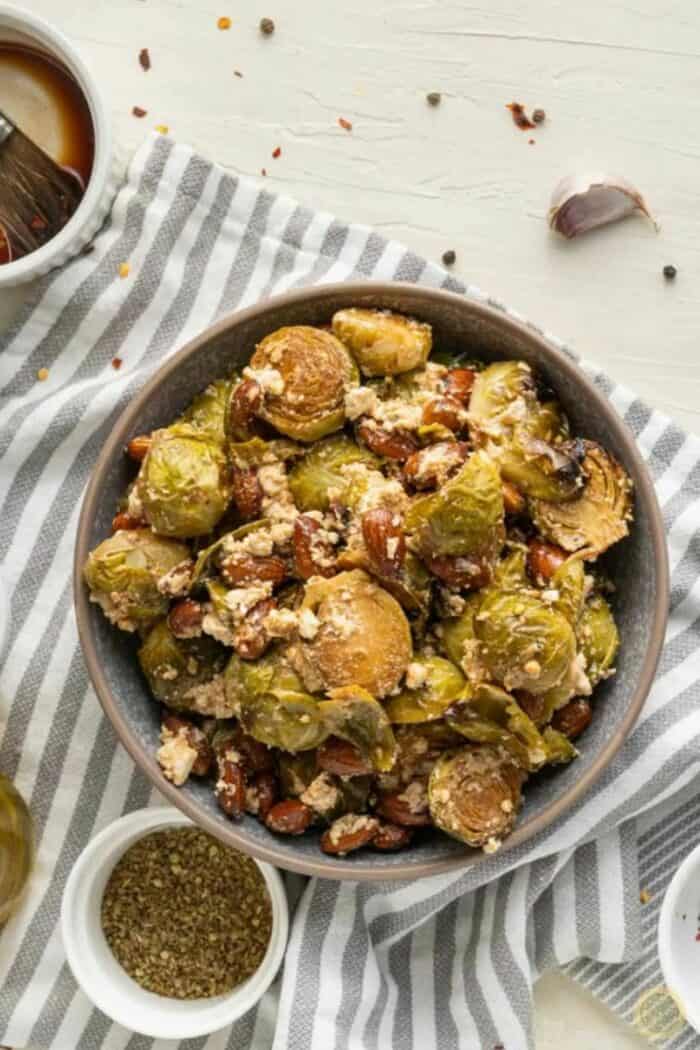 The flavors associated with smoked salmon are very strong and flavorful, so tone them down with a more simple side dish like these brussels sprouts from Lemons for Lulu.
You'll only need a few ingredients, and a few minutes to prepare this recipe. Not to mention the feta cheese will pair perfectly with the cool taste of salmon to give you a fresh taste you won't be able to resist.
9. Roasted Cherry Tomatoes
Tomatoes are another vegetable that go perfectly with salmon. To create a side dish to pair with your smoked salmon, you'll want to take the time to cut them, toss them with some garlic, olive oil, and spices then roast them in the oven.
The warm flavors of the roasted tomatoes will provide much-needed balance to a cold-smoked salmon. Find the full recipe on Simply Sophisticated Cooking.
Poached Salmon Side Dishes
Poached salmon can be a bit plain, which is why you should save your most flavorful salmon side dishes to serve with this particular cooking method.
Now's the time to pull out those spiced potatoes or maybe even a Mexican rice dish. We've got a few suggestions to get you started.
10. Bang Bang Broccoli
You may associate the words bang bang with a restaurant dish that is unhealthy, but this version you can make at home is actually reasonably good for you and pairs well with your poached salmon.
The recipe is from Nutrition in the Kitch and requires you to make a batter, which you will dip the broccoli in before baking them in the over. When they're done baking them, you'll toss them in your very own bang bang sauce for a flavorful side.
11. Spinach Bhaji
Spinach goes well with salmon, but regular old sauteed spinach can be a bit boring when served on a plate with poached salmon.
Mix it up with this recipe from Poet and Flower which will have you sauteeing spinach with oil, onion, and spices to create a curry-flavored spinach that will have even the pickiest eaters asking for more.
12. Quinoa with Roasted Peppers
For those who haven't discovered the magic of quinoa yet, it's a grain that can be used to create amazing side dishes for salmon just as you would use rice.
Check out this recipe by Lemons for Lulu in which you'll be grilling some peppers and tossing them in the quinoa with feta cheese for a fresh yet slightly spicy taste.
Pan-Seared Salmon Side Dishes
One of the quickest and simplest ways to prepare salmon is by pan-searing it. Therefore you'll need to pick a side that is just as quick and easy to make to ensure that both aspects of your dinner are ready at the same time.
13. Detox Salad
Check out this detox salad recipe from Lemons For Lulu. It is quick and easy to make, as you'll be cutting the vegetables, then whisking a simple dressing made of only 3 ingredients.
The total preparation should take no more than 15 minutes, making it easy to cut your vegetables in advance and whisk the dressing while you watch the salmon as it sears.
14. Air Fryer Sweet Potatoes Fries
For those looking for quick side dish recipes, your air fryer should be your best friend. An air fryer can make even some of the densest foods ready to eat in just minutes.
For example, try these air fryer sweet potato fried from Nutrition in the Kitch, which are ready in just 10 minutes, instead of 40 minutes in the oven—making them the ideal side dish to serve with seared salmon.
15. Air Fryer Cajun Snap Peas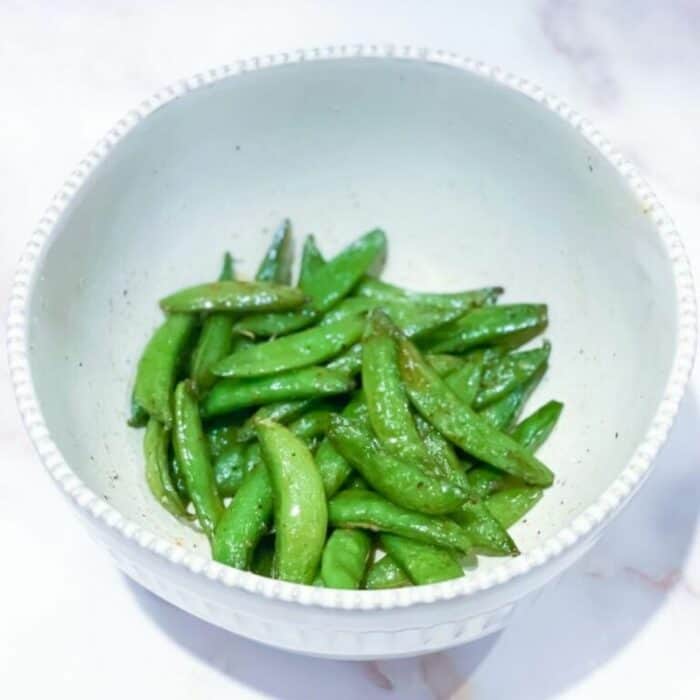 Any green vegetable, including snap peas, goes well with pan-seared salmon. Make these as a side in a jiffy using this recipe from Pinch of Midwest. All you need is some snap peas, oil, and Cajun seasoning, and these tasty morsels are ready to serve in just 7 minutes.
Pasta Side Dishes for Salmon
Salmon can be a very light meal on its own, so when you are trying to make it a little more filling, you may want to consider pairing it with a portion of pasta. Pairing pasta with salmon is also a great way to make a small amount of salmon feed a large group of people.
16. Dill Pickle Pasta Salad
You've probably heard of serving salmon with dill before, and this isn't by mistake.
Dill pairs really well with the fish, so this dill pickle pasta salad from Nutrition in the Kitch will give you the best of all worlds, a cool pasta salad that won't heat up your kitchen, as well as something to compliment the flavor of the fish.
Plus you can prepare it in advance and stick it in the fridge, so less rushing around the kitchen trying to get everything ready at once.
17. Pasta Primavera
Pasta Primavera gets its name because it is pasta tossed with many fresh and colorful veggies that are typically served during the spring or summer seasons.
Follow this recipe from Lemons for Lulu to concoct a delicious combination of linguini, green beans, peas, zucchini, squash, tomatoes, and spinach to serve with your salmon dinner.
18. Moroccan Couscous Tabouli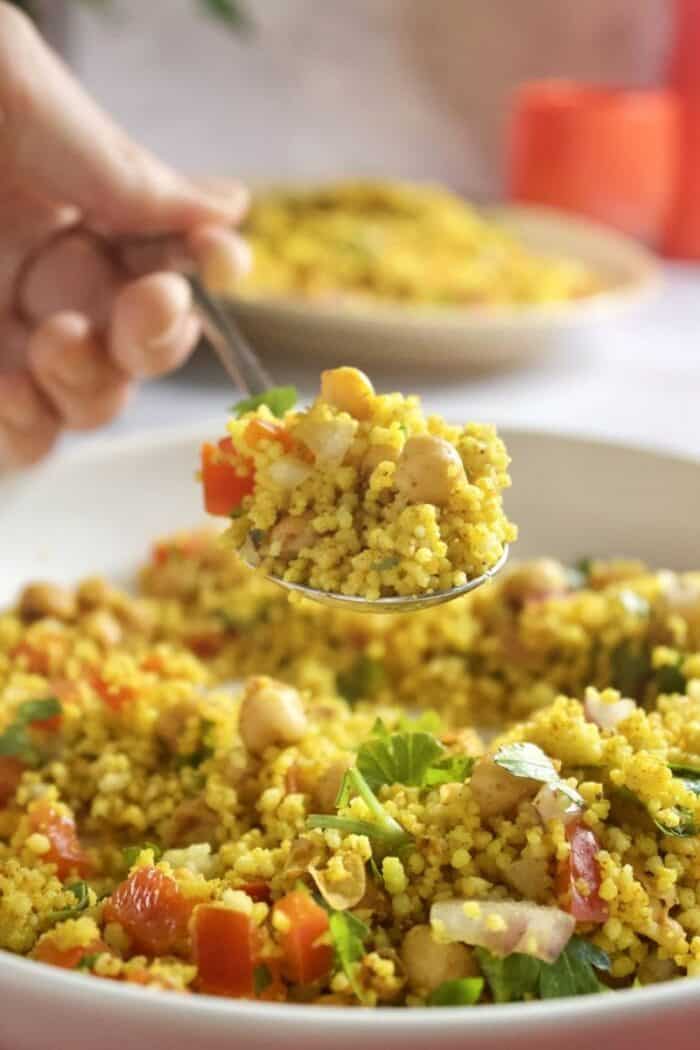 Couscous is a pasta alternative that is so quick and easy to make, you might find you actually prefer it to pasta. Check out this recipe by That Vegan Nephew which pairs especially well with salmon.
It's made with golden couscous mixed with turmeric, bell pepper, onion, and some spices to create a flavorful combination that is great to serve underneath a slice of baked or pan-fried salmon.
Potato Side Dishes for Salmon
Potatoes and salmon are two peas in a pod. Whether it's French fries, baked potatoes, or even scalloped potatoes, you can bet it goes with salmon. There are so many options it can be hard to decide which to choose. We've narrowed down your options below to make it easier.
19. French Onion Twice Baked Potato
Baked potatoes are delicious; therefore it makes sense that they are even tastier when you bake them a second time.
Try this recipe from Ten Pound Cake Company which will have you stuffing your twice-baked potatoes with savory onions, butter, cheese, and sour cream for a salmon side dish that could accidentally steal the show if you aren't careful.
20. Crock Pot Mashed Potatoes
Sometimes it can get hectic in the kitchen, especially when you are preparing food for a large group.
Make cooking the side dish for your salmon easier on yourself and pull out this recipe by Lemons for Lulu for a simple but delicious batch of mashed potatoes you can make using your crock pot.
Besides just being tasty, using the crockpot to cook them can help you keep them warm while you finish frying up your salmon.
21. Air Fryer Smashed Potatoes
Can't decide between baked or mashed potatoes to serve with your salmon? Choose this recipe by Nutrition in the Kitch which combines the two to create something you've never seen before.
These smashed potatoes are crispy and crunchy with a smooth inside you will absolutely adore. They also only take 15 minutes to cook in the air fryer, which is quick for a potato-based side.
Sides That Go With Salmon Patties
Salmon patties are a good way to enjoy salmon using your hands, especially when outdoors at a summer BBQ. Because salmon patties are usually served at specific events, you'll want sides that are easy to eat with your hands to go with them.
Here are some handheld salmon sides that go well with salmon patties.
22. Okra Fries
Okra fries have all the crunch of potato-based fries, but for a fraction of the calories. Enjoy your handheld salmon patty with this recipe from Oh My Veg which only takes 15 minutes to prepare from start to finish.
All you have to do is cut the okra, batter it, then fry it and it is ready to serve next to your salmon.
23. Air Fryer Tofu
Lots of people hear the words tofu and cringe. No matter what you may think about tofu, there is no reason to dislike it.
There are a million different ways to cook it, and you are bound to find one you like eventually, especially if you make this air fryer tofu from Nutrition in the Kitch.
These tofu bites are crispy, delicious, and remnant of French fries for a fraction of the calories. They also have a sweet glaze on them, making them a great compliment to a salmon patty.
24. Bacon Wrapped Roasted Potatoes
Believe it or not, salmon and bacon actually go quite well with each other (well, what doesn't bacon go with?) So when you are looking for a side for your salmon patties, consider cooking this recipe for bacon-wrapped roasted potatoes by Lemons for Lulu.
The grease from the bacon soaks into the potato, giving it a salty and savory flavor while also being easy to eat with your hands.
Keto Salmon Side Dishes
Salmon is a common ingredient in the keto diet. But unlike other diets, the keto diet isn't so nice to the potato, pasta, and rice side dishes that are usually served with salmon. Instead, you'll have to stick to some of the more keto-friendly salmon side dishes below.
25. Oven Roasted Cauliflower
After a busy day, you may want to just put some salmon in the oven and not have to worry about making a complicated side. Take a look at this recipe from Green and Keto which makes this possible without needing to break keto.
Simply cut some cauliflower, toss with oil, salt, and a dash of pepper, and place in the oven with your salmon for 20 minutes, and this side is ready to eat.
26. Air Fryer Broccoli
Have you ever made vegetables in your air fryer? If not, you need to try. Your air fryer can make vegetables so crisp and tasty you'll never want to sauté them again.
It's also easy to make veggies in the air fryer keto as there is no oil required. Take a look at this recipe for air fryer broccoli from Killing Thyme which will go perfectly with your keto salmon.
27. Carrot Fries
Don't put that air fryer away just yet, as you can use it to make these delicious carrot fries from Two City Vegans.
These carrot fries are not only delicious, but they are keto, and so close to their potato counterparts you'll actually want to eat them every time you make salmon for your family.
Rice Sides that go with Salmon
It makes sense that the most versatile fish, salmon, goes well with the most versatile side, rice. Don't limit yourself to just serving salmon with steam rice however, as there are so many other ways you can cook rice that pair well with salmon.
See for yourself these amazing rice recipes we found for you to serve with salmon.
28. Cherry and Hazelnut Rice Pilaf
Just as there are healthier ways to prepare salmon, there are also healthier ways to prepare rice. When you are looking to save a few calories, skip the risotto and make this rice pilaf by Lemons for Lulu instead.
It's sweet, flavorful, and will pair perfectly with any salmon preparation.
29. Jeera Rice
Jeera rice is a simple rice recipe, flavored with a bit of cumin to give it a nice spice profile that pairs well with salmon. You can see the recipe here on Easy Indian Cooking, but basically, all you have to do is mix some spices with your rice while cooking, it's that simple.
30. Instant Pot Basmati Rice
Not sure you have the time to make a side for your salmon at all? As long as you have an instant pot, you can make this basmati rice recipe from Nutrition in the Kitch in just 8 minutes.
Start by rinsing your rice, then put it in the instant pot with butter and salt. Let the pot seal, then cook the combo for 8 minutes. When the timer goes off, your basmati rice is ready.
Salmon Side Dishes FAQ
What is the Best Vegetable to Serve With Salmon?
There are many vegetables you can serve with salmon, however, experts agree that the best vegetables to serve are those which are dark green, such as broccoli, asparagus, or snap peas.
What is the Best Spice to Put on Salmon?
Parsley is the best spice to put on salmon as it brings a bright and fresh flavor to the dish which complements the fish perfectly.
Can You Eat Raw Salmon?
You can eat salmon raw, and many cultures around the world, like the Japanese, do so on a regular basis. Be aware, however, eating raw salmon can pose health risks if it is not properly prepared
What is a Healthy Serving Size of Salmon?
A healthy serving of salmon is something between 3 and 4 ounces which is half of the amount of fish it is recommended you consume each week.
Should You Wash Salmon Before You Cook It?
Do not wash or rinse your salmon before you cook it. Rinsing salmon prior to cooking can spread germs to the fish as well as to other areas in your kitchen. Simply cook it to kill germs instead.
Time to Make Some Delicious Salmon Side Dishes
Is your mouth watering reading about all these amazing salmon side dishes? Hopefully, by now you have at least an idea of which recipe you want to start with, but if you are having trouble deciding, not to worry as remember—it's recommended to eat fish twice a week.
So the recipe you don't try today can be for your next salmon dinner. No matter what recipe you end up deciding on, you won't regret it, as there is nothing quite like an amazing side dish served with your favorite salmon recipe.