Looking for a flavorful quinoa recipe?   Look no further!
This quinoa salad combines mini sweet roasted peppers soaked in olive oil and garlic and topped with crumbled feta cheese.
This quinoa salad reminds me of some of the food I ate as kid.  My family never ate fast food growing up.  When your parents come from the "old country", fast food just isn't part of their vocabulary.  Everything we ate was homemade and every meal was stretched.  Nothing ever went to waste.   While the food wasn't fun, it was healthy.
When you are a kid, you don't want anything healthy, like, quinoa, you want to eat what everyone else is eating.  Imagine unpacking your lunch at school to find a thermos full of water,  a hard salami sandwich on rye bread, a pickled green tomato (oh you heard me right) and Fig Newtons!  Nothing will set you apart from your peers quite like pickled green tomatoes, let me tell you!  Thankfully the green tomatoes stopped.  Unfortunately, everything else stayed.  For goodness sakes, I just wanted Ho Ho's and Fritos!!
When I was fifteen, I got my first job.  I made sandwiches at a local sandwich chain.  I gained 10 pounds.  I stuffed my face with every bit of junk I could find!  I felt I had to make up for lost time.   Then college came and I happily put on the freshman fifteen.  That's about the time I realized that mom's cooking was actually good and that I missed it.  It took a while, but I finally came to appreciate my mom's wholesome foods and her unadulterated meals.
This quinoa dish was part of our dinner  tonight.  My family loves eating grains and preparing the quinoa in chicken broth added so much flavor, my kids loved it!  We are HUGE pepper eaters in this house.  I love using the mini sweet peppers, they are bite sized and yes, sweeter, especially when roasted.
I am guilty of letting my kids indulge in sweets like whoopie pies or cookies.   And we certainly aren't strangers to junk food.   But for the most part, we eat really well.    While we don't exactly eat the foods from my childhood (my kids have never eaten a Fig Newton), I am very aware of what my kids put into their bodies.  I want them to be happy,  but also healthy.    That's why this dish was perfect.    I was so happy with the amount of healthy quinoa consumed by my kids, I offered them an extra helping of dessert!   As soon as the offer flew out of my mouth I realized that extra dessert probably negates all the health benefits of the quinoa.  Oh well.  I'll give them extra quinoa next time!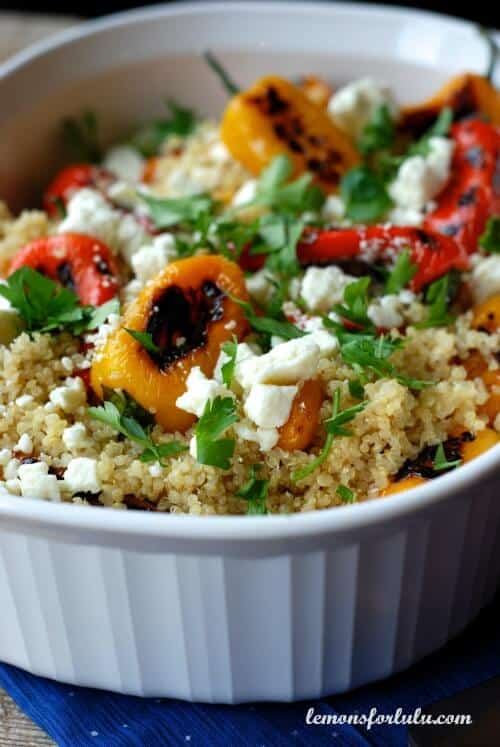 You might enjoy these too: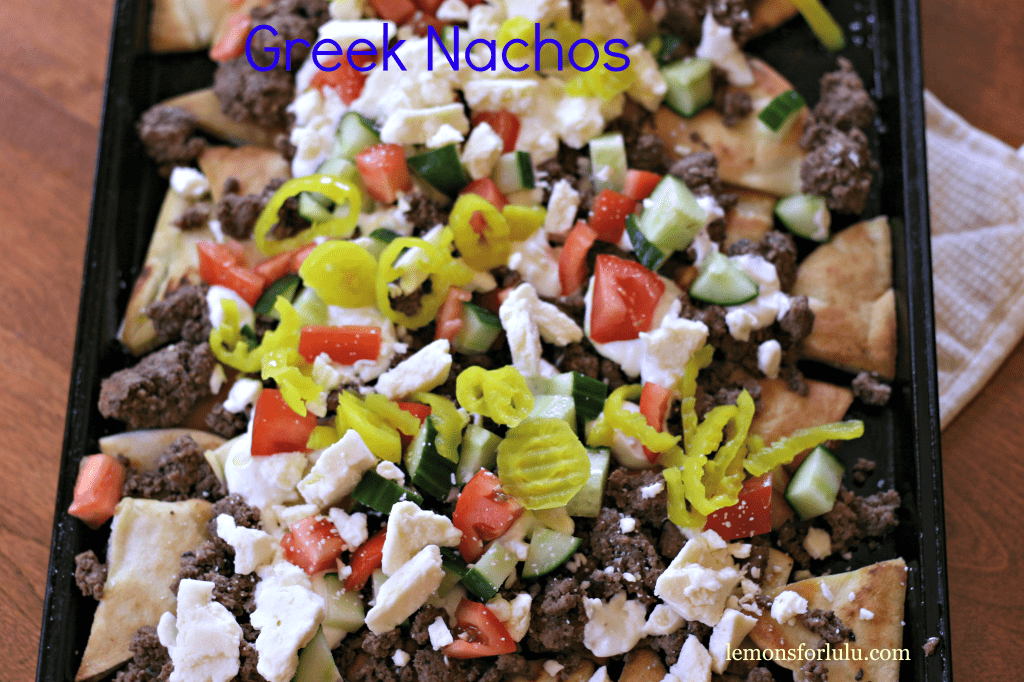 Want more Lulu?  Get me in your inbox or follow me via RSS | Facebook | Twitter | Google + | Bloglovin
Quinoa with Roasted Peppers
Ingredients
3

cups chicken broth

1 1/2

cups quinoa

3

cloves garlic, divided, minced

1/4

cup olive oil

1

package mini bell peppers

salt, pepper to taste

4

oz Feta cheese

2

tablespoons Italian leaf parsely
Instructions
For the quinoa: Bring 3 cups chicken broth and 1 clove of garlic to a boil. Stir in quinoa, cover and reduce heat to medium low. Simmer for 15-20 or until chicken broth is absorbed.
Meanwhile, spray a skillet or stove top grill pan with cooking spray. Arrange peppers in a single layer and cook until peppers have blistered on each side and have softened. Remove to a serving bowl. Mix in remaining garlic, olive oil, salt and pepper to taste. Add quinoa to peppers and stir well. Sprinkle feta cheese over quinoa and top with parsely.