Looking for a flavorful quinoa recipe? Look no further!
This quinoa salad combines mini sweet roasted peppers soaked in olive oil and garlic and topped with crumbled feta cheese.
Roasted peppers have always been a part of my diet. I remember going to the local farmers market when I was a kid. My parents would be bushels of bell peppers each week. My mom would then spend her days in front of the outdoor grill watching the peppers blister and char.
She would painstakingly peel each pepper then toss them on lots of garlic and olive oil. We would eat them as is or with slices of homemade bread. They were so good. That memory is sort of the inspiration behind this easy quinoa recipe.
WHERE IS THE QUINOA AND ROASTED PEPPER RECIPE?
If you'd rather skip cooking tips, suggestions, handy substitutions, related recipe ideas – and get straight to the Quinoa and Roasted Pepper Recipe– simply scroll to the bottom of the page where you can find the printable recipe card.
How To Roast Peppers
There a number of ways you can roast peppers. You can place them directly on grill grates and roast on a grill, you can place them on a sheet pan and roast them in the oven, you can roast them on a grill pan on your stove top and you can hold them over flame on a gas stove (not a recommended method, but works in a pinch). Regardless of which method you use, the instructions are similar. If you roasted peppers on a grill or a grill pan, place the peppers on the grates, cover, and rotate the peppers often. The peppers are ready when they are charred and blistered.
To roast peppers in the oven, place the peppers on a foil-lined baking sheet, turning often.
For direct heat, hold the peppers with tongs and hold over the flame. Again, I do not really recommend this method.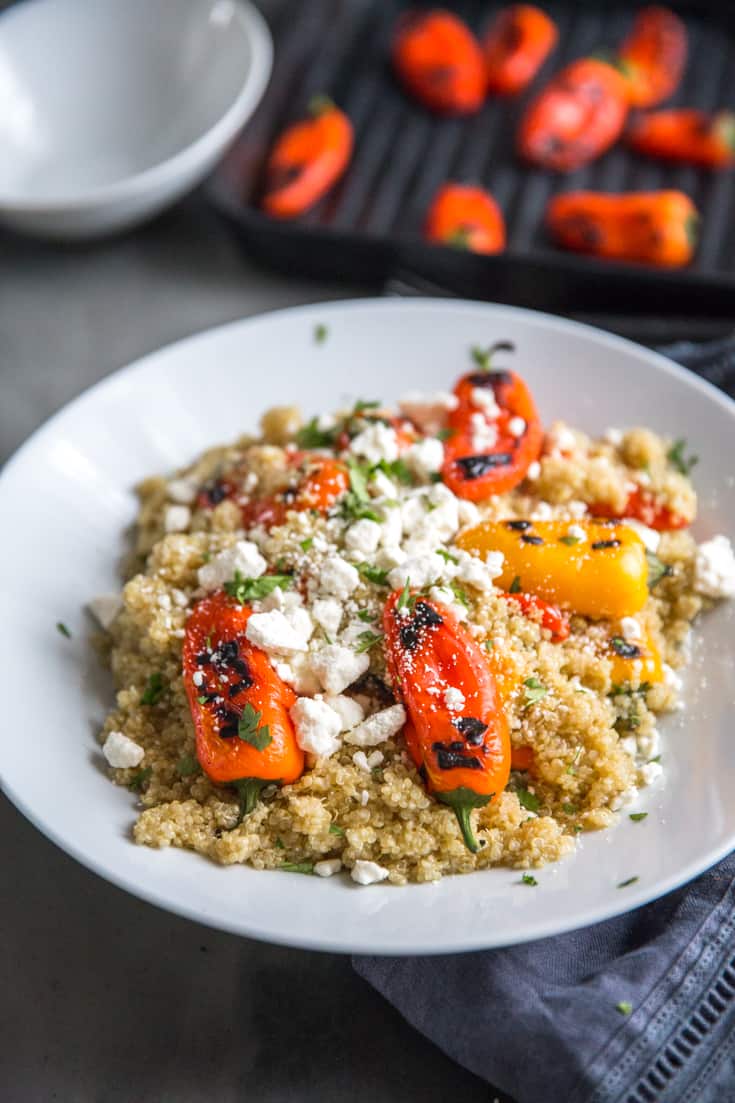 How To Peel Roasted Peppers
When the peppers have sufficiently blacked remove them from the heat and place them in a sealed container. A paper bag works well or a bowl covered in plastic wrap. Once the peppers are cool to the touch, the skins should peel right off.
How To Make Quinoa With Roasted Peppers
This recipe uses mini peppers but honestly, any pepper would work. I used a grill pan to roast the peppers and tented the pan to trap in the steam. Use any method that is easiest for you. Because of the size of the peppers, they will not take long to roast. These mini peppers could be a little hard to peel because of their size, if a little skin is left on, it is ok.
While the peppers are cooling, prepare your quinoa. I used chicken broth to prepare my quinoa, however, veggie broth or water will be just fine.
Toss the peppers with the quinoa and make a quick dressing. Pour the dressing over the peppers, add feta and stir. And there you go! This is a super easy, healthy side dish that will go with anything you serve with it. To make a meal out of this, toss in your favorite protein and call it a day!
Need more ways with quinoa? Try this Shrimp Caesar Salad with Quinoa, Quinoa Tabbouleh,Blueberry and Kale Quinoa Salad.
Yield: 6
Quinoa with Roasted Peppers
Looking for a flavorful quinoa recipe? Look no further!
This quinoa salad combines mini sweet roasted peppers soaked in olive oil and garlic and topped with crumbled feta cheese.
Ingredients
3 cups chicken broth
1 1/2 cups quinoa
3 cloves garlic, divided, minced
1 package mini bell peppers
1/4 cup olive oil
2-3 tablespoons lemon juice
salt, pepper to taste
4 oz Feta cheese
2 tablespoons Italian leaf parsley
Instructions
For the quinoa: Bring 3 cups chicken broth and 1 clove of garlic to a boil. Stir in quinoa, cover and reduce heat to medium low. Simmer for 15-20 or until chicken broth is absorbed.
Meanwhile, spray a skillet or stove top grill pan with cooking spray. Arrange peppers in a single layer and cook until peppers have blistered on each side and have softened. Peel peppers if desired.
Toss together the quinoa and the peppers.
In a small bowl, whisk together the remaining garlic, olive oil, lemon juice, salt and pepper to taste. Pour over the quinoa and stir well.
Sprinkle feta cheese over quinoa and top with parsely.
Nutrition Information
Yield
6
Serving Size
1
Amount Per Serving
Calories

198
Total Fat

14g
Saturated Fat

4g
Trans Fat

0g
Unsaturated Fat

9g
Cholesterol

19mg
Sodium

737mg
Carbohydrates

12g
Fiber

2g
Sugar

2g
Protein

6g