A Caesar salad recipe that's kicked up with shrimp and quinoa!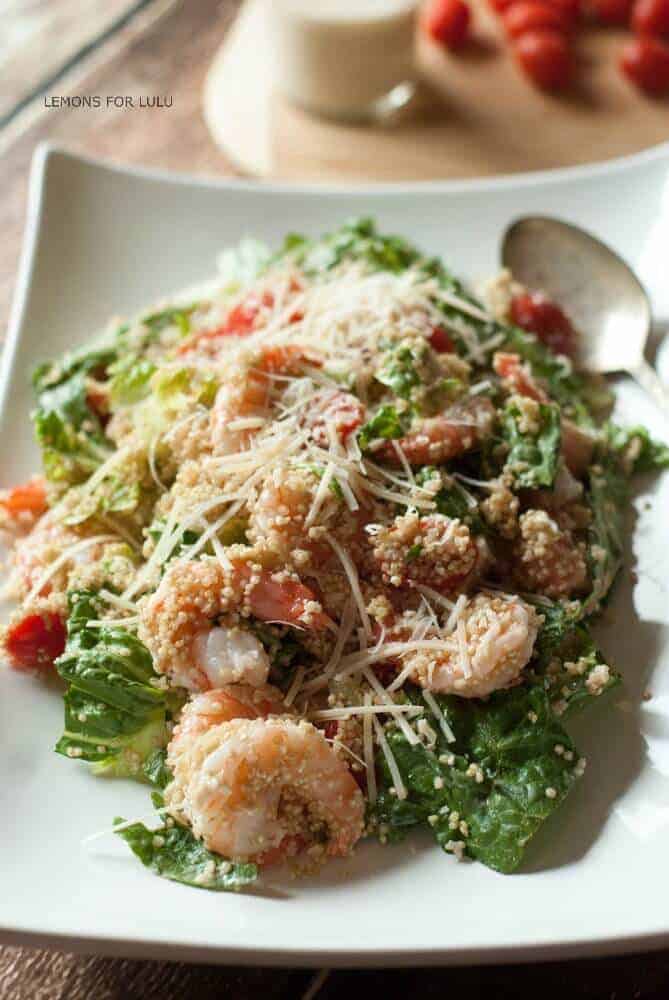 The only thing I find more disgusting than a cooked, eaten chicken carcass is a lobster carcass.  Not that I've eaten a whole lobster or anything.
My husband and I got engaged in Sanibel Island, Florida.  We went out to celebrate at a local restaurant known for its lobster.  I had every intention of consuming my own until I caught a glimpse of the tables around me.  The skeletal remains of the lobster surrounding me brought bile to my throat.  The picked over bodies was too much to stomach.  I ordered a burger and never looked back.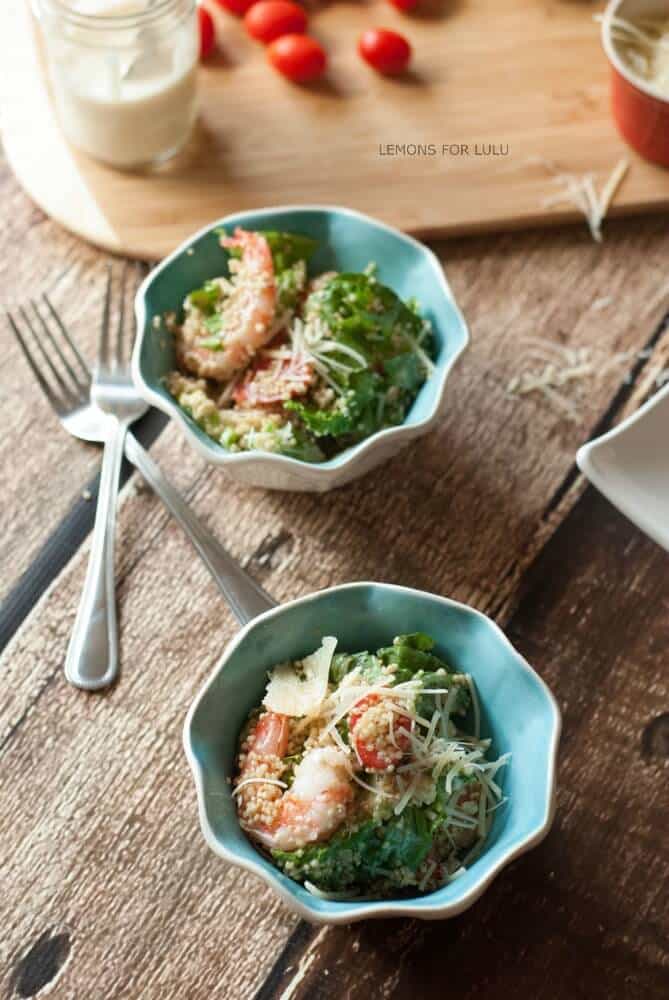 I have not had lobster since, nor have I had crab legs.  Too much work and way too much carnage.  Poor little crustaceans.  The only shellfish I can handle are shrimp.  Despite my shellfish induced nausea I am able to peel shrimp (despite the blue vein and dangling legs).  I suppose it's because it's quick and easy; basically one motion.  And no eyes!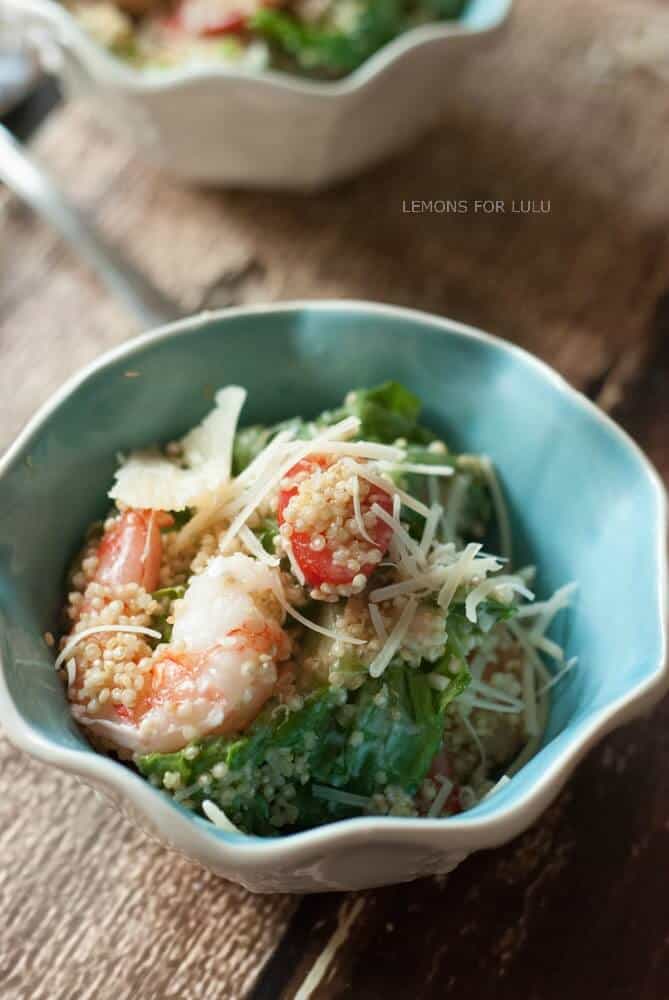 My family and I enjoy quite a bit of shrimp.  The kids prefer them plain with cocktail sauce, I prefer to gussy them up.  This time I put them to good use in this incredibly simple Caesar salad recipe.  Like all Caesar salads, this one starts with romaine lettuce, includes Parmesan cheese and a very easy homemade Caesar salad dressing.  But I also tossed in shrimp and the super food known as quinoa.  This salad is not only filling and satisfying, but it is one crazy good Caesar salad recipe.  Better than anything you'd find at a restaurant.  It takes very little time to prepare-a bonus!
If you are looking for a new Caesar salad recipe, give this one a try.  Save a lobster, eat some shrimp!
NEVER MISS A RECIPE! SUBSCRIBE TO MY EMAIL TODAY!
FOLLOW ME:
FACEBOOK | TWITTER| GOOGLE +| BLOGLOVIN | INSTAGRAM
Caesar Salad Recipe with Shrimp & Quinoa
Ingredients
4

tablespoons mayo

3

tablespoons water

3

tablespoons lemon juice

2

tablespoons Parmesan cheese

Pinch of salt and pepper

1/2

teaspoon Worcestershire sauce

1

head romaine lettuce, chopped

1

cup grape tomatoes halved

1

teaspoon olive oil

1

clove garlic, minced

1

cup quinoa

2

cup veggie broth

1

lb shrimp, cooked
Instructions
Prepare dressing, combine all ingredients in a bowl and whisk together. Set aside.
Bring veggie broth to a boil, add quinoa, reduce heat and simmer for 15 minutes or until fully cooked and broth has been absorbed.
Combine lettuce, quinoa tomatoes, toss with shrimp and drizzle with dressing.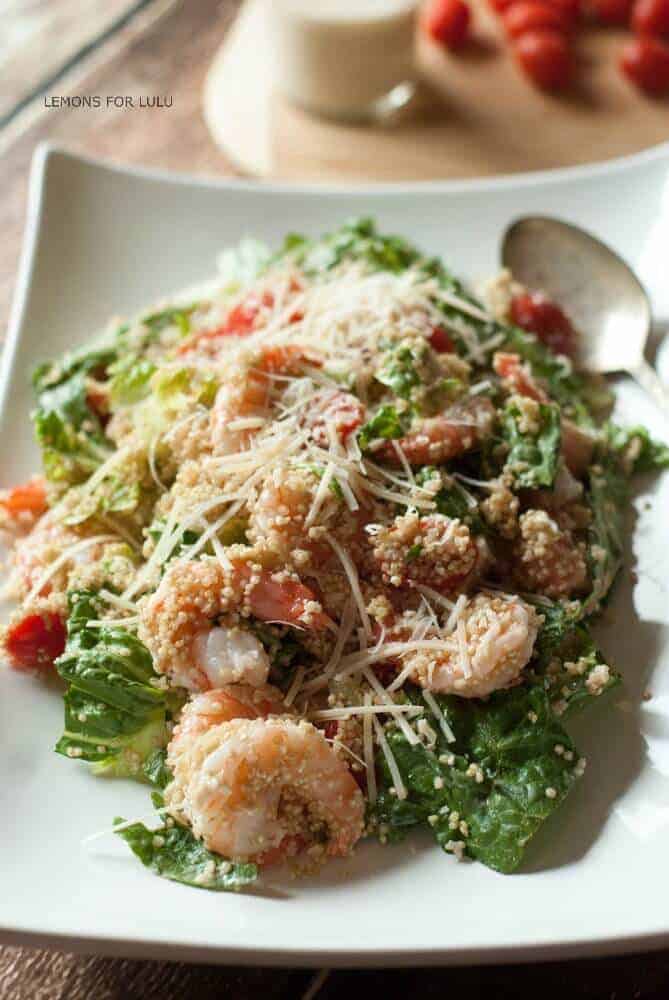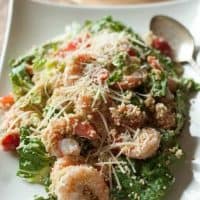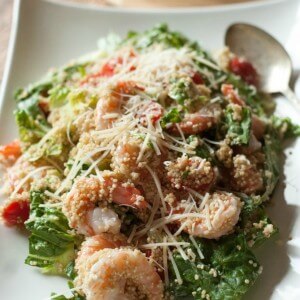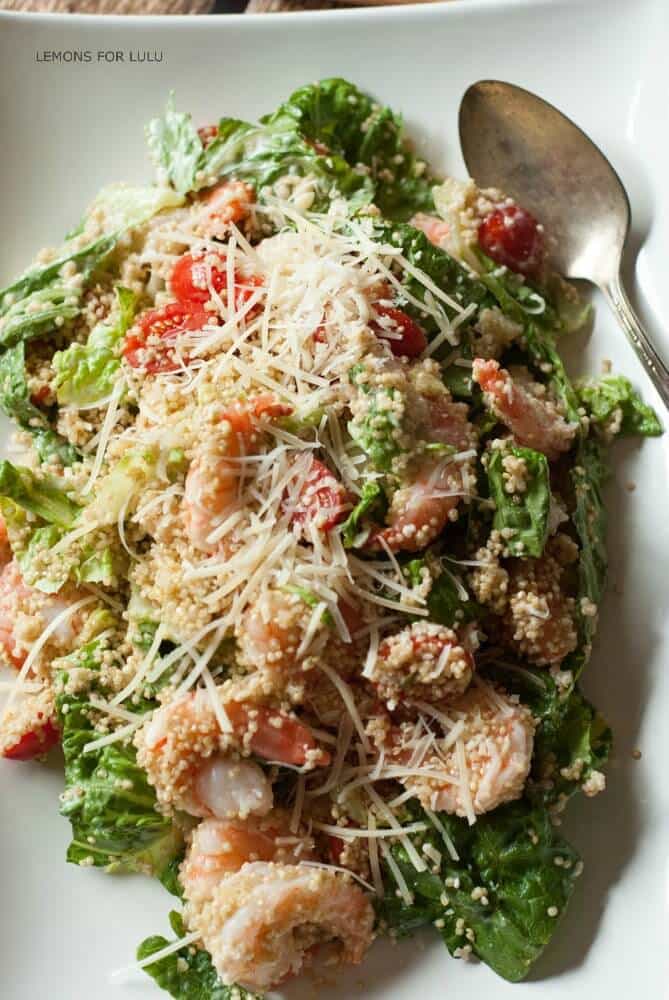 Shrimp, Shrimp, Shrimp