Simple and fresh Middle Eastern Salad, made with bulgur, tomatoes, parsley and a light lemon dressing!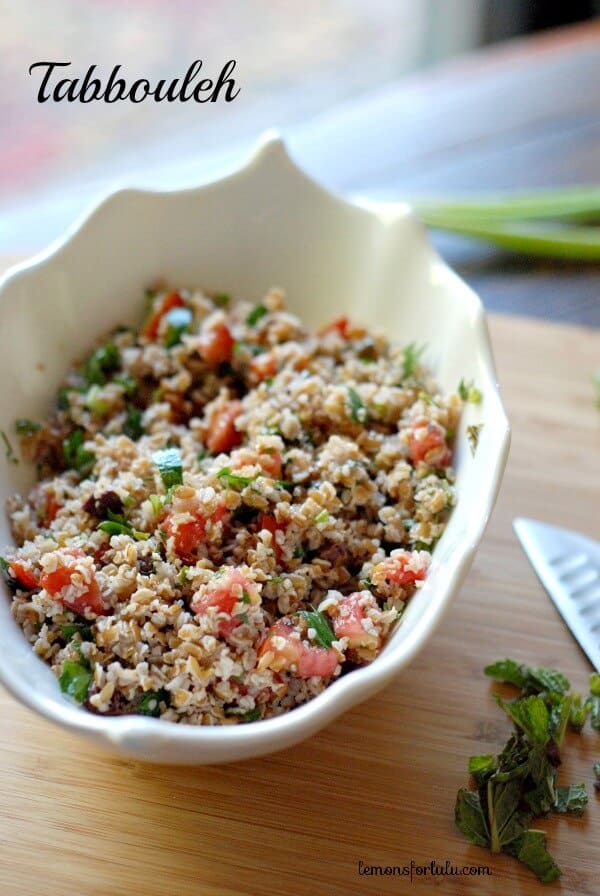 It's the beginning of January.  Time for those sobering resolutions.  Like many other optimists making resolutions, my big three are:  to eat better, be more organized and exercise more.   However, I have a list of smaller resolutions too.  Resolutions that are a little off the beaten path so to speak.  Below are just a few ways in which I hope 2014 is different from years past.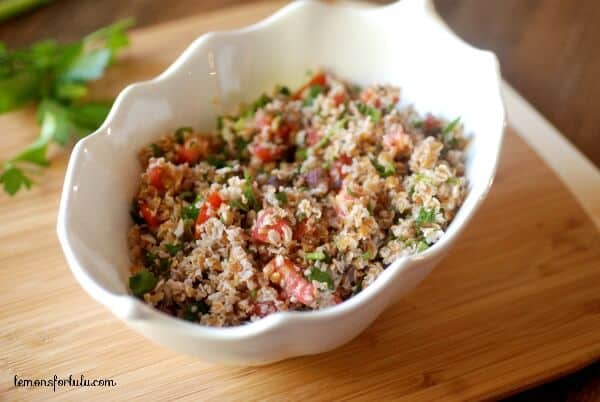 Wear less fleece.  It's time to kick my "mom look" to the curb.
Yell at the kids less-it's ineffective and annoys even me.
Floss daily.  The 6 cavities in 2013 should be my lesson.
Make more cakes.  I need to get over my fear of layers.
Get my hair cut more often.  (i.e. stop being cheap and lazy)
Be a better house cleaner-dust bunnies are NOT pets.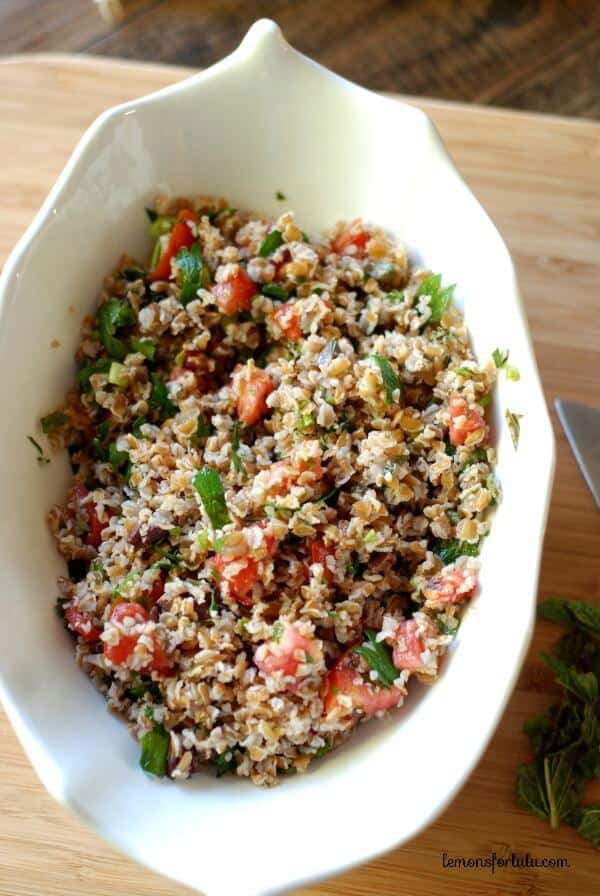 Read more novels and less blogging books.
Give more of my time and money, both are gifts that should be shared.
Expose my kids to more ethnic foods, they will thank me later.
Buy a bike and get riding with the kids while they still want to ride with me.
Step away from the computer more often.  I'm not missing out on anything except life.
Be silly and laugh more.  That is a much better way to live, don't you agree?
This recipe is my attempt at getting my family to appreciate a variety of foods AND it's light and healthy too (I'm really hitting my resolutions with this recipe).  I love the firm, nutty bulgur in this salad.  This salad uses lots of lemon and mint in the dressing which keeps it tasting so light and fresh.  You can add cucumber for more texture and a little crunch.  We ate this as a side dish, but it could easily be an appetizer too.
 2014 is shaping up to be quite promising, especially if I continue to eat like this!  Now, about those layer cakes…..
NEVER MISS A RECIPE! SUBSCRIBE TO MY EMAIL TODAY!
FOLLOW ME:
FACEBOOK | TWITTER| GOOGLE +| BLOGLOVIN | INSTAGRAM
Ingredients
3/4

cup Bulgur

1/2

cups parsley

3

medium tomatoes, chopped

1/2

cup green onions

2

tablespoons fresh mint

1/4

cup olive oil

1/4

cup lemon juice

1

teaspoon salt

1/4

cup black olives, pitted and chopped
Instructions
Place bulger in a bowl and cover with boiling water. Let stand for 1 hour. Drain any excess water.
Place bulger in a serving bowl. Mix in tomatoes through mint.
In a small bowl, combine olive oil, lemon juice, salt and pepper. Pour over bulgur. Stir in olives. Refrigerate for at least an hour before serving.