Chocolate chip walnut cookies made with olive oil instead of butter will be a total game changer!
These cookies are so good, you'll swear they are gourmet and I promise you won't even miss the butter!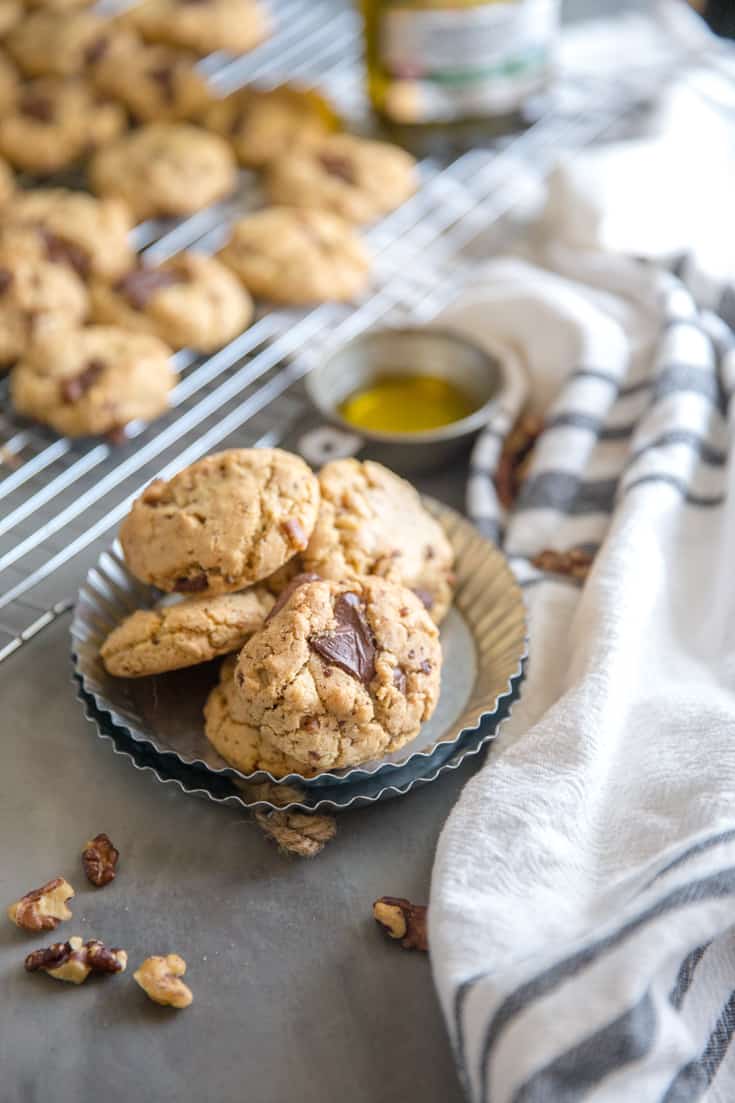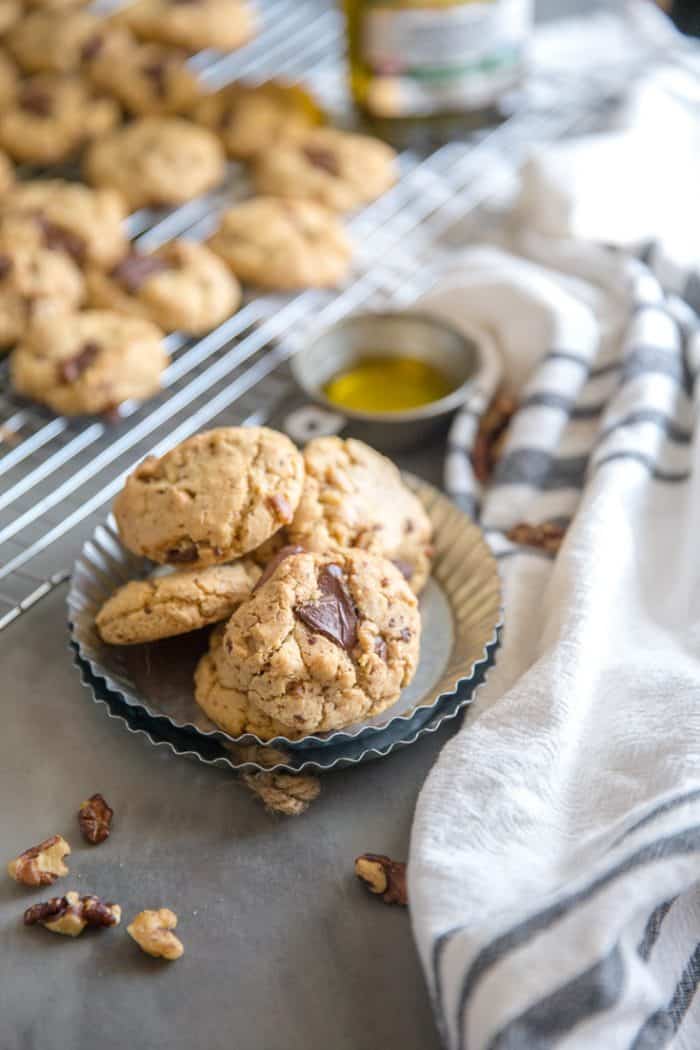 Can You Use Olive Oil In Chocolate Chip Walnut Cookies?
I don't think many of us think of using olive oil in place of butter or vegetable oil in baked goods like cookies.  But it works surprisingly well and only the most refined taste buds can tell the difference.  So to answer the above question, yes you absolutely can use olive oil in baking!  It is certainly a healthier fat to use than vegetable oil or butter and it can give your baked goods a lighter texter.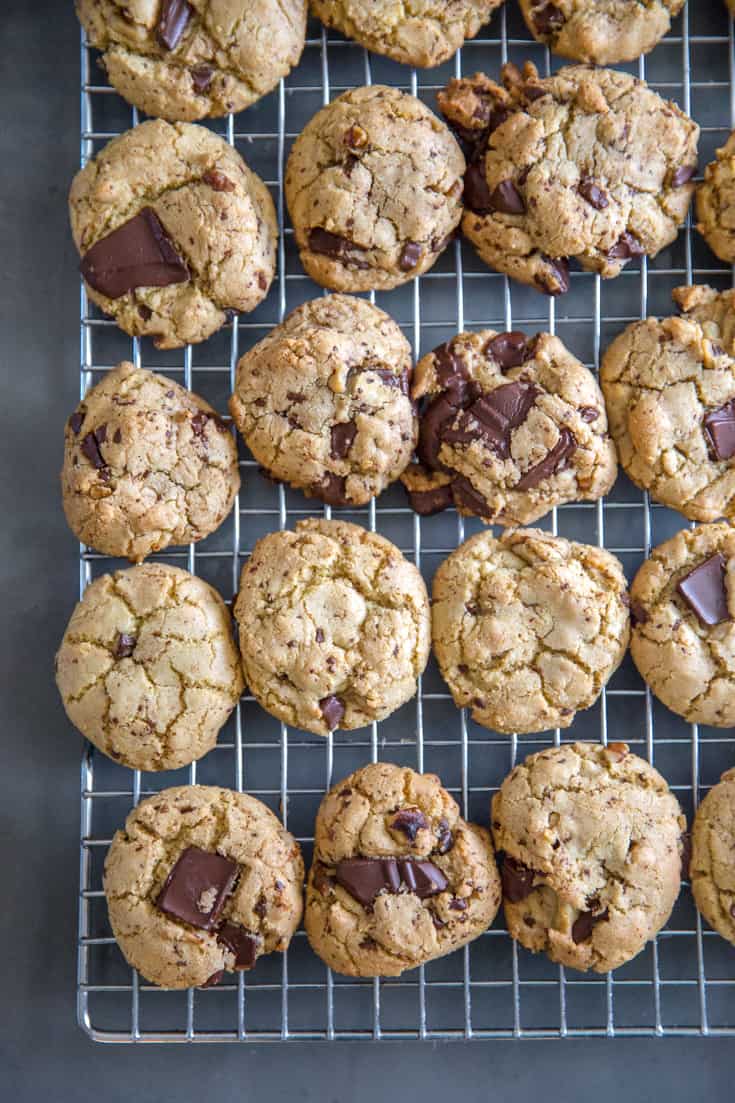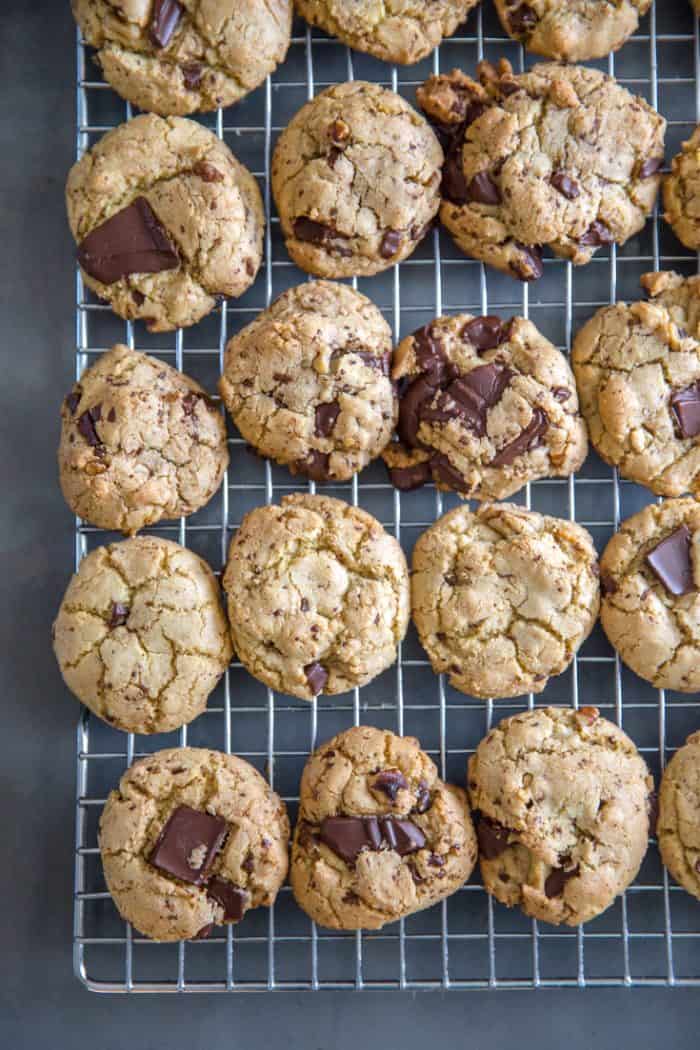 What Is The Best Olive Oil to Use in Chocolate Chip Walnut Cookies?
While a robust flavored extra virgin olive oil is delicious in savory foods, it can be too overpowering in baked foods, especially delicate baked goods.  Remember, you are using olive oil in place of mild tasting vegetable or canola oil and butter.  Try to use a mild or smooth flavored olive oil as they tend to have more buttery or fruity undertones.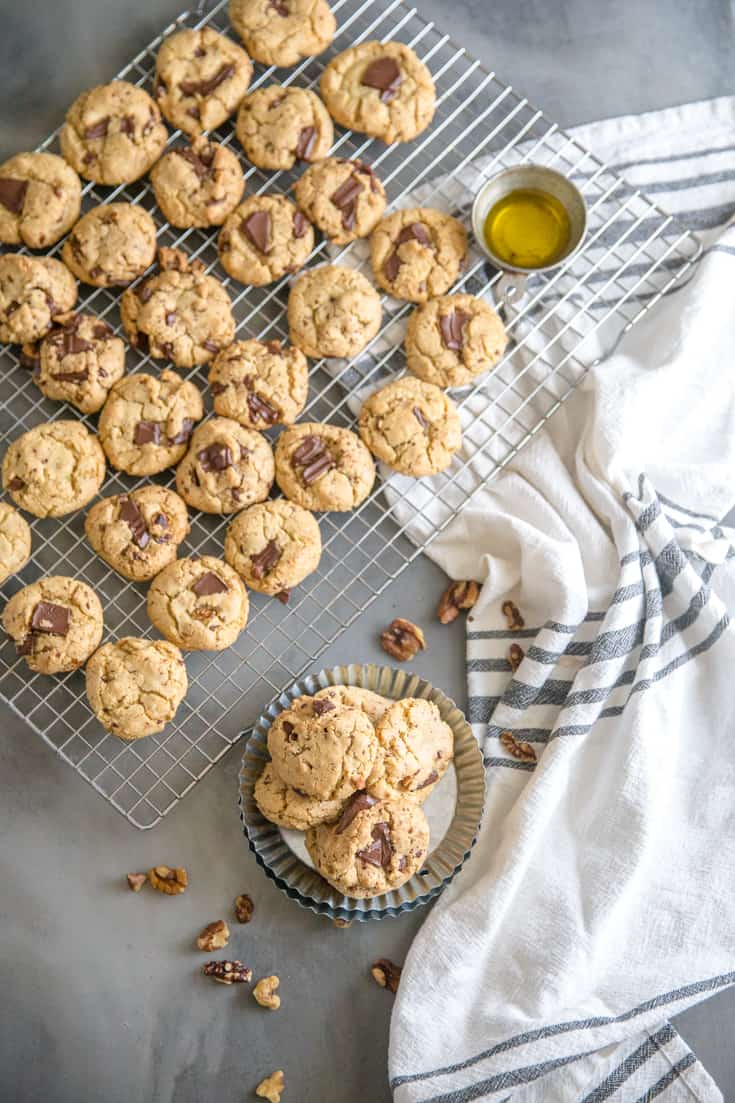 WHERE IS THE CHOCOLATE CHIP WALNUT COOKIE RECIPE?
If you'd rather skip cooking tips, suggestions, handy substitutions, related recipe ideas – and get straight to the Chocolate Chip Walnut Cookie Recipe– simply scroll to the bottom of the page where you can find the printable recipe card.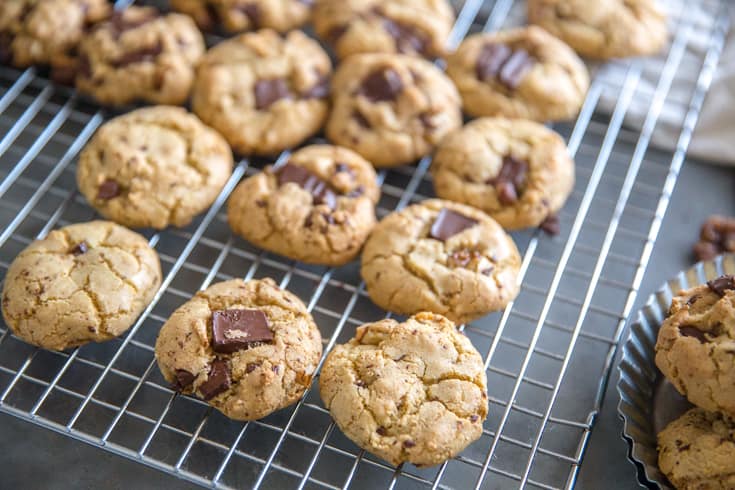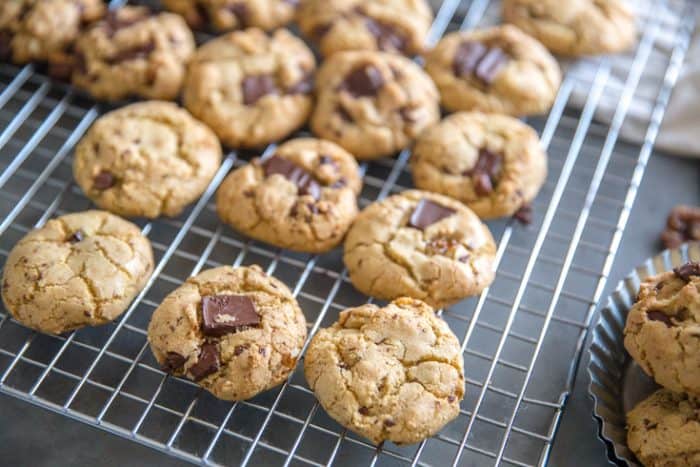 How Do I Swap Out the Butter For Olive Oil?
In a recipe that calls for vegetable oil, it is ok to change out the vegetable oil with olive oil in equal amounts.  If a recipe calls for melted butter, use, 3 tablespoons of olive oil for each 1/4 cup of melted butter that the recipe calls for.   There is no hard and fast rule when it comes to swapping out the olive oil for softened butter.  Lots of cookie recipes call for 1 cup of butter, I would replace that with 3/4 cup of olive oil.  If a cookie recipe calls for 3/4 cup of butter then use 1/2 cup of olive oil…so you are roughly reducing the butter fat by 1/4 cup.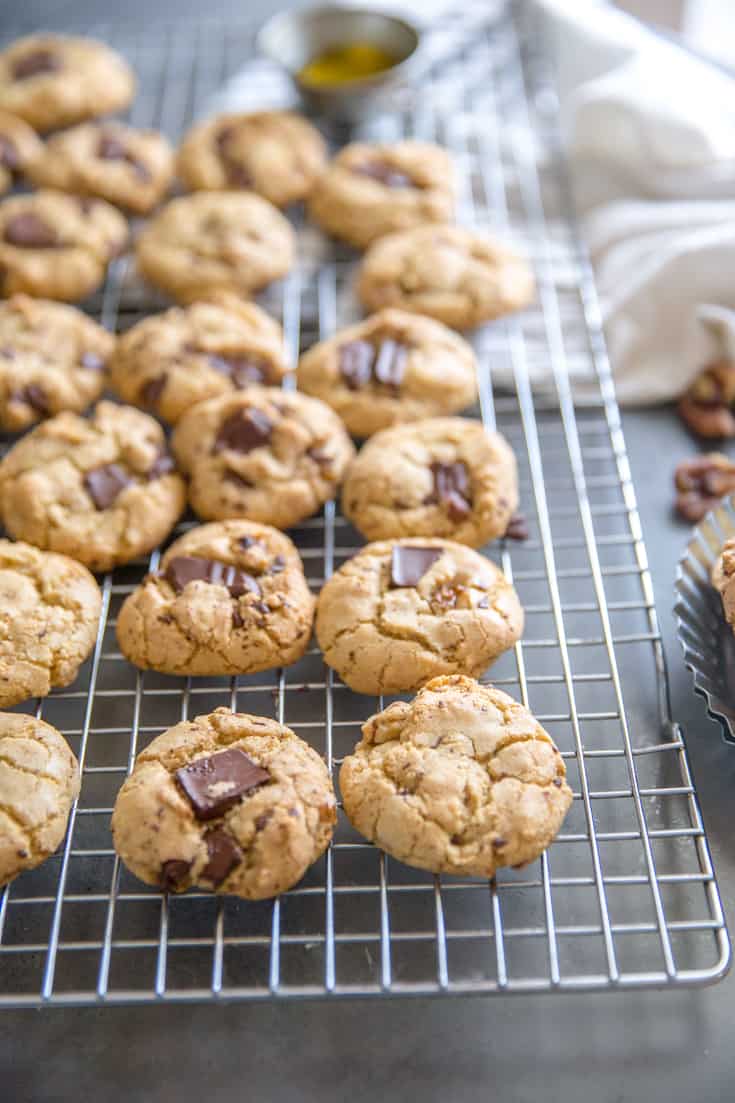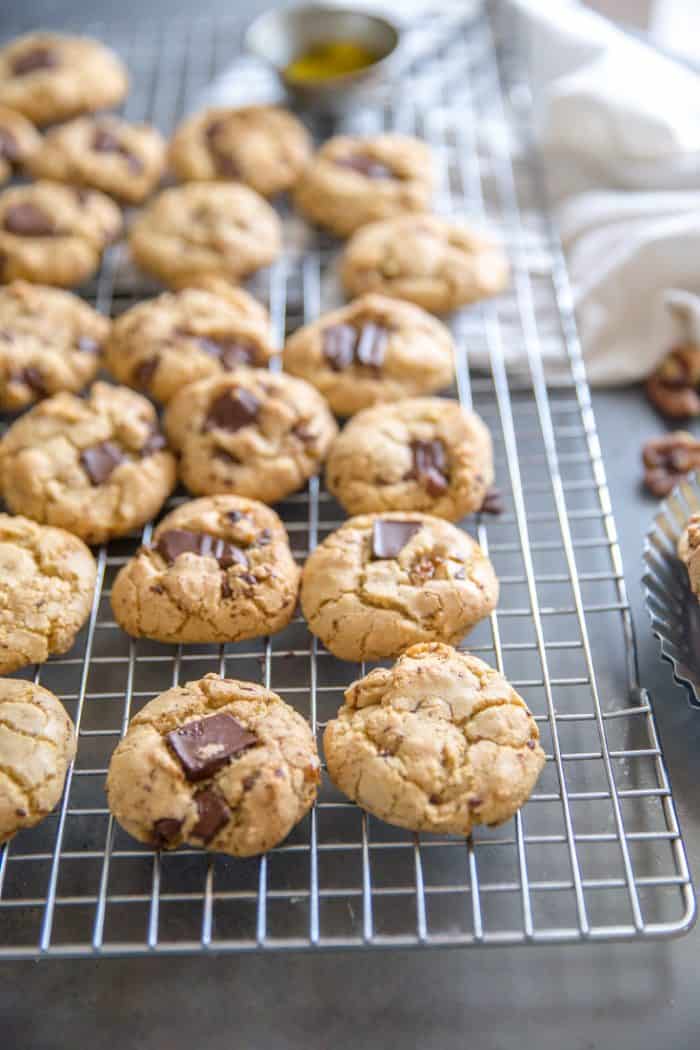 About Chocolate Chip Walnut Cookies
These cookies have the best texture.  They are crisp on the outside and chewy in the middle.  I used a full 2/3 cup of olive oil and one thing you will notice is the dough will be crumbly, not creamy like traditional cookie dough. No need for alarm, shape your dough into cookie balls and you'll be fine, I promise!  I used walnuts (also a healthy fat) but almonds or pecans work well in this recipe.  I also used chopped dark chocolate (since I'm being healthy and all), but any chocolate chip or chunk will do.
I did not disclose the "secret ingredient" to my family, and I'll be honest, no one could taste even a hint of olive oil. These cookies are worth trying and they may even become your go-to cookie!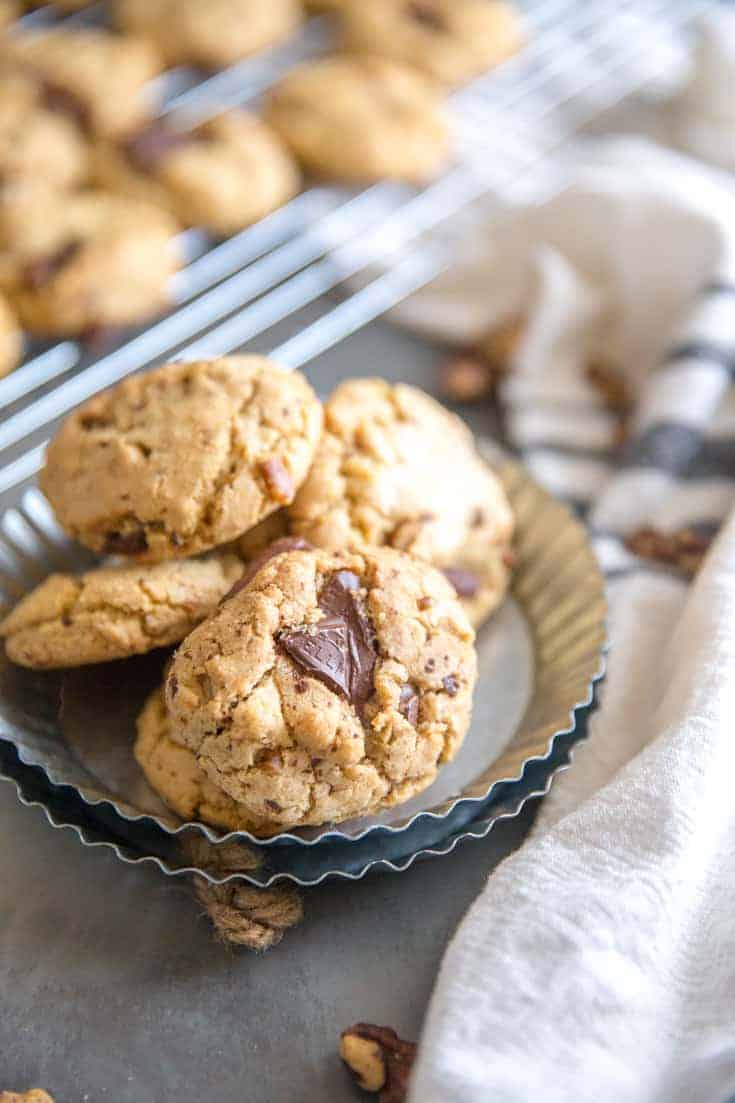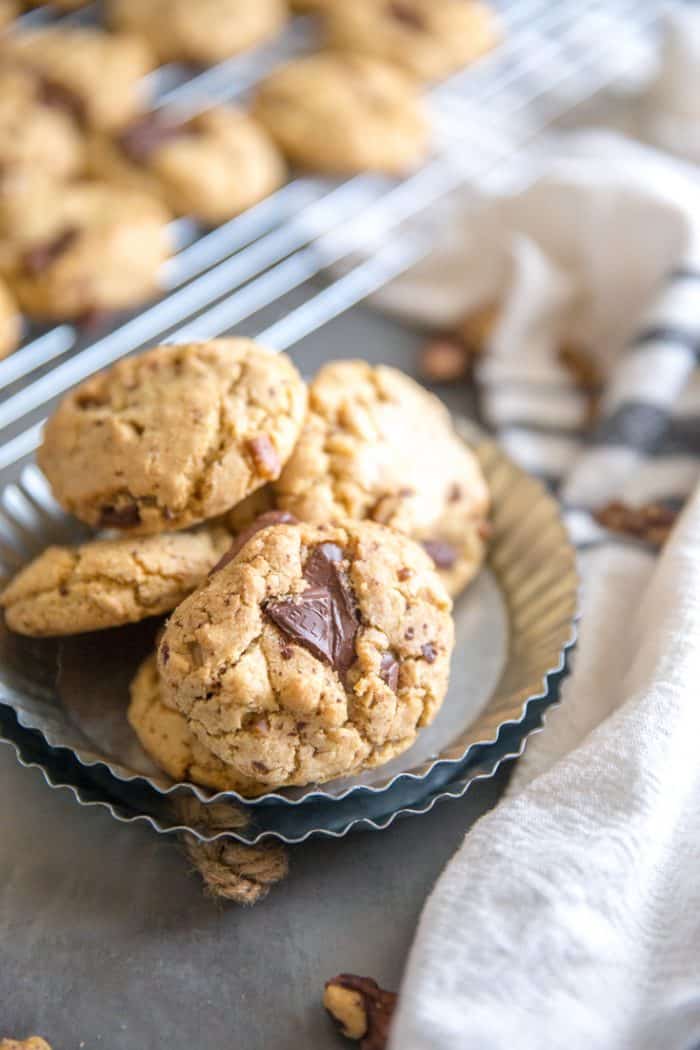 Want more cookies? Try these Olive Oil and Lemon Zucchini Cookies, Browned Butter Salted Chocolate Cowboy Cookies.
Olive Oil Chocolate Chip Walnut Cookies
Chocolate chip walnut cookies made with olive oil instead of butter will be a total game changer! These cookies are so good, you'll swear they are gourmet and I promise you won't even miss the butter!
Ingredients
⅔ cup smooth olive oil
1 cup brown sugar
½ cup sugar
2 eggs
2 teaspoons vanilla extract
2 ½ cups flour
1 teaspoon baking soda
½ teaspoons salt
1 cup chopped walnuts
8oz chopped dark chocolate
Instructions
Preheat the oven to 350 degrees.
In the bowl of a stand mixer, combine the olive oil and the sugar until combined. Slowly add in eggs in at a time, mixing well after each addition. Beat in vanilla.
In a small bowl, whisk together the flour, baking soda, and salt. Carefully add dry ingredients to wet ingredient until combined. Add in walnuts and chopped chocolate.
Scoop dough by tablespoons and gently and loosely form into a ball. Place cookies on a lined baking sheet about 2 inches apart. Bake cookies for 14 minutes or until set. Remove the cookies from the oven and allow them to rest on the baking sheet for 1-2 minutes before removing to a rack to cool completely.
Notes
The batter will not look creamy like batter made with butter. It will be more crumbly and almost grainy. Don't worry, it will bake up perfectly!
Nutrition Information
Amount Per Serving
Calories

0
Total Fat

0g
Saturated Fat

0g
Cholesterol

0mg
Sodium

0mg
Fiber

0g
Sugar

0g
Protein

0g