Thin and chewy brown sugar cookies!  Each cookie has a generous amount of cinnamon taste and loads of cinnamon chips!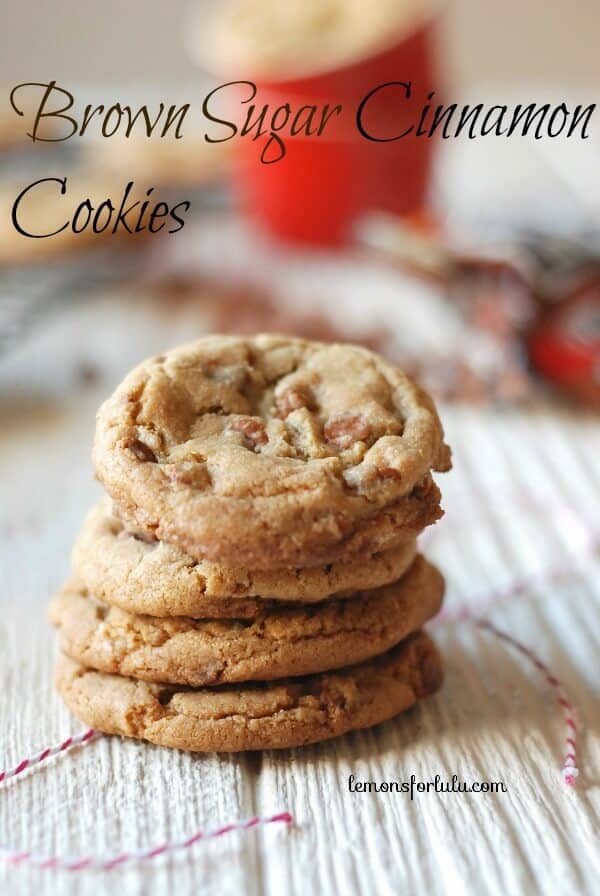 About two weeks ago I was standing on my driveway talking to a neighbor.  My youngest daughter was circling around us on her little pink bike.  At some point in the conversation, my daughter disappeared.  After a minute or two she reappeared with something in her hands.  She was munching on something as I could see a trail of crumbs on her shirt.  I didn't really think too much of it, I simply assumed she had helped herself to a granola bar.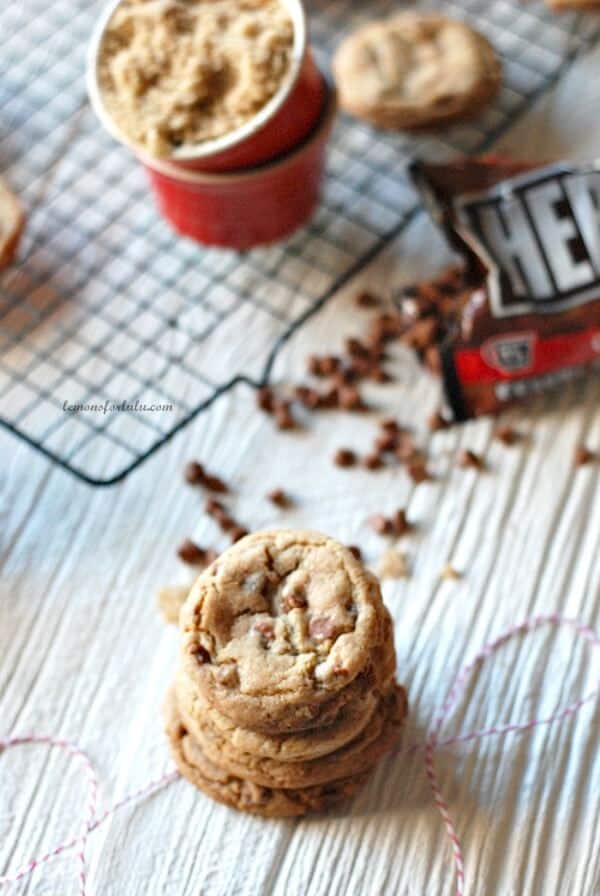 Once she got a little closer I realized that my 5 year old was happily munching on a Milk Bone dog biscuit.   Yes, my friends, you and I  grab pretzels or crackers when we crave something crunchy but not my daughter, she reaches for the dog treats.  In front of my neighbor no less!  The excuses were spilling out of my mouth at that point.  I was afraid he would think I don't feed my children!  Which of course is a travesty for a food blogger, right?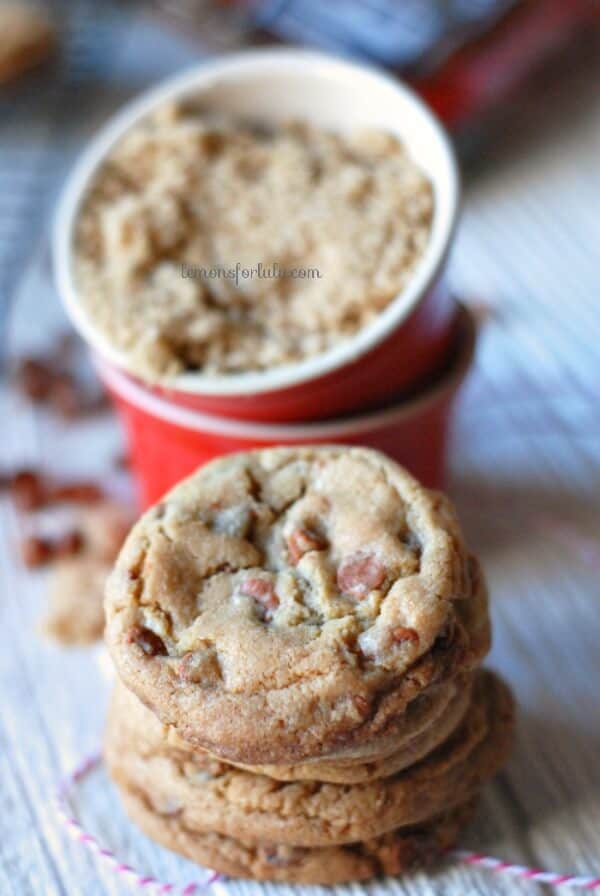 My face got red, my neighbor chuckled as he inched a few steps away from my daughter.  Then he left, rather hurriedly I thought.   As if strange eating habits were contagious.  I glared at my daughter and her Milk Bone filled mouth and thought "why can't you eat boogers like a normal kid"?  I quickly erased that notion from my mind, because eating boogers would be gross.  Milk Bones are at least more…fibrous.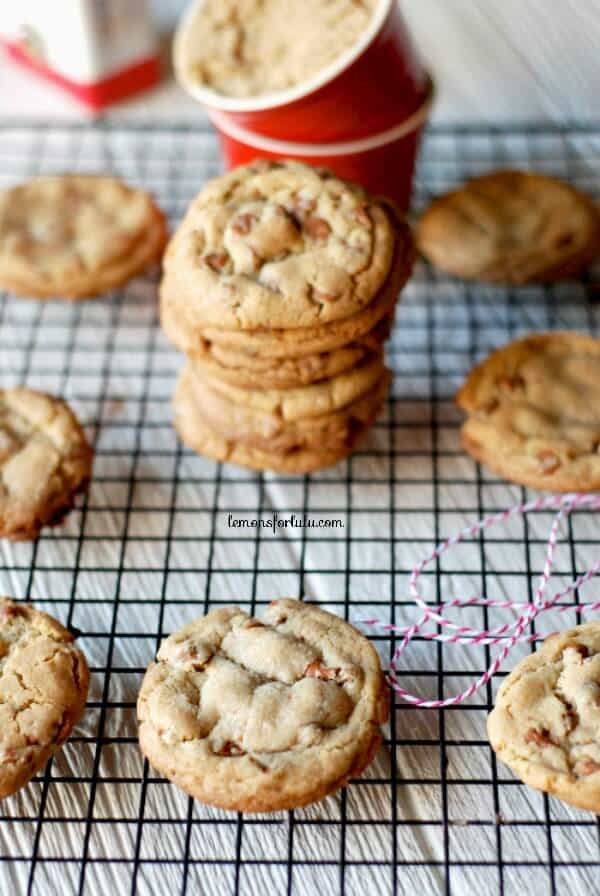 Eat Brown Sugar Cookies Instead
At that point I suggested to my daughter that we go inside and bake some cookies!  Forget the Milk Bones.  Brown sugar cookies would certainly be tastier, sweeter, and well….normal.  Little girls eat cookies not dog biscuits!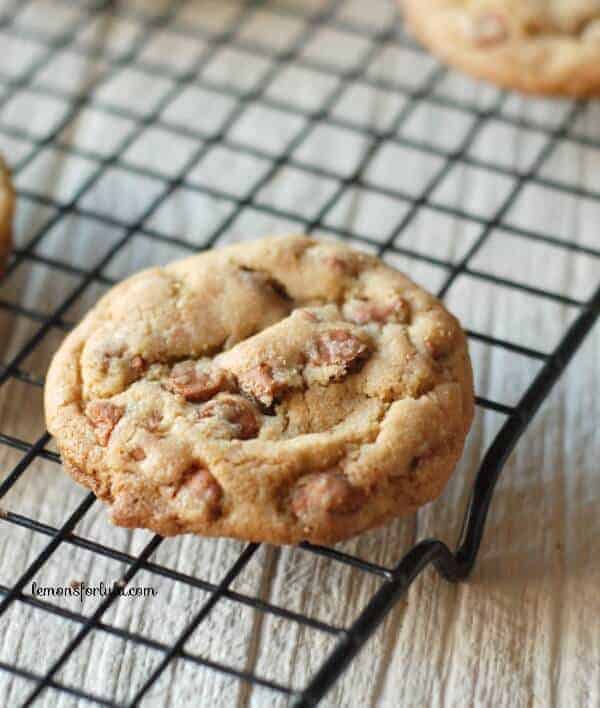 For now, I think these brown sugar cookies convinced my daughter to change her canine tastes.  These cookies will make anyone change their ways!  They are soft and chewy and have a taste reminiscent of ginger snap cookies.  They are heavy on the cinnamon taste between the ground cinnamon and the cinnamon chips.  They are absolutely perfect for the season!
A COOKIE A DAY WILL KEEP THE BLUES AWAY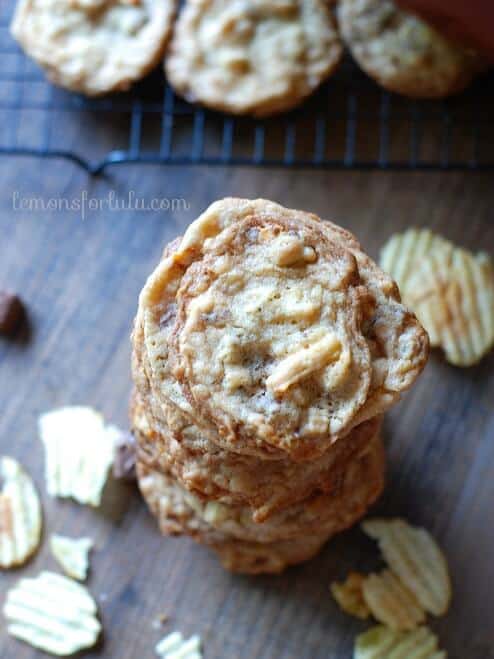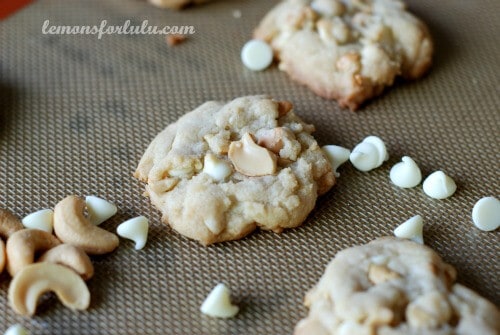 NEVER MISS A RECIPE!  SUBSCRIBE TO MY EMAIL TODAY!
FOLLOW ME:
FACEBOOK | RSS | TWITTER | GOOGLE + | BLOGLOVIN | INSTAGRAM
Brown Sugar Cinnamon Cookies
Ingredients
1

cup butter softened

1

1/2 cup brown sugar

1

egg

2

1/4 cup flour

2

teaspoons baking soda

1/2

teaspoon salt

3/4

teaspoon cinnamon

1 10

oz bag Cinnamon Chips
Instructions
Preheat oven to 375.
In a bowl of a mixer, combine butter and sugar and beat until creamy. Add the egg and mix well. Place the four, baking soda, salt and cinnamon in a separate bowl. Carefully add flour mixture to butter mixture-scraping bowl as necessary. Continue to mix until well blended. Stir in cinnamon chips.
Drop dough by tablespoons onto cookie sheets. Bake just until edges are set, about 8-10 minutes. Let cookies cool for 1 minute on baking sheets before removing to a cooling wrack.
Makes 48 cookies