There is nothing quite like enjoying some delicious summer recipes with a friend on a hot summer's day. Although the summer solstice has already passed, summer's not quite over.
Therefore you still have some time to make summer recipes to taste with your friends for a picnic or an evening backyard activity.
Here is a collection of the Best Summer Recipes around. If you are like me you'll want to squeeze all the summer foods you can before the end of the season.
Essential Summer Recipes Foods
Before you can begin selecting and cooking your summer recipes, it's important to get an idea of the types of foods these recipes might require and what is in season this time of year.
Then you can head to the store and stock up before you begin cooking.
Summer Season Fruits
Fruit always tastes better on a hot summer day, and because it's the prime growing season, there are many summer fruits for you to enjoy. Look at the list below.
Watermelon
Strawberries
Mangoes
Blackberries
Blueberries
Cantaloupe
Grapes
Lychee
Limes
Nectarines
Peaches
Pineapple
Plums
Raspberries
If you aren't sure which fruits are in season in your area, heading to a local farmer's market is a good way to find out.
Summer Vegetables
Just as fruits taste better when they are eaten in season, so do vegetables. Here are some of the best summer vegetables to eat this year.
Cucumbers
Tomatoes
Peppers
Lettuce (or other greens)
Sweet Potatoes
Okra
Spinach
Corn
Eggplant
Shallots
Peas
Similar to fruits, for those who have questions about what vegetables are in season in your area, heading to the local farmer's market is a good way to find out.
Best Meats for Summer
You can't just eat fruits and vegetables all summer though, as you're going to need some meat to keep your belly full.
Although meat is typically eaten all year round, it's better to go with some of the lighter meats in summer. The list below has the best meats for summer.
Chicken
Turkey
Fish (specifically salmon)
Sausage
Bacon
Shrimp
If you are hosting a cookout, then it may be appropriate to grab a beef product like a burger, but otherwise, we suggest leaving these heavy cuts of meat for when the days get a bit colder.
Tips for Summer Cooking
Now that you've got all the ingredients that you need, it's time to take a look at those recipes. Here are some tips to get you started and keep you cool while you cook in the summer heat.
Tip 1: Prep During the Cool Part of the Day
For an afternoon BBQ, you may be tempted to do your cooking around noon. While this makes sense, this may involve turning on your oven or stove during the hottest part of the day to make something like pasta for a pasta salad.
Instead of cooking your pasta just before making the pasta salad, plan to prep it in the early morning when the temperatures are cooler.
You don't have to just prep pasta during this time either, as it's also a great time to peel veggies, chop fruit, or toss a green salad.
Tip 2: Don't Get too Crazy
It can be tempting when you have a list of amazing recipes to select a bunch but don't overload yourself. Many summer recipes are made to feed many.
So consider just making 3-4 per event to keep yourself from needing to be in the kitchen all morning long.
Tip 3: Prep Outside
Many summer recipes can actually be prepped outdoors. For example, you can cut and slice veggies (or fruit) easily from a backyard table just by bringing out a cutting board.
Corn and potatoes can also be peeled while sitting on the back porch.
Tip 4: Swap Appliances
Although a recipe may call for the oven, in many cases, if you are making something small, you can easily swap out a large heat-producing appliance for a smaller one like a toaster oven.
For example when you are melting some cheese to make bruschetta—this is just as easily done in the toaster oven with half the heat your full-size oven will produce.
Got all the summer cooking tips down? Let's take a look at some of those recipes we've been bragging about.
50 Best Summer Recipes to Enjoy
Summer Dinner Recipes
1. Sausage and Potato Summer Vegetable Skillet
There are many ways to cook a sausage besides on a grill. So when you'd rather not fire it up, make this gluten-free summer vegetable skillet by Wishes and Dishes instead.
What's better is that it also includes several summer veggies making this a balanced meal that is served from a single pan.
2. Crock Pot Pulled Pork
During the summer months, your crockpot should be your best friend because it is one of the easiest ways to cook things without heating up your home with the oven.
Consider making this pulled pork recipe from Lemons for Lulu which is great when tossed in BBQ sauce and served on a bun for an evening picnic.
3. Summer Bruschetta Chicken
Looking for a summer dinner recipe that is also healthy but not a salad? Look no further than this bruschetta chicken from Domestic Superhero which can be put on the table in just under 45 minutes.
Plus, if you've already got tomatoes and chicken on hand you probably won't even need to head to the store to make this recipe.
4. Pineapple Chicken
Pineapple chicken is a quick summer dinner recipe that is aesthetically pleasing to serve. Cook the chicken and veggies first, then add in some pineapple to give them a sweet and sour taste.
Dump the mixture into the scooped-out pineapple and place it on the table next to a bowl of rice and this luau meal from Lemons for Lulu is sure to get compliments.
Summer Grilling Recipes
5. Grilled Stuffed Peppers
The grill isn't just for slabs of meat, so when you and your family want something slightly healthier, make these ground turkey stuffed peppers from Fake Ginger.
When you've got a busy week ahead, these peppers make for a great dinner to make in advance and just pop on the grill 10 minutes prior to dinner time.
6. Andouille Sausage with Blue Cheese Coleslaw
Sausages are one of the easiest foods to serve at a summer cookout because they don't require any utensils. But sometimes they can seem a little cheap unless you make this blue cheese coleslaw to put on top from Lemons for Lulu.
Not only does this take the flavor profile to a whole new level but you can leave the ketchup and mustard at home.
7. Chicken Caprese
There are hundreds of ways to prepare chicken, but this chicken caprese from Dinner at the Zoo is one of the best summer recipes for the season.
Simply grill chicken till cooked, then top with the tomato, mozzarella, salt, pepper, basil, and balsamic vinaigrette for dinner that can be enjoyed on the lawn.
8. BBQ Ribs
Even though ribs aren't considered one of the best summer meats, they sure do take your summer BBQ to a whole new level.
If you have a charcoal grill, follow these directions by Lively Table to grill your ribs to crispy and juicy perfection.
Summer Salad Recipes
9. Grilled Chicken Summer Berry Salad
Summer is the season for a nice green salad paired with those in-season berries you purchased at the farmer's market.
Pair it with a little chicken from the grill like this recipe by Big Bears Wife and you have yourself a dinner that you'll want to bring to your next summer girl's night.
10. Grilled Po'boy Potato Salad
Potatoes are one vegetable that can feel especially heavy when consumed in the summertime. Lighten them up by serving them cold in a salad like this one by Lemons for Lulu.
Made with grilled shrimp, lettuce, tomatoes, and some spices, this salad brings all the summer foods together seamlessly.
11. Southwestern Steak Salad
Southwestern steak salad is a crowd-pleaser. Topped with veggies, beans, avocados, and everyone's favorite steak, you'll be wanting to make this at every chance you have this summer.
The full recipe is on Simple Joy, but be sure to double the jalapeno ranch dressing recipe because you will want extra.
12. Summer Grilled Corn Salad
Looking for a vegetarian salad to serve at a BBQ? Whip up this grilled corn salad from Nutrition in the Kitch which is dairy-free, gluten-free, vegan, and can easily be made on site.
All you have to do is make the dressing in advance, add in the grilled corn when it's done grilling, then mix and serve.
Summer Appetizer Recipes
13. Deviled Eggs with Garden Vegetables
Deviled eggs are a long-time crowd favorite, made by hard boiling eggs, mixing the insides with something else, then placing them back together and serving.
For a fresh variation of this traditional summer recipe, try these deviled eggs with garden vegetables by Lemons for Lulu.
14. Cream Cheese Stuffed Peppers
Peppers aren't just for meals, you can also pick up a bag of mini peppers and make these cream cheese stuffed peppers by Life Family Fun.
They are easy to make in advance and stick in the fridge, and ideal for a party appetizer you just want to set out and not stress about.
15. Granny's Monkey Bread
Typically thought of as a dessert, monkey bread can actually be an awesome appetizer for a summer brunch. It's easy for guests to just rip off a piece they want and go.
Alternatively, you could slice this in advance and give everyone a small bowl of this while they wait on the main course. Try our favorite version of this recipe found on Self-Proclaimed Foodie.
16. Shrimp Ceviche Bites
Bite-size appetizers like these Shrimp Ceviche Bites from Lemons for Lulu are great to set out and allow guests to help themselves while you finish cooking the main dish.
While shrimp is ideal for summer meat, do be careful not to leave these in the sun for too long because they will spoil.
Summer Pasta Recipes
17. Greek Zoodle Salad
It can be hard to think of pasta as you work in the garden on a hot summer day. But with this Greek Zoodle salad from Cupcakes and Kale Chips you don't have to.
With a similar consistency to pasta, these zucchini noodles will fill you up to the point where you won't even notice you are mainly eating vegetables for dinner.
18. Greek Orzo Pasta Salad
Orzo pasta is a type of pasta that looks like a long and thin grain of rice. While it may look like rice, it definitely tastes more like pasta, and orzo lends itself naturally to amazing pasta salads.
Try this recipe by Lively Table which combined orzo pasta with an array of summer vegetables tossed with a tasty Greek dressing.
19. Bow Tie Pasta Salad
Let's face it, we aren't ready to serve a hot pasta recipe just yet. Rather, this bow-tie pasta salad by Lemons for Lulu sounds like a much better (and cooler) alternative.
Don't forget to follow the aforementioned tips and make this dish in advance during the cool part of the day.
20. Lobster Ravioli
For those who don't mind a pasta dish served warm, this Lobster Ravioli from Lively Table is a summer go-to. Don't worry about lengthy preparation, however.
This dish can be made with store-bought lobster ravioli. You will be making the sauce though, which takes about 10 minutes from start to finish.
Summer Dessert Recipes
21. Lemon Lime Layer Cake
Just because it is summer doesn't mean you should be skipping dessert. You don't want to make a dessert that is too heavy though. That is why we suggest this Lemon Lime Layer Cake from Dash of Sanity.
You get to use those lovely in-season limes to create a mouthwatering cake that won't leave you feeling too full afterward.
22. Boston Cream Pie
Boston Cream Pie is a tasty dessert that can get heavy, and fast. Create this summarized version from Dinners, Dishes, & Desserts that are made with graham crackers instead of cake to keep it light.
Make it in advance and leave it in the fridge for the perfect cool-down treat.
23. Summer Dream No-Bake Cheesecake
Instead of an entire slice of cheesecake to round off a night of light summer recipes, make these no-bake cheesecake bars from 365 Days of Baking.
While they still have the same layer of cheesecake your guests will love, they also have a layer of whip cream paired with a layer of pudding to make this a less dense dessert.
24. Old Fashioned Peach Cobbler
Not sure what to do with all the in-season peaches you purchased in bulk from the farmer's market? Consider baking this peach cobbler from Let's Dish.
Made with peaches, flour, sugar, butter, and a few other spices, you likely have everything you need already in your pantry. Serve as-is for a warm dessert, or pair with ice cream when you want to cool things down a bit.
25. Mini S'mores Brownie Bites
Would it even be summer if you didn't enjoy at least one round of s'mores? When you are looking for a slightly less messy alternative for a kid's birthday party make these mini s'mores brownie bites from White Lights on Wednesday.
You can also make the listed variation of the recipe to make these into fun dessert poppers your kids will love.
26. Mile High Strawberry Pie
Strawberry pie is a traditional summer dessert made by whipping fresh strawberries with cream. The result is a tasty, light dessert that can be served straight from the freezer.
Find the recipe on That Skinny Chick Can Bake and test out one of the summer cooking tips by baking this dish during the coolest part of the day.
27. Mixed Berry Cheesecake Pizza
Mixed berry cheesecake pizza is an easy-to-eat dessert that can help use up all those extra berries you've got on hand.
Grab a refrigerated pizza crust, some sugar, an egg, and cream cheese and this dessert is practically already made. Find the full recipe on My Suburban Kitchen.
28. Blueberry Cobbler
Often the most overlooked berries, blueberries are at their peak in summer and are ideal for more savory desserts like this blueberry cobbler from Taste of the Frontier.
With only three ingredients, this is guaranteed a dessert you can make last-minute that everyone around the table will enjoy. Serve as is, or with ice cream.
29. Carrot Cake
Although we don't typically put a season label on carrot cake, it really is a good summer dessert recipe. Made with carrots, flour, chopped nuts, and a mix of spices, you barely notice this carrot cake actually cakes it's so tasty during the summer months.
Look up the full recipe on Mom on Time Out for step-by-step instructions for making it.
30. Mojito Poke Cake
Speaking of those delicious limes you've got abundantly sitting on your counter, you should make this mojito poke cake from Lemons For Lulu.
A poke cake is a naturally light and airy dessert, making this recipe a no-brainer for a hot summer's day. The recipe does take over two hours to prepare though.
So this dessert is best chosen when you are preparing in advance for an event.
Healthy Summer Recipes
31. Strawberry Yogurt Popsicles
Want a dessert that won't ruin that rocking summer body you've worked so hard to get? Try these strawberry yogurt popsicles from Love Bakes Good Cakes that just require some fresh strawberries and Greek yogurt.
Mix together, then freeze in a popsicle mold and these are ready to eat.
32. Herb Drizzled Grilled Zucchini
Using the grill is common in the summer while the weather is nice, but many of the meals that come off the grill leave much to be desired in terms of vegetables.
Turn the tables this year and make this herb grilled zucchini from Lemons for Lulu which makes a great side to a burger, or can be served as a main dish for vegetarians in your group.
33. Grilled Chicken Burrito Bowl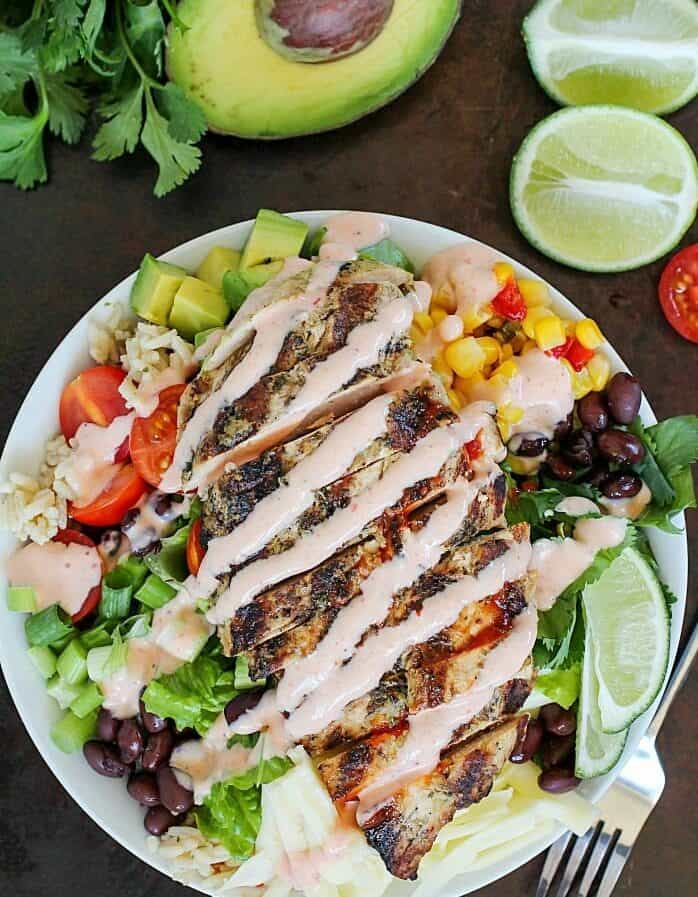 Burrito bowls are a healthier alternative to burritos or a few tacos, and they are so easy to make in the summer. Toss some chicken on the grill while you chop up the rest of the ingredients (and mix the Rancho Taco sauce).
This is a low-stress dinner that will still leave you feeling satisfied. Follow the directions on Yummy Healthy Easy to make the marinade to leave your chicken in overnight.
34. Dill Pickle Pasta Salad
Not all pasta salads are healthy, but we've found one that absolutely is. Check out this dill pickle pasta salad recipe from Nutrition in the Kitch which still had just enough mayo to give it a creamy flavor without any milk or cream.
The recipe does call for dairy-free cheese but it also tastes great without.
Summer Soup Recipes
35. Summer Corn Chowder
Believe it or not, soup can still be a great dish to serve in the summer. It's easy to make and can be served warm instead of piping hot as an appetizer as the sun starts to set in the sky.
Check out this recipe for a vegetarian corn chowder from Culinary Ginger that includes all of those summer vegetables you've harvested from your garden.
36. Velvety Beet Soup
Made in a blender after cooking and garnished with sour cream, this velvety beet soup from Nutrition in the Kitch is the summer soup recipe you have been searching for.
While it isn't quite a meal on its own, it makes a great side dish or appetizer to serve before the meal.
37. Instant Pot Vegetable Soup
Want to make soup but don't want to leave the stove on for hours on end? An instant pot is the answer.
Check out this recipe for vegetable soup from Lemons for Lulu which is cooked to perfection in just 5 minutes in the crockpot. Serve as an appetizer or as a meal all on its own.
38. Chicken Taco Soup
Another instant pot soup recipe we just can't get over is this chicken taco soup from Life Family Fun.
Made with chicken broth, tomatoes, jalapenos, chicken, and some herbs, this soup is best served as a meal over chips and cheese with a dollop of sour cream to top it all off.
Summer Vegetarian Recipes
39. Manchego Cheese with Marinated Olives
Need a vegetarian appetizer? Or maybe something to snack on while you enjoy a summer cocktail recipe?
Look no further than these marinated olives with Manchego cheese from Lemons for Lulu. They only take minutes to make and can easily be made in advance and pulled out of the fridge when needed.
40. Huevos Rancheros Tostadas
Tostadas are the flatter and lighter versions of their closely related cousin the taco. Top them with refried beans, eggs, and enchilada sauce to make this vegetarian recipe from Lively Table.
Because you fry your own tortillas to make the tostada shell you can always cut them into smaller pieces to make bite-size appetizer tostadas for a party.
41. Spaghetti Squash Burrito Bowls
Don't leave your vegetarian friends out of all the burrito bowl fun. Make them this version from Nutrition in the Kitch which replaces the meat with spaghetti squash.
You'll also be topping the bowl with beans, tomatoes, radish, cabbage, and a cilantro-lime mayo so be aware these can get a little messy.
42. Watermelon Feta Mint Salad
When the watermelon you have on hand seems endless, make this watermelon feta salad from Lively Table which is a great side dish to any vegetarian main dish.
With a 10-minute preparation time, this can be your last-minute go-to side that even your kids will enjoy.
Summer Cocktail Recipes
43. Summer Sangria
Ready to grab a cool adult beverage and watch the sunset over the lake? Lemons for Lulu has the exact summer sangria you will want to be enjoying as you enjoy the show.
Made with white wine, triple sec, pineapple juice, seltzer water, and mangoes this is an easy beverage to just stir and serve.
44. Skinny Margaritas
The only problem with summer cocktail recipes is that they are sure to ruin your diet with all their sugary goodness.
If you aren't willing to make this sacrifice, then check out these skinny margaritas from Lively Table, which are made without sugar and without a sugary margarita mix.
45. Bourbon Peach Tea
Bourbon peach tea is a crowd favorite that you can sip on all afternoon. Garnished with fresh peaches, you can even claim this is your serving of fruit for the day.
Find the recipe on Life Family Fun, and make a double portion in a pitcher to please all the guests at your afternoon hangout.
46. Lemonade Moscow Mule
Moscow Mules are typically more of a winter drink unless you make this lemonade version from Lemons for Lulu instead.
Made with both lemonade and ginger beer, this cocktail has everything a regular mule has with some extra summer flair your guests will adore.
Summer Drink Recipes
47. Brazilian Lemonade Slushie
Brazilian lemonade is interesting for a couple of reasons, one, because it is made with fragrant coconut water, and two because it contains milk—which makes it into a great slushie.
Follow the directions on Lemons for Lulu to make a tasty summertime drink safe for kids and adults alike.
48. Watermelon Banana Smoothie
With a large number of ripe fruits available during the summer, it's time to make a smoothie or two. Our favorite is this watermelon banana smoothie by Nutrition in the Kitch.
Simply add protein powder to the smoothie for an extra dose of protein and a tasty vanilla flavor.
49. Peach Lassi
Lassi's are a beverage of Indian origin typically made from fruit and yogurt. Now you can make your own amazing lassi just by following this recipe on Lemons for Lulu.
Made with fresh peaches, yogurt, sugar, and almond milk this is a flavorful summer drink that can be paired with almost any meal.
50. Watermelon Turmeric Slushies
It seems right to finish out this list with the one drink that screams summer. Made with watermelon, lemonade, and turmeric, that's all there is to this Watermelon Turmeric Slushie from Nutrition in the Kitch.
Whip up a pitcher of this after dinner on a summer day and sit back and enjoy the last rays of sunshine because it doesn't get much better than this!
FAQ
What is the Most Eaten Food in the Summer?
Vegetables and fruit are the most common foods eaten in the summer with the most popular of these being watermelon, cucumber, cantaloupes, strawberries, carrots, and radishes.
These foods can typically be found in abundance during the summer season.
What Should You Not Eat in the Summer?
In the summer you should avoid eating red meat, spicy foods, or those which are heavily fried. During the time of year when you sweat the most, these foods can cause you to become dehydrated as well as feel bloated when you consume them.
Which Foods Reduce Body Heat?
Foods that are high in water content help to reduce body heat and should be consumed during the summer. Strawberries, watermelon, celery, and cucumber are all high-water foods that can keep you cool in the summer heat.
Conclusion
Did some of the summer recipes on our list catch your eye? Well, no matter which ones you have chosen, they are sure to turn out great and be the talk of your family for days to come.
Just keep in mind the summer cooking tips, and be careful which foods you leave out in the heat, and these summer recipes are sure to help all your eating events, whether large or small, go smoothly this summer season.
Save
Save