The Brazilian lemonade slushie packs a lime punch!
It is cold, creamy, and completely refreshing!
This Brazilian lemonade is a misnomer. It gets made out of fresh limes rather than lemons. I used lemon-flavored coconut water for an extra punch of citrus. When you read the Brazilian lemonade recipe, you'll notice that you blend up the whole lime. All the solids should be drained before you return this mixture to the blender. I added lots of ice and sweetened condensed milk to the blender to make this lemonade creamy and slushy. This lemonade slushie is the best refreshment to combat the heat of summer! Frozen lemonade slushies for everyone!
What is Brazilian Lemonade?
In brazil, lemons are not very common, but limes usually come in bucketloads. So when life gives you limes, make limeade, er, lemonade. Their version of our yellow drink is a bit greener and tastes so good it could easily stand on its own two legs. Made with sweetened condensed milk it got a creamier taste in every sip. You're going to love this summer staple of a drink recipe!
Ingredients
Lemonade coconut water
Limes
Sugar
Ice
Sweetened condensed milk
For the exact amounts needed, please see the recipe card below.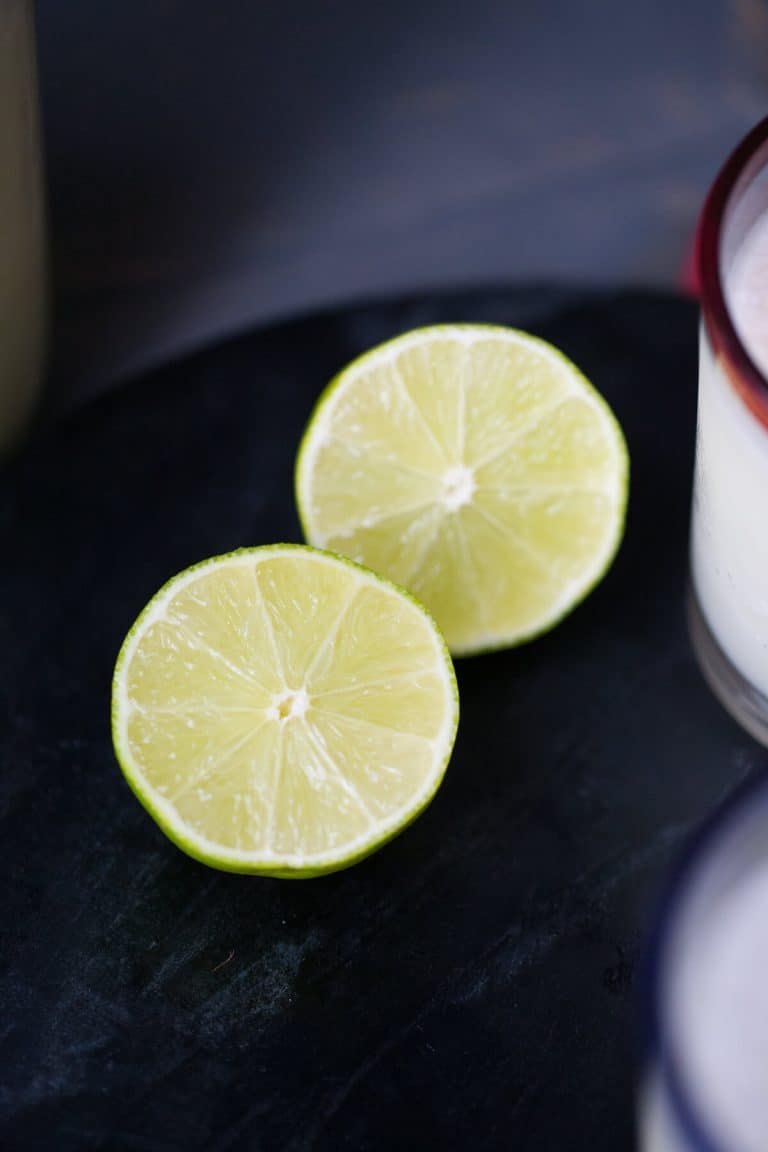 How to Make Brazilian Lemonade Slushie
Place the coconut water, limes, and sugar into a blender and process until the limes have broken up and the mixture is blended.
Pour the lime mixture through a fine-mesh sieve to remove the solids. Discard the solids.
Return the liquid to the blender and add in the ice and sweetened condensed milk.
Blend together until frothy and creamy.
Serve immediately.
FAQs
How long is this drink good for?
Because of the sweetened condensed milk, do not let this drink sit out for too long. Not only that but the ice will melt and could cause the beverage to feel watered down instead of creamy and frothy as desired.
Can I use lime juice concentrate instead of fresh limes?
I do not recommend doing that as it will change the flavor completely. Lime juice concentrate is concentrated lime juice so adding it into the blender will be done by taste testing through the whole process until the desired flavor is achieved but by using the concentrate you lose out on the freshness and health benefits of the limes and their lime skins.
How to make this a more "adult" drink?
If you like lemonade you may also like these other lemonade drinks and cocktail recipes:
Yield: 2
Brazilian Lemonade Slushie
The Brazilian lemonade slushie packs a lime punch! It is cold, creamy and completely refreshing!
Ingredients
2 1/2 cups of lemonade coconut water
2 large limes, sliced
1/2 cup sugar
3 cups of ice
1/4 cup sweetened condensed milk
Instructions
Place coconut water, limes, and sugar in a blender and process until limes have broken up and mixture has blended.
Pour lime mixture through a fine mesh sieve to extract solids. Discard solids and return liquid to the blender. Add ice and sweetened condensed milk and blend until blended, frothy and creamy.
Serve immediately.
because of the sweetened condensed milk, not let this drink sit out for too long
Nutrition Information
Yield
2
Serving Size
1
Amount Per Serving
Calories

483
Total Fat

4g
Saturated Fat

2g
Trans Fat

0g
Unsaturated Fat

1g
Cholesterol

13mg
Sodium

192mg
Carbohydrates

114g
Fiber

3g
Sugar

106g
Protein

5g