Vodka lemonade with a sweet cherry twist!
This cocktail is tangy and sweet and is a great cocktail to enjoy when you want something lively and fun!
My favorite thing about dining out is trying new cocktails…then coming home and trying to recreate them! My favorite restaurants are the ones that have a drink menu that is several pages long. While these types of menus are terrible for my indecisive nature, they are a wonderful source of inspiration!
What Do You Need To Make Cherry Vodka Lemonade
Cherry flavored vodka
Fresh lime juice
Lemonade
For the exact amounts needed, please see the recipe card below.
How To Make Cherry Vodka Lemonade
Combine vodka, lime juice, lemonade, and add ice in a cocktail shaker; shake.
Pour lemonade over ice and serve.
It really is that super easy to make!
How Much Vodka To Lemonade?
The ingredient amounts in this recipe, like many recipes, are up to your taste. My personal ratio is about 2 parts lemonade to 1 part vodka.
This recipe is adaptable and can easily be made in a pitcher to serve a crowd!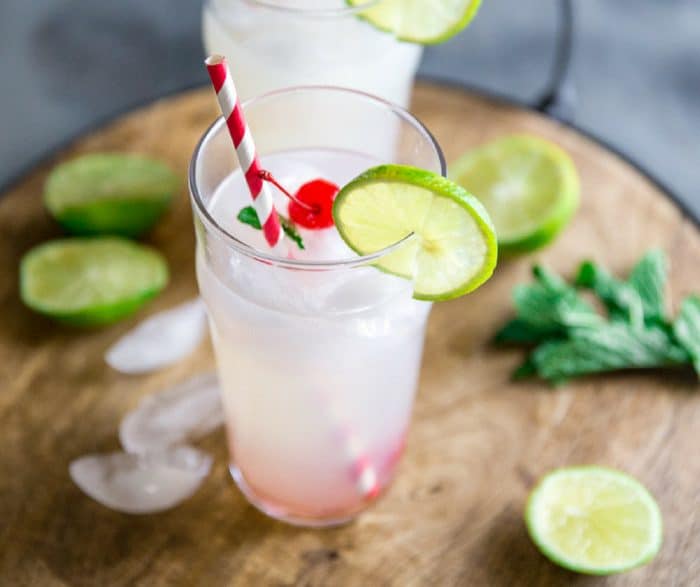 What If I Cannot Find Cherry Vodka?
No worries! While the cherry vodka enhances the blueberry flavor, it is not 100% critical to have flavored vodka. You could try another flavor if that is more accessible, lemon, berry, or even vanilla might work. Or use unflavored vodka instead.
You can also use fresh cherries (or even maraschino cherries) and crush or muddle them in the shaker, this will add flavor to your cocktail. The other option is to make a cherry simple syrup.
To make cherry simple syrup, combine equal parts sugar and water in a small saucepan. Add a good handful of fruit to the mixture and lightly crush them with the back of a spoon. Allow the mixture to come to a boil and then simmer until sugar has dissolved and the mixture thickens. Strain the mixture over a sieve and allow the syrup to cool.
Stir the syrup into your refreshing drink cocktail.
Cherry Lemonade Cocktail Tips
A splash of grenadine can be added to your lemonade! This will also change the color of your cocktail. Grenadine can be on the sweeter side.
If you really want to shake things up, use limeade or add a splash of key lime juice in your cocktail to give this cocktail a tangy, sweet, and tart flavor!
Cherry-flavored sparkling water or light-colored cherry soda (like sprite or 7 Up) can be added with lemonade or even in place of the lemonade if desired.
I will say that this cherry lemonade drink is that it is very easy to drink! If you are inclined to make them stronger, then be warned!
This lemonade is a fun, warm-weather drink to enjoy by the pool or at a BBQ! You can easily double this recipe or make enough for a pitcher to serve a crowd. You are going to love this cocktail, it is going to be your go-to vodka cocktail!
If you find yourself with extra lemonade try this Lemonade Moscow Mule Cocktail, Strawberry Grapefruit Vodka Cocktail, or this Blueberry Vodka Lemonade!
Vodka Cocktails
Here is where you will find your new favorite vodka cocktail!
Yield: 2
Cherry Vodka Lemonade
Vodka lemonade with a sweet cherry twist! This cocktail is tangy and sweet and is the best cocktail to enjoy on a hot summers day!
Ingredients
4 oz cherry vodka
splash of fresh lime
1 cup of Lemonade
Instructions
Combine vodka, lime, lemonade, and ice in a cocktail shaker; shake. Pour lemonade over ice and serve.
Notes
Adjust the amounts according to your tastes.
Nutrition Information
Amount Per Serving
Calories

0
Total Fat

0g
Saturated Fat

0g
Cholesterol

0mg
Sodium

0mg
Fiber

0g
Sugar

0g
Protein

0g