Learning how to grill chicken breasts is a must, especially for the warmer months.
Grilled chicken is easy and the leftovers are so welcome!
I never really think of the grill as a kitchen appliance, but I suppose that's exactly what it is…it just isn't located in the kitchen. The grill really makes cooking quick, easy allows us to cook food with a minimal amount of dishes!
You can cook almost anything on the grill; grilled corn, grilled pineapple, grilled tilapia grilled chicken wings, and grilled pizza, are some of my favorites. But burgers, brats, hot dogs, steaks, and of course chicken breasts always taste so good coming off a hot grill!
I don't know many people who don't love grilled chicken breast (except of course for my vegetarian friends). They are easy, versatile and can be turned into a myriad of dishes. Out of all the ways to cook chicken, grilled chicken breasts might be my favorite!
Today I'm answering common questions about how to grill chicken breasts and I'm sharing my favorite marinade as well. You will love the ease and the flavor and I bet you will use this chicken recipe for all sorts of recipes!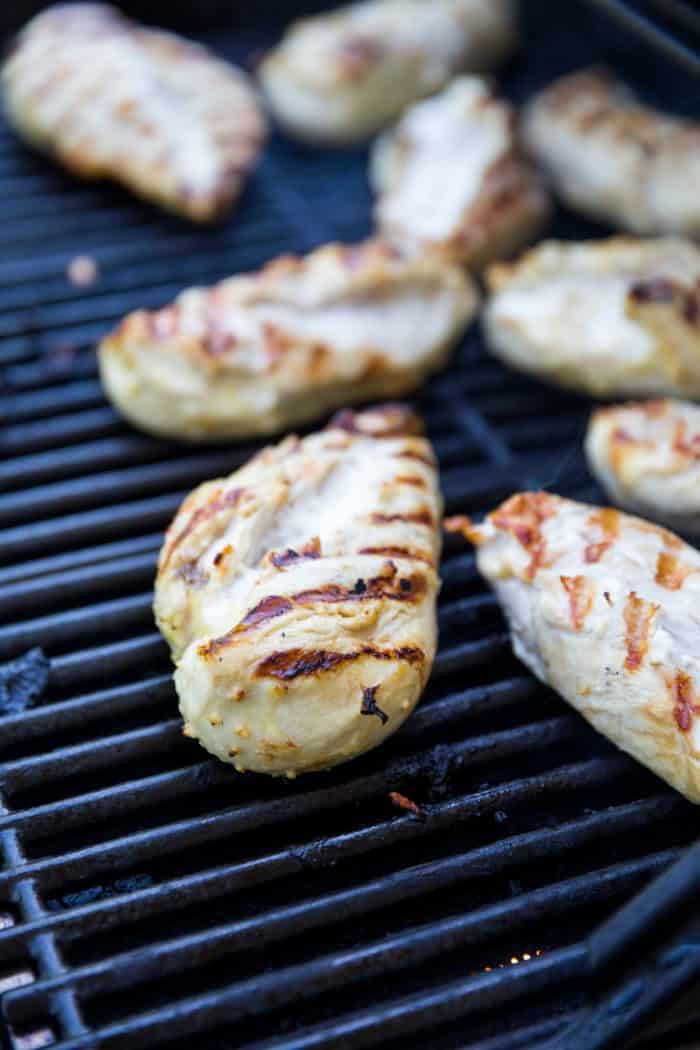 How To Grill Boneless Chicken Breast
The first thing you need to do is prepare your grill. I always spray my grill grates with non-stick spray before I even turn on the grill. Once the grill is on, I like to set my grill to medium-high heat.
I usually trim my chicken and place them on direct heat. Grill the first side of your chicken breast for 6-10 minutes (this depends on the thickness of your chicken). Turn your chicken, and grill the second side for an additional 6-10 minutes. If your chicken sticks to the grill grates when you try to flip, then keep it as is! The chicken is telling you it's not ready for the second side!
Always use an instant-read thermometer to check the internal temperature of your meat, this holds true whether you are cooking on the grill, stove top, or in the oven.
If you are going to be using bone-in chicken breasts, then add 4 minutes to the above cook time.
How To Prepare Chicken Breast For Grilling
A chicken breast doesn't need much before grilling. It is possible to season it with salt and pepper and let that be it.
You marinade a chicken breast as I have done here. Allowing the chicken to marinade for at least 30 minutes is optimal, but you can also allow chicken breasts to marinate several hours.
Brining is another way to add flavor and moisture to your grilled chicken breast. Allow your chicken breast to soak in a solution that consists of 1 part vinegar, 1 part sugar, and 8 parts water. The chicken doesn't have to soak for long, 30 minutes is fine.
Adding seasoning or a dry rub also adds lots of flavor to any chicken. The dry rub used in this dry rub chicken wing recipe or this cajun turkey can be used to flavor your chicken breasts.
Some people pound their chicken breasts prior to cooking. Doing this will shorten the cooking time and ensure even cooking time. To do this, place your chicken breasts between to pieces of wax paper and use a meat ballot to pound your chicken into thin pieces.
A note on chicken preparation: make sure that you use one cutting board for your chicken and one knife as well; do not use either of these for any other foods while working with the chicken. After using, wash your hands, cutting board and utensils prior to touch anything else. Raw chicken contains bacteria that can cross-contaminate very easily.
How To Barbecue Grilled Chicken Breasts
I used to think that if you were going to make bbq chicken, then you smothered the chicken breasts with sauce BEFORE grilling. I learned pretty quickly that it doesn't work that way.
If you plan on using bbq sauce, grill your chicken breast using the instructions listed above. 2-3 minutes prior to removing your grilled chicken breasts, brush the chicken with your favorite bbq sauce.
Can I Grill Chicken Breast From Frozen?
Technically, yes you can. To do this, increase your cook time by 50%. But to be safe, and to be sure that your chicken is cooked through, it is best to grill chicken that has thawed completely.
Can I Freeze Grilled Chicken Breast?
Grilled one too many chicken breasts? No worries! Grill your chicken to mix into salads, soups, pasta, and sandwiches at a later date. To freeze cooked chicken, place the cooked chicken in a freezer bag, squeeze out any air and place the bag in the fridge to chill before storing in the freezer. You could also wrap breasts individually and thaw one at a time as needed.
Allow the chicken to thaw in the fridge before serving.
Is Grilled Chicken Beasts Healthy?
Skinless chicken breast is a welcome addition to any diet! Chicken breasts add a healthy dose of lean protein and can keep you feeling fuller longer and with fewer calories. Aside from all that, chicken just tastes good!
What To Serve With Grilled Chicken
The short answer is ANYTHING!!
Some of my favorite ways to serve grilled chicken are with Roasted Greek Potatoes, Loaded Vegetable Pasta Salad, alongside a Ceaser Salad, Quinoa with Roasted Peppers or Tabbouleh!
Leftovers are always welcome!
Yield: 4
How To Grill (The Juciest) Chicken Breast
Learning how to grill chicken breasts is a must, especially for the warmer months. Grilled chicken is easy and the leftovers are so welcome!
Additional Time
30 minutes
Ingredients
4 large chicken breasts
½ cup olive oil
4 cloves minced garlic
1 teaspoon salt
¼ cup lemon juice
Lemon zest
Grill on medium high for 8-10 min per side to 165 degrees
Instructions
In ziptop bag, combine the chicken, olive oil. garlic, salt and lemon juice. Refrigerate for at least 30 minutes.
Spray the grates of an outdoor grill with non-stick spray and heat the grill to medium. Place chicken on the grill and grill chicken for 8-10 per side.
Allow the chicken to roast for 5 minutes before serving.
Nutrition Information
Yield
4
Serving Size
1
Amount Per Serving
Calories

444
Total Fat

31g
Saturated Fat

5g
Trans Fat

0g
Unsaturated Fat

25g
Cholesterol

102mg
Sodium

622mg
Carbohydrates

2g
Fiber

0g
Sugar

0g
Protein

38g
The Best Grilled Chicken Recipes
Chicken is love by many and it can be made in so many different ways! Here a few of my favorite grilled chicken recipes!