This grilled corn recipe is mouthwatering! Corn is grilled until browned then coated in a simple herbed topping. It is the best way to eat corn on the cob!
The best-grilled corn recipe!
When our kids were little, one of our favorite musical artists was Farmer Jason. He sang silly, yet catchy little songs about life on the farm. Most of his songs seemed to have repetitive lyrics. "Get Up, Up, Up", "He's a Hog, Hog, Hog" etc. One of our favorites was "Corny Corn", which was literally only about eating corn. It went something like this: "Let's get eating that corny corn, let's get eating that corn". It was catchy and annoying all at the same time.
Every time I serve corn on the cob, my husband sings that song. The first time he did that, it was funny. But by the 240th time, the humor was all lost. I can practically time the exact moment he will start singing that song. Somewhere between the corn being lifted off the plate but before his first bite is when the song makes its appearance. I chuckle politely, but I silently wonder if he'll ever tire of hearing himself sing that song.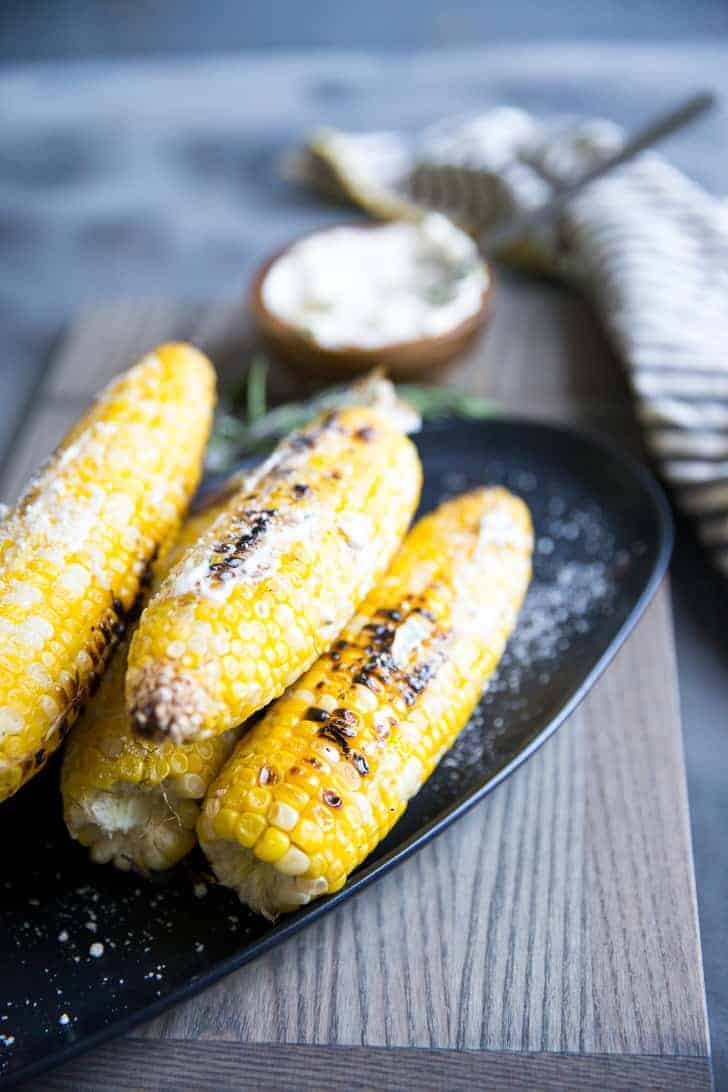 One thing for sure is he will never tire of eating corn and neither will I! Grilled corn can be so delicious (read more on How to Cook Corn On The Cob)! Grilling brings out the natural sweetness to corn. You can top corn with anything or leave it plain or with simply butter and salt.
About This Grilled Corn Recipe:
Some people leave the husk on the corn and some pull it back it during grilling. If you do this, be sure to soak the corn for at least 20 minutes prior to grilling. I did not keep this husks on.
The corn will take about 20 minutes to grill, be sure to turn it every 5 minutes or so.
The mayo mixture can be adjusted to suit your tastes. Almost any blend of herbs and or spices can be used!
If you have leftoverAbout corn, cut the kernels off to use in this Black Bean, Corn, and Avocado Salad or for this Mexican Street Corn Flatbead Pizza.
Yield: 4
Herb Grilled Corn Recipe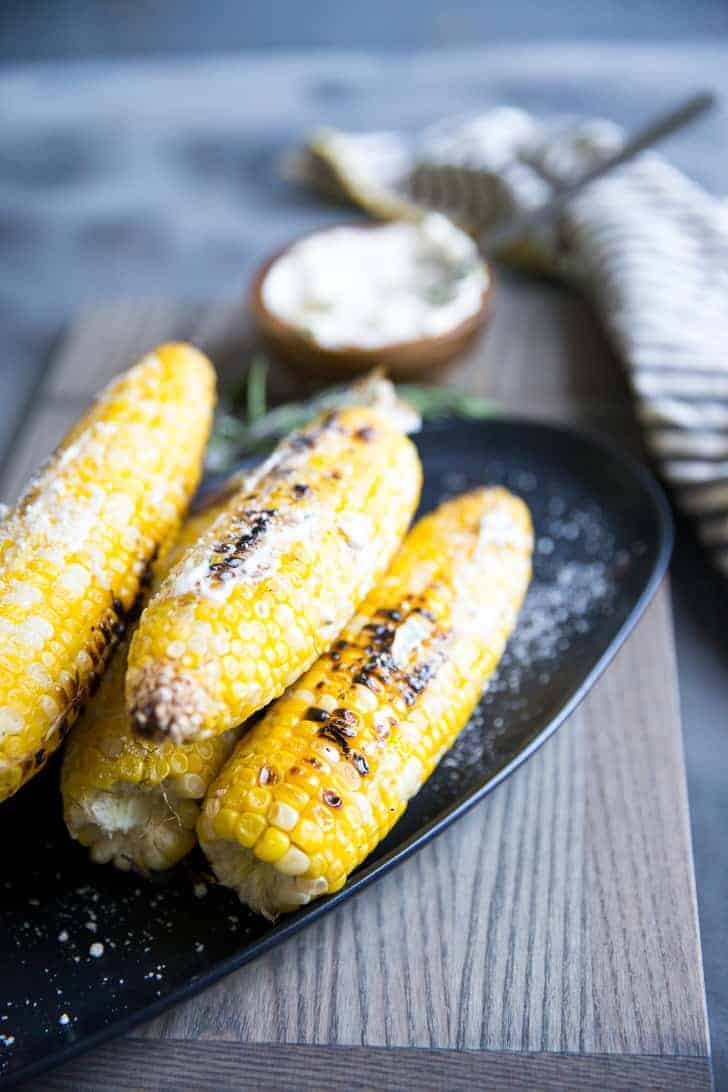 This grilled corn recipe is mouthwatering! Corn is grilled until browned then coating in a simple herbed topping.  It is the best way to eat corn on the cob!
20 minutes
Ingredients
4 ears of corn
1/4 cup of mayo
2 cloves garlic
1 teaspoon each chopped fresh thyme, rosemary, oregano
Salt and pepper
Parmesan cheese
Instructions
Preheat an outdoor grill to medium heat.
Remove husks from the corn and grill for 20 minutes, turning often.
Meanwhile, in a bowl, combine the may, garlic, herbs, salt, and pepper. Brush corn with mayo mixture and sprinkle with the desired amount of Parmesan cheese.
Nutrition Information
Amount Per Serving
Calories

0
Total Fat

0g
Saturated Fat

0g
Cholesterol

0mg
Sodium

0mg
Fiber

0g
Sugar

0g
Protein

0g