Soft, tender corn fritters are fried until golden and crisp. These fritters are a great way to take summers finest vegetables and turn them into something fun and delicious!
The first time I tried corn fritters, I was out to dinner with my now inlaws. We were at a fancy restaurant that was known for their fritters. I was sure I was going to hate them, I mean I have always loved corn, but corn in fried dough?? Well, I wasn't so sure about that.
I hesitantly took a tiny bite of fritter, expecting the worst, but the exact opposite happened. That golden nugget seemed to melt right in my mouth. It was cheesy and soft with the sweet corn taste shining right through. I can't believe it's taken me this long to make my own corn fritters!
I tried making cauliflower fritters once, and they were good, but in a different way. Then, last month, I made conch fritters. The texture was PERFECT! I knew all that was missing was the sweet corn!
What Is A Corn Fritter
Corn fritters are the combination of corn that is mixed into a pancake batter like dough that is then dropped by spoonfuls into hot oil. They are drained then served hot!
Some corn fritters have shredded cheese that adds a creaminess to these fritters that make them melt in your mouth.
How To Make Corn Fritters
To make your dough, combine flour, baking powder, salt, garlic powder, shredded cheddar cheese and corn; mix until combined.
You could use a can of corn (drained), frozen corn, or fresh ears of corn (this a great way to use up leftover corn on the cob). Read my post on How To Cook Corn On The Cob for all the ways to prepare your fresh corn!
Milk and eggs are the last two ingredients to get mixed in.
I like to heat vegetable oil in a large stockpot over medium-high heat. Fill the pot up to an inch deep with the oil. Allow the oil to come to 365 degrees. You will know your oil is ready when you drop a tiny speck of batter into your pot and it rises, bubbles form and the dough browns.
I like to use a small cookie scoop for my dough. Drop the fritter dough by spoonfuls into the hot oil. You may be able to get 5 or 6 fritters into the oil at a time. Make sure you do not crowd the pot. Adding too many fritters at one time will reduce the temperature of the oil and therefore add more fry time to each batch of fritters.
Fritters will rise to the top and they are ready when they turn golden brown. Remove the fritters to a paper towel-lined plate or a baking sheet covered with paper towels so that the grease can drain.
Repeat the process with the remaining batter.
What Are Corn Fritters Served With?
I served my corn fritters with ranch dressing. You could also make as simple aioli recipe, or serve corn fritters with your favorite dipping sauce!
It is totally ok to serve corn fritters plane, they are perfectly fine all on their own!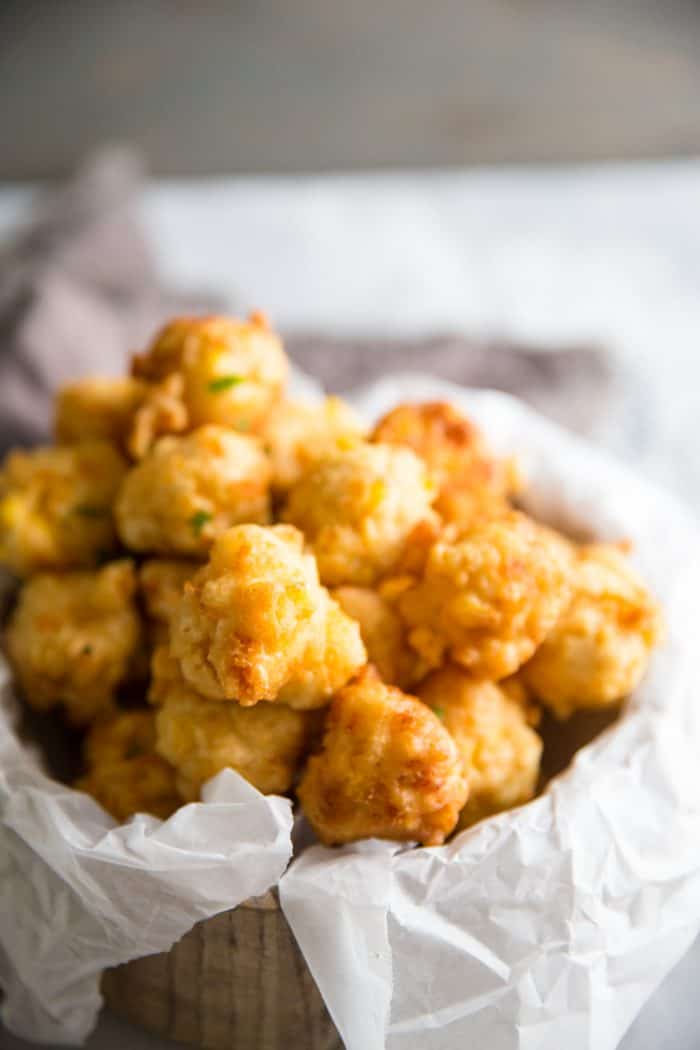 Can Corn Fritters Be Frozen?
Yes they can! Store corn fritters in an airtight container for up to 3 days. Fritters should be stored in singles layers in an airtight container and frozen for up to 1 month.
Thaw fritters when needed and toast them up in the oven.
While working with hot oil might seem intimidating, the truth is, these fritters are so quick and easy to make! They are fun to eat and taste delicious too!
More Corn Recipes:
Black Bean, Corn, Avocado Salad
Mexican Street Corn Flatbread Pizza
Hot Corn Dip
Homemade corn fritters are so easy to make and they are a great way to use up leftover corn! Serve these fritters with your favorite dipping sauce for an appetizer or a side!
Ingredients
1 ½ cups flour
2 teaspoons baking powder
½ teaspoon salt
½ teaspoon garlic powder
½ cup shredded cheddar
1 3/4 cup corn
¾ cup milk
1 egg
vegetable oil
Instructions
Fill a large stock pot an inch deep with vegetable oil. Place the pot over medium hight heat. Allow the oil to come to 365 degrees.
Meanwhile, in a bowl, combine the flour, baking powder, salt, garlic powder, cheddar cheese, and corn.
In a measuring cup, whisk together the milk and the egg. Add milk mixture to the flour mixture, stirring to combine.
Using a small cookie scoop, drop the fritter dough into the hot and oil.
Cook the fritters for 2-3 minutes or until golden brown. Remove the fritters to a paper towel lined baking sheet.
Continue this process with the remaining batter.
Nutrition Information
Yield
24
Serving Size
1
Amount Per Serving
Calories

61
Total Fat

2g
Saturated Fat

1g
Trans Fat

0g
Unsaturated Fat

1g
Cholesterol

11mg
Sodium

107mg
Carbohydrates

9g
Fiber

0g
Sugar

1g
Protein

2g