This hot corn dip is the best thing since bacon!  Corn is tossed with bacon, veggies a little mayo and cheese then broiled until hot and bubbly.  I guarantee this will be your most requested appetizer!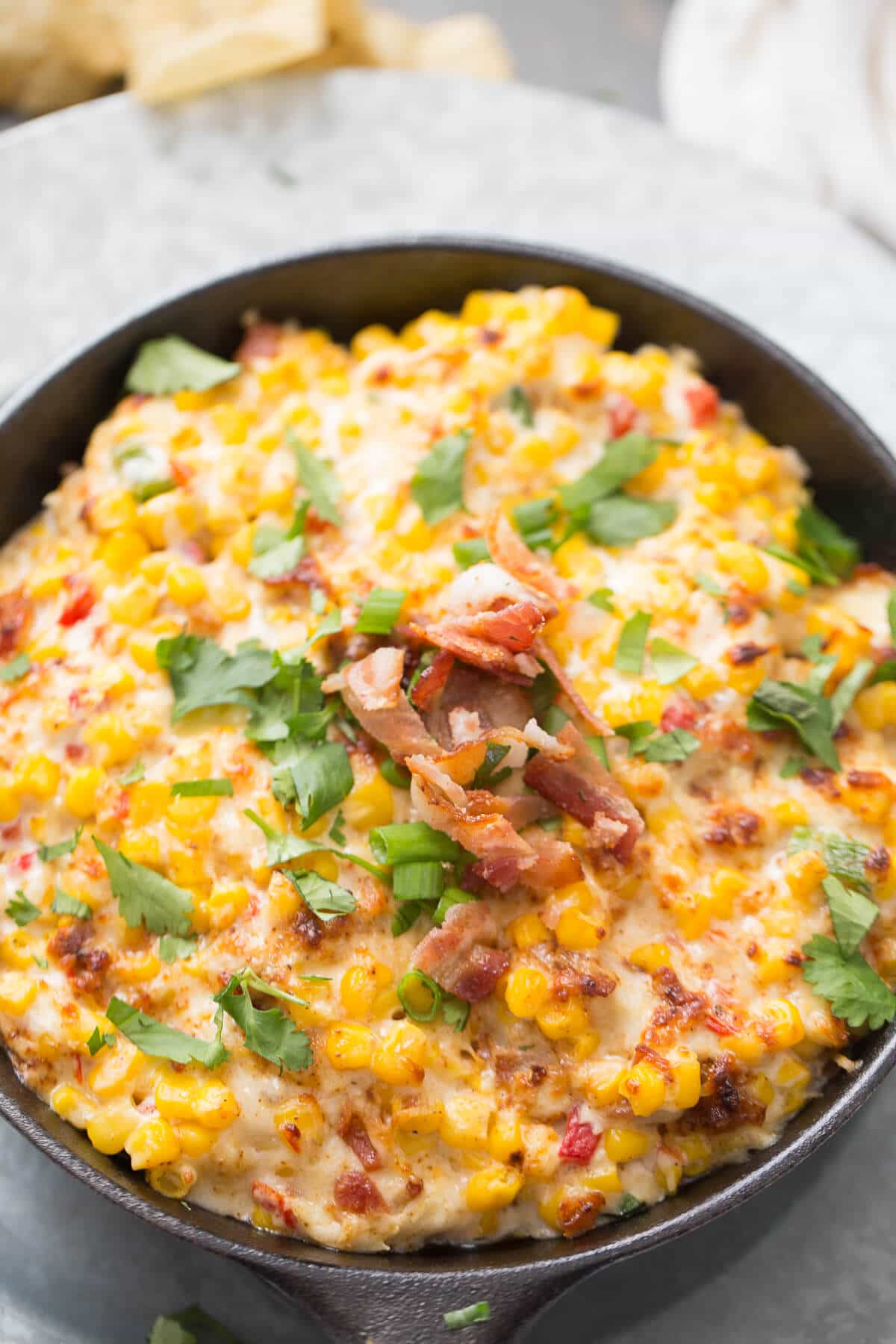 Euchre is a very big card game in Ohio.  I think little kids learn to play this along with Uno.  I am the exception to this.  I learned how to play euchre a year ago.  I even joined the neighborhood ladies euchre group.  Although I am hands down the worst player.   I tell myself I play to socialize.  And that is true, but I secretly want to win the pot just once.
That is unlikely to happen anytime soon.  Some people are so good at remembering what cards have been played and strategizing with what cards might be left. When a hand has been played the girls will recap and discuss how things could have played out differently.  I just sit there and try to remember what cards were in my hands in the first place. I have no strategy.  My strategy is to fake it until I make it.  And to eat the food.  That is the other reason I am there.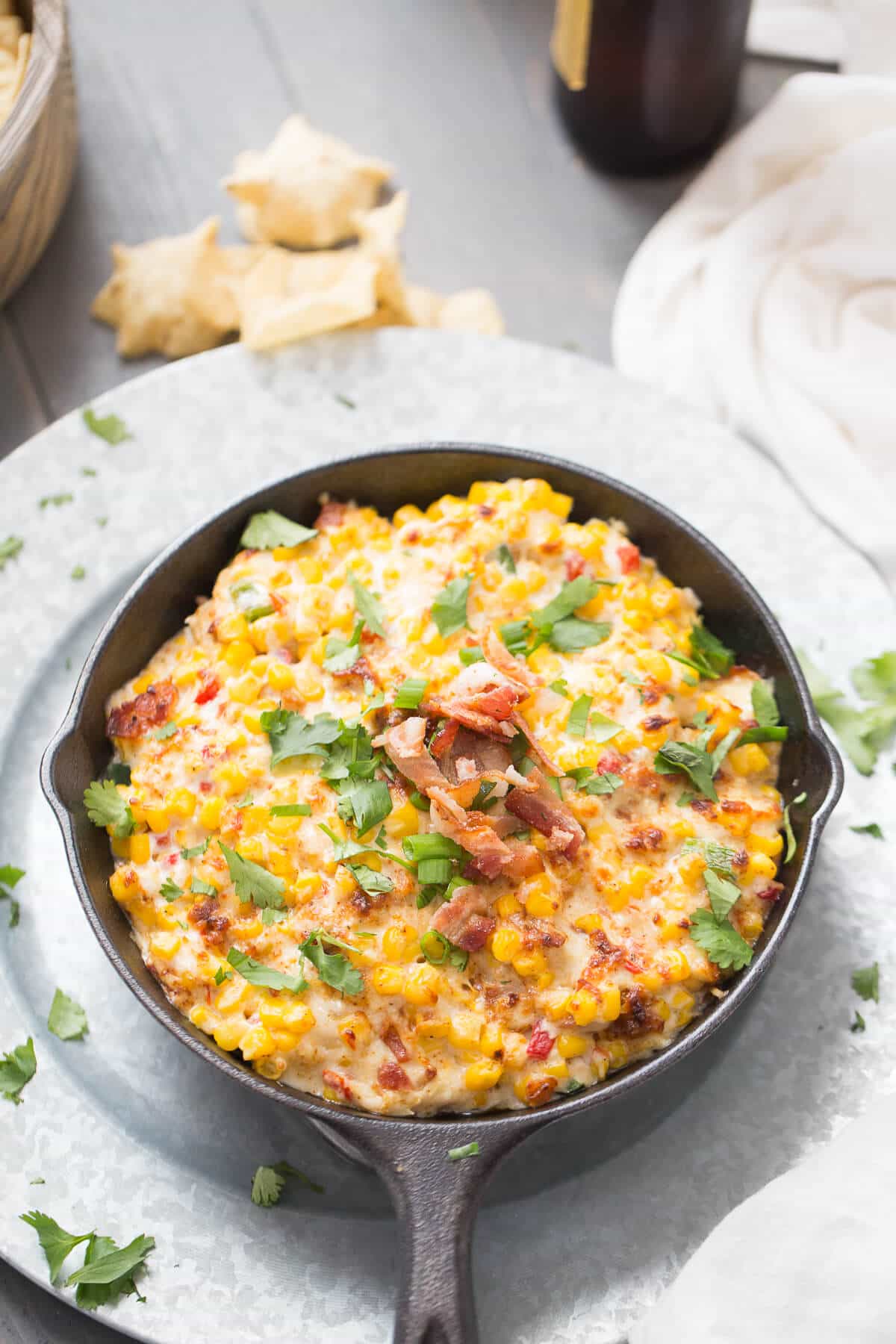 The last time I hosted the euchre group I served up this hot corn dip.  I have since made this dip a dozen times.  It has replaced my Mediterranean 7 Layer Dip and my Fried Dill Pickle Dip as my favorite appetizer.  It is highly addictive.  There is something amazing about the way mayo, corn, bacon, pimentos and cheese taste when they are broiled until hot and bubbly.  It is creamy, salty, crispy and melty.  One scoop and you'll be hooked!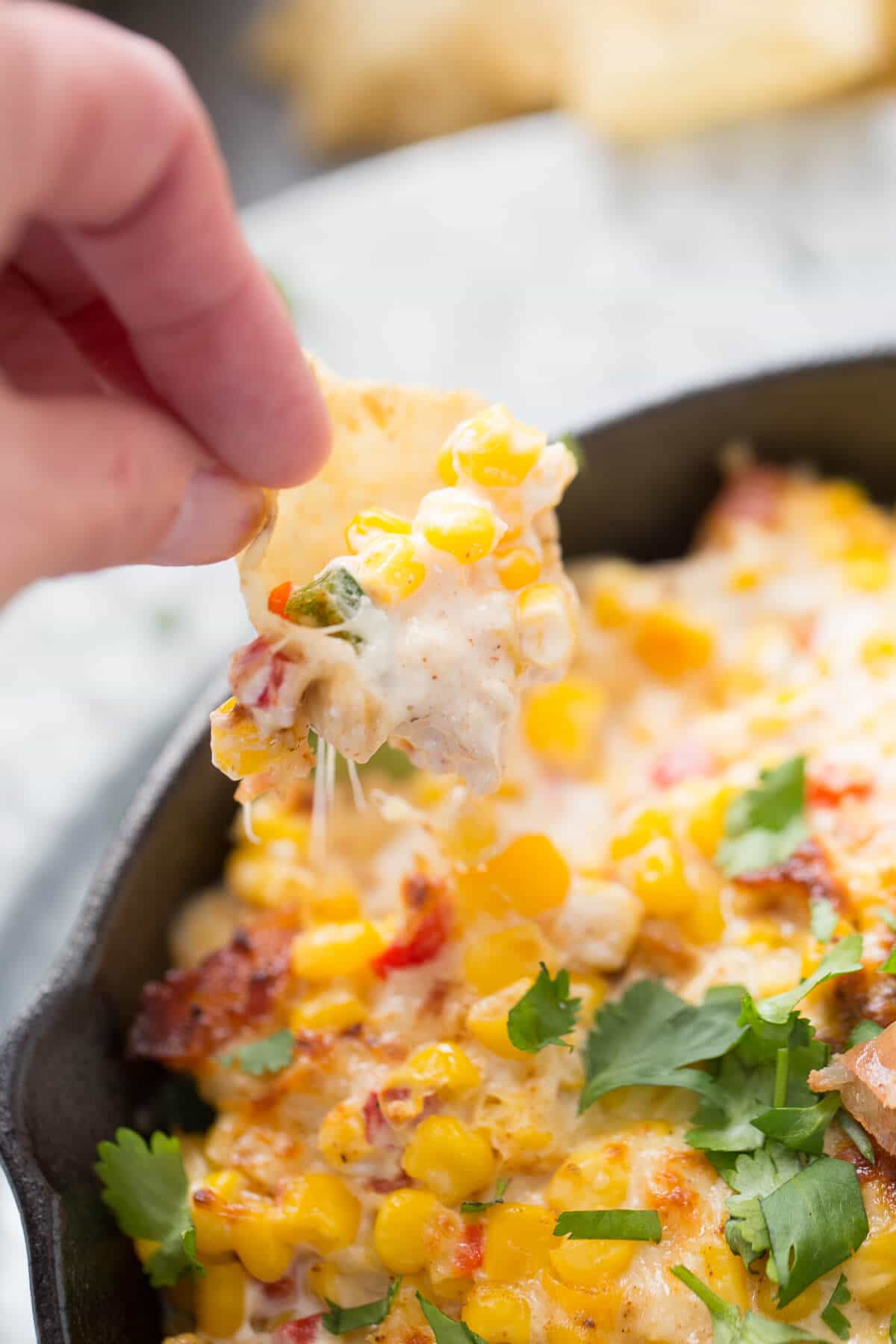 This hot corn dip was quite the hit.  No matter how much I lacked card play acumen, I surely made up for it with my savory dips!  I suppose that pretty much sums up my card playing strategy, doesn't it?
Outrageously Good Hot Corn Dip
This hot corn dip with all it's creamy cheese, mayo, bacon and veggies is absolutely addictive!
Ingredients
6

slices bacon, cooked and chopped

14

oz can corn, drained

2

tablespoons poblano pepper, chopped

4

oz jar pimentos

2

tablespoon cilantro chopped garnish

1/4

 cup mayo

1/4

cup sour cream

1/2

cup cheddar Jack cheese

3/4

teaspoon cumin

1/2

teaspoon chipotle chile powder

1/2

teaspoon salt

splash lime juice
Instructions
In a bowl, combine half of the bacon, corn, peppers, pimentos, mayo, sour cream, cheese, cumin, chile powder, salt and lime juice, stir.  Arrange dip in a small skillet or baking dish.
Preheat broiler.  Arrange remaining bacon on top and broil dip for 3-5 minutes or until hot and bubbly.  Garnish with green onions and cilantro if desired.  Serve immediately.