Herb and Lemon Aioli make an amazing topping for turkey burgers!
The fresh herbs and bright lemon flavor stand out in this simple condiment.
This sauce can make anything taste amazing!
This lemon aioli is one of my favorite burger toppings. I used to be a ketchup girl. I spent years and years eating ketchup with everything. No matter what mom was serving, there would be a giant dollop of ketchup on my plate.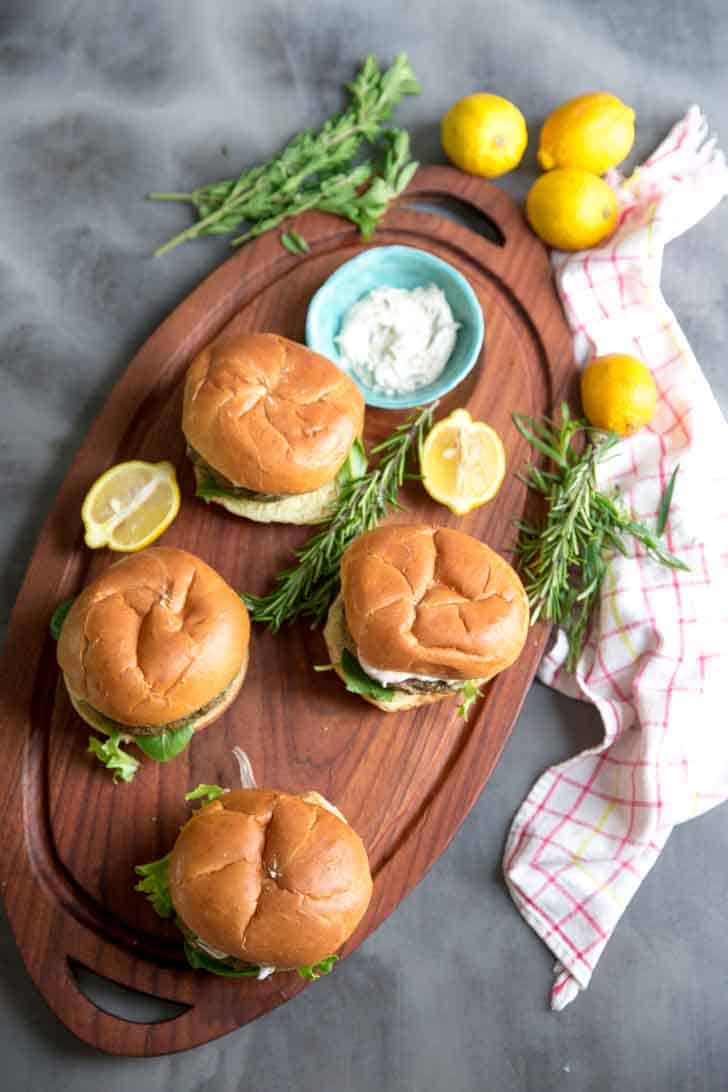 At some point, my taste buds required more flavor so I moved on to bbq sauce. I wasn't picky about brand, I just needed something to mask what mom was cooking. My bbq sauce phase lasted well into my high school years and as I graduated from high school, I also graduated from bbq sauce. Buffalo wing sauce and all its saucy spiciness became my new obsession.
I have loved Buffalo wing sauce for a long time, but I have to say, aioli is making up ground. In its simplest and purest form, aioli is an egg-based sauce, often infused with garlic and mustard. I personally do not want to mess with making a sauce out of raw eggs so I, like many, turn to using mayo instead. I have infused my aioli with Harissa and served it with bacon wrapped roasted potatoes, and I've served a basil aioli with grilled tilapia. Aioli is versatile both in ingredients and with what it can be served.
This particular aioli is made with fragrant, fresh herbs like rosemary, tarragon, and oregano. I also added fresh lemon juice, zest and just a touch of Dijon mustard. This herbaceous mixture makes the perfect topping to Honeysuckle White's Spinach and Kale Turkey Patties. Feel free to use any herb in place of the ones listed here. Basil, parsley, thyme, cilantro, chives, and dill would make excellent substitutions!
I ADORE these patties! I cannot tell you how many times I have prepared frozen patties only to find them flatten like paper once cooked. These turkey patties remain juicy and plump and they taste like I just made them myself. Normally I am all about homemade turkey burgers, but I don't always have that kind of time. Having a frozen option, that not only tastes good but is healthy as well, is a huge bonus! I am partial to these spinach and kale turkey patties (both the spinach and kale are mixed right onto the patty) but the Cranberry Jalapeno Turkey patties are wonderful if you want a subtle sweet/spicy flavor. Both varieties are delicious and easy to prepare!
Yield: 4
Herb & Lemon Aioli with Spinach and Kale Turkey Burgers
Herb and Lemon Aioli make an amazing topping for turkey burgers! The fresh herbs and bright lemon flavor stand out in this simple condiment. This sauce can make anything taste better!
Ingredients
3/4 mayo
2 cloves minced garlic
1 tablespoon chopped tarragon
1 tablespoon chopped rosemary
1 tablespoon chopped oregano
the juice and zest from one small lemon
1 teaspoon stone ground mustard
salt and pepper to taste
4 Honeysuckle White® Spinach and Kale Turkey Patties
Hamburger Buns
Lettuce and tomato
Instructions
Prepare turkey burgers according to package directions.
Meanwhile, whisk together the mayo, garlic, herbs, lemon juice and zest. Season mixture with salt and pepper to taste.
Arrange turkey burgers on buns, spread with a general dollop of aioli, top with lettuce and tomato as desired.
Nutrition Information
Amount Per Serving
Calories

0
Total Fat

0g
Saturated Fat

0g
Cholesterol

0mg
Sodium

0mg
Fiber

0g
Sugar

0g
Protein

0g