Thick and juicy turkey burgers have an island feel! These easy burgers are grilled to perfection and topped with a colorful assortment of toppings! You are going to love diving into this burger!
Serve these burgers with a salad with black beans and edamame to round out the meal!
I can't believe the summer is almost over and I am just now showing a burger recipe! A month ago I shared this peanut butter and jelly burger made with beef. It is hands-down my favorite hamburger sometimes you're just not in the mood for a traditional beef burger.
This turkey burger is a great substitute for an all-beef patty. Turkey burgers can be thick and juicy and they taste amazing with the right toppings.
What to put in a turkey burger
Turkey burgers are mild-tasting which means they go with almost anything! These turkey burgers recipe has an island feel to them. Ginger, pineapple, peppers, and avocado add a vibrant touch to these burgers.
How to make turkey burgers taste good
As with any burger, a good tasting turkey burger it is all about the seasoning!
I seasoned the lean ground turkey with salt, ginger, and garlic. I used jarred ginger and garlic, but fresh would work as well. Mix the ingredients by hand just until combined. Do not overwork your meat if you want to have juicy burgers.
How to grill turkey burgers
Spray and outdoor grill with nonstick spray. Preheat the grill to medium-high heat. Place your turkey patties on the grill grates.
Grill the burgers for 18 to 20 minutes, turning once. Avoid pressing on the burgers or turning them too often. This will help the burgers stay nice and juicy and keep them from falling apart.
While you are grilling the burgers, grill pineapple rings, and red pepper rings at the same time. Grill both just until they begin to soften an grill marks appear.
If using cheese, add the cheese (Monterey Jack for this recipe) to the burgers during the last couple of minutes on the grill.
Turkey burgers are ready when a meat thermometer registers 165 degrees.
To assemble these burgers, place fresh spinach on the bottom of a hamburger bun, place burgers on top. Layer peppers, pineapple rings, cooked bacon, and guacamole over the cheesy turkey burgers.
How to bake turkey burgers
The best way to cook turkey burgers in the oven is to start them on the stove. Preheat the oven to 375 degrees.
Oil a cast-iron skillet and place the skillet over medium-high heat. Place the turkey burgers on the hot skillet and cook the burgers 3 to 4 minutes, depending on the thickness burgers. Flip the burgers and place the skillet in the hot oven to finish cooking. This should take about 6 or 7 minutes, but the internal temperature is the best indication of doneness.
Can turkey burgers be frozen
Can you freeze turkey burgers, prepare burgers in the oven or on the grill. Allow the burgers to cool completely. Arrange the burgers in a single layer in an airtight container. Burgers can be frozen for up to 3 months.
Are turkey burgers high in protein
Fat-free ground turkey can have up to 25 grams of protein where lean ground turkey can have 22 grams of protein. Turkey is generally low in calories too.
What to serve with turkey burgers
Try this Dill Pickle Pasta Salad, Red Potato Salad, or Corn Fritters!
Turkey burgers are a great change from your ordinary burger. These Aloha burgers are sweet, savory, fun and satisfying!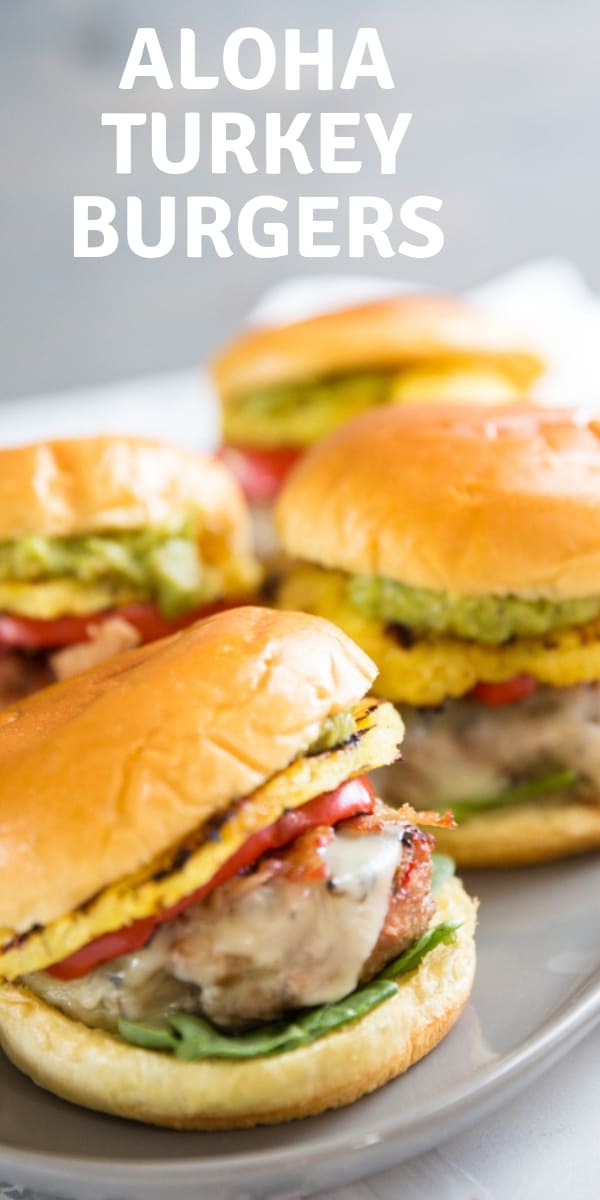 More Burgers:
Pizza Burger
Rock and Roll Burger
Black and Blue Cajun Burger
Yield: 4
Aloha Turkey Burger
Thick and juicy turkey burgers have an island feel!  These easy burgers are grilled to perfection and topped with a colorful assortment of toppings! You are going to love diving into this burger!
Ingredients
1 ½ lb ground turkey
1 teaspoon salt
¾ teaspoon jarred ginger
2 cloves minced garlic
5 pineapple rings
1 red pepper sliced
4 slices of cooked bacon
4 slices Monterey Jack cheese
Prepared guacamole
Spinach
5 brioche hamburger buns
Instructions
Preheat an outdoor grill to medium heat.
In a bowl, combine ground turkey, salt, ginger, and garlic, mix by hand and shape into 4 equal patties.
Place burgers on the grill and cook burgers for about 8-10 minutes per side or until an internal temperature reaches165 degrees. Add sliced cheese during the last few minutes of grilling.
Add pineapple and pepper slices to the hot grill. Grill until they just begin to soften.
To assemble, place fresh spinach on the bottom of 4 buns. Top spinach with a grilled turkey burger. Layer bacon, peppers, and pineapple over the turkey burgers. Top with guacamole; serve.
Nutrition Information
Yield
4
Serving Size
1
Amount Per Serving
Calories

1093
Total Fat

61g
Saturated Fat

25g
Trans Fat

1g
Unsaturated Fat

30g
Cholesterol

360mg
Sodium

1496mg
Carbohydrates

74g
Fiber

6g
Sugar

30g
Protein

65g