Thick, juicy all-beef patties with pepperoni, cheese. and pizza sauce! These pizza burgers are cheeseburgers with a big personality!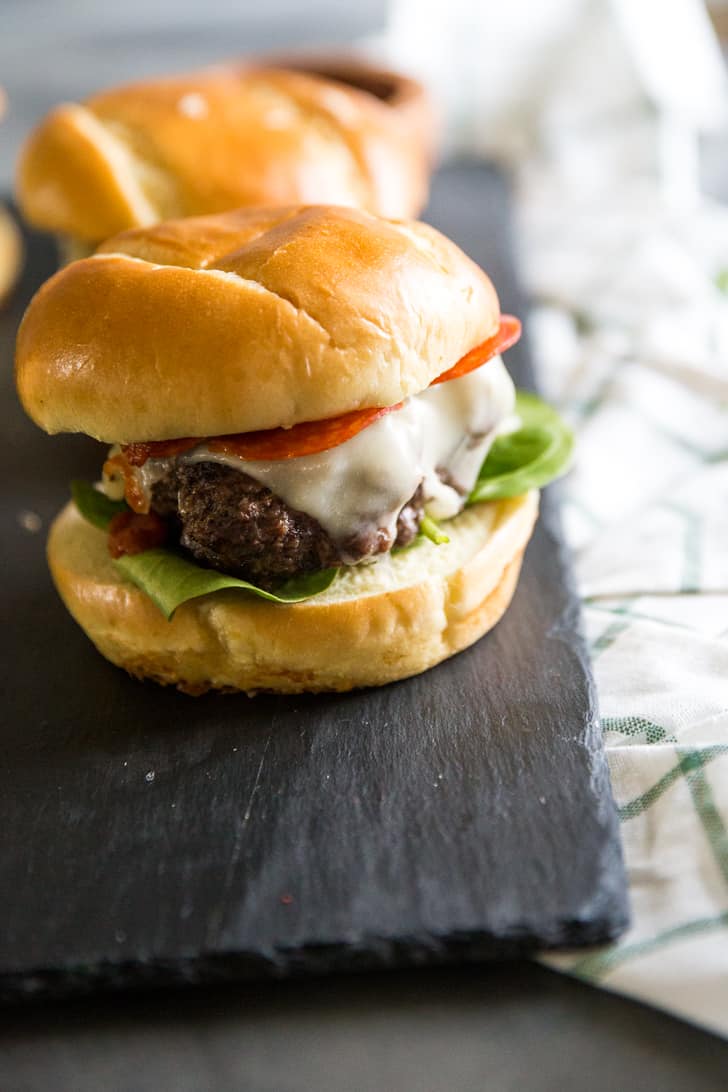 Pizza Burger Are Just Fun
I cook every day except for Saturday.  Saturday is the day I kick back and let someone else do the dishes.  I love trying new restaurants and I tend to gravitate towards the trendy foodie spots. Often, these are the places that serve really delicious specialty cocktails, dishes with unusual flavor or foods I will never, ever prepare at home.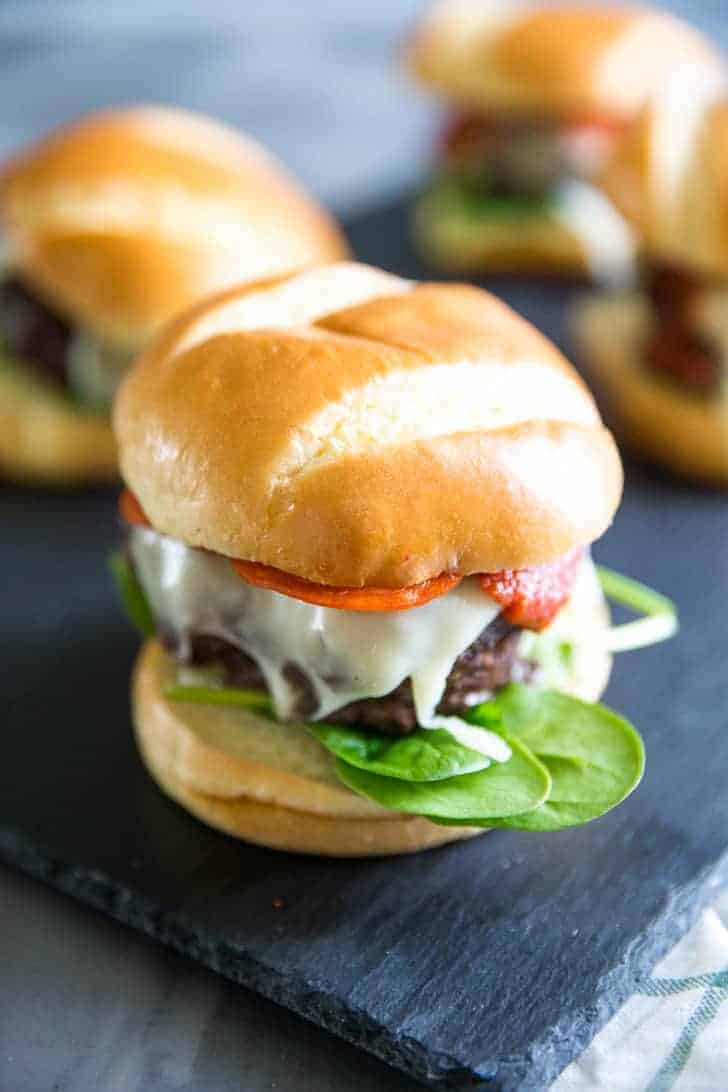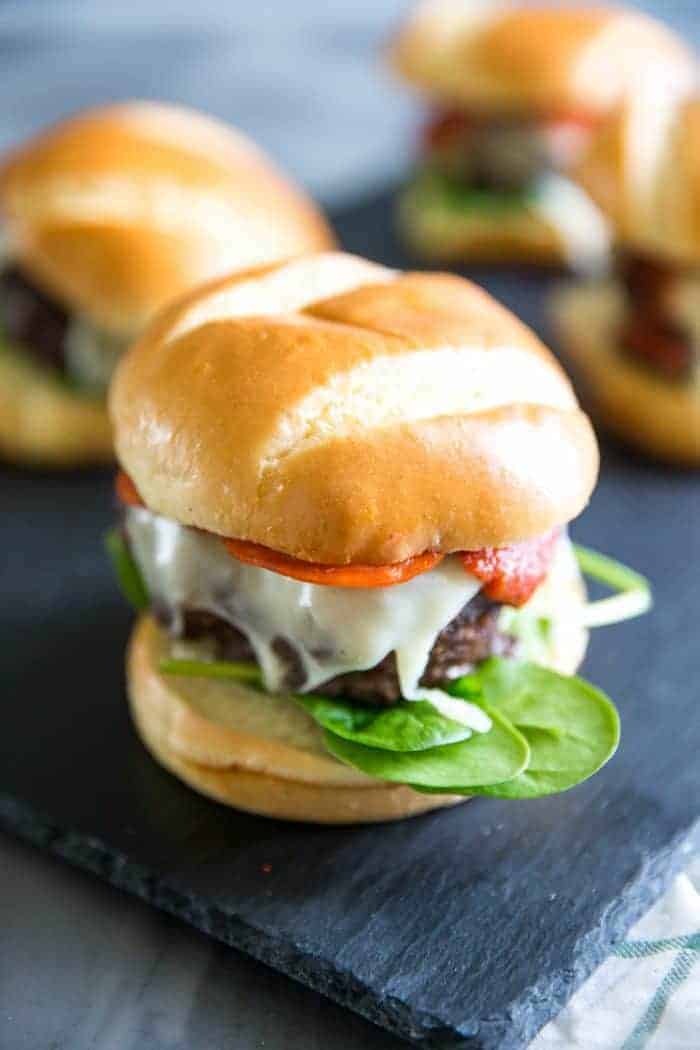 As much as I adore those trendy restaurants, the established, family restaurants often steal my heart.  You know the ones, where the tables feel close together and at any time you can help yourself to bowls of popcorn and peanuts.  You are there to be treated like family.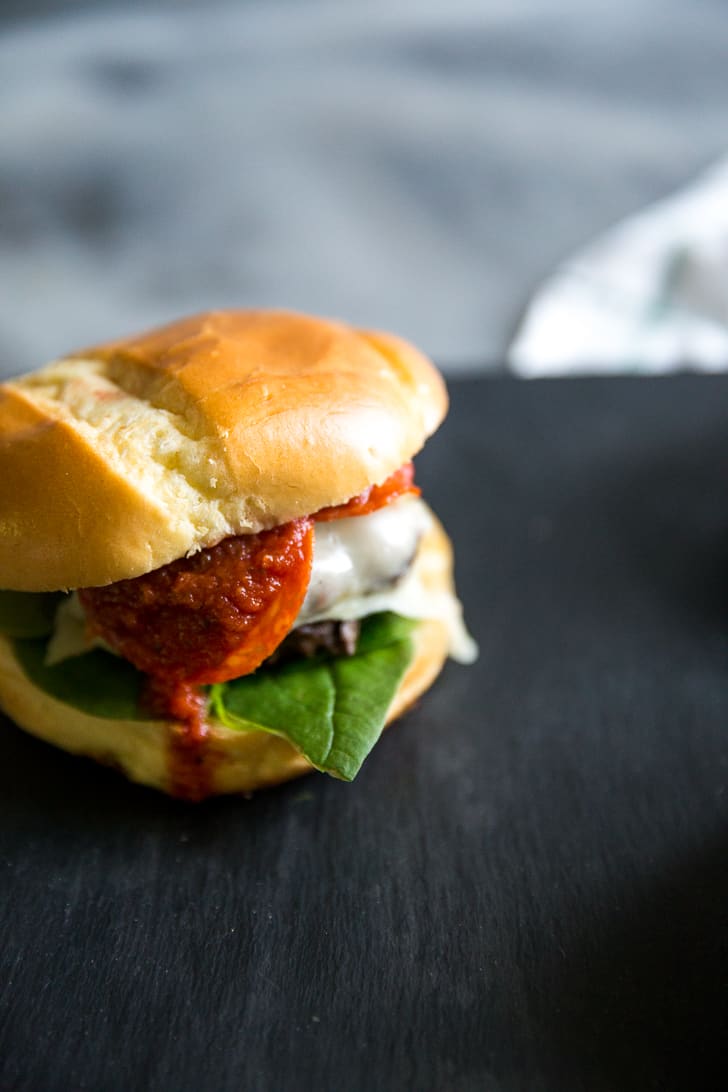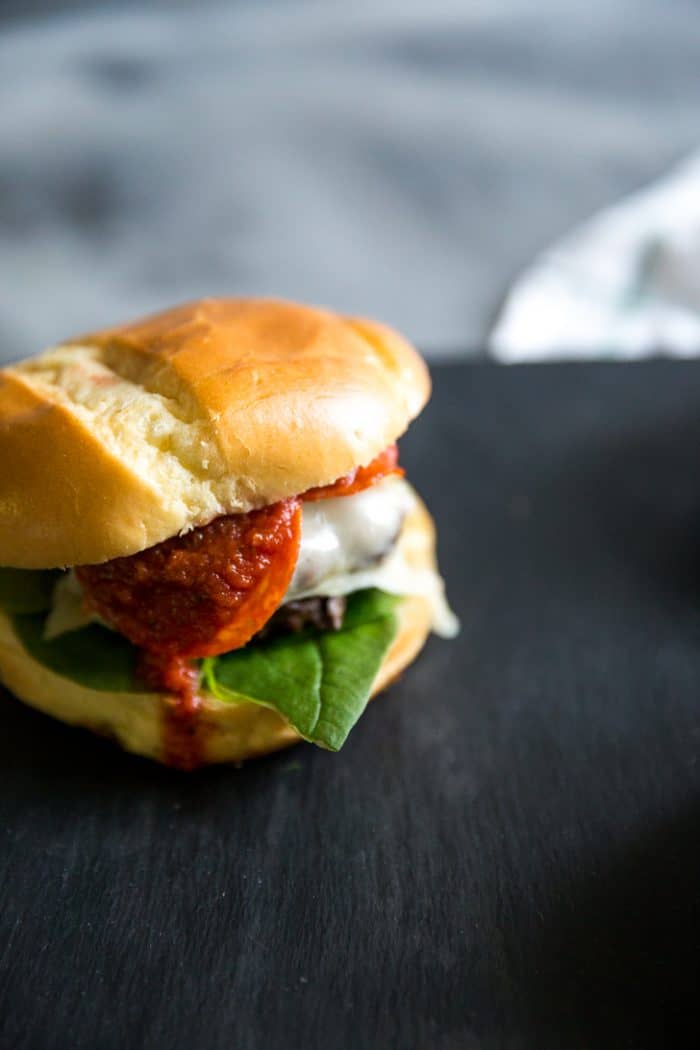 There are a few really good burger places in Cincinnati, and they aren't necessarily the ones that serve "craft" burgers.  They are the ones where you throw your peanut shells on the floor, the tables are so close together, the strangers seated with you feel like old friends.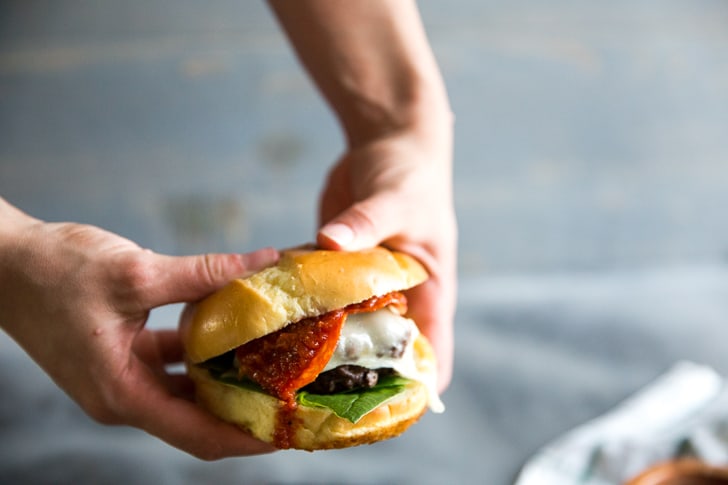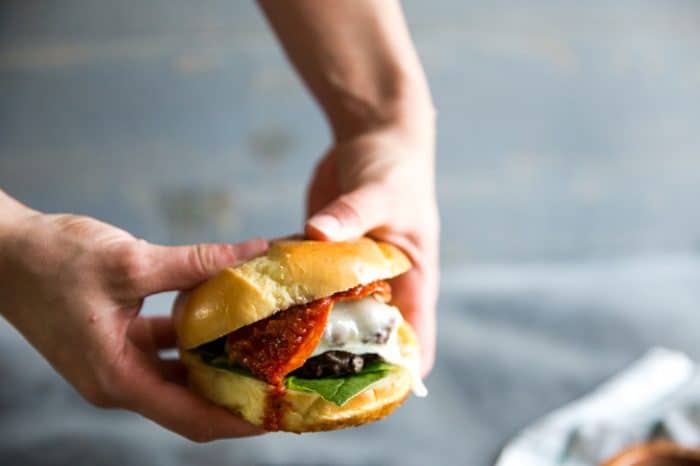 The menu isn't extensive, but everything on the menu is always good.  That is the type of restaurant that inspired this pizza burger.  There really is nothing fancy about this burger.  The ingredients are ordinary, but together, they taste delicious!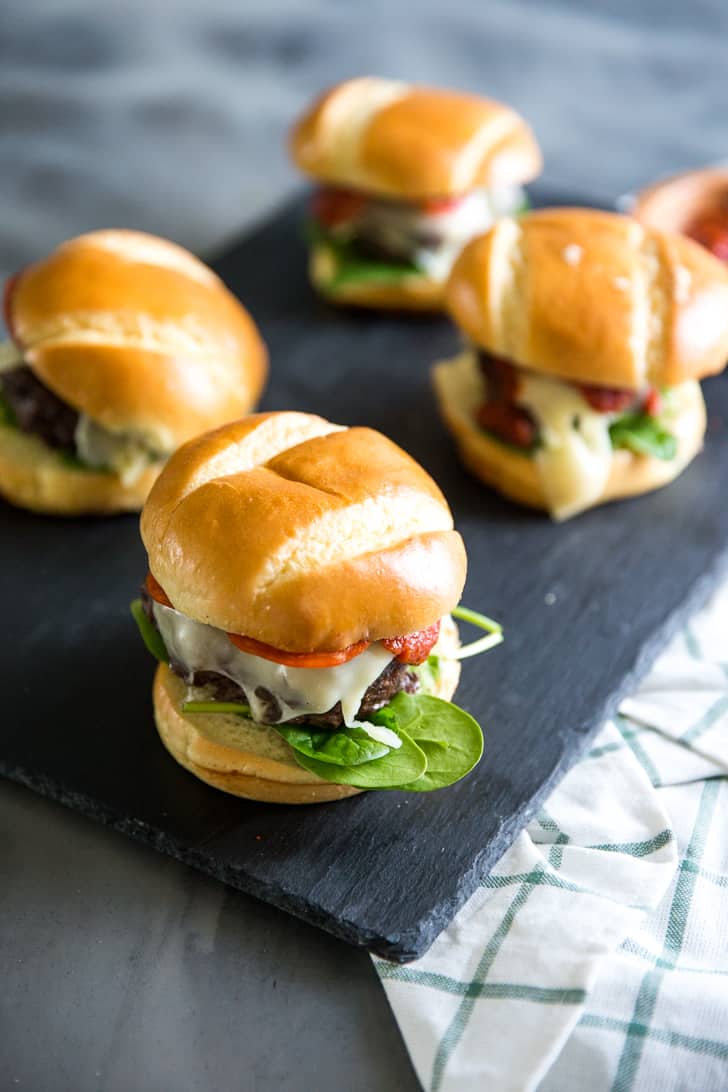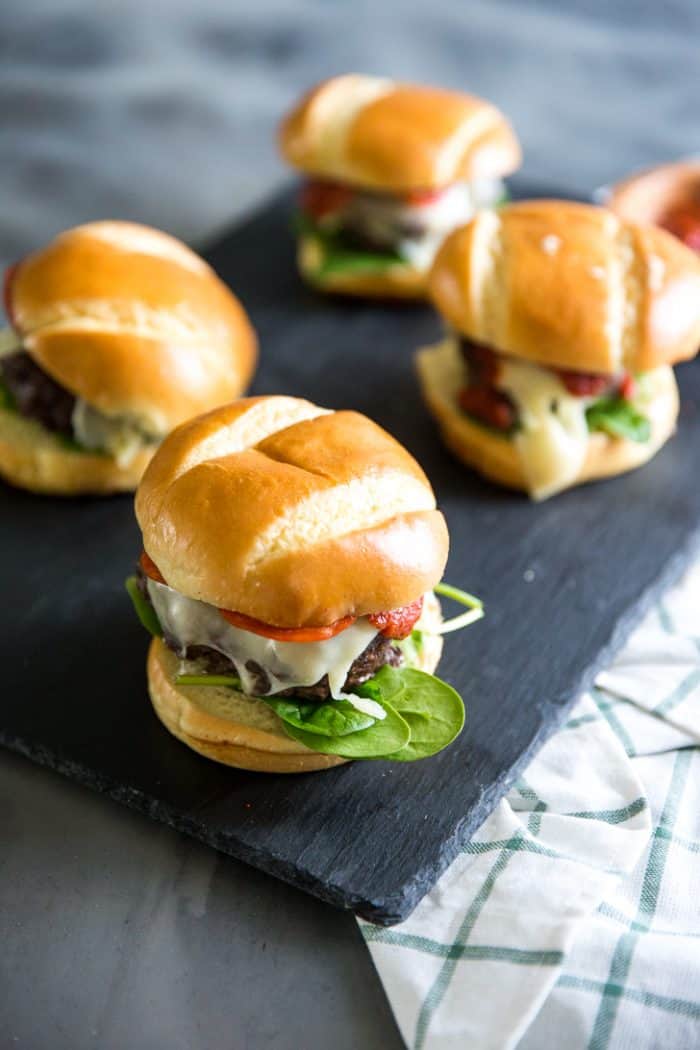 About This Pizza Burger
I used an 80/20 ground beef for these burgers.  The bit of fat in the beef will give you a juicy burger.
I like to mix chopped pepperoni into the ground beef; you can alternatively, only serve it on top.
After I form my patty, I like to make an indentation with my thumb into the center of the burger (you can see how I do this in my Basil Peach Pork Burger Recipe).  Doing this keeps the burgers shape and the indentation doesn't let the burgers swell and puff up.
I used my favorite jarred pizza sauce, provolone slices and more pepperoni as my toppings.  Bacon, mushrooms, tomatoes, pepper rings or olives would be wonderful additions! I have a few other fun burgers on this site, they are Rock and Roll Burger, Horseradish and Cheddar Burger, and Chile Verde Pork Burger.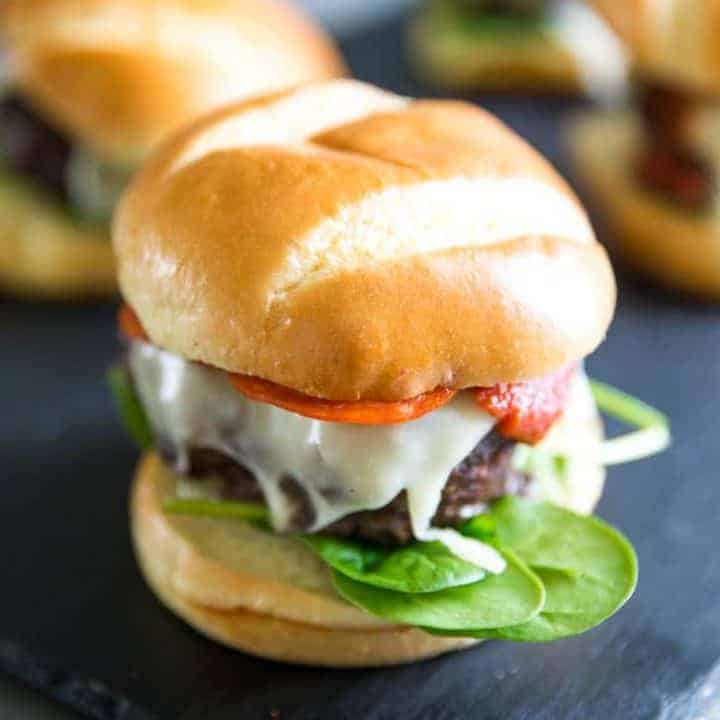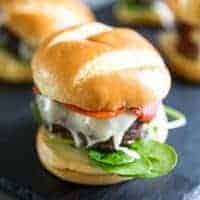 Pizza Burger
Thick, juicy all-beef patties with pepperoni, cheese. and pizza sauce! These pizza burgers are cheeseburgers with a big personality!
Ingredients
2 lb ground beef
2 oz finely chopped pepperoni
2 cloves garlic
1 teaspoon salt
1 teaspoon dried oregano
1 teaspoon dried basil
6 slices mozzarella
Pepperoni slices
6 tablespoons pizza sauce
Hamburger buns
Instructions
Preheat an outdoor grill to medium heat. In a bowl, combine the ground beef chopped pepperoni, garlic, salt, oregano, and basil. Mix by hand just until combined. Form beef into 6 patties.
Place the patties on the grill and cook for 4 minutes, flip and cook an additional 4 minutes (cook 5 minutes per side for more well-done burgers). Place provolone slices on the burgers 2 minutes before the burgers are finished cooking.
Place the burgers on a bun, and top with extra pepperoni and pizza sauce.
Nutrition Information
Amount Per Serving
Calories

0
Total Fat

0g
Saturated Fat

0g
Cholesterol

0mg
Sodium

0mg
Fiber

0g
Sugar

0g
Protein

0g