A crisp and fresh kale salad has few ingredients but has big flavor! You are going to love serving this salad especially after you try the lemon vinaigrette!!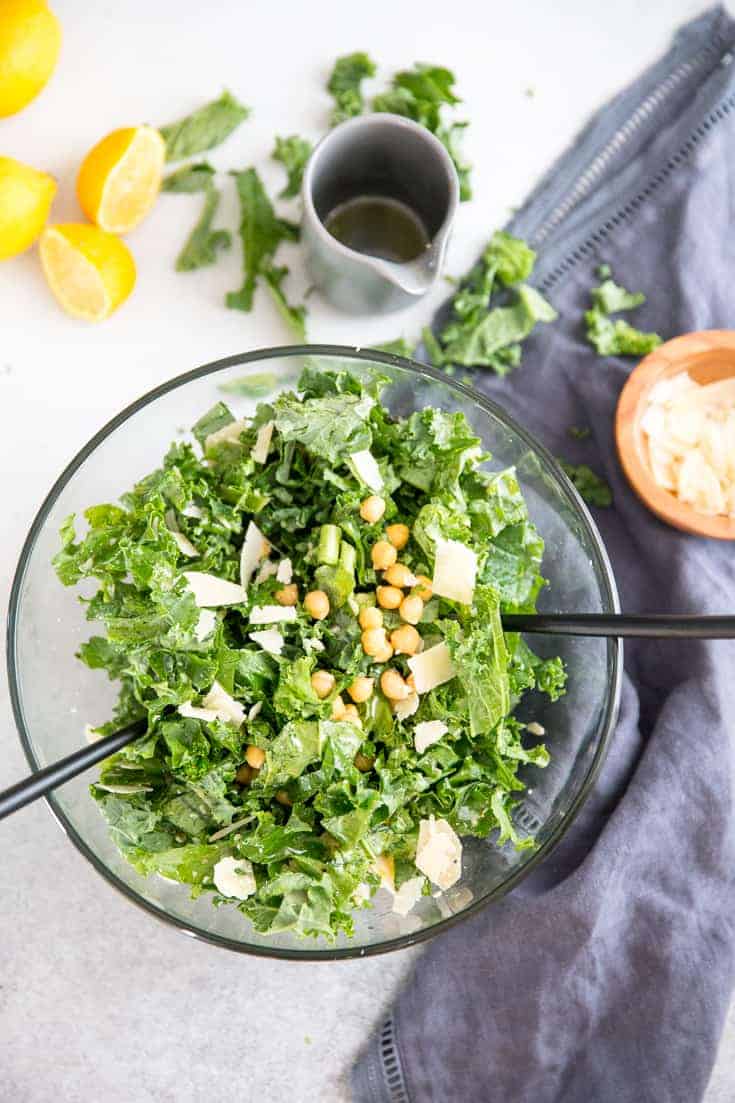 I feel I talk a lot about salads. For a while, I was living the paleo life so I ate salads every single day.
That phase ended. I still love my greens I'm just tired of making them every day.
I enjoy making big dinner salads like a Cobb salad or a chicken souvlaki salad. These salads are substantial and have so many fun ingredients and tastes. But sometimes simple is best.
This kale salad is simple yet spectacular.
Are Kale Salads Healthy?
Yes, yes, yes!! Kale is loaded with antioxidants, is a great source of vitamins K, B, and Vitamin C. It may help lower cholesterol. It has fiber, protein, and folate. It's almost better to ask what kale DOESN'T have. Kale is a powerhouse when it comes to nutrition!
What Kale Is Best For Salad
You can find different varieties of kale each with a different leaf. I used the curly kale for this recipe because I like the texture better. But you can use any kale you like!
How To Make Kale Salad Taste Good
Personally, I think the key to a good-tasting kale salad is the dressing!
Kale can be a bit chewy, therefore, some recipes call for you to "massage" your kale. To do this, coat your kale with lemon juice and olive oil. Massage your kale with your fingers for a minute or 2 or until it softens.
This is usually more work than I am willing to put into a salad and I personally don't mind the texture of the raw kale.
You can add all sorts of toppings to your kale salad to add flavor. This Ramen Broccoli Kale Salad, Blueberry Kale Quinoa Salad and this Detox Salad are great examples. It has crunchy ramen noodles, dried cranberries, and broccoli. You can also cook down your kale for a wilted kale salad. Other possible kale salad toppings:
Feta Cheese
Goat Cheese
Apples, strawberries, pears,
Sliced Almonds
Walnuts
Sunflower Seeds
Roasted or Raw Veggies
I chose to keep it especially simple and only add rinsed and drained garbanzo beans along with shaved Parmesan cheese to this kale salad recipe.
What Dressing For This Kale Salad?
Olive oil and lemon juice are perfect for kale! They break down and tenderize the leaves. The dressing in this recipe is made from those two ingredients as well as garlic, salt, and pepper. It is so simple, but imparts so much flavor!
What Does Kale Salad Go With?
Anything and nothing! I love having this particular kale salad for lunch all on its own. I think it is light and fresh and easy to assemble.
You can serve this salad as a side for any occasion even holidays like Thanksgiving and Christmas. It is elegant yet simple!
This salad would make a nice side dish for Mediterranean Pasta, Chicken Kiev, Balsamic Chicken, Pork Cutlets, Parmesan Baked Pork Chops, and Grilled Sirloin Steak.
Yield: 6
Lemony Kale Salad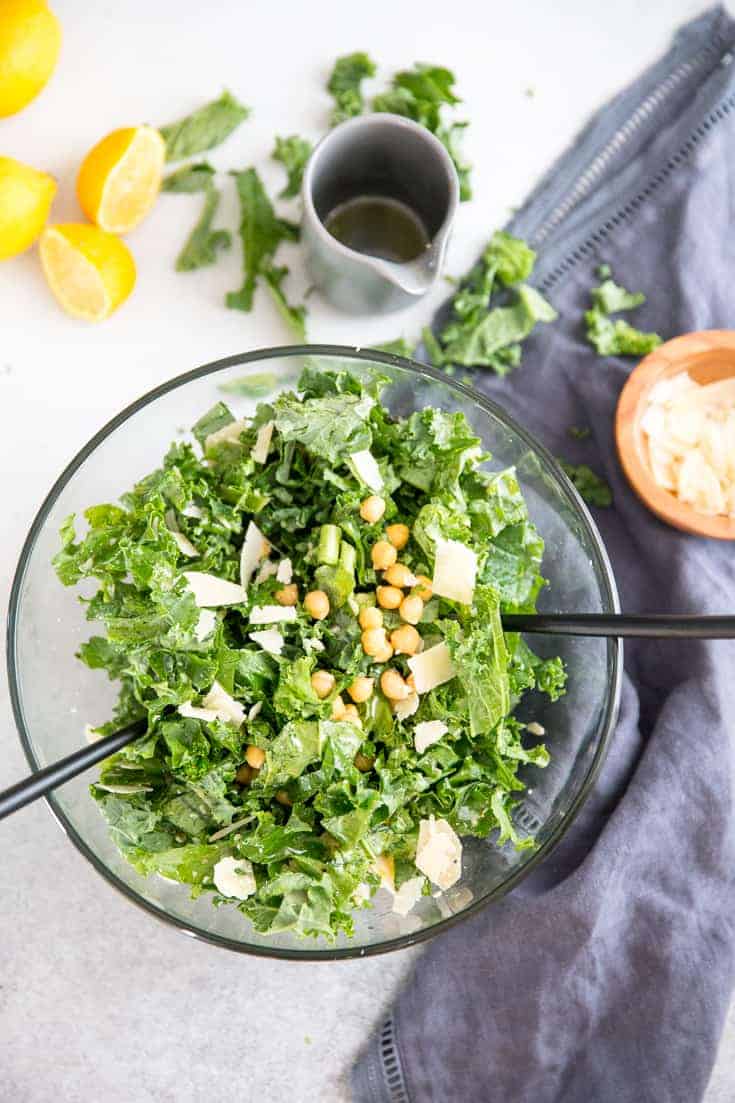 This fresh, crisp, and light kale salad will easily become your new favorite salad! It is a breeze to throw together and always tastes amazing!
Ingredients
1 large bunch of kale
1 cup garbanzo beans, rinsed
¼ cup shaved Parmesan
¼ cup olive oil
2 tablespoons lemon juice
3 cloves minced garlic
½ teaspoon salt
¼ teaspoon pepper
Instructions
Rinse and pat dry the kale and place in a salad bowl,
Top the kale with the garbanzo beans and shaved Parmesan
In a bowl, whisk together the olive oil, lemon juice, garlic, salt, and pepper.
Pour dressing over salad and toss.
Serve immediately
Nutrition Information
Yield
6
Serving Size
1
Amount Per Serving
Calories

151
Total Fat

11g
Saturated Fat

2g
Trans Fat

0g
Unsaturated Fat

8g
Cholesterol

4mg
Sodium

260mg
Carbohydrates

10g
Fiber

3g
Sugar

2g
Protein

4g