I love serving my family simple chicken recipes.   This Greek chicken souvlaki recipe is exactly that!
It's light and healthy but so flavorful, especially atop a Mediterranean salad with tzatziki dressing!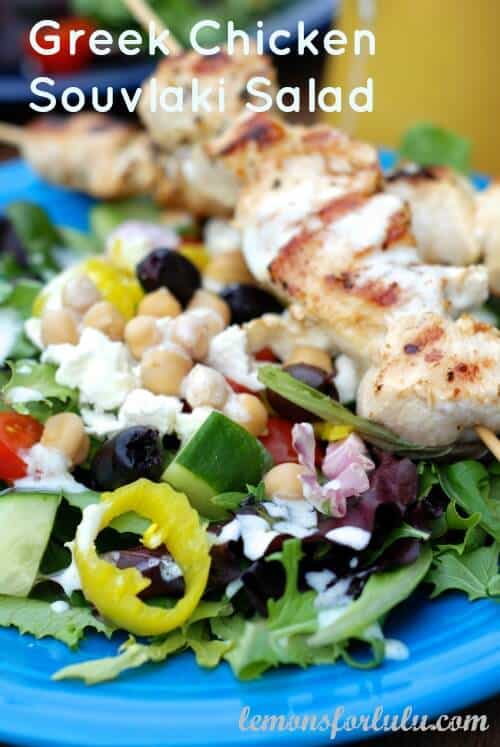 I am not a fashionista.  My daily uniform consists of jeans and tee shirts.  I swap the shirts for fleece in the winter and I swap the jeans for shorts in the summer.  Simple.  I like it that way.  I don't own many dresses or skirts, they make me uncomfortable.    My 9-year-old daughter hasn't fallen far from the tree.  Although  her idea of comfort differs slightly from me.  Her daily uniform is leggings and a tee-shirt.  Us girls know what we like.  I've tried to convince her to give jeans a chance, but she finds them too constricting.  I guess that's how I feel about skirts or anything that isn't made with denim.
If you could see my yoga pant collection, you would think I work for 
lulu lemon
!  I don't wear them that often either.  They feel to tight.  I know how incredibly stupid that sounds since they are supposed to be tight.  What can I say, I'm a baggy jean sort of girl.  I can hide my imperfections in my jeans, whereas in yoga pants, my imperfections sort of "bulge" out.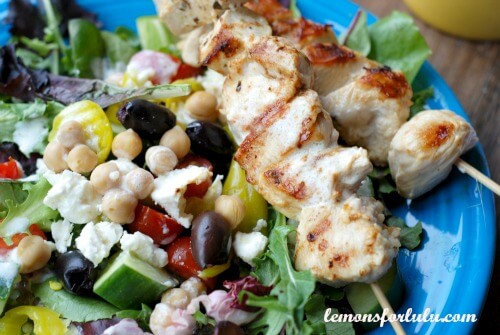 To combat my bulges, I try to serve light, healthy dishes to my family as often as I can.  I find that flavor does not have to be sacrificed just because your cutting back on the fat, this
salad
is a great example of that!  
Chicken Souvlaki
is one of my most favorite ways to eat chicken.  It's always moist and juicy and loaded with garlic and herbs.    The
Greek marinade 
is the key.   Make sure the chicken marinates for at least two hours, trust me on this.  Of course this wouldn't be a Greek chicken dish without the
tzatziki
dressing!  Which is basically the traditional Greek tzatziki sauce thinned a tad bit.  It is the perfect complement to the spiced chicken.  Garbanzo beans, Feta, Kalamata olives, and veggies round out the rest of the salad!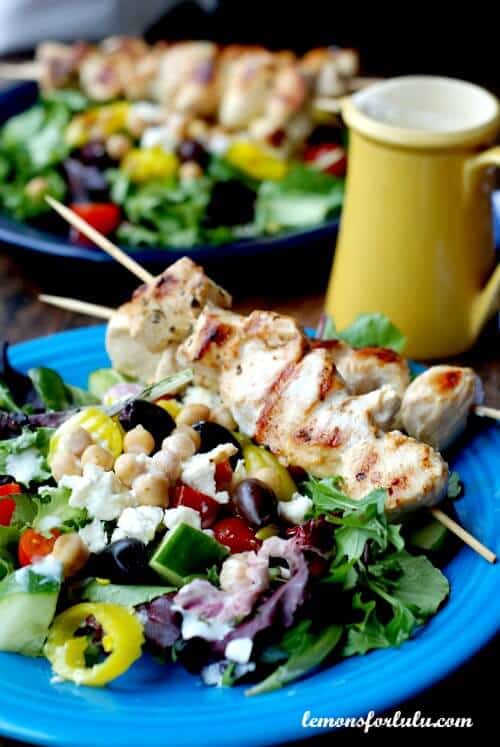 I went for a walk after dinner the night we ate this salad.  I actually put on some of those tight-fitting yoga pants to wear under  a long tee-shirt ( you know, to cover up the bulges).  As I was walking down the driveway, my 9-year-old asked me why I was so dressed up?  I looked at her funny and she said "you look nice mom, I like your style".    Of course she liked my style, it was HER style!    Now if I could only have some of her energy!
 More Greek Dishes For You:

NEVER MISS A RECIPE!  SUBSCRIBE TO MY EMAIL!
FOLLOW ME:
RSS  | FACEBOOK | TWITTER | GOOGLE +| BLOGLOVIN
SEE THIS ON MY PINTEREST BOARD:
Greek Chicken Souvlaki Salad
Ingredients
1/4

cup olive oil

2

tablespoon lemon juice

2

cloves garlic, chopped

1

teaspoon oregano

1/2

teaspoon salt

1 1/2

lbs to 2 lbs chicken breast, cut into chunks

6

oz container Greek yogurt such as Chobani

1/2

seeded, pealed cucumber, grated

2

tablespoons olive oil

3

tablespoons white vinegar

1

clove of garlic, minced

pinch of salt

1

package Red leaf lettuce (1lb) or your favorite

1 4

oz package Feta Cheese, crumbled

1

cup Pepperoncini peppers, sliced

1

cup Kalamata Olives

1

cup cherry tomatos, halved

1/2

cucumber, chopped

1

cup Garbanzo beans
Instructions
Cut chicken into bite sized chunks. In a zip top bag, combine olive oil, lemon juice, garlic, oregano and salt. Add chicken. Refrigerate for at least two hours.
Soak wooden skewers for 30 minutes prior to cooking. Arrange chicken on each skewer, using about 5-7 pieces per skewer. Heat a grill pan until hot. Cook chicken skewers in batches for 6-8 minutes per side or until chicken is browned.
Combine yogurt, grated cucumber, olive oil, vinegar and garlic in a bowl. Season to taste.
Divide lettuce among 4 dinner plates. Top with Feta, olives, peppers, tomatoes, and cucumbers and garbanzo beans. Place two skewers on each plate. Serve with dressing.
4 dinner servings, about 8 skewers total.
All ingredients can be changed according to your own taste, this is just a guideline.