This Butterfinger Pie is creamy, crunchy, sweet and delicious!
This sinful pie is going to be a hit wherever it is served!
This Butterfinger Pie Came About By Accident
I was never planning on making a Butterfinger pie. I was going to make more something cookies and cupcakes because I had plenty of ingredients for those but anything made with Butterfingers never crossed my mind.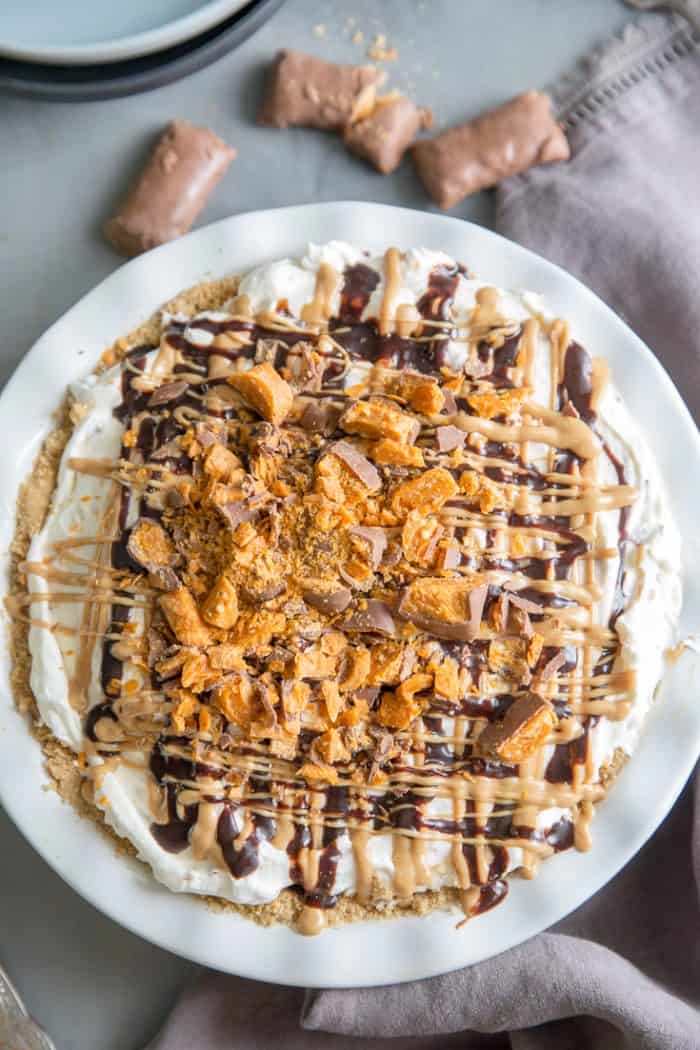 I was searching for a certain set of plastic cups in my basement when I stumbled upon 10 bags of Halloween candy that I purchased last October and hid from the kids. My hiding spot was so good, I completely forgot about every last piece of candy. The fact that the candy vanished from my mind is amazing because half of those bags were Butterfingers, and I LOVE Butterfingers!
I felt so elated by my discovery, I instantly went into creative mode and determined a no-bake pie, wait, a no-bake BUTTERFINGER pie was in order!
About This Butterfinger Pie
This is one of the easiest pies ever! I should clarify something, I did bake the crust for this recipe mainly because I hate when a graham cracker crust falls apart. However, the baking of the crust is 100% percent optional. The rest of the ingredients aren't complicated and the method is simple as well.
This recipe used marshmallow fluff as well as heavy cream and sugar that have been whipped until full and fluffy. I used a bag of mini Butterfingers, most of which were chopped and folded into the pie filling. The rest of the candies were chopped and placed on top of the pie. A drizzle of melted peanut butter and chocolate sauce enhance the flavor and make the pie "pretty".
Make sure you refrigerate the pie for quite a while before serving, you really want it to set properly. Keep it refrigerated in between servings as well.
If I hide candy and forget about them again, I sure hope I hide more Butterfingers!
More Butterfinger desserts: Butterfinger Brownies, Butterfinger Cake. Butterfinger Icebox Cake, Butterfinger Hot Cocoa, Butterfinger Bark.
Yield: 10
Butterfinger Pie
This Butterfinger Pie is creamy, crunchy, sweet and delicious!
This sinful pie is going to a hit wherever it is served!
Cook Time
1 hour
7 minutes
Ingredients
1 1/2 cups graham cracker crumbs
1/4 cup sugar
4 tablespoons melted butter
1 7oz container marshmallow fluff
2 cup heavy cream, chilled
1/3 cup powdered sugar
1 3/4 cups chopped Butterfinger candies
1/4 cup peanut butter
1/4 cup chocolate syrup
Instructions
Preheat oven to 375 degrees. In a food processor, combine the graham cracker crumbs, sugar, and melted butter and pulse until combined. Press crumbs into the bottom and sides of a pie plate and bake for 7-9 minutes or until set (the alternative to baking the crust is to refrigerate the crust for at least 1 hour or until set). Remove the crust from the oven and freeze it while you prepare the filling.
In a medium saucepan, melt marshmallow cream on medium-low heat, stirring constantly. Remove and spoon into a bowl and allow it to cool slightly.
In a large mixing bowl (chilled is preferable), whisk heavy cream on high, adding powdered sugar 1 tablespoon at a time until soft peaks form. Gently fold in marshmallow cream and 1 cup of the chopped candies into the cream mixture. Pour mixture onto cooled crust.
Melt peanut butter and drizzle over the pie along with the chocolate syrup. Top the pie with the remaining candies. Refrigerate pie until ready to serve.
Nutrition Information
Amount Per Serving
Calories

0
Total Fat

0g
Saturated Fat

0g
Cholesterol

0mg
Sodium

0mg
Fiber

0g
Sugar

0g
Protein

0g