Buckeye inspired marshmallow pops are a simple and fun treat for any occasion!
What Is A Marshmallow Pop?
The most basic explanation for this is a marshmallow on a stick. Seems so simple right? I'm happy to report that it really is THAT simple. To get you started, here are the supplies you will need:
-Lollipop sticks (you can find these in the baking section of almost any craft store)
-Candy Melts or Candy Coating -Candy Melts can also be found at crafts stores while candy coating can be found in most grocery stores.
-Peanut Butter
-Wax Paper
How To Make Marshmallow Pops
The first thing you will want to do is insert your sticks into the center of each marshmallow. Have your wax paper on a few baking sheets ready to go.
Melt your candy coating or candy melt in the microwave. Both the melts and the candy coating melt quickly and easily. It will hard rather quickly as well. You do NOT want to use chocolate chips. It is too hard to achieve the right consistency with chocolate chips and they will not reheat as well as the candy coating or the melts.
Melt the white candy coating and stir in the peanut butter. Carefully dip the marshmallow into the peanut butter mixture until fully coated; allow any excess to drip and place the pops on your wax paper. Allow the peanut butter layer to set completely before moving on.
When the peanut butter has set, melt the chocolate candy melts and dip each marshmallow halfway or just over halfway to achieve that buckeye look. Again allow any excess chocolate to drip off. Set each marshmallow pop on the wax paper to set completely.
How To Store Marshmallow Pops
Store your dried and set marshmallow pops in an airtight container for up to 1 week. Can you freeze the marshmallow pops? Yes, you can! Be sure the container has a tight seal so that the container is airtight!
These pops are a great treat to make with the kids; they require very little effort and zero candy making skills. Place them in bags and pass them out as gifts. You and your marshmallow pops will be all the rage!
Want more marshmallow fun? Try these Butterscotch Marshmallow Bites or these Peppermint Marshmallow Cream Cups.
* I used Kroger brand marshmallows and candy coating.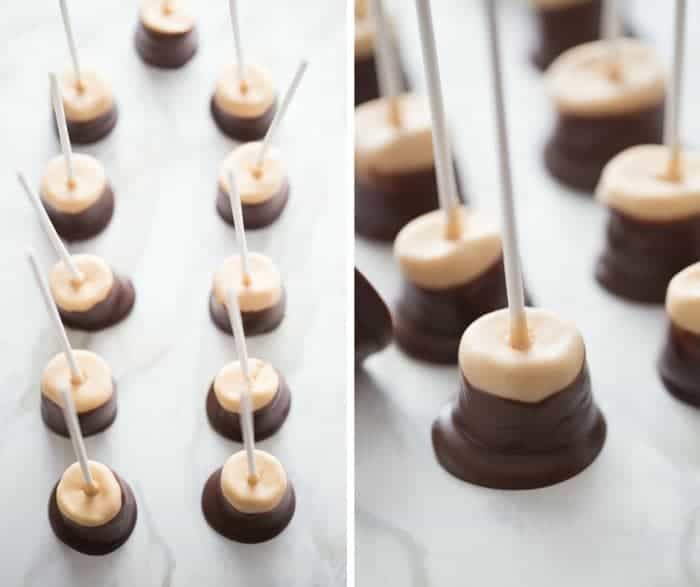 Yield: 5 dozen
Buckeye Marshmallow Pops
Buckeye inspired marshmallow pops are a simple and fun treat for any occasion!
Ingredients
60 large marshmallows (not the campfire marshmallows)
1 16 oz package vanilla candy coating
2/3 cup creamy peanut butter
1 16 oz package chocolate candy coating.
candy sticks
Instructions
In a microwave-safe bowl, stir together white chocolate candy coating and peanut butter. Melt in the microwave for 1 minute; stir. Continue to heat white chocolate mixture until the candy coating has melted. Stir.
Place one stick in the center of each marshmallow. Dip marshmallows into the white chocolate mixture, allowing excess to drip. Place dipped marshmallows on a baking sheet lined with wax paper. If peanut butter mixture is too thick, add a little shortening, and stir.
All the white chocolate to set completely.
Heat chocolate candy coating in a microwave-safe bowl until melted (add shortening to thin the chocolate of necessary). Dip each marshmallow only halfway. Again, allow excess chocolate to drip back in the bowl.
Once again, place marshmallow pops back in on the baking sheet. Allow the marshmallow pops to set completely before serving.
Store pops in an air tight container.
Nutrition Information
Yield
60
Serving Size
1
Amount Per Serving
Calories

103
Total Fat

4g
Saturated Fat

2g
Trans Fat

0g
Unsaturated Fat

2g
Cholesterol

2mg
Sodium

26mg
Carbohydrates

12g
Fiber

0g
Sugar

9g
Protein

1g