Buckeye inspired marshmallow pops are a simple and fun treat for any occasion!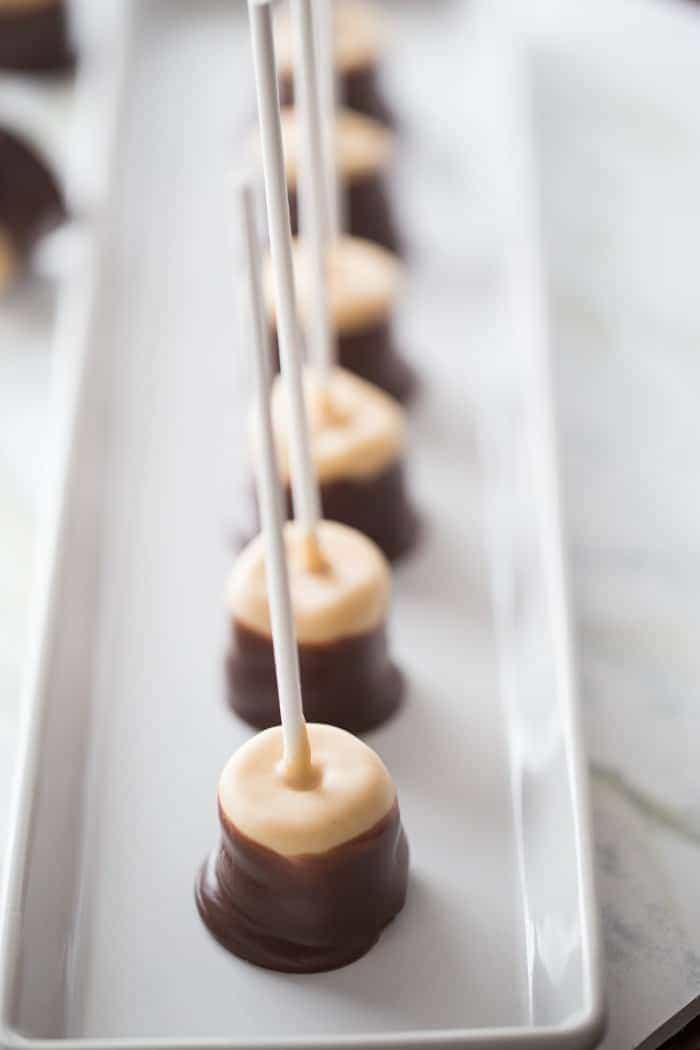 It's not often that our house is devoid of sweets. We can at the very least munch on chocolate chips. On the very rare occasions that chocolate chips cannot be found, we reluctantly turn to marshmallows. There is always one smooshed bag of marshmallows somewhere in the pantry.
The problem with marshmallows is unless they are covered in butterscotch like these Butterscotch Marshmallow Bites, or decorating Loaded Marshmallow Brownies, they really aren't that good. Especially when they have been sitting in your pantry so long; the entire contents of the bag has formed one puffy mass of goo.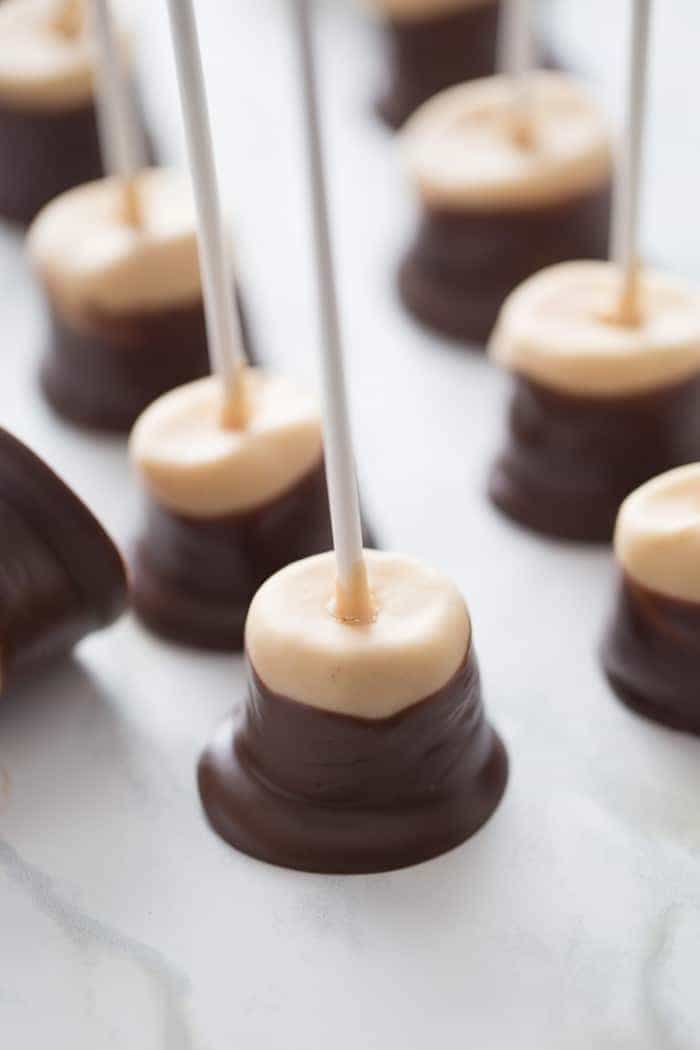 Despite my general distaste for marshmallows, I bought a bag with the sole intention of turning them into something extraordinary like these Buckeye Marshmallow Pops. I am in love with Buckeyes, they are something I make every Christmas but preparing them is a good old-fashioned time suck. The way to get the flavor of buckeyes without the time investment is by taking fluffy marshmallows and dipping them in a mixture of white chocolate and peanut butter, followed by a swim in some smooth, melted chocolate.
These marshmallow pops are fabulous! The peanut butter and chocolate combination is a well-known winner. But what is really amazing is the way the hardened chocolate keeps the marshmallow soft and fluffy so that with each bite the marshmallow bursts and melts in your mouth right along with the chocolate. Plus food on sticks are party favorites.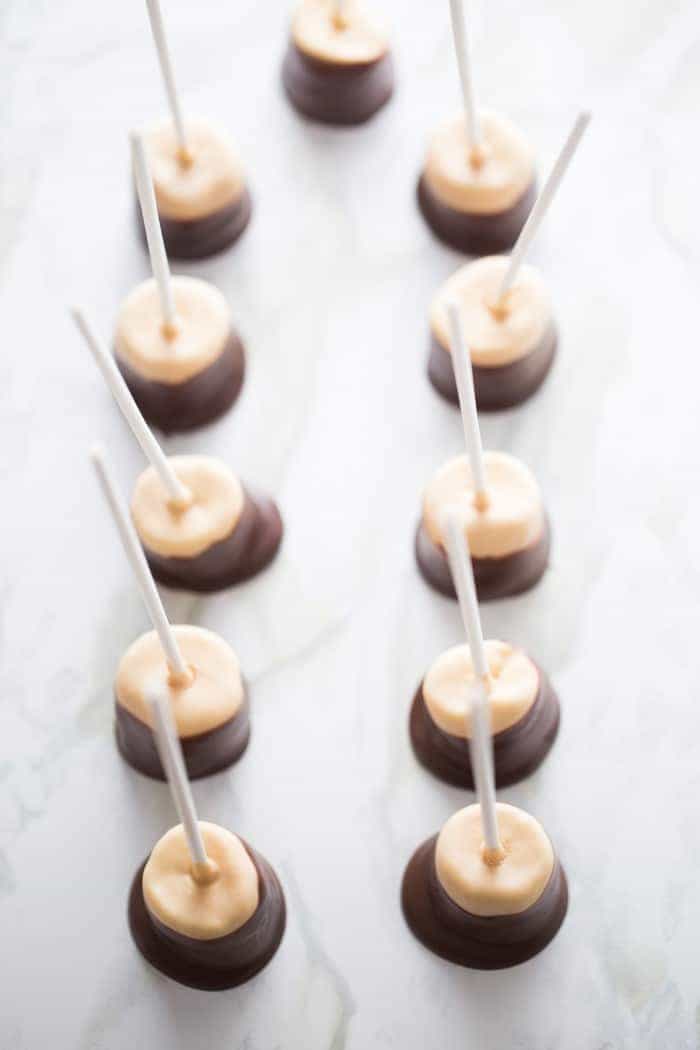 These pops are a great treat to make with the kids; they require very little effort and zero candy making skills. Place them in bags and pass them out as gifts. You and your marshmallow pops will be all the rage!

60
adjust servings
Marshmallow pops dipped in peanut butter and chocolate; it tastes just like a buckeye candy!
Ingredients
60

large marshmallows (not the campfire marshmallows)

1 16

oz package vanilla candy coating

2/3

cup creamy peanut butter

1 16

oz package chocolate candy coating.

candy sticks
Instructions
In a microwave-safe bowl, stir together white chocolate candy coating and peanut butter. Melt in the microwave for 1 minute; stir. Continue to heat white chocolate mixture until the candy coating has melted. Stir.
Place one stick in the center of each marshmallow. Dip marshmallows into the white chocolate mixture, allowing excess to drip. Place dipped marshmallows on a baking sheet lined with wax paper. If peanut butter mixture is too thick, add a little shortening, and stir.
All the white chocolate to set completely.
Heat chocolate candy coating in a microwave-safe bowl until melted (add shortening to thin the chocolate of necessary). Dip each marshmallow only halfway. Again, allow excess chocolate to drip back in the bowl.
Once again, place marshmallow pops back in on the baking sheet. Allow the marshmallow pops to set completely before serving.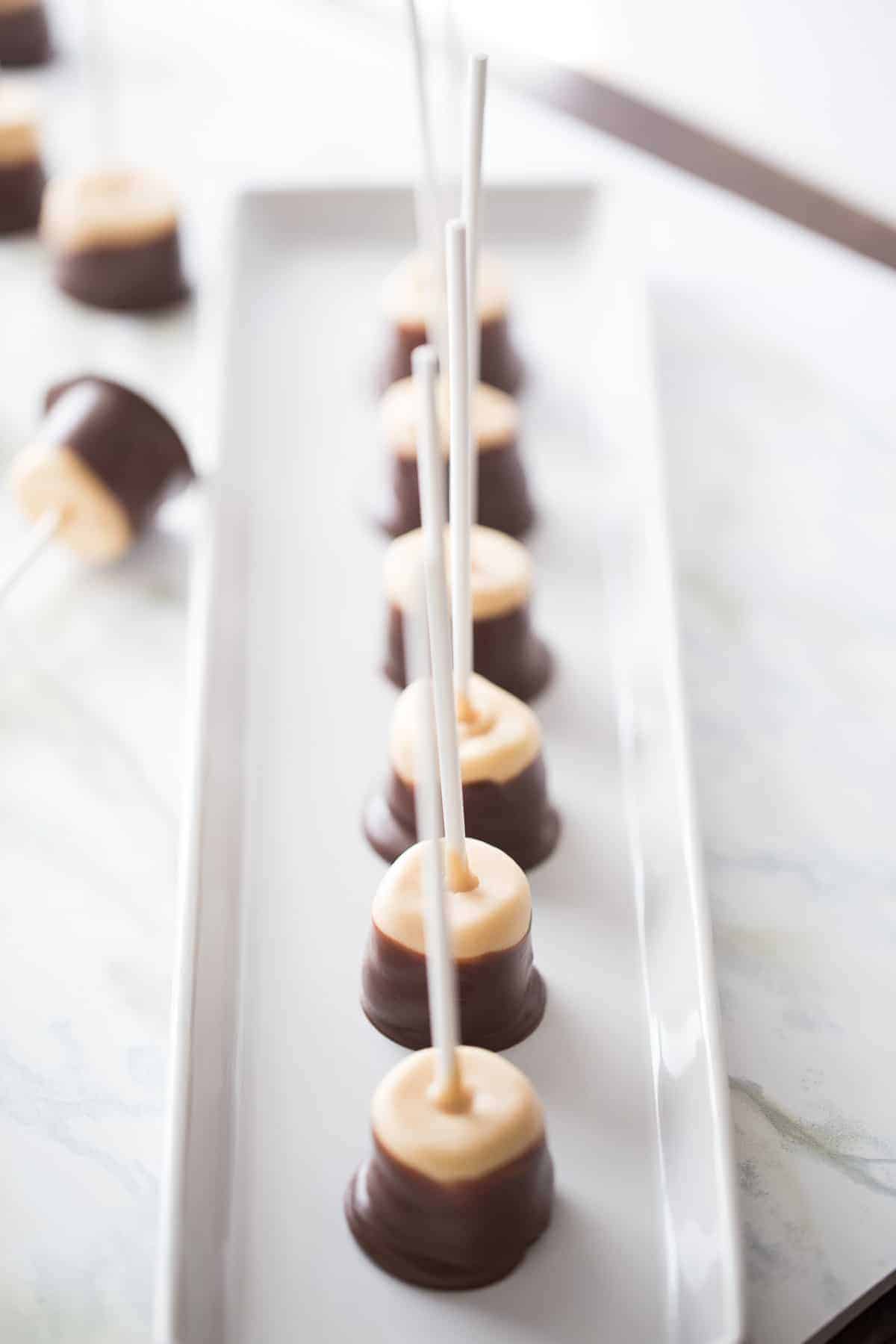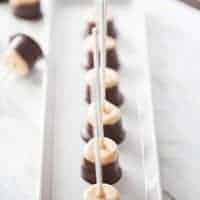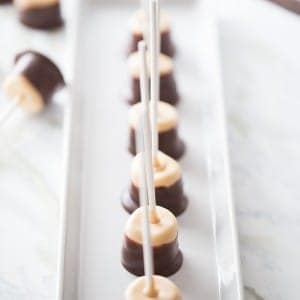 * I used Kroger brand marshmallows and candy coating.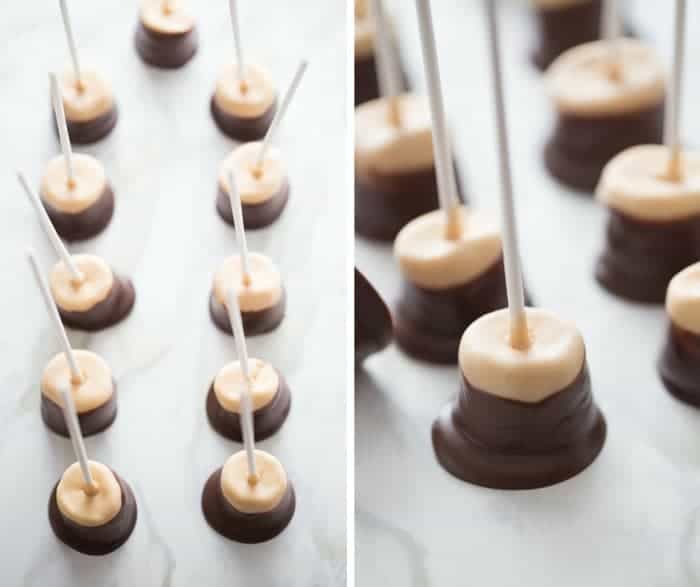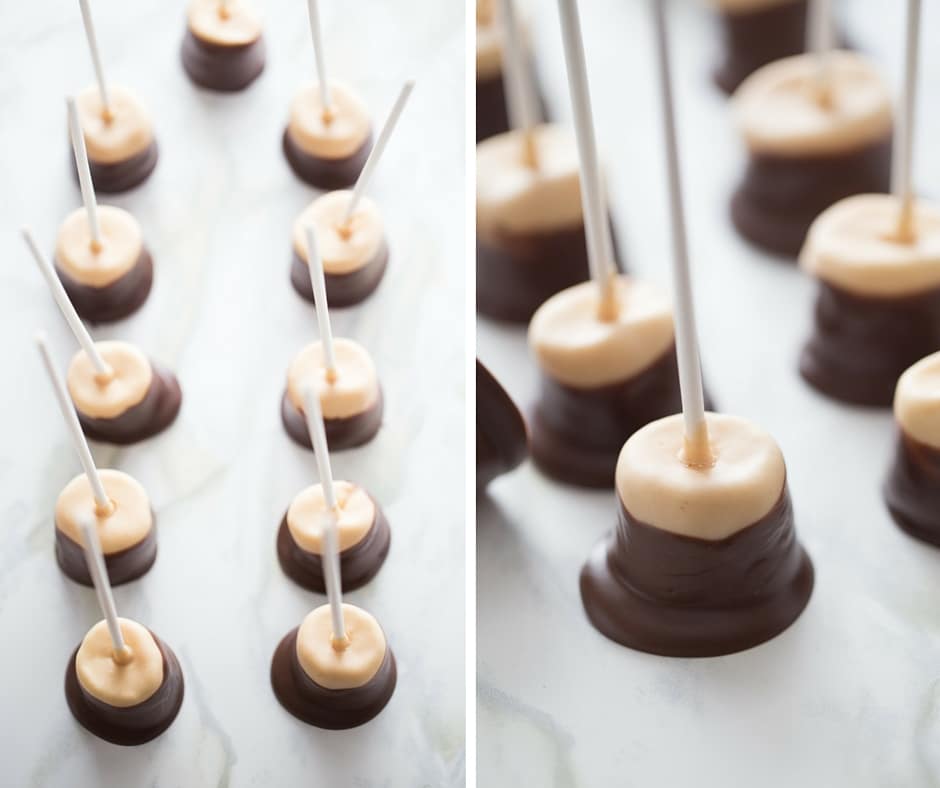 I'm sharing this marshmallow pop as part of this Christmas Cookie Blog Hop! Join me and my fellow bloggers as we share our favorite holiday cookies!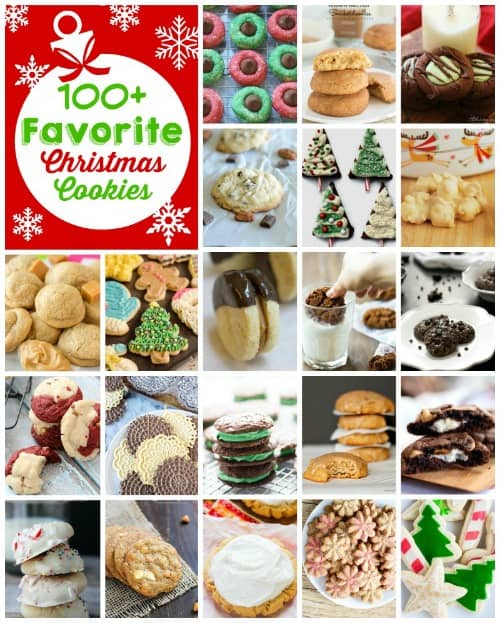 100+ Christmas Cookies brought to you by the following bloggers:
Jaren at Diary of a Recipe Collector | Mandy at Mandy's Recipe Box | Kelley at The Grant Life
Danielle at The Creative Bite | Nicole at Or Whatever You Do | Julie at Julie's Eats & Treats
Megan at With Salt & Wit | Jen at Yummy Healthy Easy | Justine at Cooking & Beer
Sara at Bitz & Giggles | Chelsea at Chelsea's Messy Apron | Samantha at Five Heart Home
Tanya at Lemons for Lulu | Andi at The Weary Chef | Melanie at Melanie Makes
Danae at The Recipe Runner | Amanda at Fake Ginger | Serene at House of Yumm
Cate at Chez Catey Lou | Ashley at Spoonful of Flavor | Jessica at Sprinkle Some Sugar