Buckeye marshmallow pops are a simple and fun treat for any occasion!
Chocolate, peanut butter, and marshmallows on a stick. What more could you want?
These easy marshmallow pops taste almost gourmet. Made with just a few simple ingredients and steps this recipe is so simple and easy that you can have the kids join in! Everyone will love this marshmallow pops recipe and it's not hard to see why- there's marshmallow, chocolate, peanut butter, and a convenient stick to hold so that your hands don't get messy.
What is a Marshmallow Pop?
A marshmallow pop is a name given for these treats. Like a lollipop, we have a sweet and desirable treat on one end of a serving stick. This is the most simplistic explanation of the name because that's exactly how the name was coined. To eat these chocolate-covered marshmallow pops is similar to eating a marshmallow lollipop, so marshmallow pop is a shortened phrase that has stuck and been used to describe this treat for years.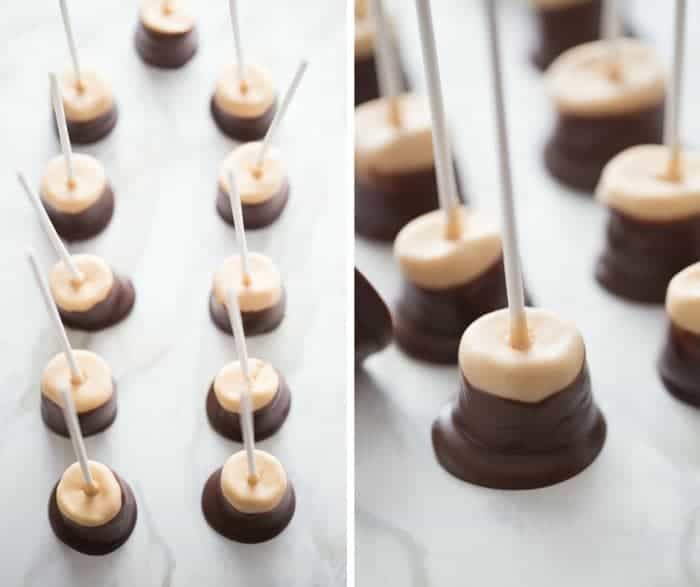 Ingredients
Large marshmallows
Vanilla candy coating
Creamy peanut butter
Chocolate candy coating
Candy sticks
For the exact amounts needed, please see the recipe card below.
How to Make Buckeye Marshmallow Pops
The first thing you will want to do is insert your sticks into the center of each marshmallow right at the base of the marshmallow.
Have your wax paper on a few baking sheets ready to go.
Melt the white candy coating and stir in the peanut butter. Melt together in the microwave for 1 minute. Stir and continue to heat until melted (about 30 seconds). Stir until smooth.
Carefully dip the marshmallow into the peanut butter mixture until fully coated; allow any excess to drip and place the pops on your wax paper. Allow the peanut butter layer to set completely before moving on. If the peanut butter mixture is too thick, add in a little shortening to smooth it out and stir to combine.
When the peanut butter has set, melt the chocolate candy melts and dip each marshmallow halfway or just over halfway to achieve that buckeye look. Again allow any excess chocolate to drip off. Place each marshmallow pop on the wax paper to set completely.
Melt your chocolate candy coating or candy melt in the microwave. Both the melts and the candy coating melt quickly and easily. It will become hard rather quickly as well. Add in some shortening if too thick (only if necessary).
Dip each marshmallow only halfway. Again, allow the excess to drip off and back into the bowl.
Place the marshmallows back onto the lined baking sheet.
Allow to set completely before serving.
Keep stored in an airtight container.
Enjoy!
Recipe Tips
You do not want to use the campfire marshmallows as these are not the correct size. simply use the standard-sized large ones that are easily available at any grocery store.
You can find candy sticks, or lollipop sticks for this recipe online at retailers like Amazon or inside craft stores. I like to find mine in the cake decorating section of my local Walmart.
If needed add shortening 1 teaspoon at a time to the mixtures of melted chocolate to help make them thinner and smoother for dipping. You want the consistency thin enough that you can easily dip into it without resistance, similar to a thick glaze.
You do NOT want to use chocolate chips. It is too hard to achieve the right consistency with chocolate chips and they will not reheat as well as the candy coating or the melts.
These pops are a great treat to make with the kids; they require very little effort and zero candy-making skills. Place them in bags and pass them out as gifts. You and your marshmallow pops will be all the rage!
FAQs
Marshmallow pops storage
Store your dried and set marshmallow pops in an airtight container for up to 1 week. Can you freeze the marshmallow pops? Yes, you can! Be sure the container has a tight seal so that the container is airtight!
Can you freeze chocolate-covered marshmallows?
Yes, you can freeze these marshmallow pops. simply double wrap them in plastic wrap and store them in an airtight container to help prevent any moisture from reaching the pops. This way they can store for up to 2 months and still taste delicious. Thaw them by placing them on the counter for about 10 minutes to an hour before serving so that they have time to thaw.
How long will chocolate-covered marshmallows on a stick last?
This dipped marshmallow recipe has a shelflife of about 1 week when kept stored in an airtight container at room temperature. This is plenty of time to enjoy them and especially great if you are trying to make this marshmallow dipped in chocolate recipe in advance for a party or event!
Here are some more great recipes featuring marshmallows that you may enjoy: