Sometimes it's all about the sauce when it comes to chicken wings and sometimes it's all in the rub! This dry rub chicken wings recipe has lots of spicy, sweet seasoning that makes these very memorable wings!
What Are Dry Rub Chicken Wings?
Dry rub chicken wings are coated in a spice mixture instead of a sauce mixture like these Memphis BBQ Wings and these Sticky Stout Baked Chicken Wings.
Both styles of wings are baked and both are finger licking good. Dry rub wings have a caramelized, spiced exterior that is a nice change from saucy wings.
WHERE IS THE DRY RUB CHICKEN WING RECIPE?
If you'd rather skip cooking tips, suggestions, handy substitutions, related recipe ideas – and get straight to the Dry Rub Chicken Wing Recipe– simply scroll to the bottom of the page where you can find the printable recipe card.
How To Make Dry Rub Chicken Wings
For this recipe, I use bagged, frozen (and thawed) wing and drummette pieces that have been rinsed and patted dry with a paper towel. If you are wondering how to get dry rub to stick to the wings, the key is to drizzle the naked wings with a little vegetable oil before smothering them with the seasoning blend.
To prepare your rub, combine a heap of spices like paprika, chili powder, onion powder, cumin, rosemary, garlic powder, salt, and brown sugar. in a bowl.
You have to have brown sugar! For one thing, it will balance out the heat from the spices, but also the sugar will caramelize the rub to give you the perfect wing coating!
Place all your ingredients in a large bowl and toss until the wings are completely coated!

Dry Rub Chicken Wings In The Oven
Place the wing on a foil-lined baking sheet and place a baking rack over top of the foil. Spray your baking rack and arrange the chicken pieces in a single layer.
The baking rack will allow the chicken to cook all over and the foil will catch any spills or drips. The wings will take about 45 minutes total to bake.
You could still serve these with your favorite wing sauce on the side but it is NOT necessary!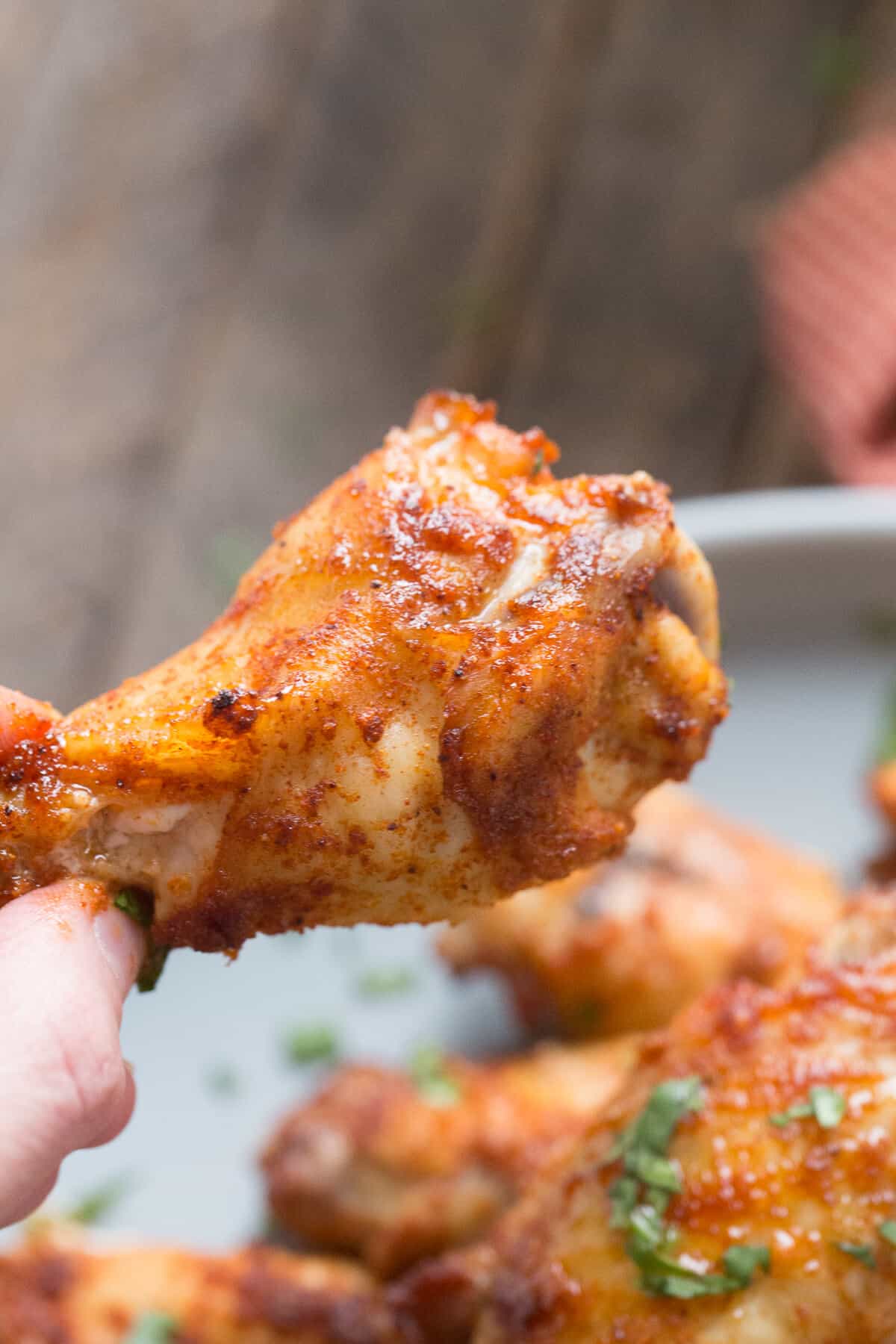 Dry Rub Wings Tips and Tricks
Make sure your wings have thawed completely and that you pat them dry. This will prevent a wet wing, the seasoning will stick to the skin much better if the wings are dry, to begin with.
Feel free to substitute or add more or different seasonings. Cayenne pepper or white pepper would add more spice and would blend nicely. Oregano and basil can be added as well.
Make sure you do not crowd the baking pan. An even layer of wings will ensure that they all cook evenly. The wings will need to be turned only once during baking.
Chicken Wings With Dry Rub In A Crockpot
If you are looking for more of a "fix it and forget it" dry rub wing, then you can certainly use the crockpot for this recipe! I would take the time to brown the chicken wings in a skillet after rubbing them with the seasoning. This will ensure the wings have a nice exterior and flavor!
This recipe will also work with an air-fryer or as deep-fried wings!
What To Serve With Dry Rub Chicken Wings?
These chicken wings pair beautifully with dips like this Parmesan Ranch Dip and this Blue Cheese Dip. Both are creamy and cool; they are the perfect backdrop to the seasoning in these wings.
These bacon wrapped roasted potatoesand the spiced aioli served on the side would be a perfect partner to these wings!
How To Reheat Dry Rub Chicken Wings
While you can certainly microwave these dry rub wings (or any wing really), I find the best method is to reheat the wings in the oven. Arrange your leftover wings on a foil-lined baking sheet and reheat at 350 for about 15 minutes.
If you are looking a different dry rub combination, you could try a Cajun Rub, a Smokehouse rub, your favorite BBQ rub, a peppery rub, a coffee-based rub, a poultry rub, a Moroccan style rub or even a Greek-style rub.
Use the same method with any of these rubs!
What You Will Need For This Recipe:
Paper towels

Large bowl

Baking rack

Large baking or sheet pan

Tongs
Just a reminder to be sure to wash your hands when touching raw poultry.
Make your game day (or any occasion) great with these easy wings! You and your guests are going to love the flavor of these wings! They really do fit the expression, "finger licking good". I hope you enjoy!
Want more chicken wing recipe ideas? Try these Cajun Dry Rub Chicken Wings, Crispy Baked Chicken Wings, Honey Garlic Chicken Wings, Lemon Pepper Dry Rub Chicken Wings, Garlic Parmesan Wings, Thai Spice Chicken Wings, and these oven-baked Sweet and Spicy Chicken Wings!
Dry Rub Chicken Wing
Sometimes it's all about the sauce when it comes to chicken wings and sometimes it's all in the rub! This dry rub chicken wing recipe has lots of spicy, sweet seasoning that makes these very memorable wings!
Ingredients
1 64 oz package frozen, thawed drumettes
1 64 oz package frozen thawed chicken wings
1 tablespoon vegetable oil
1/2 cup brown sugar
2 tablespoons paprika
2 tablespoons chili powder
2 teaspoon onion powder
1 teaspoon garlic powder
1 teaspoon cumin
1 teaspoon salt
1 teaspoon dried rosemary
Instructions
Preheat the oven to 450 degrees. Line a baking sheet with aluminum foil and baking rack over top.
In a small bowl, combine the dried seasoning; stir.
Rinse and pat chicken pieces dry. Place the wings in a large bowl and drizzle with oil, tossing each piece so that they all get coated.
Sprinkle rub over chicken and rub the seasoning into each piece. Arrange wings on the prepared baking sheet. Bake wings for 30 minutes, turn and bake an additional 10-15 minutes.
Nutrition Information
Yield

24
Serving Size

1
Amount Per Serving
Calories

464
Total Fat

32g
Saturated Fat

10g
Trans Fat

0g
Unsaturated Fat

19g
Cholesterol

169mg
Sodium

480mg
Carbohydrates

12g
Fiber

1g
Sugar

4g
Protein

31g