This orange and pecan bundt cake is a perfect addition to your holiday table and one dessert you can enjoy all year long. Packed with refreshing orange flavors and chewy pecans in every bite this cake is simply incredible.
This cake is excellent for any occasion. Made with vegan-friendly ingredients is by far the best version of this cake I've tried! It's sweet and fluffy with a crunchy bite. Spiced with cinnamon and orange zest, and drizzle with an orange glaze.
Serve your orange and pecan cake as an after-dinner treat whenever the mood strikes and it's sure to always be a huge hit. This cake is dairy-free and egg-free as well as vegan-friendly so it's a cake you can enjoy sharing with everybody. There's no wrong time for cake!
A Simple Bundt Cake
You're going to enjoy this simple and easy cake recipe. Novice bakers and experienced bakers alike can all marvel at the simplicity and ease of making this simple cake.
It's so simple to make that you can even have your kids join in if desired. There's no creaming, no need for room temperature or softened ingredients either.
So grab a whisk, a bowl, and start making this cake as soon as you finish reading.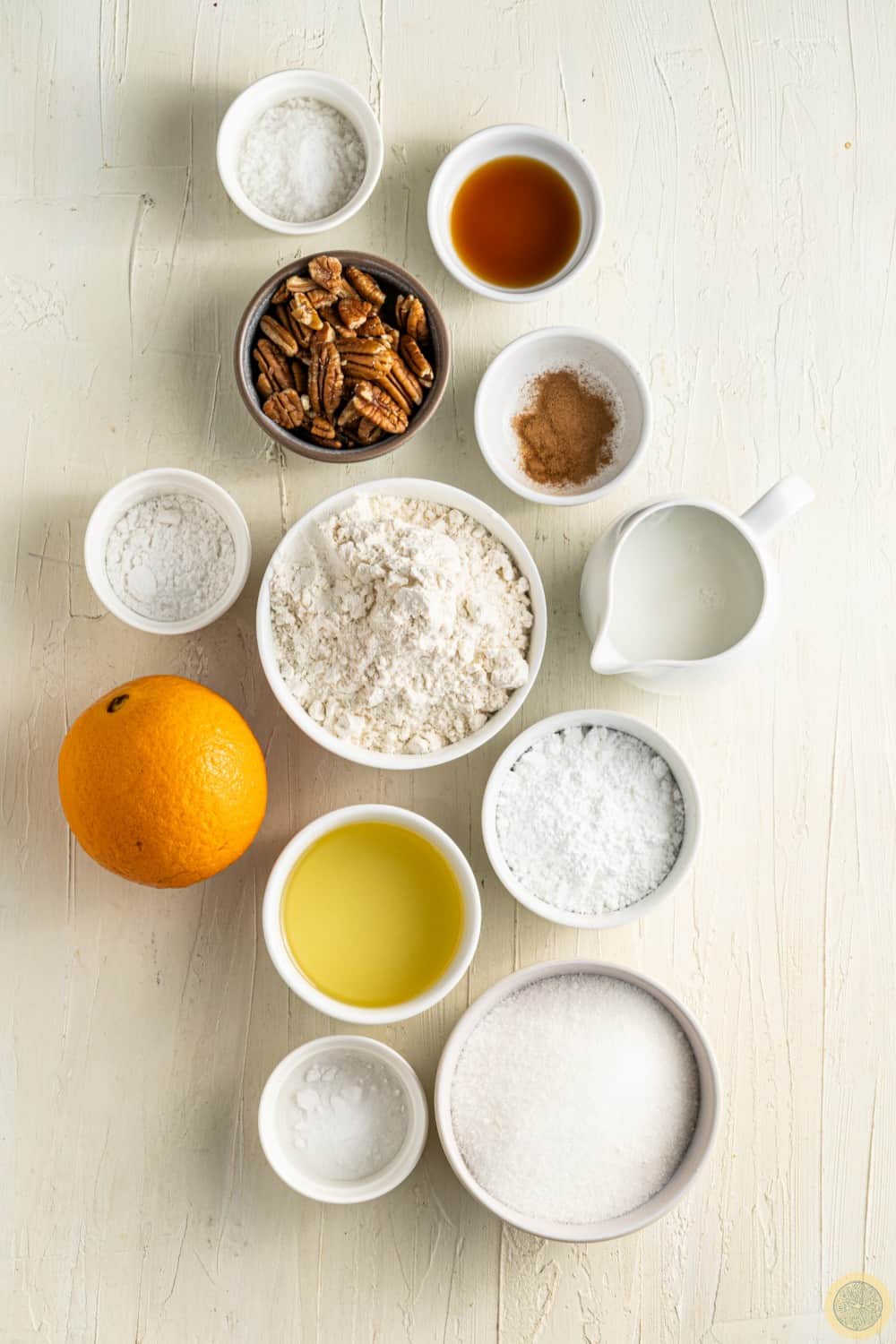 Ingredients you'll need for Bundt Cake:
Sugar: You will need 1 ¼ cups of granulated white sugar for this cake. Sugar helps cakes to turn out lighter and fluffier so that they aren't dense. They also help to make baked goods sweeter in taste.
Vanilla: Use 1 teaspoon of vanilla extract to help enhance the flavors in this cake.
Orange juice: You will need ⅓ cup of orange juice which is roughly the amount of juice found within one orange if you are trying to get fresh-squeezed juice.
Vegetable oil: To help give our cakes fats so that it stays moist we will need to use ½ cups of vegetable oil.
Milk: To keep this cake dairy-free and vegan, use any non-dairy milk of choice like almond or soy. Regular milk can be used if you don't mind adding it.
Flour: The base of this cake recipe is 2 ½ cups of all-purpose flour.
Leavening agents: You will need 2 teaspoons of baking powder and 1 teaspoon of baking soda to make this cake fluff up nicely as it bakes.
Cinnamon: Adding in a teaspoon of ground cinnamon will help to add some warmth to every slice.
Salt: This is a natural flavor enhancer and helps other flavors to stand out more, so add in ¼ teaspoon of salt.
Pecans: You will need 1 cup of chopped pecans so that there's enough to scatter throughout the cake.
Zest: Use one teaspoon of orange zest to really get that delicious orange flavor in every bite.
For the icing you will need:
Powdered sugar: You will need 1 cup of powdered sugar for the icing to make it smooth and sweet.
Orange juice: Adding in a tablespoon of orange juice will give us more orange flavor and help to make the icing a perfect consistency for drizzling.
How to Make Orange Pecan Bundt Cake
Preheat your oven to 350 degrees F and grease the inside of your bundt cake well with vegan butter. Then dust with flour to help prevent the cake from sticking. Set aside.
In a mixing bowl, combine the oil and sugar with a whisk.
Add in the almond milk, orange juice, and vanilla extract. Mix until combined.
Add in the flour, ground cinnamon, salt, baking soda, baking powder, and orange zest, mixing to combine well.
Then fold in the pecans. Do not over mix.
Pour your prepared cake batter into the prepared baking pan.
Shake the pan to help remove any bubbles within the cake as this will help it to bake more evenly.
Bake in the oven for 40-50 minutes or until a toothpick can be inserted and come out clean.
Let the cake cool in the pan for 10 minutes before removing and placing it onto a wire rack to cool completely.
Prepare the glaze by whisking together the powdered sugar and orange juice until smooth. You can adjust the consistency to your liking by adding in more sugar or orange juice as needed.
Drizzle over the cooled cake and let rest for a few minutes to set.

Slice and serve.
Enjoy!
Recipe Tips
You can buy already pre-chopped pecans from your grocery store to help you cut down on the time and effort needed to make this cake.
For added flavor, you can try toasting your pecans before using them. This will help to add a nice warm nutty flavor to the cake that will really work well, especially around the seasonal holidays.
Greasing and dusting the cake pan with flour will help to unmold the cake without fail. You can grease the cake with vegan butter, cooking spray, or even Crisco. Make sure that after adding in the flour that you tap the outsides of the pan well as you turn the pan around to coat all sides and crevices. Then turn the baking dish upside down over the sink and tap the bottom to help release excess flour from the pan.
FAQs
How long is orange pecan cake good for?
This cake can last for up to a week if kept properly stored in an airtight container or well-covered container in the fridge.
Why is my bundt cake gummy or rubbery?
If you overmix the batter when adding in the flour, the glutens in the flour will develop more than desired. This causes a chain of reactions which in turn makes cakes turn out gummy or rubbery in texture. You can mix and whisk cake batters as much as you want up until the flour has been added and then after that point, you're simply trying to incorporate the flour in a way that doesn't cause it to become overworked.
Can I this cake gluten-free?
I have not tried to replicate this cake with gluten-free flours but I have strong reasons to believe that Bob's Red Mill Gluten-Free Baking Flour would work well with this recipe at a 1:1 ratio for the all-purpose flour requested. If you try it, let me know how it goes!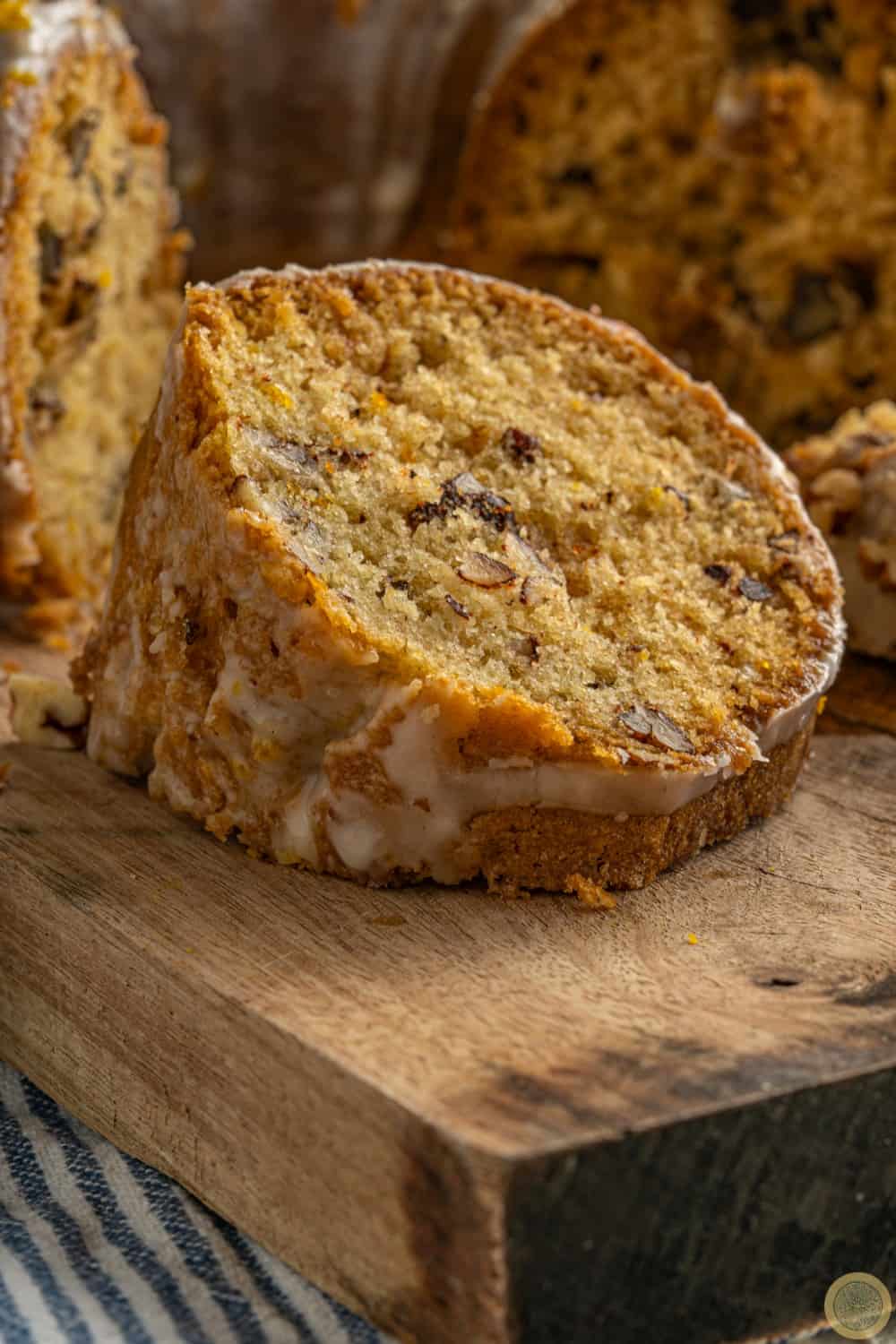 For more delicious bundt cake recipes check these out:
Yield: 12
Orange and Pecan Bundt Cake
This cake is excellent for any occasion. Made with vegan-friendly ingredients is by far the best version of this cake I've tried! It's sweet and fluffy with a crunchy bite. Spiced with cinnamon and orange zest, and drizzle with an orange glaze.
Total Time
1 hour
5 minutes
Ingredients
Cake
1 ¼ cup white sugar
1 tsp vanilla extract
⅓ cup orange juice (juice of 1 orange)
½ cup vegetable oil
¾ cup almond or any non-dairy milk
2 ½ cups all-purpose flour
2 tsp baking powder
1 tsp baking soda
1 tsp ground cinnamon
¼ tsp salt
1 cup chopped pecans
1 tsp orange zest
Orange glaze
1 cup icing sugar
1 tbsp orange juice
Instructions
1. Pre-heat the oven to 350F, grease the cake pan with abundant vegan butter, and dust with some flour. This step is essential to clean and easy unmolding.
2. Mix the oil with sugar until combined. Then add almond milk, orange juice, and vanilla extract. Whisk to combine.
3. Then incorporate dry ingredients: flour, ground cinnamon, salt, baking soda, baking powder, and orange zest. Once well combined, fold in chopped pecan nuts.
4. Pour the batter into the prepared pan. Shake the pan to the sides and onto the counter for an evenly baking.
5. Bake for 40 to 50 minutes until an inserted toothpick comes out clean.
6. To make the glaze, you'll simply need to combine the icing sugar with the orange juice. You can adjust the consistency of the glaze to your liking by adding more powdered sugar or juice to make it thinner or thicker.
7. Let the cake cool for 10 minutes before unmolding it. Then place it upside down into a cooling rack, and pour the orange glaze over it. Slice and enjoy!
Notes
*I've used a 9'' pan, but a 10'' pan would also work for this recipe.