This Easter cake is for the birds!  Well sort of.  A subtle lemon bundt cake is covered in frosting, toasted coconut and filled with little chocolate eggs!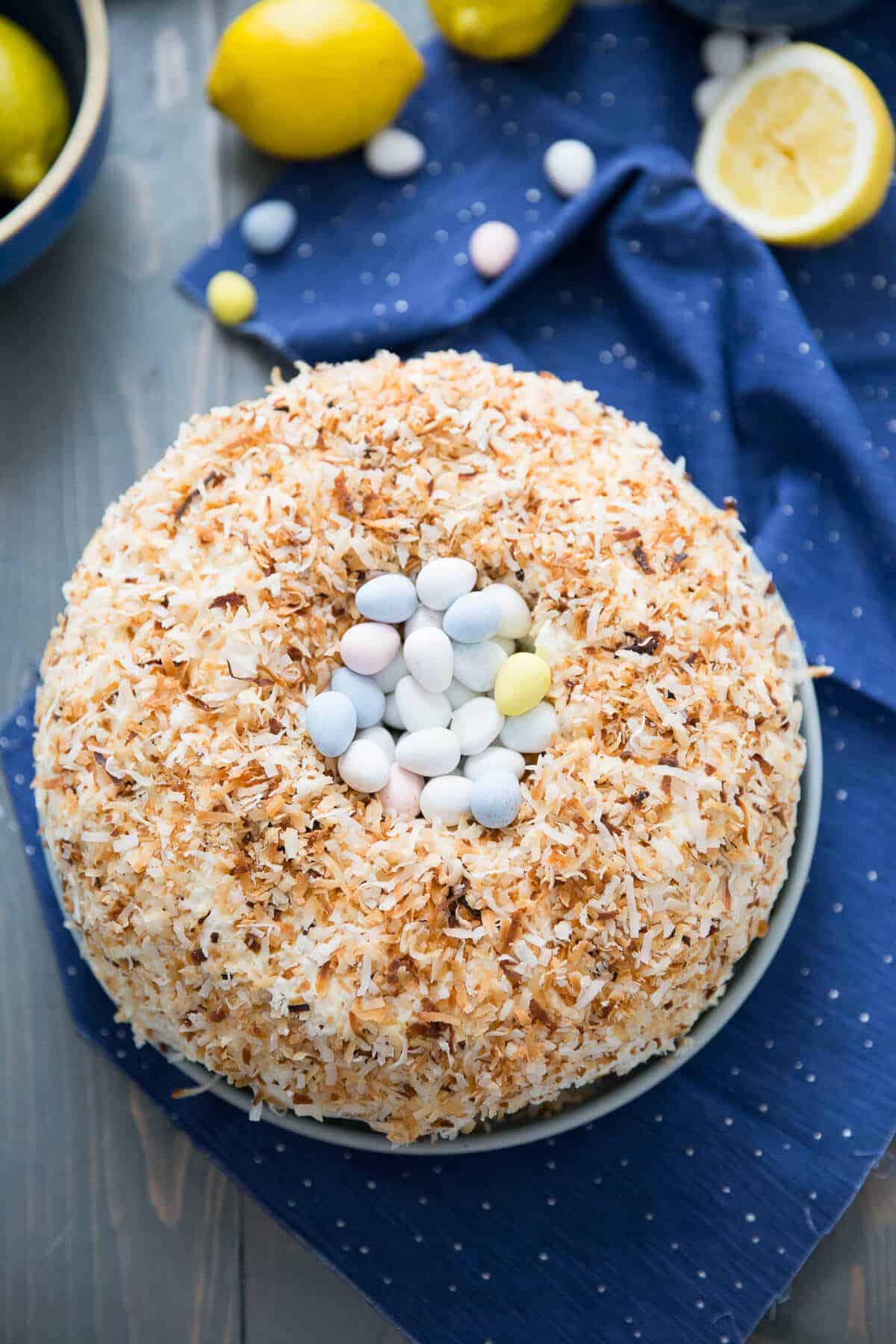 I was talking to a friend of mine about Easter.  She was telling me how she is in possession of the very cake mold her mother used as she was growing up.  She said that every Easter her mom would serve a bunny shaped cake.  In that moment I felt a mixture of tenderness and jealousy.  I thought it was so sweet that her mother insisted on making a bunny cake every year regardless of the age of her children.  I was jealous because I always wanted a bunny cake when I was a kid.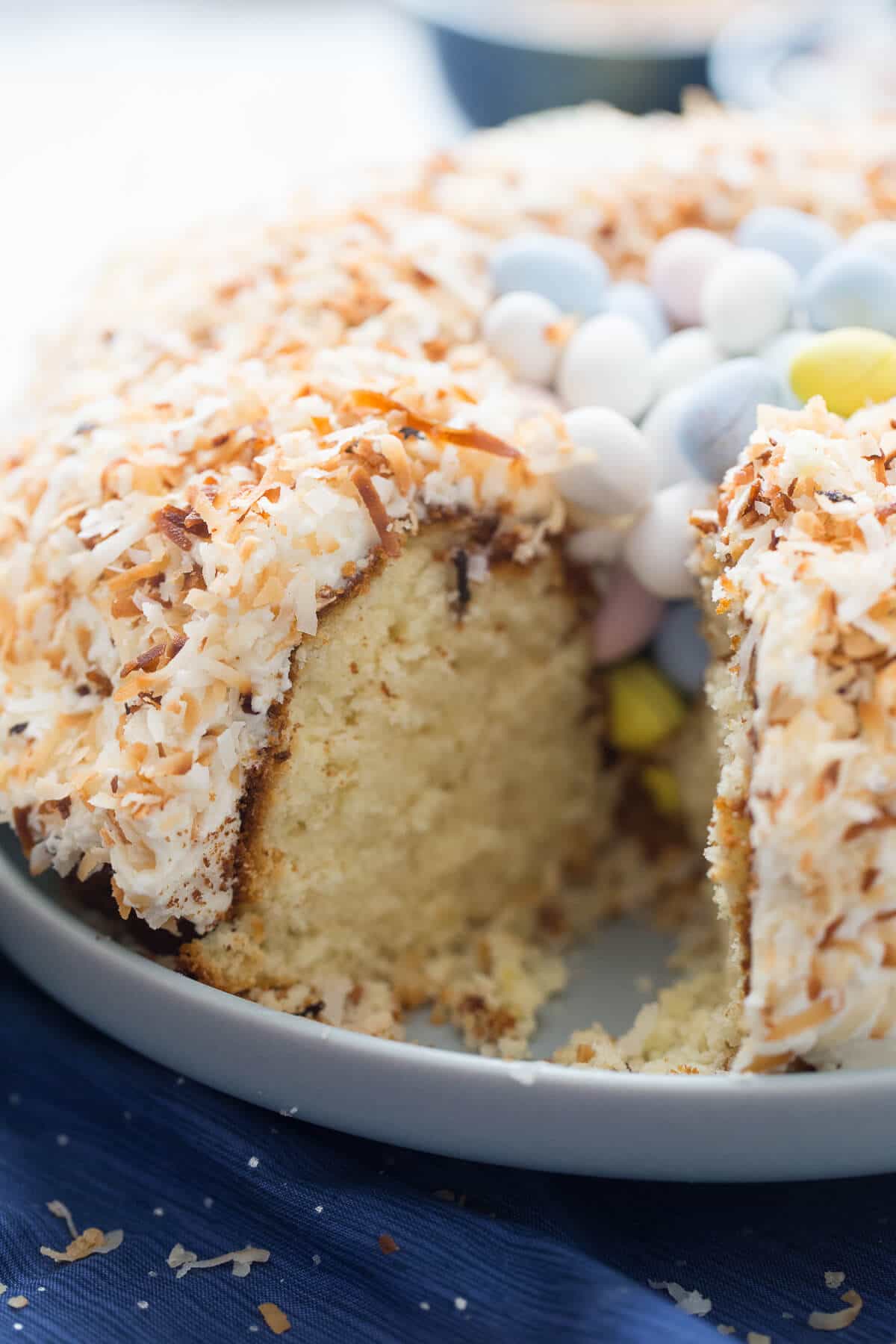 I remember seeing cute little bunny cakes and bunny butt cakes in my mom's magazines.  She never even considered making one.  Instead, we had Koularakia (Greek Easter Cookies) and Greek Easter bread.  They were good, but not quite as exciting as a bunny cake.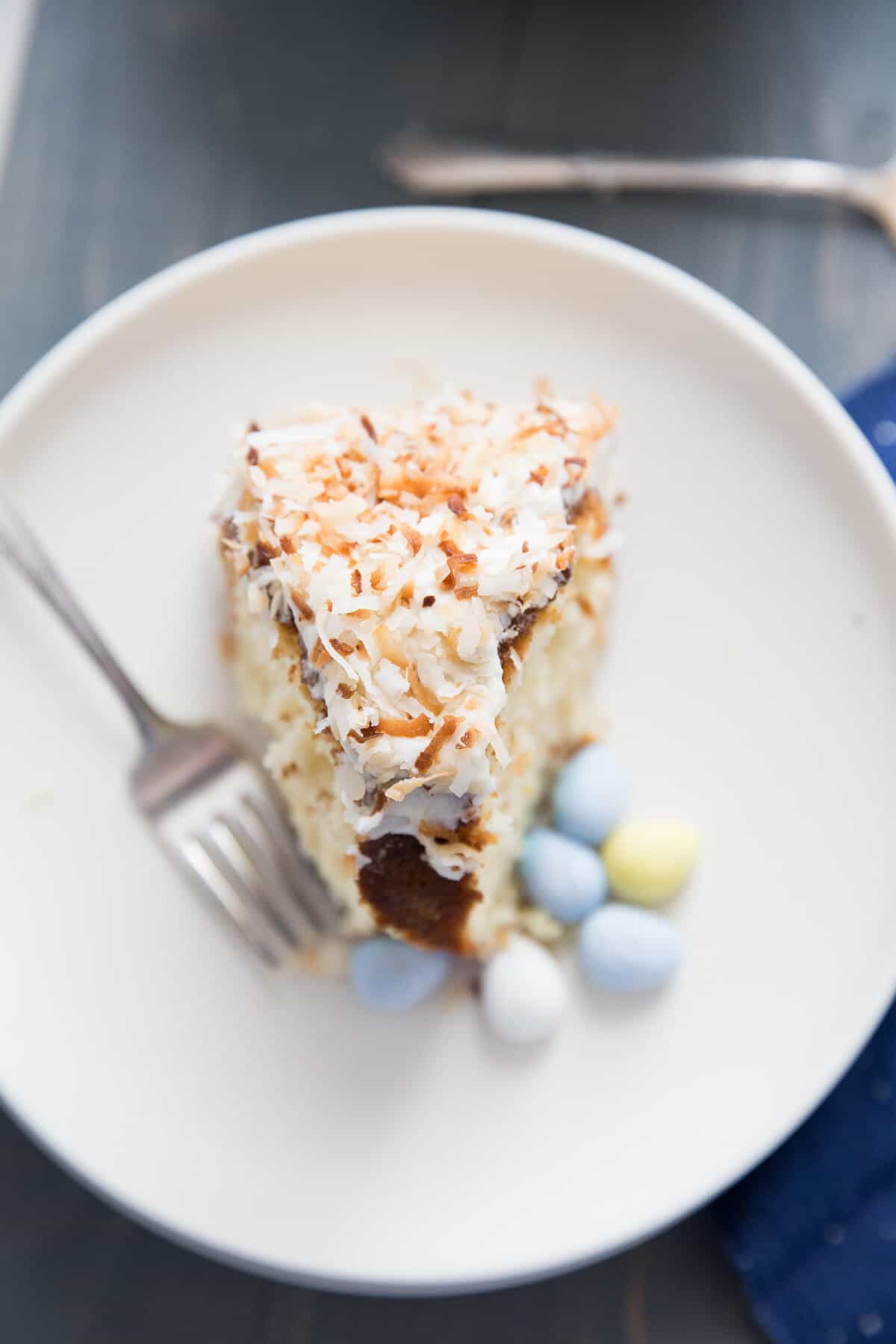 I'm hosting Easter this year so I get to serve any kind of cake I want.  I no longer want a bunny cake.  But I do want something festive which is why I made this Bird's Nest Easter Cake!  This recipe starts with a basic flavored bundt cake.  I'm a huge fan of bundt cakes.  Bundt cakes look deceptively impressive.  This Mimosa Bundt Cake and this Frosted Sugar Cookie Bundt Cake are excellent examples.  The truth is they are rather simple to prepare.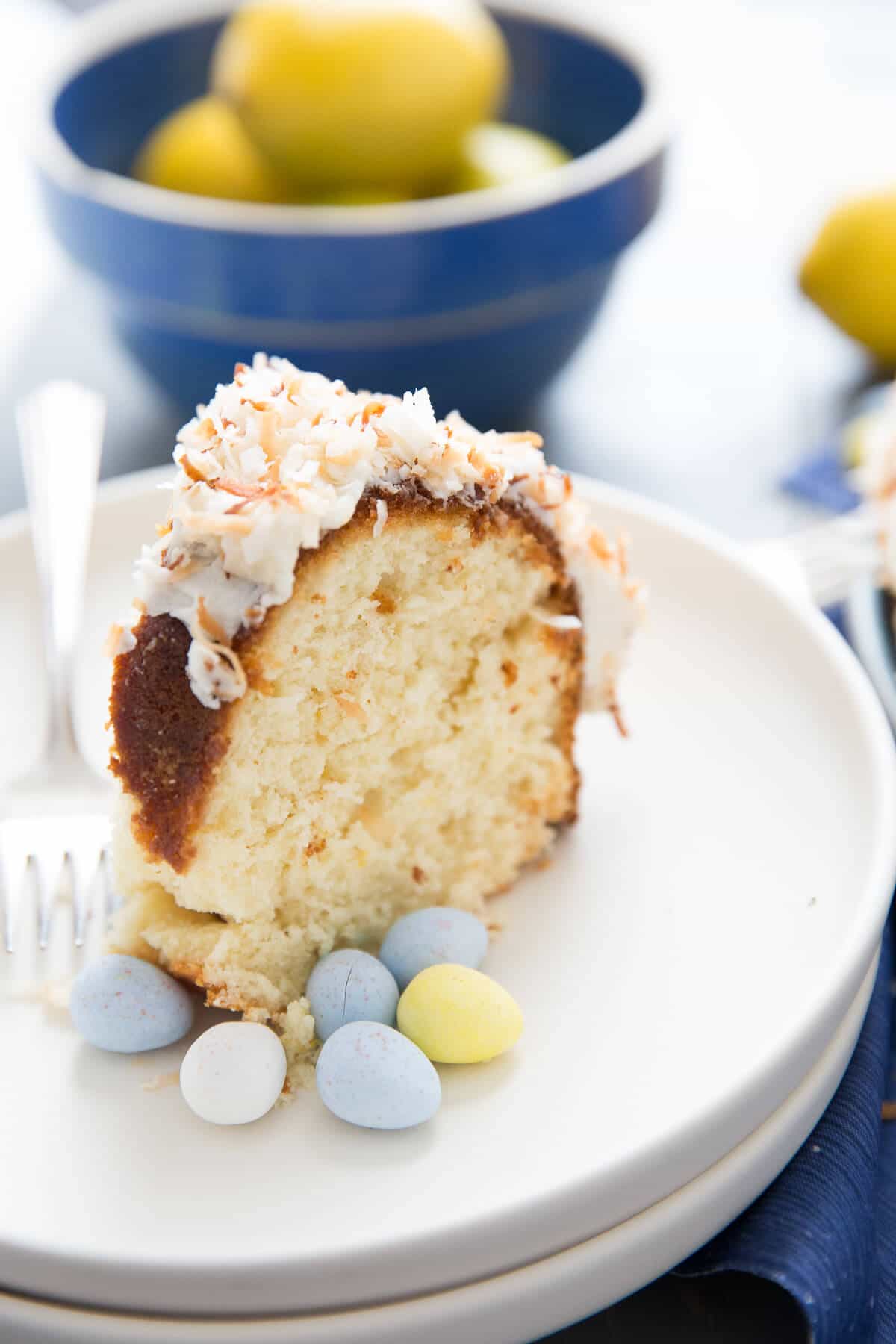 The flavors of this easter cake are mild. The cake has a subtle lemon flavor which is further enhanced by the lemon glaze.  The frosting is white chocolate and it is surrounded by lots of toasted shredded coconut.  You can't have a bird's nest without eggs, therefore you must fill the cake with as many sweet little chocolate eggs as you can.  One day I may make a bunny cake, but for now, it's all about the birds!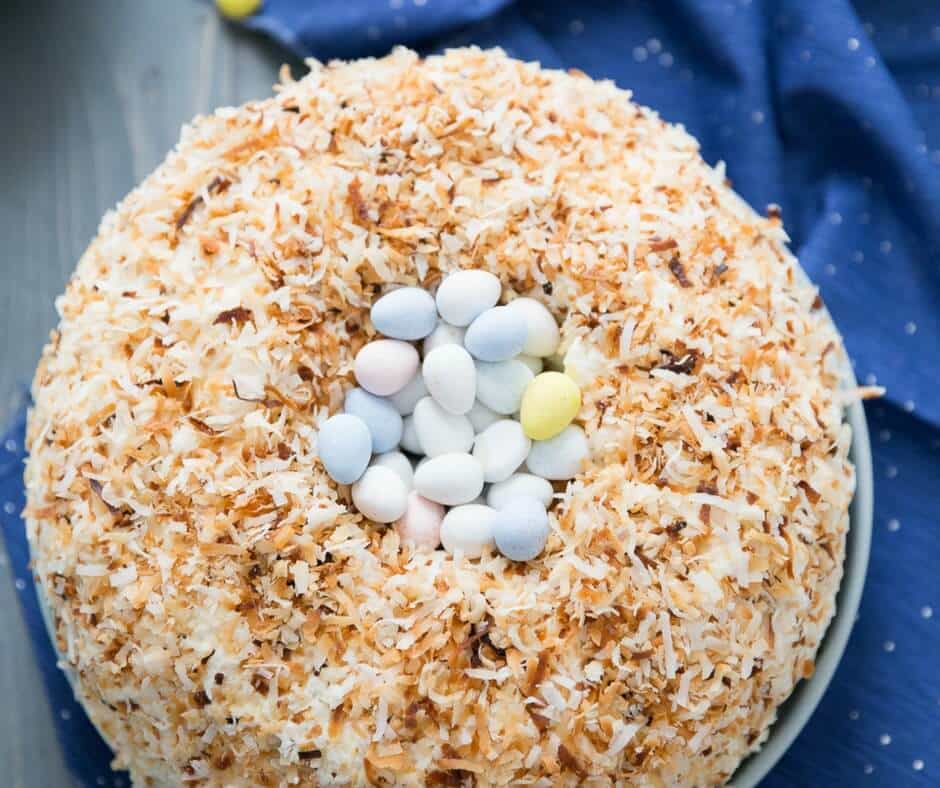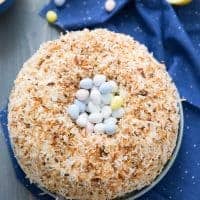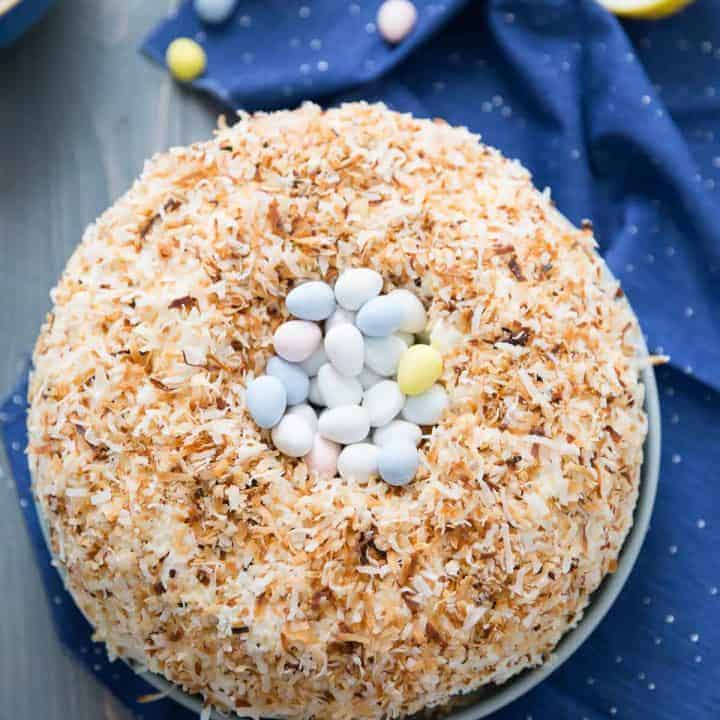 Bird's Nest Easter Cake
A fun Easter cake that captures the essence of spring!
Instructions
Preheat oven to 350. Spray a 10-inch bundt pan with non-stick spray and set aside.

In the bowl of stand mixer beat butter and sugar and light and fluffy. Add salt. Slowly beat in eggs one at a time, taking care to incorporate each egg into the batter before adding the next. Mix in baking powder and flour in a small bowl. Add the flour, alternating with the buttermilk, beginning and ending with flour mixture. Beat in lemon juice, lemon zest, and vanilla.

Pour batter into bundt pan and smooth it out with a spatula. Bake for 55-60 minutes or until a toothpick inserted into the cake comes out clean. Cool in pan for 5 minutes. Top pan with a cooking rack. Hold the bottom of the bundt pan with one hand while holding the cooling rack with the other, carefully invert cake to rest onto the cooling rack. Combine the water and the sugar together in a saucepan over medium-low heat. Stir and cook until sugar has dissolved and mixture becomes thick and syrupy.  Add lemon slices and cook an additional 1-2 minutes on low.

Poke holes into the bundt cake while the cake is still a bit warm. Brush glaze over the cake. Allow the cake to stand for 10 minutes to absorb the syrup before brushing syrup on the second time.

To prepare the frosting, cream butter and shortening together in a mixing bowl until smooth and creamy. Carefully add powdered sugar one cup at a time. Beat in the white chocolate until the frosting is spreadable, adding in heavy cream as necessary.

Carefully spread the frosting over the top of the cake.

Press toasted coconut into the frosting taking care to cover the top and the sides.  Arrange candy eggs in the center of the cake.  
Nutrition Information
Amount Per Serving
Calories

871
Total Fat

43g
Saturated Fat

25g
Cholesterol

129mg
Sodium

300mg
Fiber

2g
Sugar

91g
Protein

7g