This simple banana bread cobbler is melt in your mouth amazing!
This dessert is baked in a skillet and is studded with cinnamon chips. It is comforting and blissful!
What Is A Cobbler Dessert?
My definition, a cobbler is a dessert that has fruit filling that is covered with biscuit-like batter. However, you can convert a cobbler to be almost anything. For example, I've turned peach cobbler into peach cobbler bars, used cinnamon rolls to make this super easy apple cobbler recipe.
I'm taking a few liberties with this recipe as there really is no fruit filling per se, but there are bananas baked in. You are essentially baking a simple banana bread in a skillet and adding a crumb topping to it. This is more like a cobbler cake than a traditional fruit cobbler.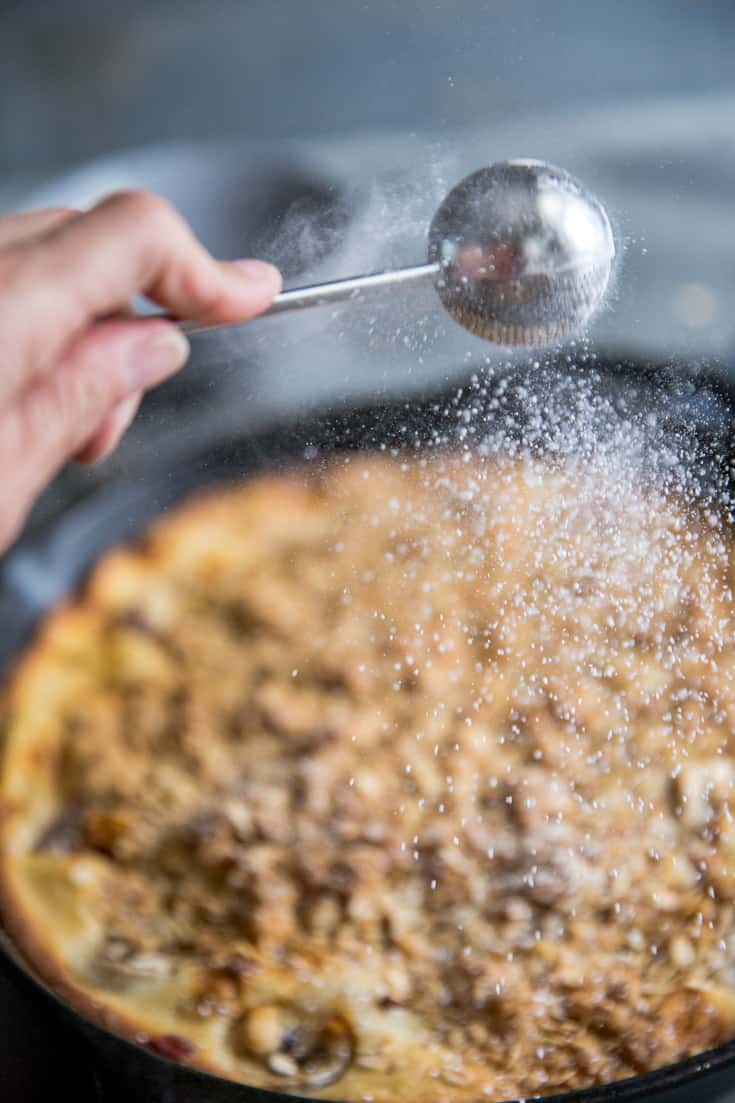 How To Make, A Simple Banana Bread Cobbler
This recipe uses self-rising flour in place of all-purpose flour, therefore, you will not need any leavening agents. You will use equal parts, flour, milk, and sugar and stir in melted butter. I topped the cobbler with pecans and salted caramel chips (found at Kroger), but cinnamon or butterscotch chips would be great as well. Sliced bananas are also arranged on top of the batter.
The crumb mixture also uses self-rising flour, brown sugar, oats and melted butter to bind it all together. Feel free to add a touch of cinnamon if you would like. I thought there was plenty of flavor with the caramel chips, but that is somewhat personal.
As I mentioned above, I baked this cobbler in a cast iron skillet, but an alternative to the cast iron would be a 2 1/2 quart casserole dish. It would obviously be a bit thicker but would taste just as delicious.
This simple banana bread cobbler recipe is really best when served warm (perhaps with a scoop of banana ice cream) and it should be consumed within a day or else any exposed banana will begin to turn brown.
Scoop your servings into a bowl and keep it simple with just a dusting of powdered sugar or whipped cream and add a scoop of vanilla ice cream! This is a comforting dessert that is completely satisfying!
Love bananas? Try this Swirled Banana Cake , or these Mini Banana Cheesecakes
Yield: 12
Simple Banana Bread Cobbler
This simple banana bread cobbler is melt in your mouth amazing!
This dessert is baked in a skillet and is studded with cinnamon chips.  It is comforting and blissful!
Ingredients
1 cup self-rising​ flour
1 cup sugar
1 cup milk
½ cup butter, melted
4 sliced bananas
½ cup chopped pecans
1 cup salted caramel, cinnamon or butterscotch chips
¾ cups brown sugar
½ cup self-rising​ flour
½ cup softened butter
1 cup oats
Instructions
Preheat the oven to 375 degrees. Spray a 12 in cast iron skillet with non-stick spray and set aside
In a bowl, whisk together the flour, sugar, and milk. Stir in the melted butter. Pour batter into the skillet.
Top the cobbler with sliced bananas, pecans, and chips.
In a separate bowl, stir together the sugar and flour. Work the softened butter into the mixture using a pastry cutter, forks or your hands. Stir in the oats. Sprinkle mixture over the cobbler and bake for 40 minutes or until golden. Serve warm.
Notes
Kroger makes salted caramel chips.