An intensely flavorful banana smoothie that will make you think you are indulging in a rich dessert!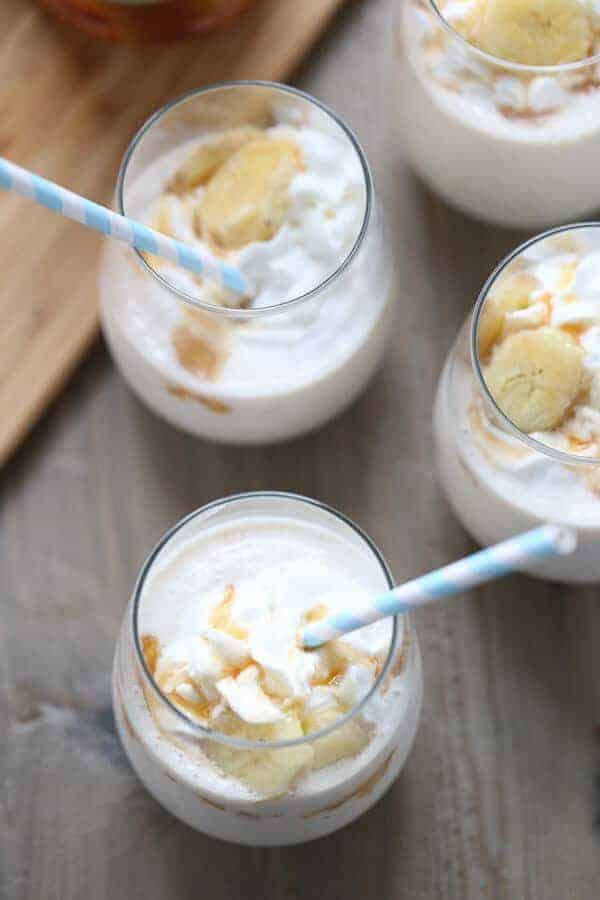 Does anyone actually eat Cream of Wheat?  I believe the box for that cereal hasn't changed in 30 years.  The fact that it is still on the shelves leads me to believe that there is at least one person who actually eats it.  I admit, I have turned up my nose to that cereal for years.
My mom would try to serve it to me for breakfast, but I was too stubborn to give in.  Give me crunchy cereal not creamy cereal!  I think my aversion has a lot to do with the title of the cereal.  Maybe if it were "creamy wheat cereal" instead of cream OF wheat, I'd be tempted try it.  Ah, who am I kidding.  They say a rose by another other name is still a rose.  Therefore cream of wheat by any other name will still be the same bland cream of wheat.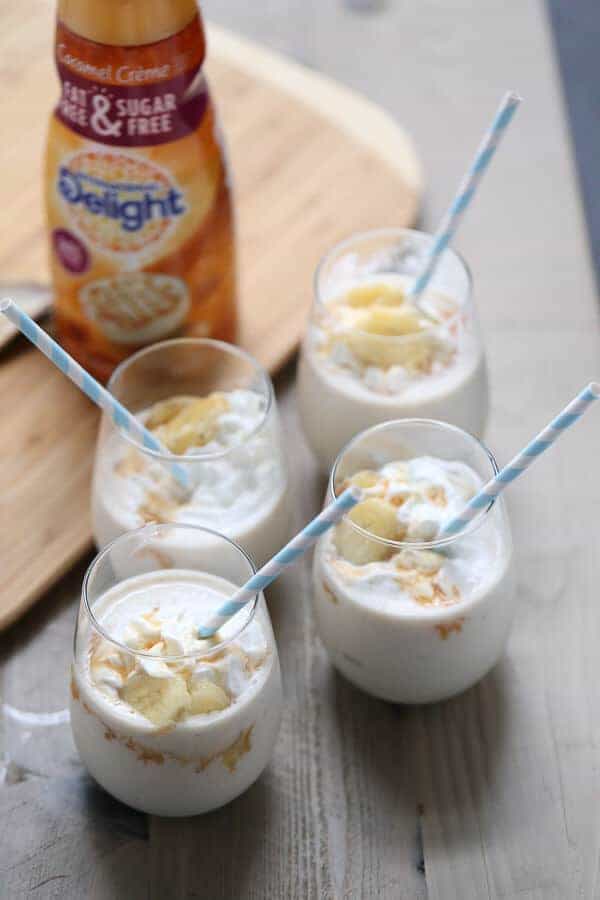 If I'm going to waste my time with anything creamy it better be sweet.  Like smoothies.  I have a smoothie almost every morning.  My breakfast smoothie is usually full of kale, bananas and flax. My smoothies taste more like a healthy breakfast muffin than any sort of dessert.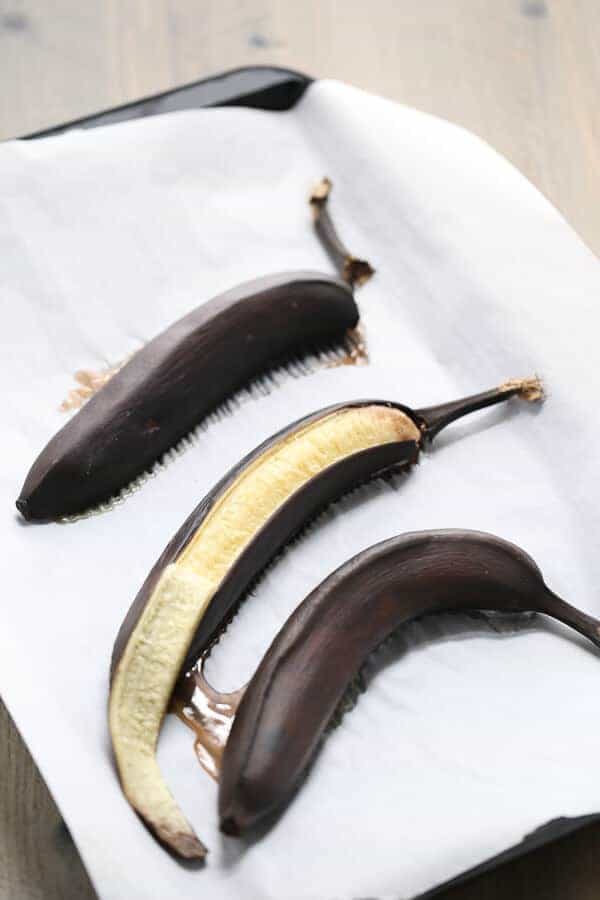 One day it occurred to me that if I roasted my smoothie bananas in the oven, they would taste especially sweet.  Sure this smoothie takes a bit of planning, but boy is it worth it.  The bananas caramelize and becaome soft and rich.  That deep caramel flavor makes this simple smoothie taste like a decadent banana's foster dessert.  The addition of International Delight's Fat Free Vanilla Cramel Cream Coffee Creamer keeps this smoothie light but delectable.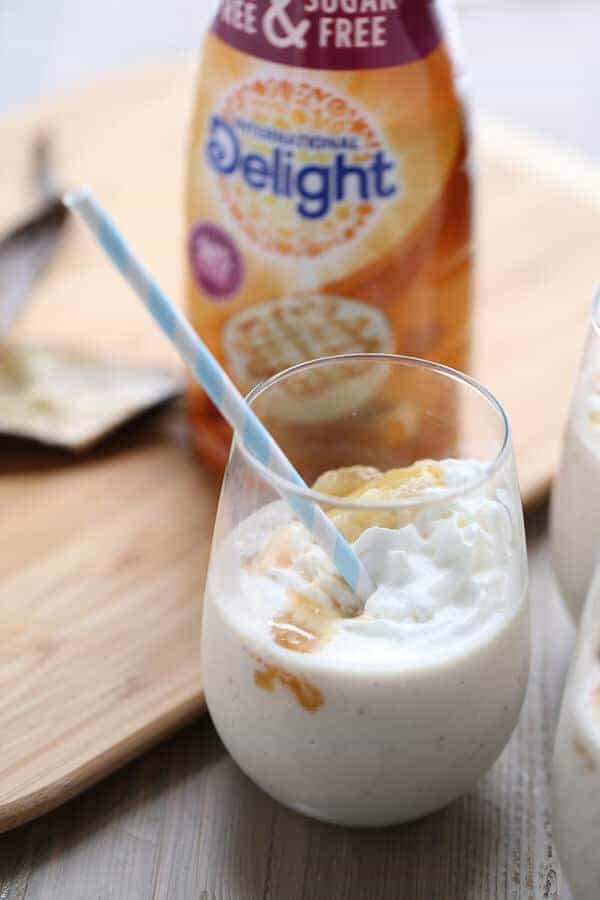 If you are a fan of Cream of Wheat, then please keep on eating.  But if you want a smoothie that doubles as a decadent dessert that doesn't bust your diet, then this roasted banana smoothie is for you!
4
adjust servings
A rich tasting smoothie that doubles as dessert!
Ingredients
3

bananas

1

cup International Delight Fat Free Craramel Cream Coffee Creamer

1/2

cup milk

1

cup plain vanilla yogurt or frozen yogurt

1/2

teaspoon vanilla

3

cups ice

caramel ice cream top for drizzle, optional
Instructions
Roast in a 350 degree oven for 20 min (with peels on). Let cool completely.
Peel two bananas and combine bananas through ice in a blender, processing until smooth. Pour into 4 glasses. Slice remaining banana. Garnish each glass with banana and caramel. Serve immediately.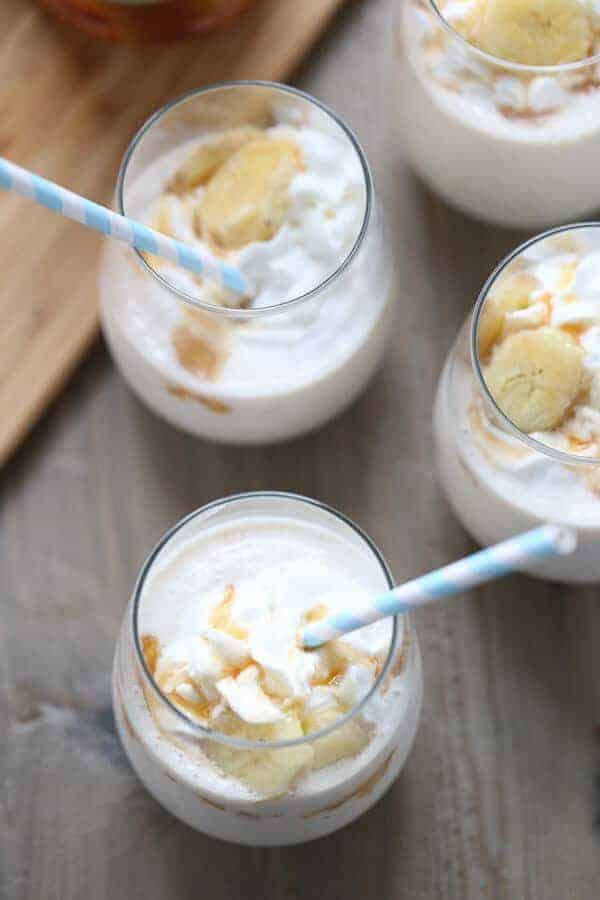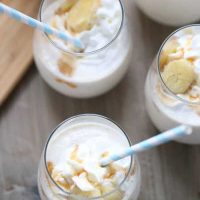 To find "better for you" recipes and ideas please be sure connect with International Delight on the web!  Be sure to check out Hazelnut Blitz while you are there!

This is a sponsored conversation written by me on behalf of International Delight. The opinions and text are all mine.