Yogurt is a delicious addition to any meal, whether you are enjoying it at breakfast in a parfait, or maybe with dinner as a tasty dip. But you may be wondering, can you freeze yogurt?
The desire to freeze yogurt may come about because you want to enjoy a nice cool summer treat, or just because you bought a little too much of the delicious dish and want to save it for a later date. Either way, let's take a look at some things that may happen when you freeze yogurt and the best ways to do it.
Freezing Effects on Yogurt
To start off, we have some good news for you, as it is 100% possible to freeze yogurt. Sticking a container of yogurt in your freezer rather than the fridge can actually extend its shelf life from 1-2 weeks to 1-2 months.
Health Effects
Before you get too freezer-happy however, it's important to note that leaving yogurt in your freezer for too long may actually lower some of the health benefits of the yogurt.
Yogurt contains several different strains of probiotics and live bacteria which are good for your gut health. While these bacteria can survive for about 35 days in the freezer, after that, their levels may begin to decline.
You need to be especially careful with yogurt that contains fruits, grains, and other ingredients, as these can have a further effect on the bacteria and cause lower levels of probiotics much sooner than 35 days.
Other Effects
It isn't just the health effects of yogurt that may change in the freezer, but you will also notice a change in texture. As yogurt freezes, the water separates from the milk in the yogurt which may give your frozen yogurt a layered look.
When you thaw this yogurt, you can stir it back together, but it will have a different texture than fresh yogurt. The new texture of the yogurt will likely be a bit grainy, and you may find it is also a bit thinner than you are used to.
Although you may not like this new texture, it's important to know that it is perfectly fine to consume yogurt which has been frozen and thawed.
Many people don't mind this thawed yogurt texture, but some find it difficult to eat plain. So if you do go forward with freezing your yogurt, start with small containers or plan to use it just for smoothies and cooking.
How to Freeze Yogurt
Whether you are concerned about the texture or not, there is always a use for yogurt that is frozen in various recipes and freezing is a great method of preserving yogurt immediately.
Here are a couple of different ways to freeze yogurt.
Method 1: Freeze Yogurt Directly
You can simply put yogurt in the freezer in the came container you purchased it in. Yogurt comes in a freezer-safe container. You can put it directly in the freezer the moment you get home from the store, it's that simple.
The method works both with tubs of yogurt, as well as tubes like go-gurts. You can also use this method to freeze individual cup yogurts.
Method 2: Freeze Yogurt Cubes
Freezing yogurt in its original container might be easy when you put it in, but getting the yogurt out of these tubes for baking or smoothies can be difficult. So if you plan to make frequent smoothies, check out this second freezing process.
Supplies:
Ice Cube Tray
Flavored Yogurt (or Greek yogurt)
Spoon/Cookie Scoop
Instructions for Freezing Yogurt Cubes
Take the Greek yogurt out of the fridge and scoop it into an ice cube tray. Don't fill the tray too full, and tap it on the counter a few times to eliminate air bubbles from the yogurt.
Put the ice cube trays in the freezer and be careful that nothing is set on top of it. Allow it to freeze for at least a few hours but preferably overnight.
Next time you want to make a smoothie, simply pop out a few of the cubes and add them to fruit and juice in a blender. It's that simple.
The Greek yogurt cubes you have made will only last for a day or two in the freezer if they are left uncovered. If you don't plan to use them the day after you freeze them, be sure to take them out of the tray and place them in a large container such as a freezer bag.
For best results consume all of the Greek yogurt cubes within 2 months of making them.
If you don't have an ice cube tray you can devote to yogurt, you can also use a cookie sheet lined with parchment paper and make scoop shapes instead.
How to Use Frozen Yogurt
Once you've successfully mastered the art of freezing yogurt, it's time to learn just all the amazing things you can use frozen yogurt for. Here are some of our favorites:
Smoothies
Shakes
Fish Marinades
Salad Dressing
Dips
Spread
Baked goods
Savory dishes
But before you can put frozen yogurt in something that is not a shake or smoothie, chances are you will need to thaw it, but we will come back to that later. Below are the steps to using yogurt you have frozen in a shake.
Ingredients:
1/2 cup apple juice
1/2 cup strawberries
3/4 cup plain yogurt
1/2 cup blueberries
1/2 peaches
Optional: additional frozen fruit of your choice
Instructions for Using Frozen Yogurt in a Shake
First, you will start by blending the yogurt and juice together until it is smooth. Keep the motor of the blender running and slowly add the fruit through the hole in the lid. Blend until smooth.
Once the shake reaches the desired consistency, shut off the blender and pour it into a glass. Serve immediately.
How to Eat Frozen Yogurt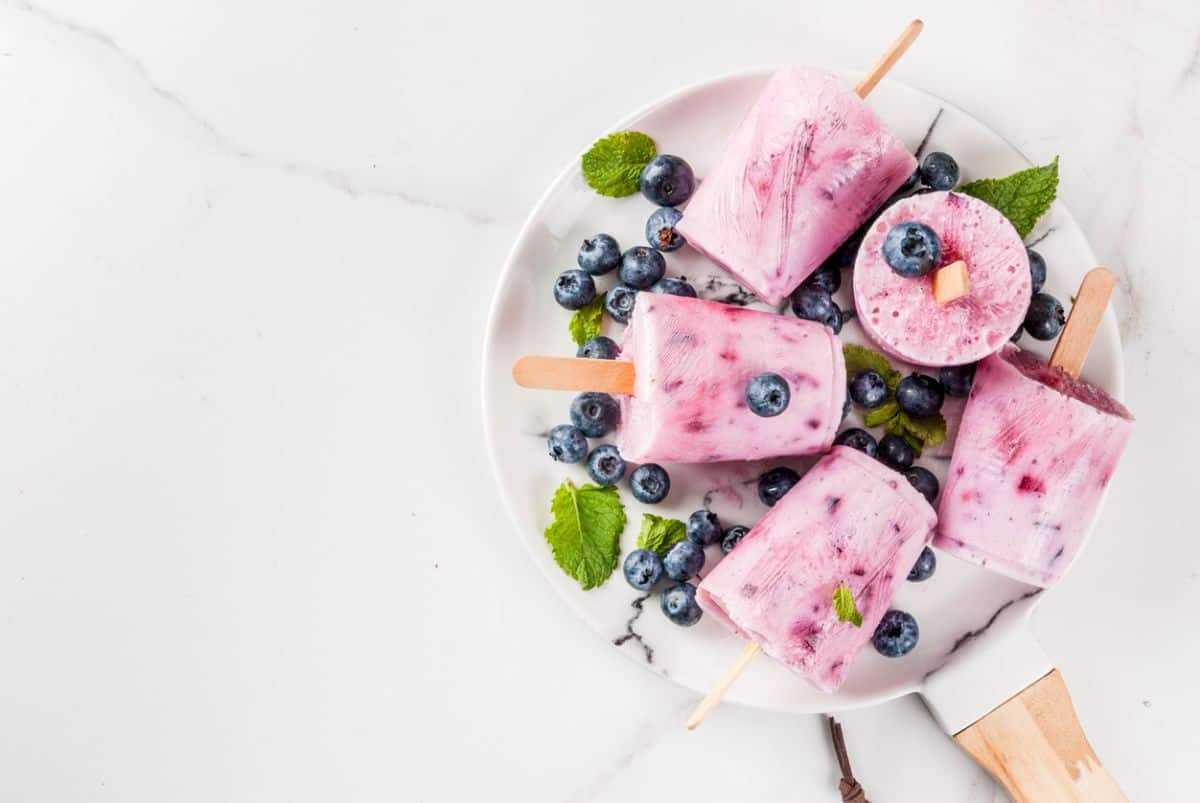 Of course just because you can add frozen yogurt to recipes doesn't mean you have to. Frozen yogurt is a delicious treat all on its own.
Not only that, but it is also healthier than many of the alternatives your kids crave, and chances are they won't even notice the switch.
Before you brush off this idea thinking you need an ice cream maker, this couldn't be further from the truth. Here is one recipe we recommend you try using just a popsicle mold.
Ingredients:
3 cups nonfat, non-Greek yogurt
1 cup sweetened coconut flakes (or fresh fruit of your choice)
1/2 teaspoon vanilla
Recipe Instructions
In a large bowl, start by mixing all of the ingredients together. Then you will fill your popsicle molds with the mixture and add a popsicle stick.
Place the yogurt pops in the freezer and allow them to freeze for at least 6 hours, but preferably overnight. Remove the pops from the freezer, dip the mold briefly in hot water to make the pops easier to remove, serve immediately.
How to Thaw Frozen Yogurt?
If you would like to use your frozen yogurt in a recipe, or maybe as a sweetener when baking, first you will need to thaw it (as mixing frozen cubes of yogurt in a batter never goes well). Here are the steps for thawing yogurt.
Step 1: Place Yogurt in Fridge
The day before you plan to use your yogurt, you will need to place it in the fridge. It will likely take all night to thaw.
Step 2: Stir the Yogurt
After leaving the yogurt in the fridge all night, remove it and stir it with a spoon. If it is only partially liquid, then put it back in the fridge for a couple more hours to continue thawing.
You should see the yogurt blending together to look familiar as you stir if it is ready. If it still seems separated after a good stir, move on to step 3.
Step 3: Blend the Yogurt
Sometimes certain brands of yogurt will separate quite a bit. When this is the case, dump your thawed yogurt in a food processor or blender and allow it to mix for a moment or two.
The result should look like the same consistency yogurt you put in the freezer weeks before.
Do note that once you have thawed previously frozen yogurt, it is never recommended to re-freeze it. Therefore you should thaw only what you can consume in one sitting.
Step 4: Add to Recipe
Now that your yogurt is properly thawed, you can add it to any recipe you desire. Baking Greek yogurt is especially tasty. You can also consume it as is, whatever you like best.
Different Ways to Eat Yogurt Frozen
There are so many different ways to consume and use yogurt you have been freezing, some of which require more work than others. Either way, start keeping a container in your freezer today so you can make all of these delicious dishes.
Taziki Sauce
Taziki sauce is a quick and easy way to make a boring dinner into something a little fancier. All you need is some greek yogurt, cucumber, salt, lemon juice, and garlic.
The best part is, you use a blender to mix all these ingredients together so your guests won't even notice if you add frozen greek yogurt. You can find the recipe on Pinch My Salt.
Yogurt Fish Marinade
Yogurt makes a delicious fish marinade even if you freeze it beforehand. Thaw yogurt, mix it with a few spices, then slather it on salmon or cod. The marinade is especially tasty on fish meant to eat plain, in a wrap, or on a taco, you can follow the directions on Leite's Culinaria.
Blueberry Muffins
Did you know that you can use whole milk yogurt to sweeten baked goods? Besides being healthier than sugar it also adds a creamy texture to the batter. Try this recipe by Build Your Bite which requires 1 cup of plain greek yogurt, some pantry essentials, and a muffin tin.
Yogurt Coffee Cake
Defrosted yogurt isn't just for muffins, as you can also use it to replace the sour cream in a coffee cake recipe. Check out this recipe from Annika Eats which takes a little bit of work (okay, about two hours) but the result is worth it.
Greek Yogurt Ranch Dressing
Next time you make a salad dressing, pull out your frozen greek yogurt and use it to replace the mayo in your recipe for a creamy, more flavorful alternative.
You'll need quite a few spices and some buttermilk for this recipe by Wholefully, but then all you have to do is mix everything together and serve.
Green Goddess Dressing
Looking for something a little healthier than ranch? Check out this green goddess dressing from The Healthful Ideas which is simply to die for. Made mostly with greek yogurt and avocado the only other thing you will need is a few spices and a blender to put it all together.
Strawberry Cheesecake Yogurt Dip
Mixing yogurt into a dip allows you to hide any consistency issues which come with freezing your yogurt.
Especially when you use this recipe by We Little Vegans which combines vegan yogurt with strawberries and non-dairy cream cheese to make a delicious dip that even those who can't have dairy products can enjoy.
Yogurt Feta Sauce
For this particular recipe from Giangi's Kitchen, you will want to start with defrosted yogurt then you will want to mix in some garlic, salt, feta cheese, lemon, and olive oil. Mix everything together in a food processor then serve with veggies or crackers.
Blackberry Strawberry Banana Smoothies
There is nothing like a fresh smoothie on a hot day. Make this recipe from Pbf using store yogurt or save money and use your own yogurt. Either way, just mix with the fresh fruits outlined in the recipe and enjoy.
Breakfast Banana Splits
Yogurt is healthy enough to eat for breakfast, so why not use it to top bananas and make a healthy banana split? Follow the directions on The Darling Apron, to combine frozen and fresh fruits with your thawed yogurt to make a healthy, yet satisfying breakfast.
Can You Freeze Yogurt FAQ
How Long Can You Freeze Yogurt?
You can keep yogurt in the freezer for anywhere up to two months when it is kept in an airtight container or in a bag that has a vacuum seal.
It is best, however, to consume any yogurt within 35 days of freezing it. You can even freeze leftover yogurt to keep it past the expiration date.
Can You Freeze Yogurt and Eat It Like Ice Cream?
Yes, you can definitely freeze yogurt, then pull it out, and just eat it like ice cream. Not all yogurts will taste good consumed in this manner, however, so be sure to try a few different brands of yogurt to see which you like best.
If you are lucky enough to have an ice cream maker at home, you can even use this to transform your regular yogurt into an ice cream-like frozen yogurt.
Note that Greek yogurt specifically is not that tasty after it has been frozen when compared to other types of yogurt. Therefore it is not recommended to freeze Greek yogurt for ice cream like consumption in any type of container.
How Do You Know If Frozen Yogurt Has Gone Bad?
Frozen yogurt has gone bad when ice crystals form across the top of the yogurt(also known as freezer burn). Additionally, if you take a taste, and find that it tastes funny or has an odd odor, this is another sign it has gone bad.
Leftover yogurt should always be kept in a freezer bag or air-tight containers otherwise it will go bad more quickly. So even if you use ice cube trays to freeze greek yogurt, always move the finished product to an airtight container.
Why is Frozen Yogurt Icy?
Frozen yogurt that you freeze yourself is icy because of the water content in the yogurt. The type which comes from an ice cream parlor is more creamy because the fat content has been upped to balance out the water content.
Does Freezing Yogurt Kill the Active Cultures?
Freezing yogurt doesn't kill the active cultures immediately, rather they go dormant until the yogurt is thawed again. Some people speculate, however, that when you freeze yogurt for too long could kill the cultures.
For this reason, you should only freeze greek yogurt for a maximum of 1-2 months.
Can You Freeze Yogurt Conclusion
Overall, while frozen yogurt may not have the best consistency once thawed, there are so many ways to use it that there is no reason not to put a few containers in your freezer. Plus, freezing yogurt is an easy way to create a healthy treat that kids and adults alike can enjoy.
So next time you head to the store, grab an extra container of yogurt to put directly in your freezer when you arrive home.