Strawberries are so versatile and add color and flavor to just about any meal. Yet, strawberry season is short. Buying fruit in season helps save costs on groceries, is environmentally sustainable, and gives you the juiciest strawberries. Preserve the flavors of strawberries all year round by freezing them. Here's how you can freeze strawberries, so you've always got this sweet berry at the ready.
Can you freeze strawberries?
There are a few factors that make strawberries super easy to freeze. It doesn't take much time and is straightforward to freeze strawberries since there is no skin to peel, like bananas or oranges. You can freeze them whole, halved, or quartered.
Try using fresh and firm berries when possible. Eat or discard overripe strawberries that are super soft or have bruises. These will be mushy and flavorless if you try to freeze and defrost them.
The easiest way to freeze strawberries

The basic and most common way to freeze strawberries is to first sort through your batch.
Prep the chosen berries by placing them in a colander. Then run cold water over the fruit for 30 seconds to rinse off any dirt or chemicals.
After washing the fruit, take a clean tea towel or paper towel to pat them dry.
Remove the hull and stems. Then, either cut to desired size or freeze them whole. Keep in mind, it's best not to cut frozen and thawed berries.
Lay the prepped strawberries on a baking sheet lined with parchment paper. Make sure they're spread out and not touching each other. If they still feel wet, let them sit on the counter to air dry for 30 minutes.
Place in the freezer for 2 to 3 hours or until they're solid. This helps reduce the berries from sticking together.
Finally, transfer the berries from the baking sheet to a resealable freezer bag. Use a straw or sealer to remove as much air from the bag as possible. This helps reduce ice crystals and keeps strawberries fresh longer in the freezer. Label the bag as strawberries and the date placed in the freezer.
How long can frozen strawberries stay frozen?
This frozen berry keeps longer in the freezer if you followed the step-by-step guide. Most strawberries will keep in the freezer for up to a year. They'll also keep longer if you store in a chest freezer that is not constantly opened and closed.
If you're noticing that your strawberries aren't lasting long in the freezer, check the temperature of your appliance to ensure its 0° F (-18° C).
Can you freeze strawberries and then thaw them?
Thawing frozen strawberries is safe to do. Since the freezing process makes water in the fruit expand, they will probably lose some of their firm texture during the thawing process.
There are a few ways you can thaw strawberries:
Quick thaw: use the defrost button on your microwave. Defrost for 1 minute and then check them. Continue in one-minute intervals until they are defrosted. This method is slightly harder to control and has the highest chance of mushy strawberries. I'd recommend using this thawing method as a last result.
Ready to use in 15 to 20 minutes: Fill a large bowl about halfway with cold water. Place frozen berries in a leak proof bowl and set the bowl inside the water bowl. Let them sit in the cold water until thawed.
Ready in an hour: Place the frozen berries on a single layer on a large tray or plate and defrost them at room temperature.
Ready to use in 24 hours: Place the bag of frozen strawberries in the refrigerator and let thaw.
You also do not have to thaw your frozen strawberries to use them. There are many recipes that call for frozen berries.
No matter which thawing method you use, expect them to create out strawberry water.
Health benefits of frozen strawberries
Freezing produce is one way that can help preserve nutrients, such as vitamin C. Studies have shown that if you freeze strawberries at their peak, there is very limited change in certain vitamins.
Freezing strawberries without sugar is the most nutritious way to freeze them. Strawberries are low in calories, fat free, and a high-fiber food. They offer protection against heart disease, stroke, and chronic diseases.
Ways to use frozen strawberries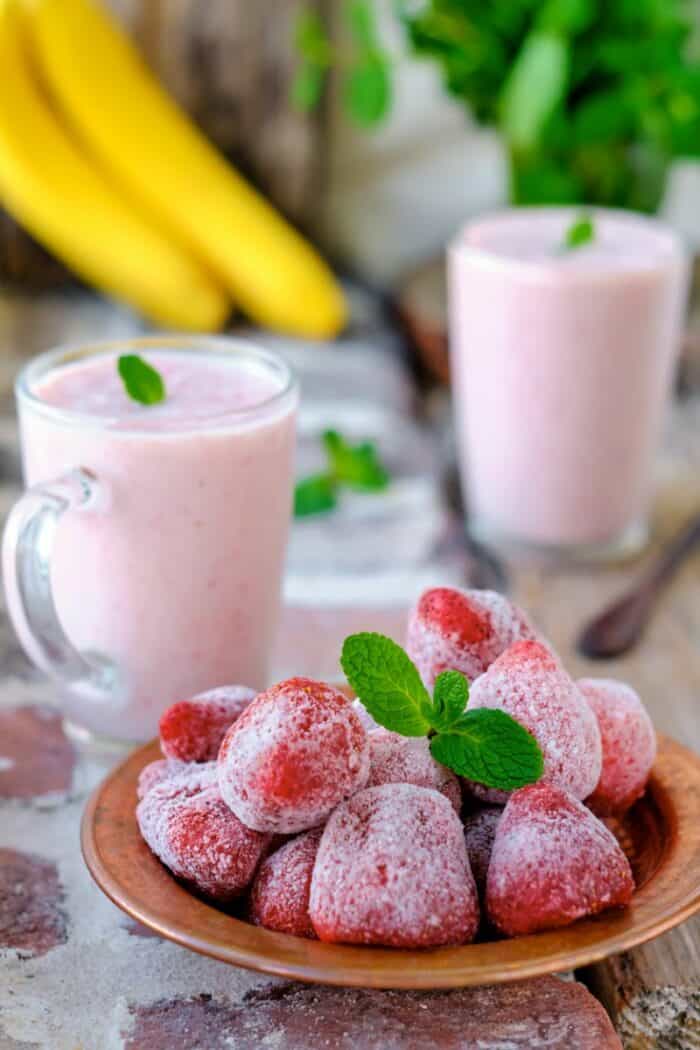 These sweet berries are packed with nutritional benefits, no matter how you use them. Here are a few popular ways to add strawberries to your meals all year round:
Smoothies: if you froze your berries whole or if they've been in the freezer for longer than 6 months, they make great additions for smoothies. No need to thaw them, either.
Add to baked goods, like muffins or quick breads
Stock them for jam and make that jam when you're stuck inside because of winter weather
Freezing Strawberries FAQ:
Should I wash my strawberries before freezing?
Yes, it's highly recommended you wash your strawberries prior to freezing them. This removes any harmful bacteria from the produce.
What container should I use to freeze strawberries?
The type of container you use to freeze strawberries depends on how much space you have in your freezer and the type of containers you have access to. If you're avoiding plastic, opt for freezer-safe jars. Freezer-safe freezer bags are more flexible if you're tight on space. They're also more likely to have the shortest freezer life since it may be hard to get all the air out of the bag. Vacuum sealing is helpful if you do not plan on using your berries for a few months and all at once.
You have options, but the most important requirement about your container is removing air from it.
Can I freeze berries in sugar?
Yes! Freeze berries with sugar if your berries were slightly under-ripe or if you plan on using them in jams or pies. To use the dry sugar method, sprinkle 1/2 cup of sugar per quart of strawberries after you've washed and cut your berries. Once you've coated the berries with sugar, transfer them to the airtight container. There's no need to do the pre-freeze step since the sugar will help keep the berries together during the freeze cycle.
Final Notes
You can puree, chop, or slice strawberries before freezing them. The great thing about this berry is it offers you lots of options. Freezing strawberries correctly preserves the beautiful red color, flavor, and quality.
Some people think you have to wait for summer to have strawberries. That's simply not true when you maximize your freezer space to freeze a bunch of strawberries.