Buttery, flakey pie crust surrounds a sweet, strawberry filling!
These little bite-sized pies are easy to make and even easier to eat! Grab all the fresh strawberries you can and get baking!
I don't know about you, but in my mind, strawberries are synonymous with spring and summer! When the weather gets warmer, and ripe fresh produce is abundant, my family eats as much fresh fruit as possible…and then, of course, I bake with it as well!
Hand pies are some of my favorite things to make! They are bite-sized treats which makes them easy to throw together but also incredibly easy to eat too! The best thing about this recipe, is you don't need any fancy ingredients to make these little pies.
What Are Hand Pies?
Hand pies are small pastries that can either have a sweet or savory filling. The dough is folded over the filling and crimped until sealed. Hand pies can be baked, fried, or deep-fried.
How To Make Hand Pies?
STEP ONE – Bring piecrust to room temperature. Unroll one piecrust on a floured surface. Using a 3-inch biscuit cutter cut crust into circles and place dough on a cookie tray. You should get about 10-12 circles. Repeat with remaining piecrust. Place trays of dough in the refrigerator to chill about for 15 minutes.
STEP TWO – In a bowl, combine the chopped fresh strawberries, strawberry jam, cornstarch, and sugar.
STEP THREE – Preheat oven to 425. Prepare egg wash by lightly beating together the egg and the water. Remove dough from the refrigerator and place a spoonful of the strawberry mixture onto the center of one tray of dough.
STEP FOUR – Brush edges with the egg wash and place the dough circles from the second tray on top of the filling.
STEP FIVE – Using a fork, crimp the edges to seal the pies. Generously brush the tops of each pie with the remaining egg wash.
STEP SIX – Using a paring knife, carefully cut 3 slits onto the tops of each pie. Bake pies for 12-15 minutes or until golden. Let cool completely. Sprinkle with powdered sugar before serving.
These pies can be served warm or at room temperature.
Recipe Tips:
The recipe is made simple by using pre-made pie dough. You could easily make this recipe using puff pastry, filo dough, crescent roll dough, or biscuit dough if you prefer.
The strawberry jam adds a little more sweetness and also works to thicken up the filling.
Chilling the dough makes the dough easier to work with, it keeps the dough buttery and flakey and prevents the dough from shrinking during baking.
The egg wash will help the pies turn a nice golden color but it also works to seal the edges together.
Allow the pies to cool completely before adding the dusting of powdered sugar.
Any fruit filling will work with this recipe!
How To Store Hand Pies
Cooled hand pies can be stored in the fridge, in an airtight container for up to 3 days, or kept frozen for up to one month.
How Do You Freeze Hand Pies?
I like to freeze my hand pies once they have cooled and before dusting them powdered sugar (the sugar will add moisture over time). Place the hand pies in a single layer in an airtight container. Place sheets of wax paper between each layer.
Thaw the hand pies in the fridge, remove and top with the sugar.
You can also freeze the unbaked hand pies, thaw, and then baked as directed.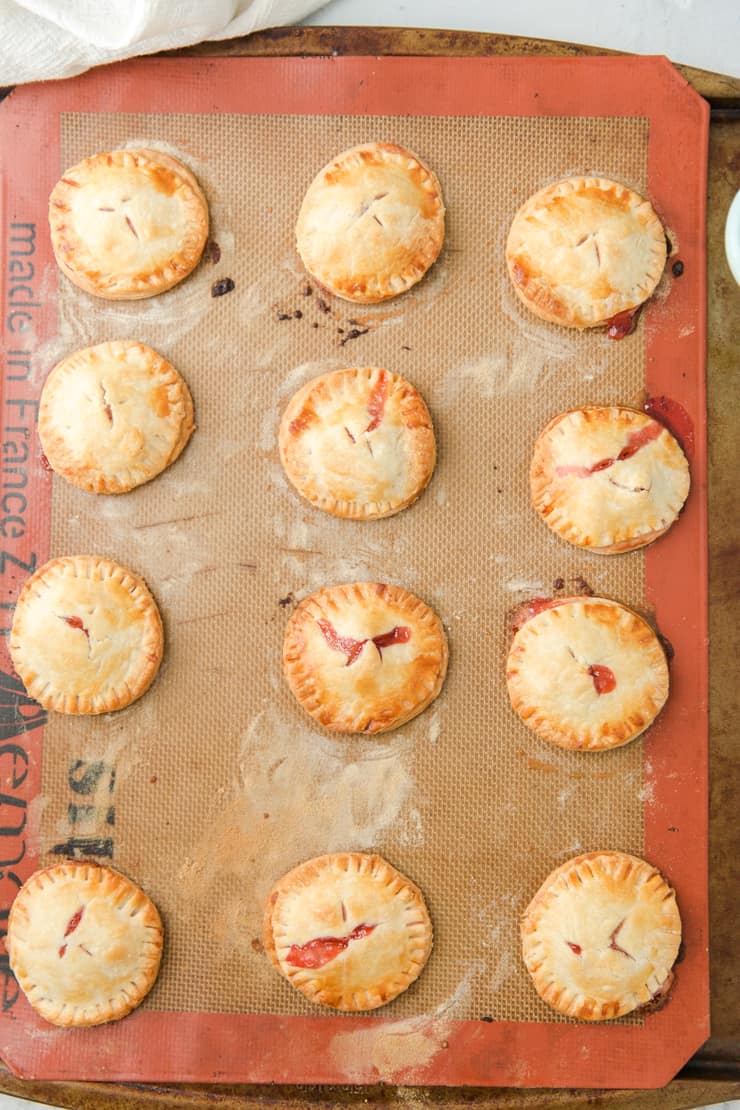 How To Crimp Hand Pies
I like to use the tines of a fork. Gently press the tips of your fork into the dough. If you find that the dough is not sticking together, lightly wet the dough with a touch of water.
What To Serve With Hand Pies?
Hand pies do not need much, they are amazing on their own, however, powdered sugar, cinnamon sugar, melted chocolate, sour cream mixed with brown sugar, or ice cream are all perfect with fruit-filled hand pies!
Speak of filling, I've sampled this recipe using a variety of pie fillings and I am happy to report they turned out great! These hand pies are simple yet fun bite-sized treats! Your family is going to love them!
If you like these strawberry hand pies, try these Cinnamon Roll Hand Pies! You have to try these savory Lemon Hand Pies too!
If you like strawberry recipes, try Strawberry Fritters, Strawberry Crumb Cake, and Strawberry Ricotta Cookies.
Yield: 12
Strawberry Hand Pies
Buttery, flakey pie crust surrounds a sweet, strawberry filling! 
These little bite-sized pies are easy to make and even easier to eat! Grab all the fresh strawberries you can and get baking
Ingredients
1 14.1 package refrigerated Pillsbury Pie Crust
1 whole egg
1 tablespoon water
1 cup chopped strawberries
¼ cup strawberry jam
2 tablespoons sugar
1 tablespoon cornstarch
Coarse sugar
Powdered Sugar
Instructions
Bring piecrust to room temperature. Unroll one piecrust on a floured surface. Using a 3 inch biscuit cutter cut crust into circles and place dough on a cookie tray. You should get about 10-12 circles.
Repeat with remaining piecrust. Place trays of dough in the refrigerator to chill about for 15 minutes.
In a bowl, stir together the chopped strawberries, jam, cornstarch, and sugar
Preheat oven to 425. Prepare egg wash by lightly beating together the egg and the water.
Remove dough from refrigerator and place a spoonful of fruitfilling onto the center of one tray of dough. Brush edges with egg wash and place circles from second tray over each strawberry topped pie.
Using a fork, crimp the edges to seal the pies. Generously brush the tops of each pie with remaining egg wash. Sprinkl with coarse sugar.
Using a pairing knife, carefully cute 3 slits onto the tops of each pie. Bake pies for 12-15 minutes or until golden. Let cool completely.
Dust cooled pies with powdered sugar
Nutrition Information
Yield
12
Serving Size
1
Amount Per Serving
Calories

145
Total Fat

4g
Saturated Fat

1g
Trans Fat

0g
Unsaturated Fat

2g
Cholesterol

16mg
Sodium

68mg
Carbohydrates

26g
Fiber

1g
Sugar

17g
Protein

1g