Crispy and flaky hand pies with a kid-friendly taco filling!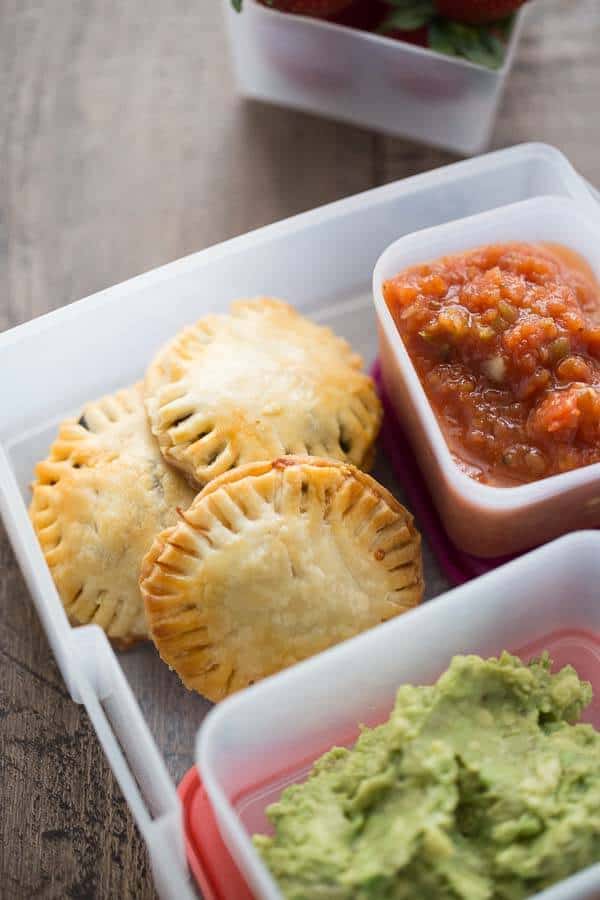 I was sitting at the kitchen working on my blog this morning while my 10-year-old son was busy building a Lego next to me.  I was thoroughly enjoying my time with him.  We were both quiet, and studious; completely engrossed in doing things we love.  I was smiling to myself and thinking how lucky I was to have this moment until I heard a noise.  It was coming from my son.  It started out small but then continued to grow.  He was making little fishy noises with his mouth.  The more he concentrated the louder and quicker his noises became.   His hands and lips were moving in a continual and furious motion.  He was blissfully unaware that I had stopped working to watch him.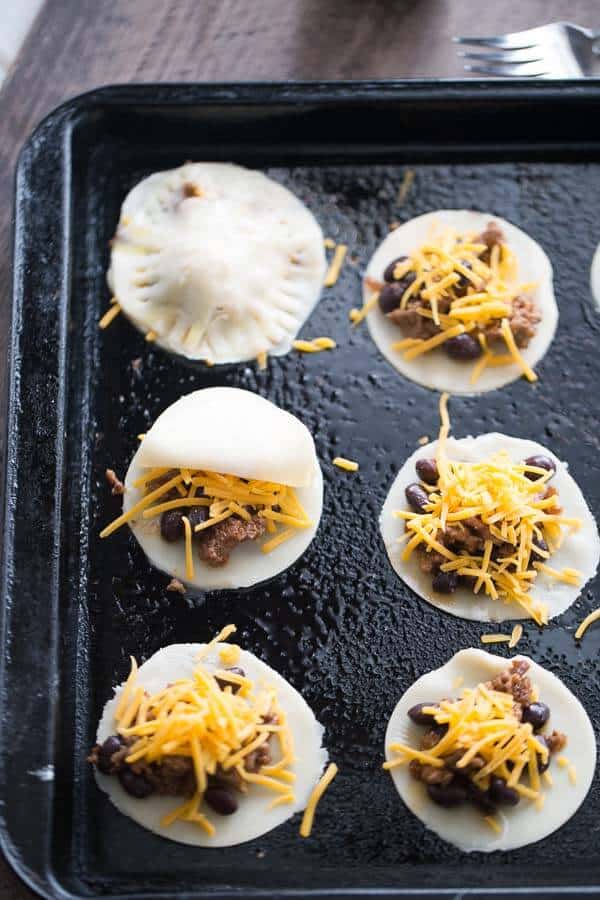 His noise succeeded in halting my ability to concentrate.  I tried to keep working, I really did.  But my tender ears could not stop focusing on every sound that came out of his mouth.  Why is it that the more you focus on a sound the more amplified it becomes?  For a moment, I thought "I can't wait for school to start", but I promptly crushed that thought because the truth is, I love having the kids around me.  Yes, they drive me nuts, family members are good at doing that, but their noises, sounds, and voices fill me up with happiness.  Our home has so much more life and energy when the kids are here; it's impossible not to get caught up in that energy and feel truly grateful for what I have.  I can honestly say, however that I am not grateful for distracting fishy noises!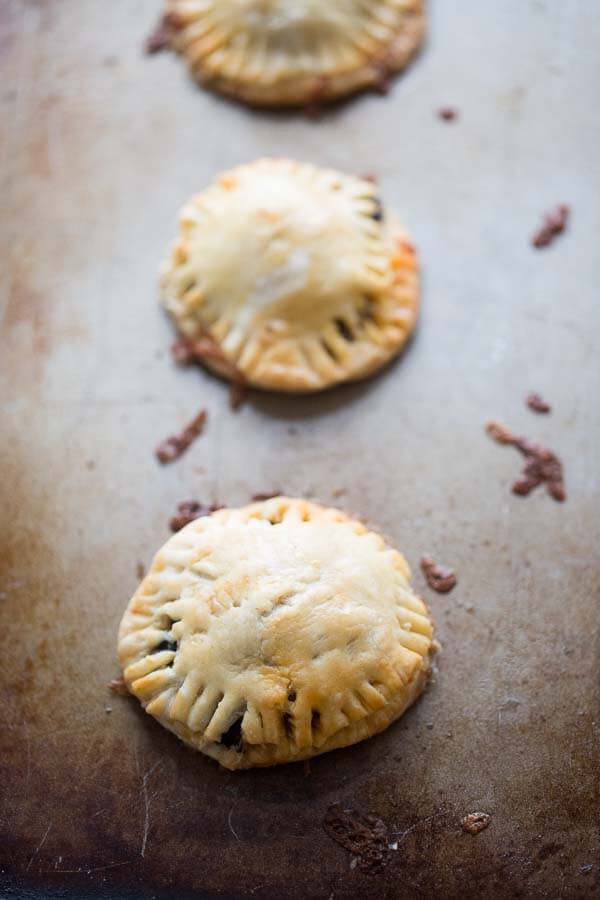 I do want to hear noises when the kids eat.  I want to hear oohs, ahs and a whole lot ofyums.  Thankfully, these hand pies gave me ALL of those! These pies have crisp little edges but are tender and flakey.  The inside holds a little mound of ground beef seasoned with taco spices, beans and cheese.  While these hand pies make a fun dinner, they make an exciting lunch for back to school.  They are portable, two-bite meals that are packed with protein.  Round out the school lunch with salsa, guacamole or even ranch dressing.  The kids will love having these in their school lunches.
All the protein in these little pies will help keep kids full and focused during the school day, and I know the vitamins in beef provide kids with enough energy to do their best. Protein is also one of the most satisfying nutrients, so it helps control snacking throughout the day.
*You can store these little pies in the freezer for future lunches.
20
adjust servings
Pie crust is cut into small rounds then stuffed with spiced ground beef for a little taco pie!
Ingredients
1

box refrigerated pie dough (14.1 oz)

3/4

lb ground beef

1

teaspoon olive oil

1/2

teaspoon salt

3/4

teaspoon chili powder

3/4

teaspoon paprika

3/4

teaspoon onion powder

3/4

teaspoon garlic powder

3/4

teaspoon cumin

1/2

cup black beans

1/4

cup shredded cheddar cheese

1

egg, lightly beaten

1/2

teaspoon water
Instructions
Heat olive oil in a large skillet over medium heat. Add ground beef, stir to crumble. Add salt, chili powder, paprika, onion powder, garlic powder, and cumin; stir. Continue to cook until beef is no longer pink and seasoning has been incorporated. This should take 8-10 minutes. The beef mixture should thicken as it cooks. Stir in black beans, remove from heat and set aside to cool.
Preheat oven to 425. Sprinkle flour over a work surface. Roll out one sheet of dough. Cut dough into circles using a 3-inch biscuit cutter, rerolling scraps as necessary. Repeat with remaining sheet of dough.
Arrange half of the circles on a baking sheet that has been sprayed with cooking spray. Place a tablespoon of meat mixture on the dough circles, top with roughly a half teaspoon of cheese. Place the other circle halves over the meat and cheese mixture. Pinch edges together with the tines of a fork Combine egg and water in a bowl. Brush egg wash over the top of each hand pie. Bake in the oven for 13-15 minutes or jut until golden. Remove from oven and let hand pies cool slightly before serving. Serve with your favorite taco fixings on the side.
Store hand pies in the refrigerator in an air-tight container or a zip-top bag.