Crispy and flaky hand pies with a kid-friendly taco filling! Kids of all ages are going to love these!
School is here and I think everyone is tired of packing sandwiches!
I used to set up a school lunch assembly line each night. I'd line up bread for everyone the go down the line and top with the sandwich toppings. I'd do the same with the rest of the bagged lunch items. It took time and was tedious and I felt it was totally unappreciated.
About 2 years ago I decided the kids were old enough and capable of making their lunches. I told them as long as their lunches were well rounded, they could put anything in them. Who knew that leftovers would end up being their favorite lunches!
These hand pies make a fun weeknight meal, but they also make terrific lunches!
What Are Hand Pies
Hand pies are little-crimped pie dough rounds that are filled with either a sweet or savory filling. I have shared lemon hand pies, cinnamon roll hand pies, Spanakopita Hand Pies and Greek hand pies.
When it comes to sweets, those lemon hand pies are unbeatable, but these Taco Hand Pies are such a great savory option! Kids ADORE these!
How To Make Hand Pies
This recipe starts with boxed pie dough. I think the boxed pie crust tastes great. Sure you could make your own, but this recipe is all about making your life easier!
To start, make a simple taco filling using ground beef, seasoning, and black beans. While the beef is cooking, it's time to work on pie dough. On a floured surface, roll out the pie dough ( you will only need one sheet from the box. Save the other pie crust for another recipe or perhaps double this one).
I used a 3-inch biscuit cut the pies out of the dough. You can use larger rounds, just keep in mind that your hand pies may take longer to bake.
Place half of your circles on a greased or lined baking sheets. Place roughly a tablespoon of your meat mixture onto the center of each pie round on your baking sheet. Take the remaining pie rounds and place them over the meat mixture.
How To Seal Hand Pies
I like to take the tines or a fork and gently press the two pieces together. You could use your fingers as well by dabbing a little egg wash on the bottom round an seal the top layer on with your fingers.
However, I think it is easier to press the dough together with a fork then brush a small amount of egg wash over each pie.
The pies will only take about 15 minutes to bake. They should be golden and flakey when you take them out of the oven.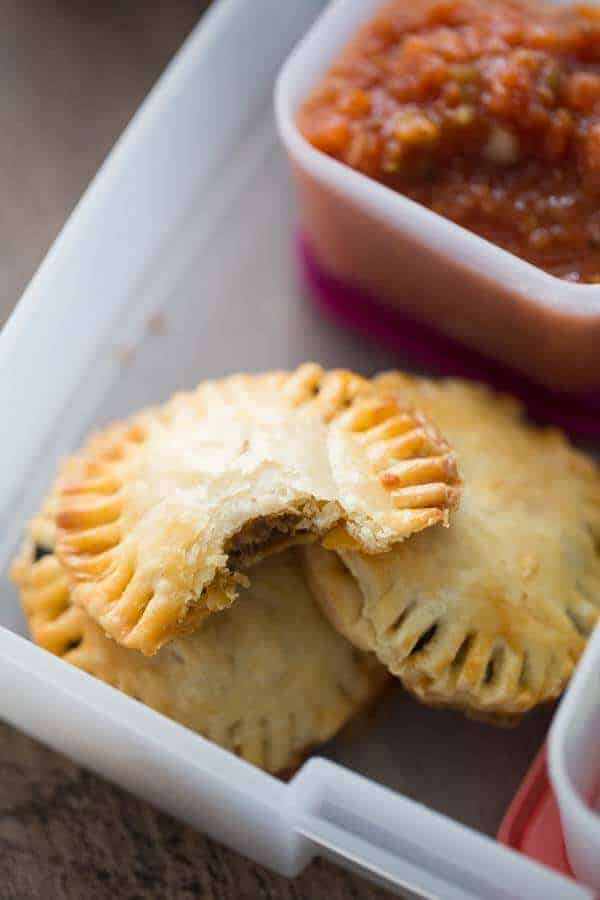 How To Store Hand Pies?
While these pies are best when served warm or at room temperature. These hand pies will keep in the fridge for 3 or 4 days if kept in an airtight container.
Can I freeze hand pies, you ask? YES!! These can be kept in a ziptop bag or layered between sheets of parchment paper. The ha nd piescan be kept in a ziptop bag in the freezer for 1 month.
I would prebake them and allow them to cool completely before placing them in the freezer. Pop them in the microwave or even the toaster when you need them!
Taco Hand Pie Tips and Tricks
Crescent roll dough, pizza dough, or puff pastry can be used in place of the pie crust
Ground turkey, chicken, or pork can be used in place of the beef. Alternatively, you can just use black or pinto beans and veggies for a meatless option.
You will only need a spoonfull of filling for each hand pie, if you place too much in the center, the filling will come out of the side.
If the pie dough doesn't press and seal together, use wet fingers around the edge of the bottom dough round, then seal the layers with fork tines as mentioned above.
Make the sure then hand pies have cooled completely before storing.
Serve this taco hand pie recipe with sour cream, ranch dressing, guacamole, salsa verde and salsa
Yield: 20
Mini Taco Hand Pies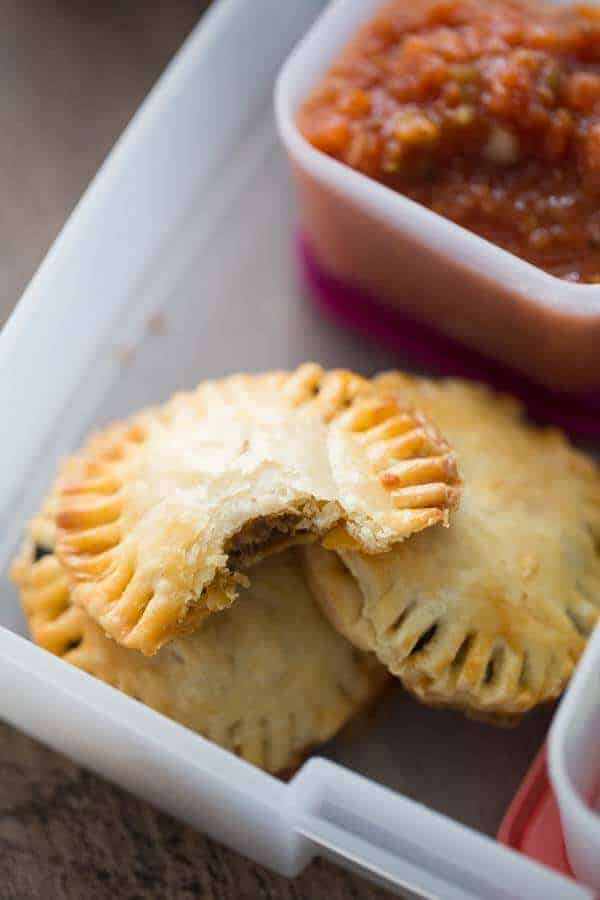 Crispy and flaky hand pies with a kid-friendly taco filling! Kids of all ages are going to love these! #handpie #taco
Ingredients
1 box refrigerated pie dough (14.1 oz)
3/4 lb ground beef
1 teaspoon olive oil
1/2 teaspoon salt
3/4 teaspoon chili powder
3/4 teaspoon paprika
3/4 teaspoon onion powder
3/4 teaspoon garlic powder
3/4 teaspoon cumin
1/2 cup black beans
1/4 cup shredded cheddar cheese
1 egg, lightly beaten
1/2 teaspoon water
Instructions
Heat olive oil in a large skillet over medium heat. Add ground beef, stir to crumble. Add salt, chili powder, paprika, onion powder, garlic powder, and cumin; stir. Continue to cook until beef is no longer pink and seasoning has been incorporated. This should take 8-10 minutes. The beef mixture should thicken as it cooks. Stir in black beans, remove from heat and set aside to cool.
Preheat oven to 425. Sprinkle flour over a work surface. Roll out one sheet of dough. Cut dough into circles using a 3-inch biscuit cutter, rerolling scraps as necessary. Repeat with remaining sheet of dough.
Arrange half of the circles on a baking sheet that has been sprayed with cooking spray. Place a tablespoon of meat mixture on the dough circles, top with roughly a half teaspoon of cheese. Place the other circle halves over the meat and cheese mixture. Pinch edges together with the tines of a fork.
Combine egg and water in a bowl. Brush egg wash over the top of each hand pie.
Bake in the oven for 13-15 minutes or just until golden. Remove from oven and let hand pies cool slightly before serving. Serve with your favorite taco fixings on the side.
Store hand pies in the refrigerator in an air-tight container or a zip-top bag.
Nutrition Information
Yield
20
Serving Size
1
Amount Per Serving
Calories

116
Total Fat

7g
Saturated Fat

3g
Trans Fat

0g
Unsaturated Fat

3g
Cholesterol

26mg
Sodium

131mg
Carbohydrates

7g
Fiber

1g
Sugar

0g
Protein

6g