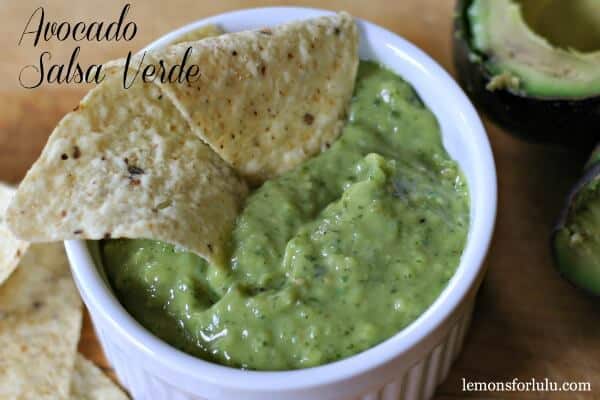 "Party, Caramba, Fiesta, Forever".  Yes, Lionel Richie was playing in my head as I was making this salsa.  Not sure why.  Not sure why he was dancing on the ceiling back in the day, but whatever.  Who am I to question musicians and their art?
Lionel Richie did get me thinking about the music I listened to growing up in the 80's.  I sort of chuckled as I reminisced.   Care to take a trip down memory lane with me as I share the songs from my past?
Like a Virgin by  Madonna.  No one has been able to wear rubber bracelets quite like Madonna.
Girls Just Want to Have Fun by Cyndi Lauper.  This song still holds true.  However, my idea of fun has changed…a lot!
Take on Me by Aha.  Never did figure out the lyrics to this song.  But hey, he has a nice voice!
I'll Tumble for Ya by Culture Club.  No one should ever wear that much eyeliner.
Living on a Prayer by Bon Jovi.  Jon, I love you.  You have nice hair.   Thank you for taming it.
Every Little Thing She Does is Magic by The Police.  I still believe Sting is singing this to me.
You Gotta Fight For Your Right to Party by the Beastie Boys.  I don't really party anymore, but this is still a damn good song.
What's Love Got to Do With It?  by Tina Turner    Tina , you have nice hair.  Tame it.  Talk to Jon.
Pour Some Sugar on Me by Def Leoppard.  Too embarrassed to admit I actually liked this song.
Billy Jean by Michael Jackson.  Michael made white socks and black pants cool.
Ice Ice Baby, by Vanilla Ice.  Robert Van Winkle…stick with houses!
Crap, Ice Ice Baby is stuck in my head.  I need some Bieber to get it out!
So, like, back to the salsa.  I love roasted tomatillos!  I cannot believe the deep, smoky flavor they bring to this salsa!   You can up the amount of jalapeño.  The creamy avocado will balance the heat.  Once you have this salsa, you won't want any other!  It's very addictive!  Ay caramba, it's a fiesta in your mouth!  Sorry, that was lame, but I couldn't resist!
If you'd like a little Lulu in your life, please subscribe via email, RSS, Facebook or Pinterest!  I love staying connected to friends!
You might you enjoy these too!
Chile Verde Dogs                                                    Lemons for Lulu
Tomatillo Salsa Verde                                           Add a Pinch
Tomatillo Guacamole                                             Serious Eats

24
adjust servings
This salsa verde has smokey, creamy flavor that will keep you coming back!
Ingredients
1/4

lb tomatillos, roasted

1/4

cup diced onion

1

cup cilantro

1

jalapeno, diced

1

T lemon juice

1/2

t salt (more or less to taste)

pinch of cumin

2

whole avacados
Instructions
Roast tomatillos in broiler for 5 minutes per side. Remove skins, place tomatillos in the bowl of a food processor. Add the rest of the ingredients and mix until well blended.
Please note that these amounts are somewhat to taste. Please adjust as needed.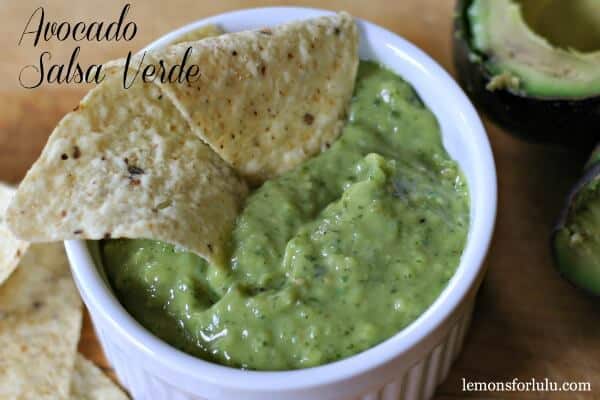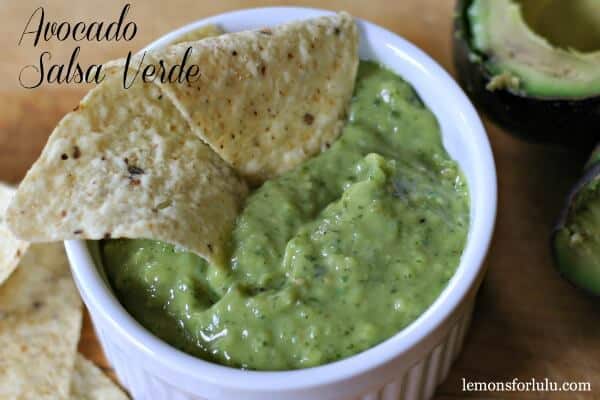 I'll be linking this recipe up to these fabulous sites as well as to:  Jam Hands
The DIY Dreamer and