Green salsa is a fresh and unique twist on salsa!
This super simple appetizer will have you "going green"!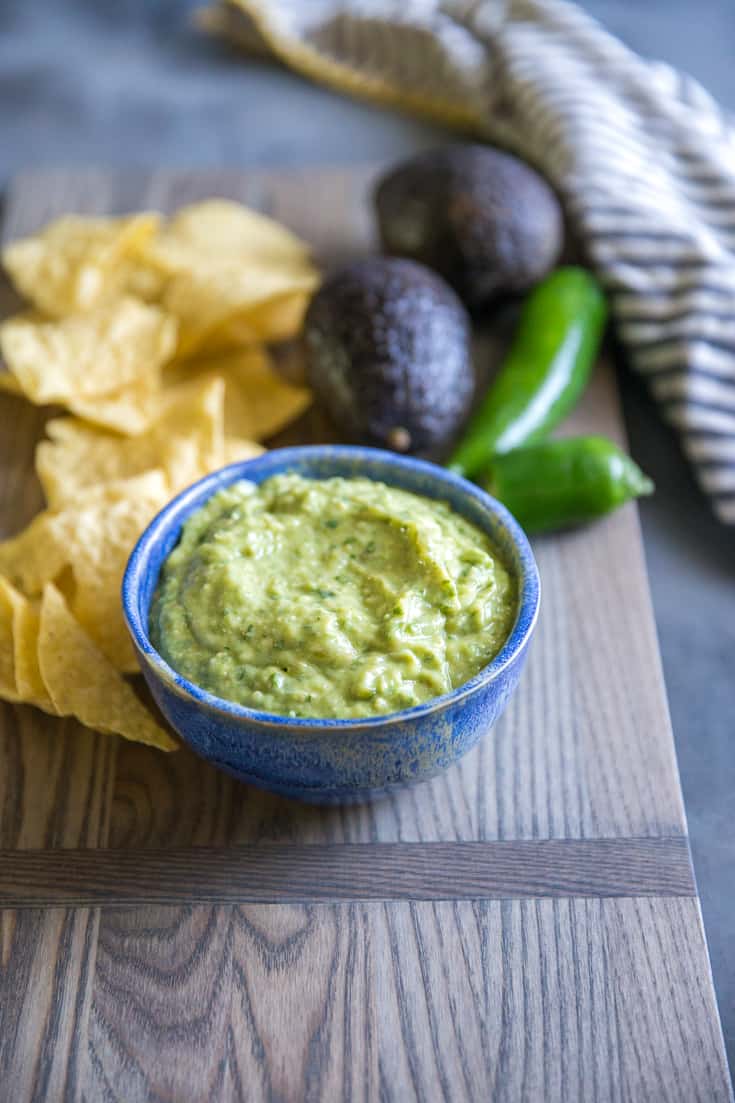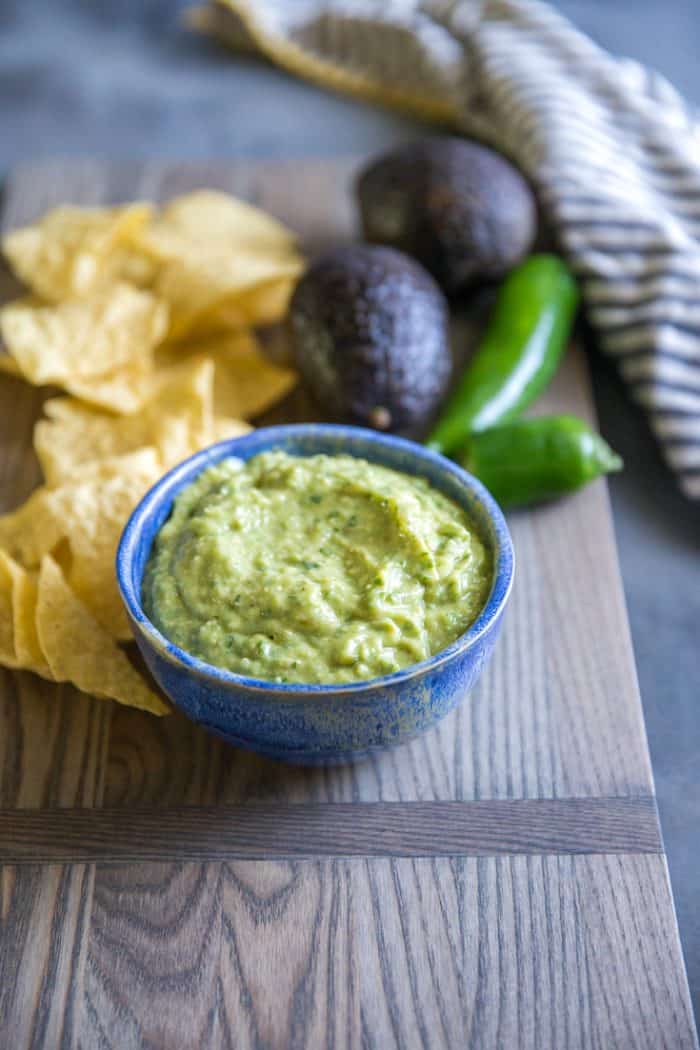 What Is Green Salsa?
The salsa we see most often is the traditional tomato salsa.  This green version uses tomatillos instead of Roma tomatoes.  If you aren't familiar with tomatillos, they are sometimes referred to as "husk" tomatoes.  For the most part, they look like small, green tomatoes, but they have almost a papery, removable outer layer.  Tomatillos are not quite as sweet as red tomatoes, but they roast up nicely and yield a smoky flavor.
The remaining ingredients for green salsa are onions, jalapenos, lemon juice and avocados.  If you have a food processor, then this green salsa will be a breeze to prepare!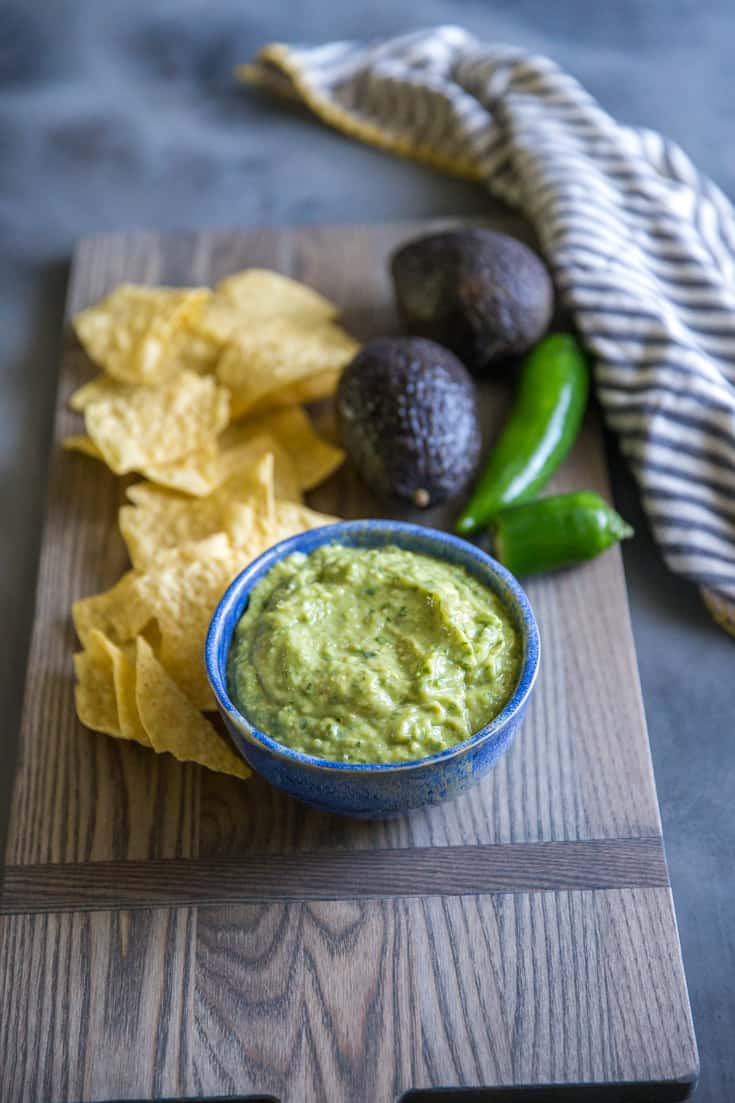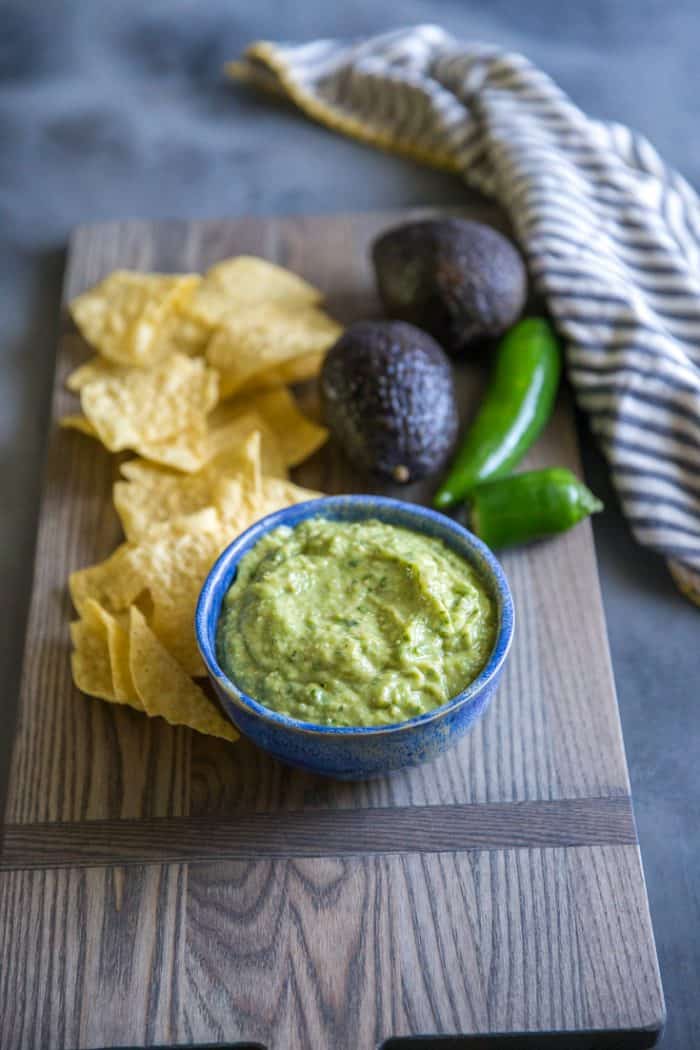 WHERE IS THE GREEN SALSA RECIPE?
If you'd rather skip cooking tips, suggestions, handy substitutions, related recipe ideas – and get straight to the Green Salsa Recipe– simply scroll to the bottom of the page where you can find the printable recipe card.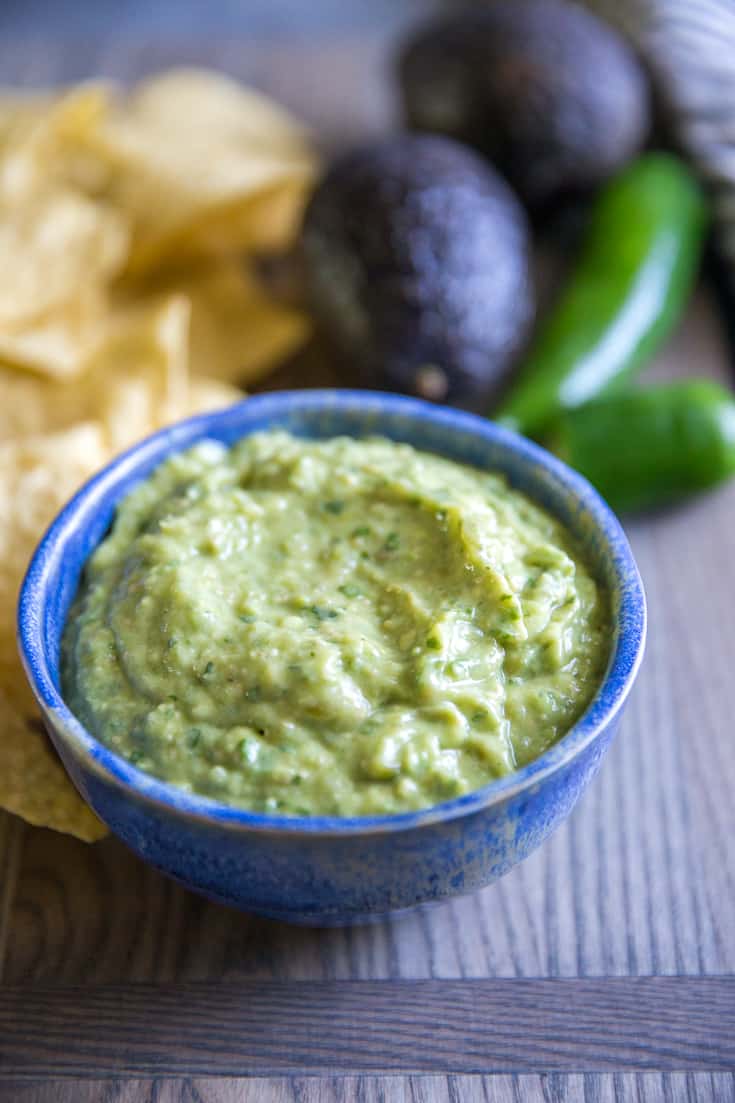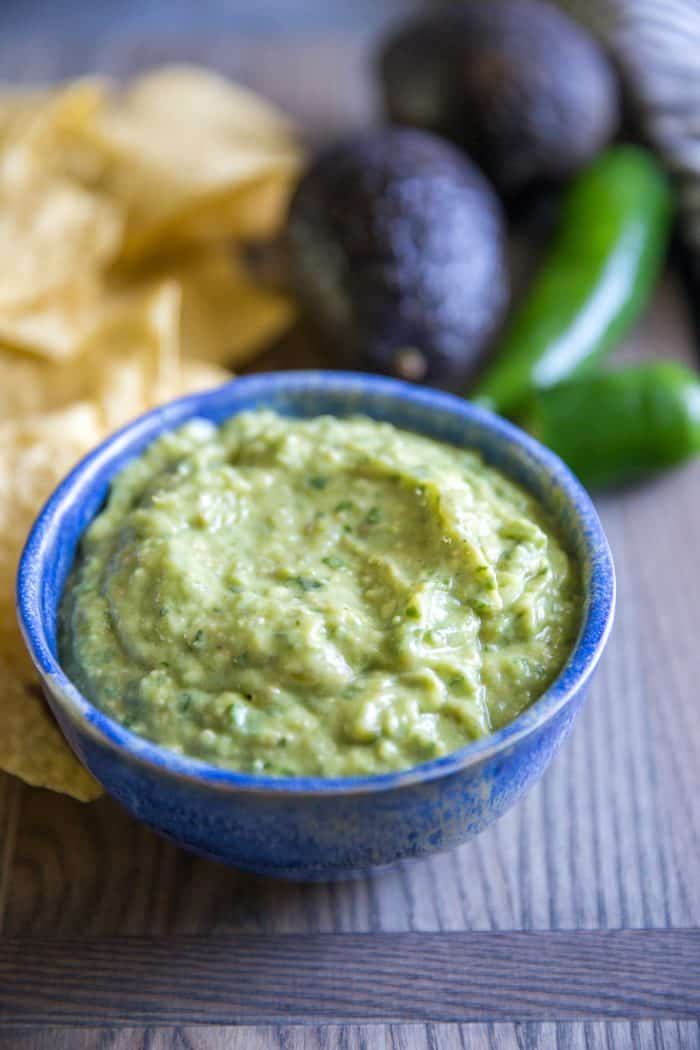 How To Make Green Salsa
As mentioned above, a food processor makes short work of this salsa!  I did broil the tomatillos.  Arrange your tomatillos on a baking sheet and broil on high for 5 minutes or until charred.  Allow them to cool slightly.  The husks can be removed before or after broiling.
Your tomatillos and remaining ingredients will go into the food processor and then you are done!  Feel free to omit the jalapenos if you find them too spicy.  You can use Anaheim or poblano peppers instead and they would deepen the earthy flavor if they were roasted with the tomatoes.  Fresh cilantro adds so much flavor, but in a pinch prepackaged cilantro that you find in the produce section would work.  The flavor will be a little less vibrant.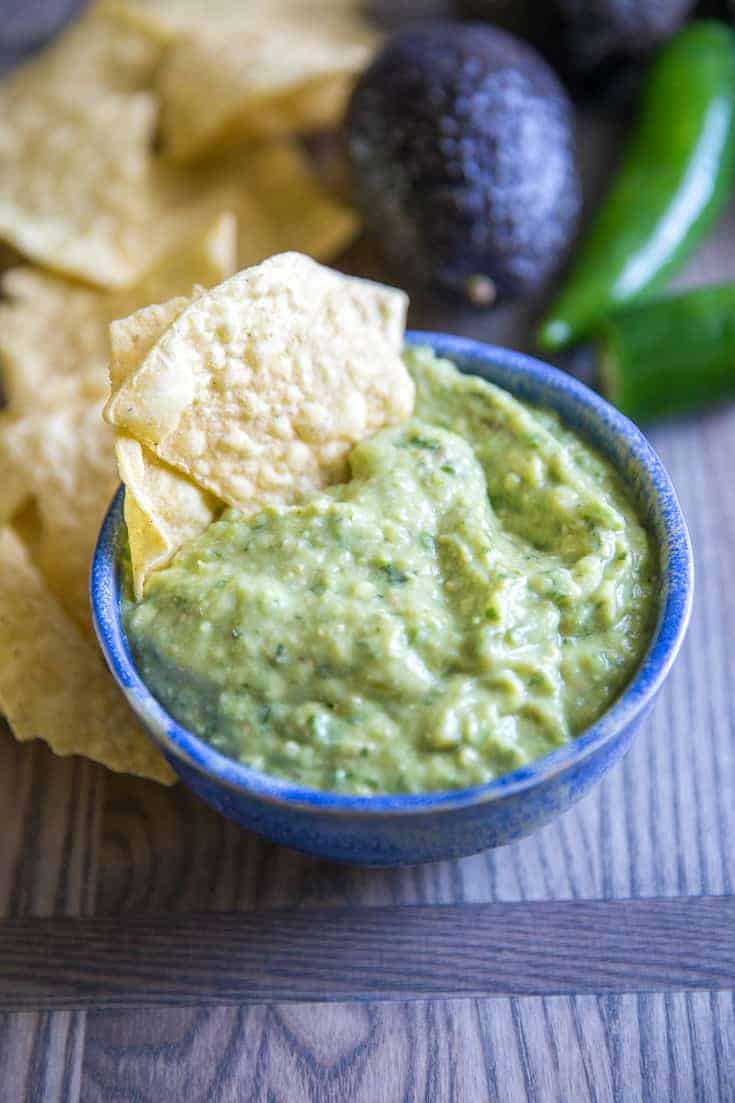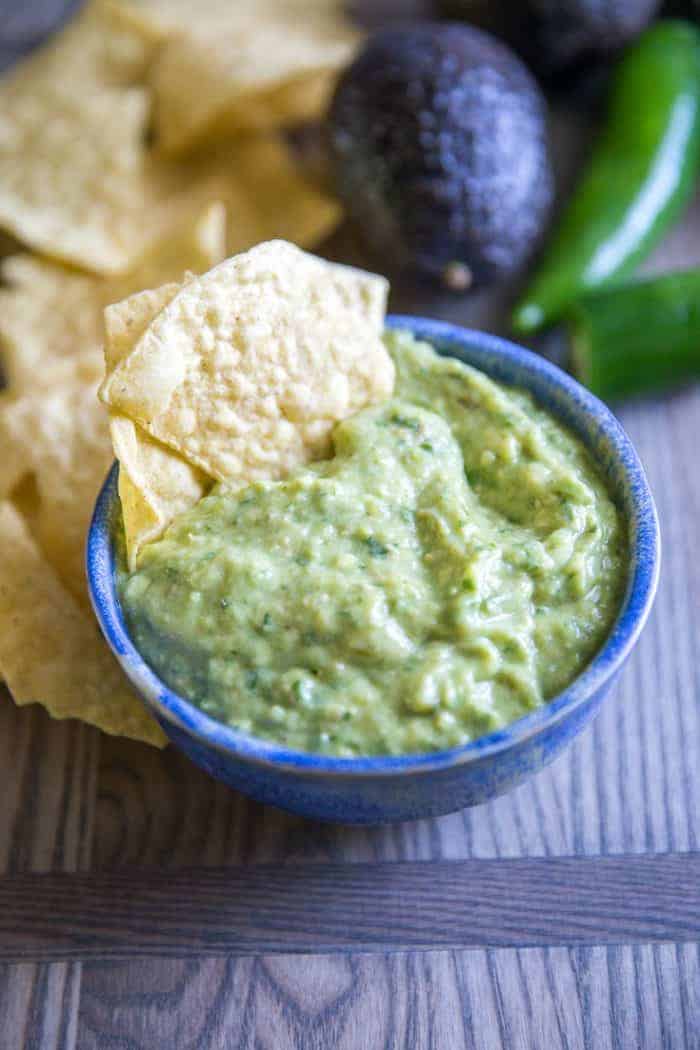 How Long Does Green Salsa Last?
Green salsa should last for about 5-7 days stored in the refrigerator in an air-tight container.  The truth is, it may not even last that long!  Green salsa is more than a dip for chips!  You can use this salsa to top chicken, pork or your favorite tacos and enchiladas.  It makes an excellent addition to any salad, tostadas, stirred into chili or soup.  It is versatile, easy, quick and totally delicious!
Love the green salsa?  Try this quick and easy chicken verde recipe, This Chile Verde Pork Burger,  Quinoa Chili Verde.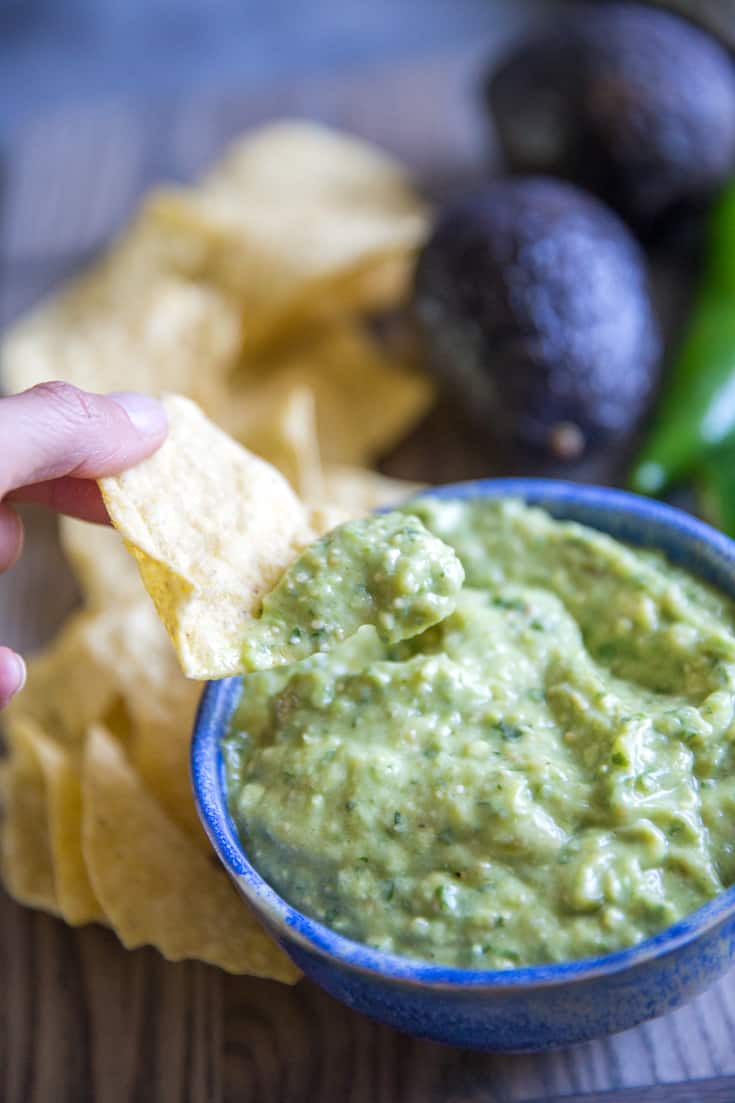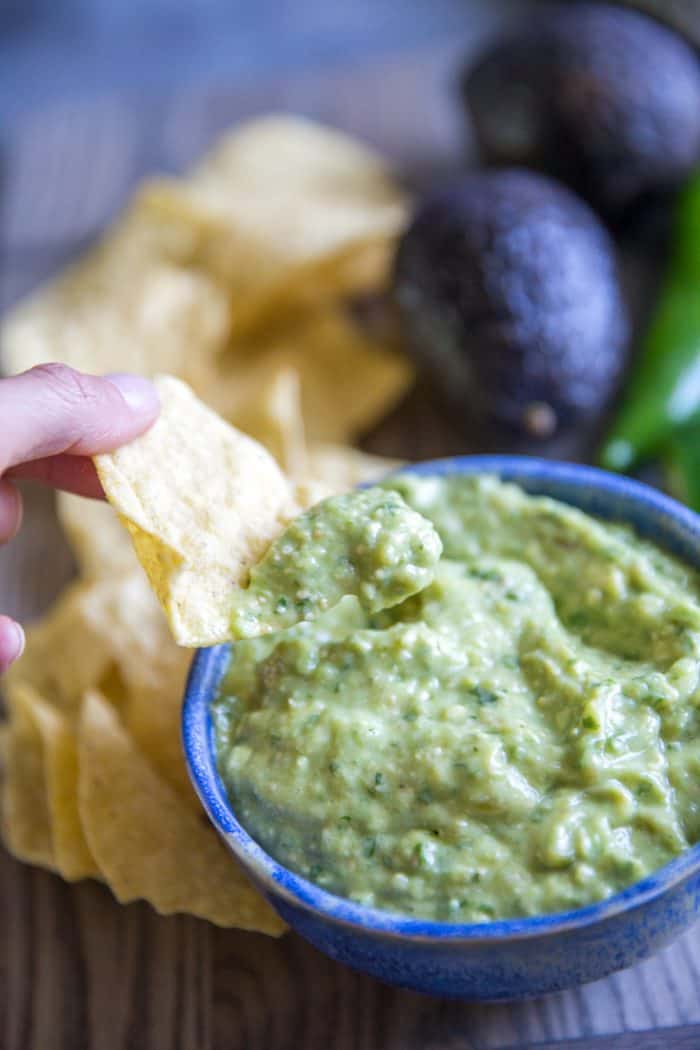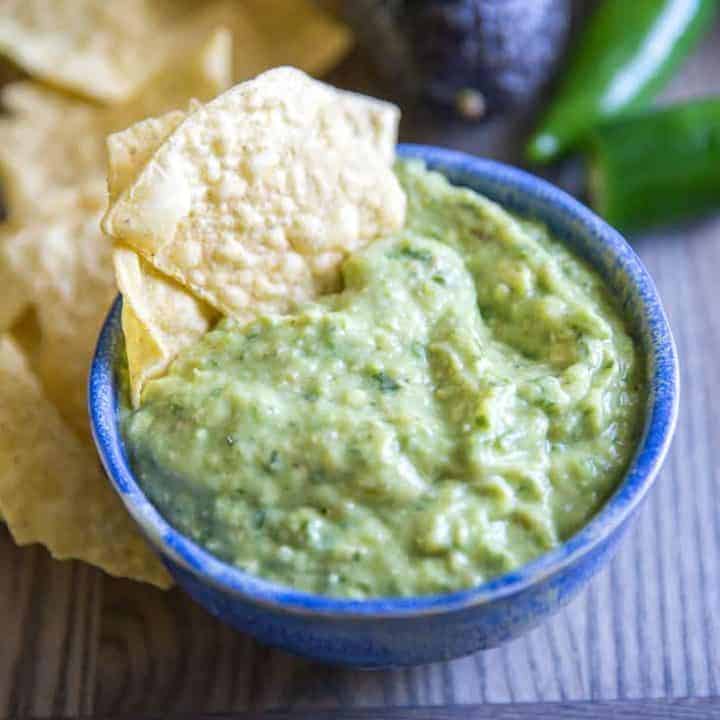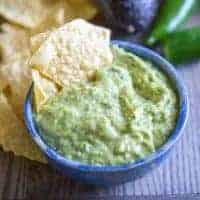 Green salsa
Green salsa is a fresh and unique twist on salsa! This super simple appetizer will have you "going green"!
Ingredients
1/4 lb tomatillos, roasted
1/4 cup diced onion
1 cup cilantro
1 jalapeno, diced
1 tablespoon lemon juice
1/2 teaspoon salt (more or less to taste)
pinch of cumin
2 whole avocados
Instructions
Preheat the broiler. Place the tomatillos on a baking sheet and roast the tomatillos for broiler for 5 minutes per side. All the tomatillos to cool; remove skins. Place the tomatillos in the bowl of a food processor, add the rest of the ingredients and mix until well blended. Please note that these amounts are somewhat to taste. Please adjust as needed.
Nutrition Information
Amount Per Serving
Calories

3
Total Fat

0g
Saturated Fat

0g
Cholesterol

0mg
Sodium

18mg
Fiber

0g
Sugar

0g
Protein

0g