Salmon Fish tacos are one of my favorite summertime meals!  They are the perfect light dinner!
These tacos are made with spicy salmon and are topped with a jalapeno cream!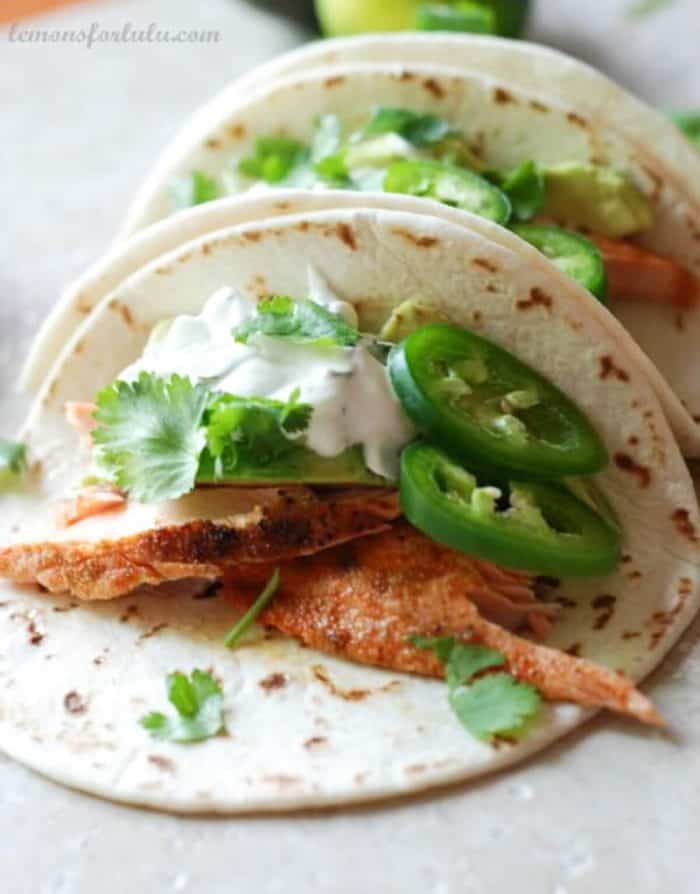 We are in the preliminary stages of planning our summer vacation.  I can't wait to go to the beach!   I never tire of listening to the calming rhythms of the waves rolling onto shore.  Such a relaxing sound. We've been going to the beach for several summers in a row.  I have so many amazing memories from the beach.
Recently, I was thinking about one of our vacations in North Carolina.  I remember we spent the entire first day at the beach (which left me with an oddly shaped sunburn).  We dug in the sand and plunged our bodies into the chilly Atlantic Ocean.  Our youngest, who was a 4-year-old at the time, was a little timid when it came to the water.  She wanted me to hold her hand and help her jump the waves.  At first, we stood rather far away from the water.  It was close enough for the foamy water to caress our feet, and the sand to wash out from underneath us, but that was it.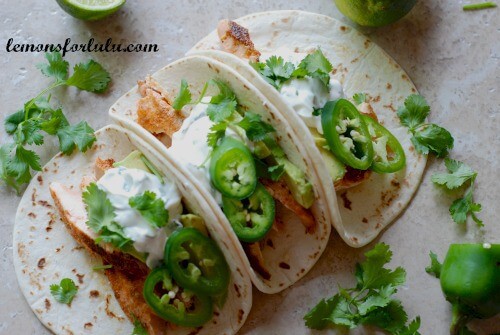 Gradually, my daughter became braver and together, we slipped a little further into the ocean.  With each incoming wave, Lucy would point her finger and shout "oooh a big one".  When the wave was upon us she would grab both my hands and I'd lift her over the swirling water.  As the water receded, Lucy would let go of my hands, splash around and excitedly marvel at her surroundings.  Then the cycle would repeat.   As the afternoon wore on, however, I noticed that my daughter wouldn't reach for my hands as often.  She found the courage to jump over most of the waves herself.  Every once in a while, my daughter would see an intimidating wave and rush to grab my hands.  But as her confidence grew,  the time between those hand gripping moments stretched farther and farther apart.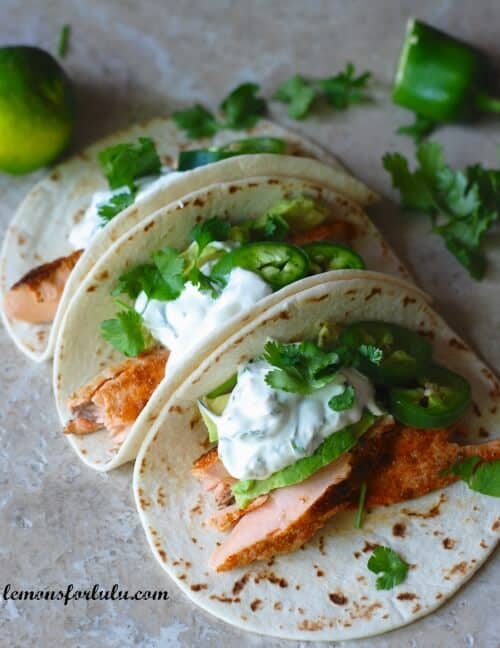 I stood there in the wet sand watching my sweet little curly-haired daughter jumping excitedly over each passing wave.  I was struck by the notion that this is what parenthood is all about.  Our job as parents is to extend our hands out to all our children as different waves crash into their lives.  Our kids may not always take them, but our outstretched hands will always be there.
See How To Make This Recipe:
These salmon fish tacos make me think of summer
 I think it's the simplicity of the recipe.  Salmon is lightly seasoned  then topped with a double dose of jalapeno between the jalapeno crema and the sliced jalapenos.  The sour cream keeps it all nice and cool while the sliced jalapenos bring a crunchy heat.  Add this
avocado feta salsa
on the side if you would like to balance the heat.
 Mexican street corn
would round out the meal.
NEVER MISS A RECIPE! SIGN UP FOR MY EMAIL TODAY!
FOLLOW ME:
FACEBOOK | RSS | TWITTER | GOOGLE + | BLOGLOVIN
Salmon Tacos with Jalapeno Cream
Ingredients
1 1/2

pounds fresh salmon

1

teaspoon chili powder

3/4

teaspoon cumin

1/2

teaspoon onion powder

1

teaspoon paprika

3/4

teaspoon salt

3/4

teaspoon pepper

2

tablespoons olive oil

8 6

-in tortillas

1

cup sour cream

4

tablespoons lime juice

3

tablespoons cilantro, chopped

1

jalapeno, diced

pinch of salt
Instructions
Combine chili powder, cumin, onion powder, paprika salt and pepper in a small bowl. Rub spice mixture over salmon. Cook salmon in olive oil in a preheated skillet.
Continue to cook salmon until no longer pink, about 4 minutes per side.
While salmon cooks, combine sour cream, lime juice, jalapeno, cilantro and salt in a bowl.
To serve, place salmon in a warmed tortilla and top with jalapeno cream. Serve with avocados and salsa if desired.
Serves 8