The lemon pepper salmon dish is made with fresh herbs, lemon zest, and fresh cracked pepper. It is perfect for busy weeknight dinners or when you're looking for something special to serve guests. This dish has all the flavor with minimal prep time.
All about Lemon Pepper Salmon
This lemon pepper salmon recipe combines the nutritional benefits of salmon with the tangy zest of lemon and the aromatic essence of fresh herbs. The use of fresh cracked pepper and olive oil accentuates the natural flavor of the salmon. This recipe is simple and quick and versatile enough to be served as a hearty lunch or an elegant dinner.
The preparation process is straightforward, so beginner cooks and seasoned chefs can both have success in the kitchen. The final product is a salmon filet that is infused with the classic combination of lemon and pepper, complemented by the subtle hint of chives and thyme. The salmon will be flaky, tender, and juicy inside.
Nutritional Benefits of Salmon
Salmon is renowned for its high protein content and omega-3 fatty acids. It's also a good source of vitamin D, vitamin B12, vitamin B6, potassium, and selenium. The omega-3 fatty acids in salmon contribute to healthy brain function, reduce the risk of heart disease, lower inflammation, and improve mood.
Ingredients You'll Need for this Recipe
Salmon filet
Lemon
Lemon zest
Fresh cracked pepper
Olive oil
Salt
Fresh chives
Fresh thyme (leaves only)

How to Cook Lemon Pepper Salmon
Preheat the oven to 375 degrees F.
Spray or brush the baking tray with olive oil to prevent the salmon from sticking.
Place the salmon filet on the baking tray and drizzle it with olive oil.
Sprinkle the filet with the fresh cracked pepper and salt.
Cut one of the lemons in half then cut one of the halves into thin slices. Zest the other lemon.
Chop the fresh chives and thyme leaves. Sprinkle the herbs and lemon zest on top of the salmon.
Cook at 375 degrees F for 7 to 10 minutes.
How to Serve Lemon Pepper Salmon
To serve, place the cooked salmon on a warm plate and garnish with the remaining fresh herbs and a slice of lemon. As for sides, this salmon pairs well with a green salad dressed with a light vinaigrette. For a heartier meal, you could serve it with baked or mashed potatoes and stir-fried vegetables. Steamed broccoli or asparagus also make great sides. For a touch of sophistication, consider serving the salmon on top of a bed of cooked quinoa or wild rice.
Tips and Variations for this Dish
When baking lemon pepper salmon, there are several tips to ensure you achieve the best flavor and texture.
Use fresh salmon filets over frozen for the richest taste.
Use fresh lemon juice rather than bottled lemon juice if possible.
Don't overcook the salmon. It should be flaky and moist, not dry. The salmon will continue to cook a bit even after you remove it from the oven due to residual heat. Depending how thick your salmon filet is, you might need to adjust the timing. I recommend checking the salmon after 7 minutes and cooking it a little longer if needed.
Consider adding minced garlic, butter, or a pinch of cayenne pepper for extra flavor.
Feel free to substitute dried herbs instead of fresh herbs.
If you prefer more citrus flavor, use two lemons instead of one.
Use this recipe with other types of fish, such as tilapia or cod. The cooking time may vary depending on the thickness of the filet.

How to Store Leftovers
It is best to eat this salmon dish or any fish right after you make it. But if you have leftovers, you can store them in a sealed container in the fridge for one more day. To reheat the salmon, place it on a baking sheet and cover it with foil to prevent the fish from drying out. Heat at 275 degrees F for about 15 minutes. Microwave reheating can make fish rubbery and is not recommended.
Other Salmon Recipes
Yield: 2 servings
Lemon pepper salmon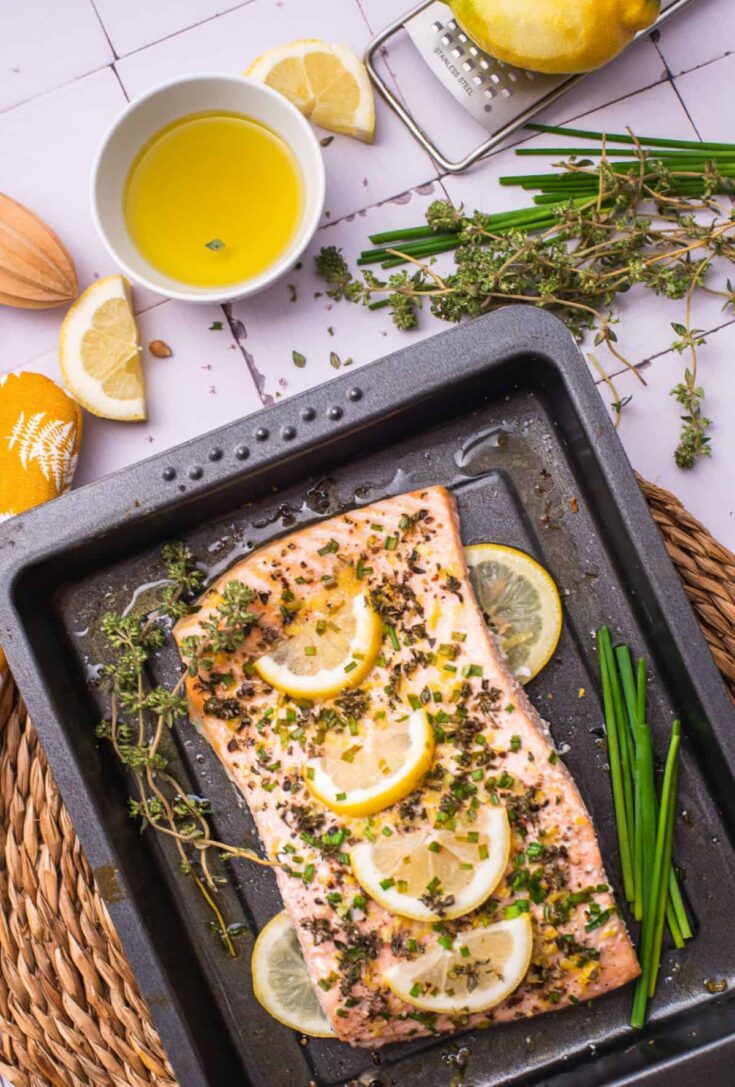 Juicy and tender lemon pepper salmon. Made with lots of fresh herbs, lemon, and pepper, so quick and delicious. Perfect for a weeknight dinner.
Ingredients
1 pound salmon fillet
½ lemon thinly sliced
2 teaspoons lemon zest
2 teaspoons freshly cracked pepper
2 teaspoons olive oil
1 teaspoon salt
1 tablespoon fresh chives
1 tablespoon fresh thyme (only the leaves)
Instructions
Preheat the oven at 392F

Paint the baking tray with olive oil to prevent the salmon from sticking put the salmon fillet in the baking tray and drizzle it with olive oil.

Sprinkle the filled with the freshly cracked pepper and salt.

Slice one of the lemons in half and slice one of the halves in thin slices.

Chop the fresh herbs and zest the lemon, sprinkle the herbs and the lemon zest on top of the salmon.

Cook in the oven for 7- 10 minutes at 374 F
Notes
Depending on your oven and how thick your salmon fillet is you might need to adjust the timing. I recommend going for 7 minutes and checking if the inside is cooked or still raw. 
This delicious salmon goes very well with oven-baked potatoes, salad, or stir fry veggies. Is best eaten right after being made, but it can last for one more day stored in the fridge.