During the summer holiday, selecting a menu of 4th of July recipes can make the day memorable. From tasty appetizers to sweet desserts, there's tons of different recipes that will please those on your guest list.
We've made a list of all the best 4th of July recipes on the web. You can choose from more traditional recipes typically served on the 4th of July to trying a few new ones that you have never heard of before.
No matter which one's you pick, you are sure to put together an amazing 4th of July menu. Read on to learn all about the recipes you should cook this 4th of July and how best to serve them to your family and friends.
Traditional 4th of July Menu
The 4th of July has been a holiday for hundreds of years, meaning there are a lot of recipes that people have begun to serve each year without thinking about it.
Because the 4th of July is in the middle of the summer when it is hot everywhere, a traditional meal for the holiday is usually something that can be consumed outside. Most people choose to serve BBQ food with items like hotdogs and hamburgers as the main dish.
For side dishes, most people bring out the potato and macaroni salad along with some potato chips. Many families also serve watermelon or a cake for dessert.
These are not the foods that have been historically served on the date, however, as vintage menus show that early Americans were more likely to serve roast lamb or roast beef on the holiday instead.
While they still served potatoes as a side they were often baked or boiled rather than fried. What some Americans will find shocking is that among the early 4th of July recipes of Americans, it was found that turtle soup, squab, and cold ox tongue were all part of this special holiday.
Most Common Foods for 4th of July Recipes
Before you can start cooking 4th of July recipes, it's important to know what ingredients you may need. While some of the more unique recipes will require special ingredients, below is a basic list of what you should have on hand.
Hamburger meat
Chicken
Strawberries
Corn
Potatoes
Buns for burgers (or pulled pork)
Pork meat
BBQ sauce
Cabbage (for coleslaw)
Carrots
Macaroni noodles
Mayonnaise
Mustard
Eggs
Bacon
Pie crust (or equivalent ingredients)
Strawberries
Cake (or equivalent ingredients)
Lemons
Whip cream
Obviously, you won't need all of these ingredients, but if you want a traditional 4th of July feast, having these items on hand is the place to start.
Tips for a Perfect 4th of July Feast
Nervous about hosting your first 4th of July event? Here are some tips to help your day go smoothly.
Plan in Advance
Guests will always be able to know when you have planned things last minute. Take the time to write out your entire menu, as well as the decorations you will need, at least a few days in advance.
Cook in Advance
Besides just designing the menu in advance there are also plenty of recipes you can cook in advance, such as macaroni salad or a cake. Make these the night before and stick them in the fridge for an easy no-stress serving experience the day of your event.
Ask for Help
Young hands around the house would probably love to help with your event. If you don't have kids yet, consider asking a guest to come early to help you with the setup. You should also ask for someone to stay and help with the clean-up process as well.
Have Music
Food may be the focus of your party, but it won't be a party without some music. Design a playlist and hook it up to your speaker in advance. If you are headed to a park, bring a portable speaker or ask a guest if they can.
Make Extra Food
Nothing ruins a party like running out of food too quickly. When you prepare, plan to make a bit more than what you need. For example if you have 18 guests, make 24 cupcakes. It's always better to have more than not enough.
Serve a Variety of Food
On the topic of making extra food, also ensure you have a variety of food to choose from. You never know what foods a friend's child may not like or who has a food allergy. Having lots of items available will help to ensure there's something at your event they can eat.
50 4th of July Recipes for the Best Independence Day Celebration
Ready to pick out your 4th of July recipes? Below is the full list, sorted by recipe type. For best results, we recommend picking at least one recipe from each category as you plan your menu.
BBQ Recipes for the 4th of July
1. Fusion Grilled Tacos
Mix things up this 4th of July with a flank steak taco recipe by Lemons of Lulu. It's made by grilling a flank steak, which you then cut up prior to serving.
Make the other toppings of beans, corn, and coleslaw separately and let guests serve themselves at your 4th of July taco bar.
2. Sweet Chili Shrimp and Quinoa Grill Packets
Camping this 4th of July? Consider bringing along the ingredients to make these shrimp grill packets by Nutrition in the Kitch. With only a few simple veggies, combined with shrimp and a sweet and spicy sauce the result is something kids and adults will adore.
3. Spicy Grilled Drumsticks
Grilled chicken is a traditional 4th of July recipe, and it's easy to see why—everyone loves chicken. Make this spicy version be Lemons for Lulu using a BBQ sauce you make yourself in advance. Ensure you make extra because your guests will want some for dipping.
4. Grilled Shrimp Tacos
Speaking of tacos, there is no reason to stop at flank steak as a filling. Grab some shrimp as well and make these shrimp tacos from Nutrition in the Kitch which have similar ingredients but are garnished with Greek yogurt to help cool them down.
5. Grilled Pork Tenderloin
Pork is one of the easiest meats to prepare on the grill so it's a bit of a surprise it's not more common on 4th of July. Try this 4th of July recipe for grilled pork by Lemons of Lulu which is served with a fresh mango salsa so the meal isn't too heavy on a hot day.
6. Smoked Turkey
Your 4th of July event is just the time to power up your smoker. When you do, make this amazing smoked turkey recipe by Nutrition in the Kitch which is basted using a homemade rub.
The turkey will take a full 3 hours from start to finish, so ensure you start this recipe well before the crowd begins to get hungry.
7. Smoked Burgers
No 4th of July recipe list would be complete without a recipe for burgers. If you have a smoker, grab some mesquite wood chips and some ground beef to make these smoked burgers from Burrata and Bubbles.
Top them with some bacon, cheese, lettuce, and BBQ sauce and your guests will talk about these burgers for years to come.
4th of July Desserts
8. Red White and Blue Crepes
Crepes aren't the easiest dessert recipe to serve fresh on the 4th, but if you really want to serve them, follow this recipe by Lemons for Lulu and make the crepe wrapping in advance and place it in the fridge overnight. The next day, just pull them out, add the filling, and serve.
9. Cookie Dough Dip
Who doesn't love cookie dough? Get in the festive spirit of the 4th of July with this five-minute cookie dough dip from Life Family Fun. Top it with blue, red, and white sprinkles, then serve with fresh strawberries for dipping.
10. Almond Flour Red Velvet Sheet Cake
Red velvet cake is a good choice for a 4th of July dessert. Considering cooking this version from Nutrition in the Kitch which is made with almond flour making it gluten-free.
After you frost the cake with the included recipe, ensure you sprinkle on some blue star sprinkles for some extra pizzaz.
11. Strawberries Romanoff Cups
Strawberries Romanoff are traditionally Italian treats but there isn't any reason you shouldn't serve them as one of your 4th of July recipes this year.
They only require 5 ingredients to make and the strawberry mixture can be made well in advance. Find the full recipe on Lemons for Lulu.
12. Red White and Blue Chocolate Fudge
Fudge is a rich dessert that most people don't even try to make because they think it will be too difficult when it is actually quite easy. Follow this recipe from Life Family Fun to make a white chocolate version complete with red, white, and blue skittles for your 4th of July party menu.
13. Watermelon Ice Cream
As the summer wears on, the watermelons become larger and more abundant. Right around the 4th of July is when you should be able to find one to make this watermelon ice cream by Nutrition in the Kitch.
There are two options, so you can pick to make it either with coconut milk or cashew milk.
14. Strawberry Rhubarb Pound Cake Pudding
Want to serve something a little more unique than a strawberry shortcake? Make this strawberry rhubarb pound cake from Lemons for Lulu which has several of the same ingredients.
You can cook it in advance and take it to the park, or make it fresh if your event is in your backyard.
15. Red Poke Cake with Strawberry Jell-O
No one is quite sure where poke cake came from but it is an easy recipe to edit to suit any season. Make this summer edition perfect for the 4th of July made with fresh strawberries alongside strawberry Jell-O.
You'll also be mixing in some cheesecake pudding to make an extra decadent treat. The full recipe can be found on Life Family Fun.
16. Red Velvet Whoopie Cakes
A whoopie cake is a dessert that has been around a long time, typically having been made with chocolate cookies and marshmallow cream in the middle.
You can make this healthier alternative by Nutrition in the Kitch with red velvet cake sweetened with coconut sugar and a filling made from cream cheese and stevia instead of all that sugar.
Appetizers for the 4th of July
17. Air Fryer Chicken Fingers
Depending on what you plan to serve for your event, you may need to plan a separate dish for the kids in attendance. Look no further than these air fryer chicken fingers from Lemons for Lulu.
They are crispy, healthier than regular fried chicken fingers, and a hit with the little ones. Serve with an array of sauces on a platter for a fun appetizer idea.
18. Air Fryer Tortilla Chips
Chips are a staple of the 4th of July holiday and you'll need to have some on hand if you want to host a successful event. Follow these directions on Nutrition in the Kitch to make some homemade tortilla chips in your air fryer.
They're so quick and easy to make you'll never go back to store-bought again.
19. Mexican Street Corn Salsa Hummus
All parties are required to at least have one dip, it's an unwritten law. When you want a healthy dip for veggies or chips alike, make this Mexican street corn salsa hummus from Lemons for Lulu.
The best part is that you can make the corn salsa in advance and put it on top of the hummus when you arrive at your event.
20. Eggplant Parsley Dip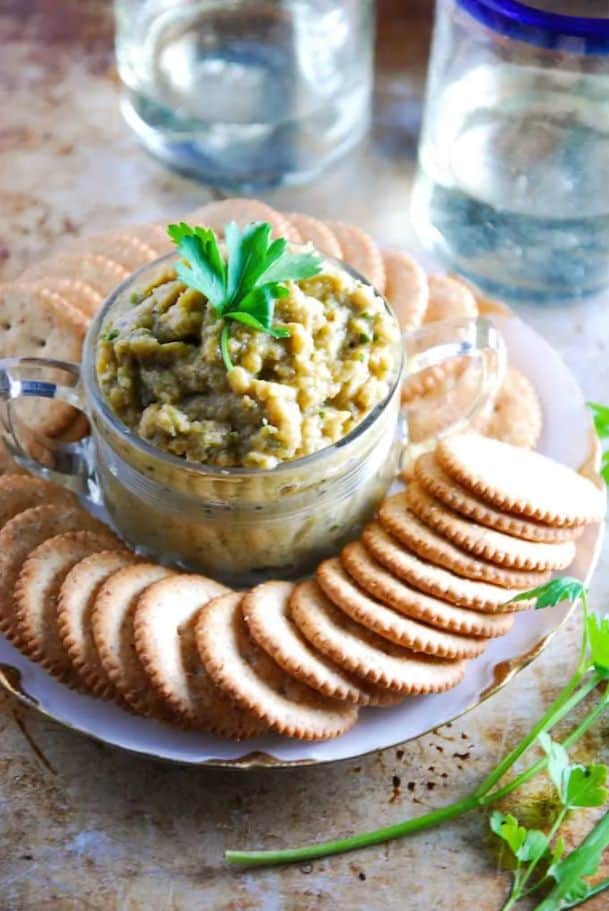 Eggplant Parsley dip by Nutrition in the Kitch can easily be put out before a meal while you cook the main dish. Made with roasted eggplant and onion you'll want to make this in advance and keep it in the fridge until it's time to serve. We recommend serving it with Ritz crackers.
21. Deviled Eggs
Throughout history, deviled eggs have be a recipe Americans pull out for any holiday, including the 4th of July. Make this version of the popular recipe by Lemons for Lulu complete with broccoli and carrots to give it a slightly healthier spin.
22. Flag Charcuterie Board
It's true, you can make a charcuterie board for any occasion. Follow these steps on Remake my Plate to learn how to arrange fruit, dips, cheese, crackers, and salami into a flag shape you can place in the middle of your 4th of July spread.
23. Mini Grilled Stuffed Peppers
Looking for an appetizer you can make on the grill at the park? These mini grilled stuffed peppers by Lemons for Lulu are the way to go. Make the mix for the inside in advance, then once the peppers are done grilling, stuff them and put them on a platter to serve.
Healthy 4th of July Recipes
24. Grilled Salmon with Chickpea Salsa
Salmon is a great option when you want to BBQ but are looking for something a little healthier than a burger or a brat. Check out this recipe by Lemons for Lulu which needs to be marinated in advance but can otherwise be cooked in just 15 minutes on the grill.
25. Creamy Kale and Cucumber Salad
Creamy Kale and Cucumber salad by Nutrition in the Kitch is a simple salad recipe made by combining the vegetable ingredients with a homemade mayo-based vinaigrette.
A lighter version of all the other mayo-based salads out there we suggest adding this to your 4th of July menu to help balance it out.
26. Grilled Pineapple with Mascarpone Whipped Cream
All the delicious desserts on the 4th of July can quickly ruin your diet. Make these grilled pineapple slices by Lemons for Lulu which are drizzled with caramel and mascarpone to ensure you still curb your sweets craving without needing to regret it afterward.
27. Acorn Squash Chips
Acorn squash, when sliced and placed in the air fryer can make a tasty replacement for chips. Follow the directions on Nutrition in the Kitch to make some of your own to serve with the included avocado cream dip, or any other dip you may have prepared for your event.
28. Mixed Berry Fruit Salad
Mixed berry fruit salad is a healthy salad you can add to your table this 4th of July. All you need are berries, an apple, lime juice, honey, and poppy seeds and 15 minutes to make this salad from Kathryn's Kitchen Blog.
Remember to pull down your Christmas cooking supplies beforehand to grab a star cookie cutter for the apple.
29. Healthy Bow Tie Pasta Salad
Healthy bow tie pasta salad by Lemons for Lulu is a healthy alternative to macaroni salad. Instead of the heavy mayo, this salad is made with a light vinaigrette that you will make yourself. You can make it in advance or on the day of the party, it will taste the same either way.
Side Dish Recipes for the 4th of July
30. Herb Grilled Corn
Grilled corn is an easy side to make, after all, you just pop it on the grill until it's done. When you want to make your corn recipe just a little bit more fun, make this herbed corn from Lemons for Lulu.
The side involves making a mayo-based sauce to rub on the corn before putting them on the grill.
31. Smokey Lime Grilled Corn on the Cobb
Another variation of the popular grilled corn recipe is this smokey lime corn on the cob by Nutrition in the Kitch. Made with butter, paprika, garlic, lime, and salt, when this corn is finished cooking, it will leave a burst of flavor in your mouth that will make you never want to go back to regular corn again.
32. Grilled Po Boy Salad
Potato salad is a 4th of July recipe staple. But change it up a bit this year and try this grilled Po Boy salad from Lemons for Lulu. The recipe is made with potatoes, shrimp, yogurt, and a slew of spices.
This potato salad has a smokey flavor you will love. For best results make this dish in advance and chill prior to serving.
33. Smoked Baked Beans
If you've already got your smoker on for another recipe, it's easy to add this side dish from Grits and Pinecones to your menu. Made with beans that you will season with ketchup and spices; the result is a sweet and savory side that will compliment any BBQ main dish.
34. Oven Baked French Fries
While not ideal for a 4th of July menu that is centered around a BBQ in the park, these oven-baked French fries by Nutrition in the Kitch are a healthier alternative to most other potato-based sides. Serve them plain with salt if you like but you'll find the included spice mixture is divine.
35. Pina Colada Fruit Salad
Your 4th of July menu wouldn't be complete without some form of fruit salad on the table. Make this easy Pina Colada fruit salad recipe from Lemons for Lulu. The dish
is a regular fruit salad tossed with some orange juice and pina colada mix. Top with some toasted coconut and you will be in summer recipe heaven.
36. Lobster Roll Pasta Salad
Lobster Roll pasta salad from Skinny Taste is irresistible. You'll need to buy some lobster meat, pasta, celery, mayonnaise, yogurt, chives, red onion, and salt, but once you've found all the ingredients making this salad is a breeze.
Vegetarian Recipes for the 4th of July
37. Grilled Veggie Cobb Salad
Are you having a cookout but want to serve an option that will satisfy your vegetarian friends? Make this grilled cobb salat by Lemons for Lulu.
The salad is made by grilling the squash, mushrooms, and zucchini over the grill before cutting them up and tossing them into a salad that you can prepare in advance.
38. Baked Buffalo Cauliflower Wings
Don't leave your vegetarian friend out when it comes to 4th of July wings and make them this alternative by Nutrition in the Kitch. It's essentially cauliflower battered and tossed into wing sauce but the result is something else.
You may even find you prefer these to chicken wings.
39. Grilled Veggie Quesadilla
If you want to serve something that isn't a salad to your vegetarians, consider making them this veggie quesadilla from Lemons for Lulu. They can be made on a grill making them ideal for a picnic situation.
Better make a few extras however because even the non-vegetarians will want some of these.
40. Portobello Mushroom Caps
It can be difficult on the 4th of July to find vegetarian sides so consider grilling these portobello mushroom caps from Jessica Gavin to serve up with the vegetarian main dish you have planned.
You'll have to marinate these in advance, but then they can be cooked on the grill alongside whatever other grilled items you have planned.
41. Black Bean, Corn, and Avocado Salad
Meat and dairy-free, this black bean, corn, and avocado salad by Lemons for Lulu is a vegan option you can serve this 4th of July. Because it contains avocados, you'll need to make it on the day you serve it.
However, it shouldn't be too difficult as the prep time for this recipe is only 15 minutes.
4th of July Drink Recipes
42. Blueberry Vodka Lemonade
Lemonade is the drink of choice in the middle of the summer. While this recipe from Lemons for Lulu isn't exactly red white and blue, it's close enough that it gets an honorary mention.
All you have to do is combine some lemonade with sugar, blueberries, mint leaves, and vodka. Then simply pour over ice and it's ready to go.
43. Layered Vodka Cocktail
The layered vodka cocktail from Peel with Zeel is a showstopper, and not very hard to make. Start by pouring one ounce of grenadine in each glass followed by slowly adding a vodka lemonade mixture. Top with blue curacao and serve.
44. Watermelon Turmeric Lemonade Slushies
For those who still want a lemonade but want something that keeps with the theme a bit better, try these watermelon turmeric lemonade slushies from Nutrition in the Kitch.
Made with lemonade, watermelon, ice, and turmeric this is one 4th of July drink recipe you can feel good about consuming.
45. Fresh Raspberry Mojito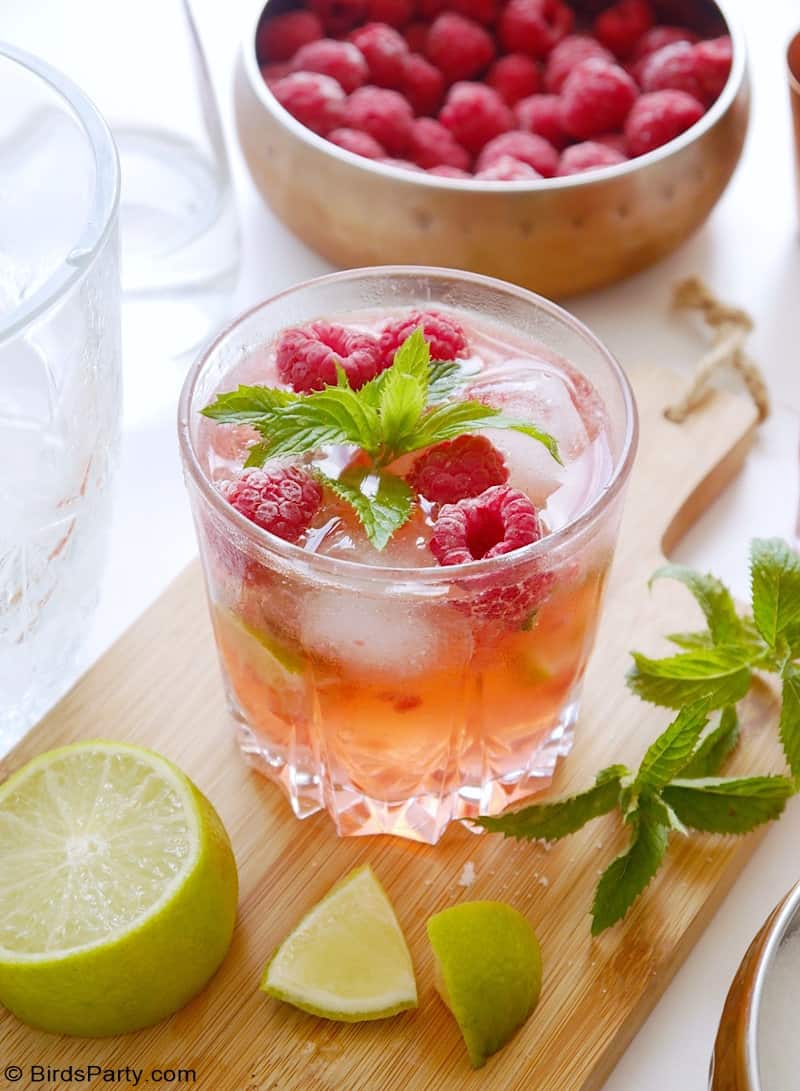 Mojitos can be complicated to make, but if you prepare everything in advance following this recipe by Bird's Party, you can have some put together in just 5 minutes at your event. We recommend freezing the raspberries to make this cocktail cool for a hot day.
46. Froze Strawberry Daiquiri
Hosting your 4th of July event at your home? Then you are close enough to your blender to make these frozen cups of deliciousness from Lemons of Lulu.
Pour all the ingredients in, blend until smooth, then serve. The result is a bright red beverage which will fit in well with your décor for the holiday.
47. Watermelon Banana Smoothie
When the kids at the 4th of July party want to have their own beverage to enjoy, make them this watermelon banana smoothie from Nutrition in the Kitch.
It's made with just fruit and almond milk to help keep it healthy. Blend everything together and this drink is ready to serve in 5 minutes.
48. Rum Punch
The nice thing about rum punch is that it is very easy to make in advance, put in a drink dispenser and let guests help themselves as they please. Check out this recipe on Life Family Fun which requires 2 types of rum, pineapple juice, orange juice, lime juice, and grenadine.
49. Key Lime Cranberry Champagne Drink
Because the 4th of July celebrations usually happen during the day, before nightfall and fireworks, you may be looking for something a little lighter than vodka to serve your guests.
Grab this recipe from Lemons for Lulu which is made by combining cranberry juice, lime juice, and sugar with champagne.
50. Non-Alcoholic Layered Drink
There's no reason to leave kids out of the layered drink fun. For them, make this non-alcoholic layered drink by Emily Enchanted using ice, and different colors of sports drinks. Layer them in the order of red, blue, and white for best results.
FAQ
What is Not Usually Served at a Fourth of July Cookout?
The 4th of July holiday takes place in the summer months, usually in an outdoor environment. For this reason, you want to avoid serving hot drinks, or heavy foods like mashed potatoes and gravy as these may cause your guests to overheat.
What is the Most Patriotic Food?
The most patriotic foods are considered to be burgers, corn, coleslaw, potatoes in any form, and lemonade for a beverage. Most Americans consume one, or all of these items each 4th of July holiday.
What Are Foods You Don't Want to Serve on the 4th of July?
Most 4th of July celebrations take place outside so you want to keep this in mind as you prepare your menu. Soups, sushi, and anything that can melt (ice cream) should not be served on the 4th of July.
Conclusion
Preparing a menu of 4th of July recipes can be a lot of fun. Whether you pick to make burgers or chicken, or maybe switch it up a bit with tacos, everyone is sure to love the recipes you pick.
In order to have the best holiday event possible, it's a good idea to pick out what you will serve in advance and allow yourself plenty of time to shop for ingredients. Begin to cook the desserts and salads the day before and you will enjoy your 4th of July holiday.