Fried Tequila Shots – Angel food cake is dipped in tequila and then fried just until golden.  Each nugget is sprinkled with powdered sugar and dipped in a lime dipping sauce for a sweet twist on traditional tequila shots!
Pin it here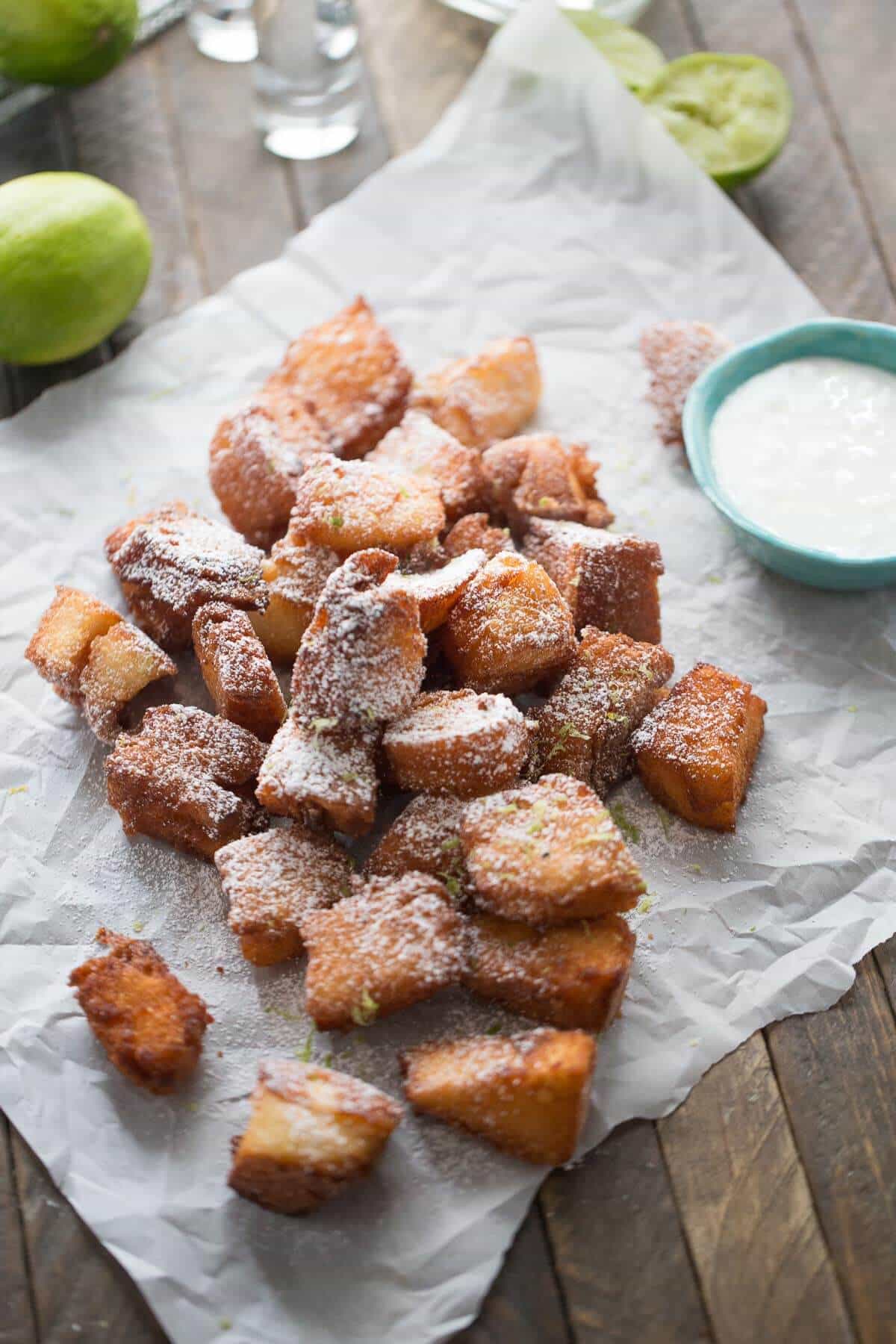 I was at a party several months ago and all the women were gathered in the kitchen munching and talking.  I cannot recall how this came up but a friend of mine asked if any of us have ever had fried tequila.  My answer was no, but I knew in an instant that my answer would eventually be yes.  I was determined to try fried tequila.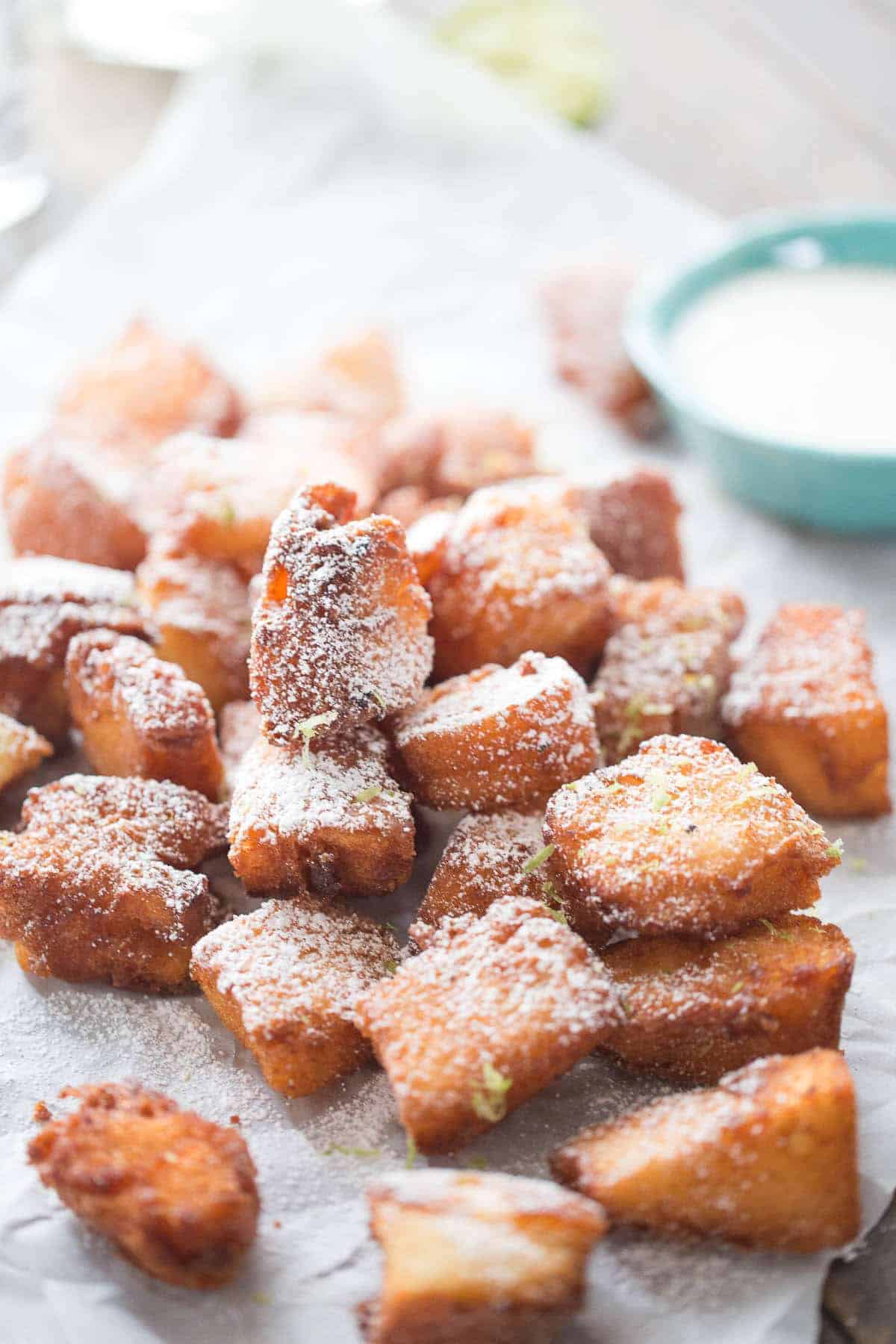 This recipe is basically made with three ingredients.  Angel food cake (I used store-bought, but you could use this recipe for homemade), Tequila (use your favorite) and lime zest.  And then, of course, there is the oil for frying.  Three little ingredients does a party make, or something like that.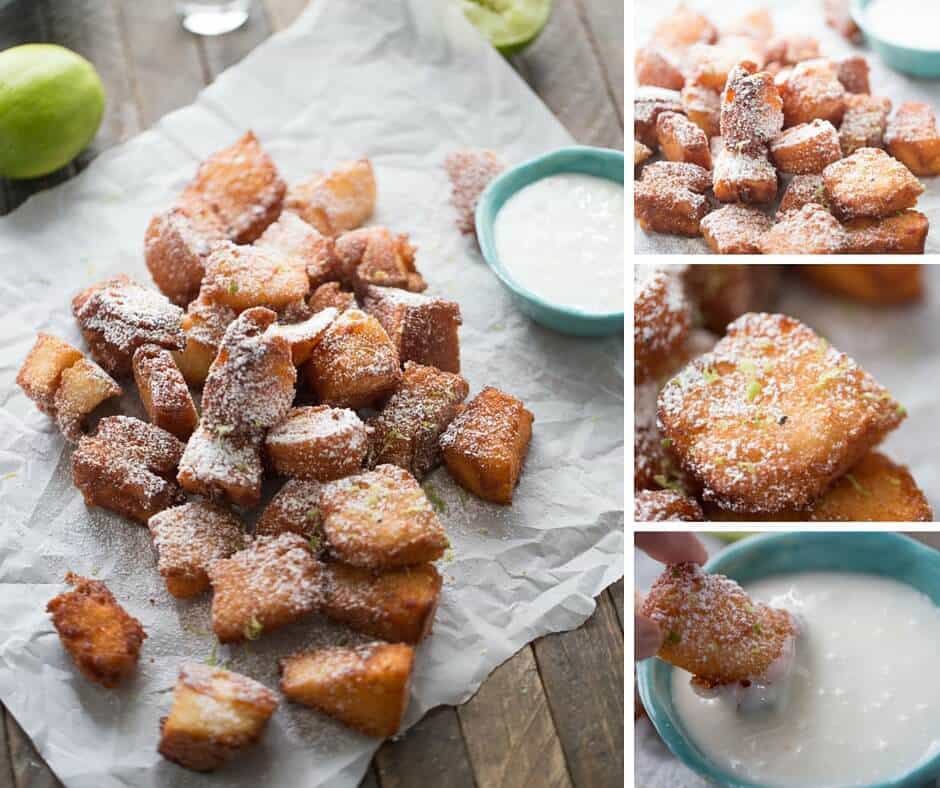 Notes on Fried Tequila Shots
The first thing I did was carefully bring up the temperature of my oil.  You'll know your oil is ready by dropping a tiny piece of cake into the oil.  If tiny bubbles instantly form around the edge, then it's good to go.
I added lime zest and fresh lime juice to a bowlful of tequila.  Please, please, please keep your tequila away from your open flame if you are using a gas stove top.  Alcohol and flames are a recipe for disaster.
Lightly dip your chunks of angel food cake into the tequila mixture.  The cake will soak up the alcohol like a sponge.  Too much alcohol will: 1. make you drunk on cake 2. get a little soggy.  But hey, this is your party, I'm just here to give you the facts.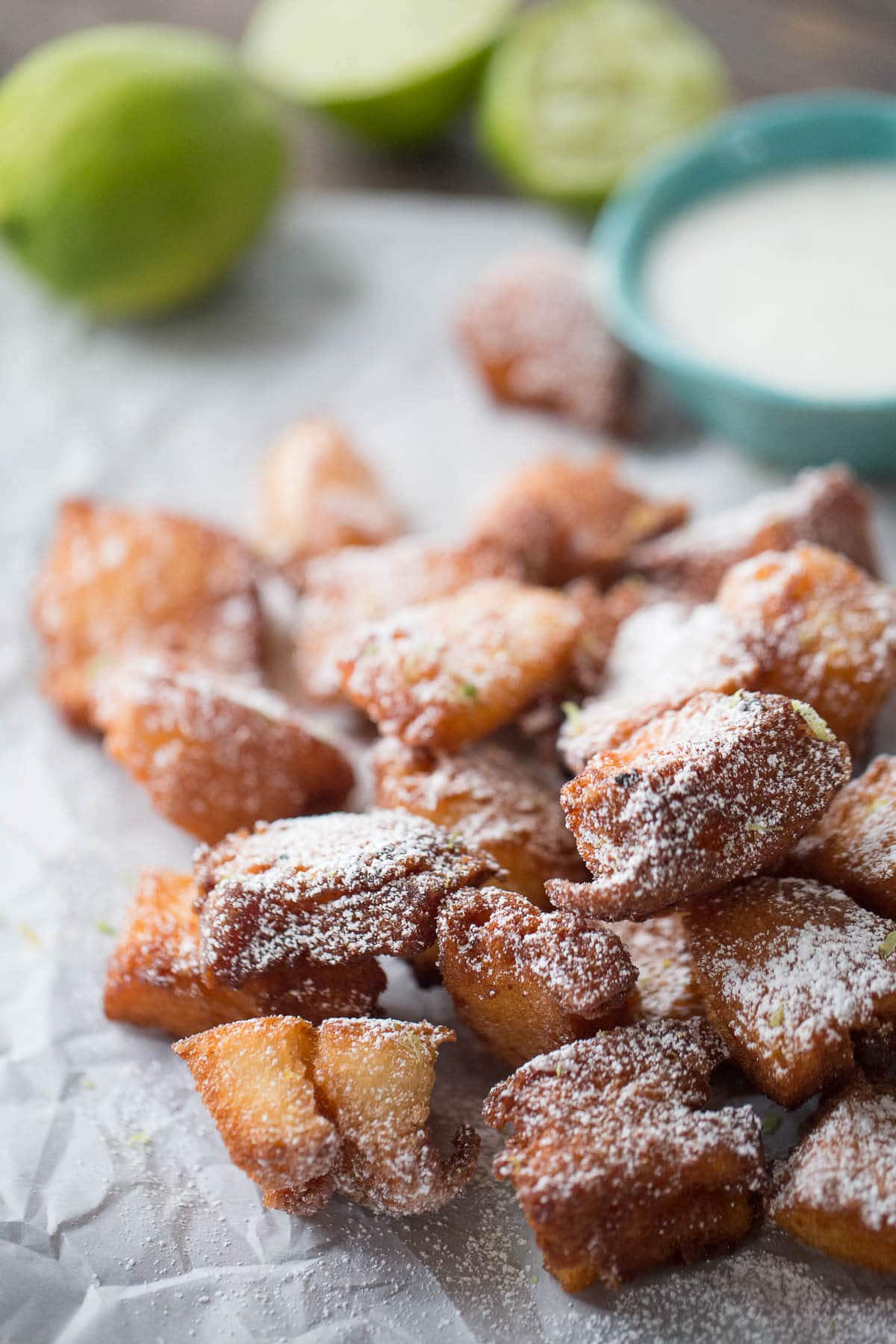 When you place your cake into the hot oil, the oil will crackle, sizzle and spit; again it's the whole alcohol thing.  If you have a mesh net strainer (I used this one), I would use this to lower your cake into the oil.  The cake will not take very long to turn golden.  After a minute of frying, gently turn your cake over to allow the other side to brown.  Remove cake as soon as both sides are a light golden color.
Angel food cake will also absorb oil, so be sure to remove the fried cake immediately.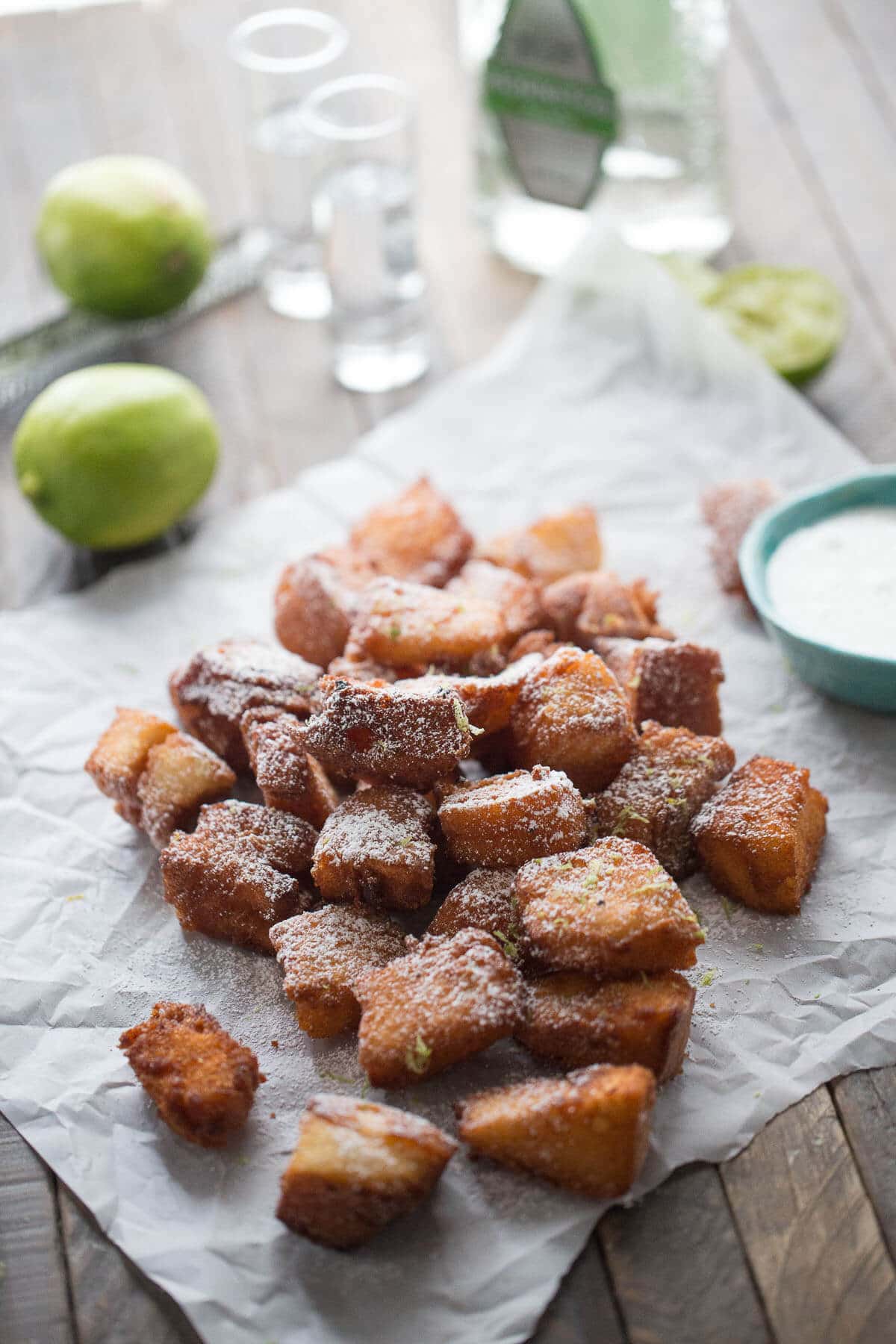 I hit my fried tequila shots with fresh lime zest and then served them with a very simple lime dipping sauce.
Are these fried tequila shots unique?  Yes.  Will they be the life of the party? Yes.  Will you be remembered as the best host ever? HECK YES!
Ingredients
1

store-bought angel food cake, cubed

3/4

cup tequila

1

lime

Oil for frying

Powdered sugar

Lime zest

1

cup powdered sugar

1

tablespoon lime juice

3

tablespoons milk
Instructions
Fill a heavy stock pot with vegetable oil (about 1/3 full) and place it over medium-high heat.
Cut angel food cake into large chunks. Place tequila and the juice from one lime in a shallow bowl. Quickly and lightly dip cake into the tequila (not too much, you don't want the cake piece to absorb too much alcohol). Carefully lower cake piece into the hot oil (be aware that the hot oil will spit because of the alcohol).
Allow each cake piece to brown for about 1 minute per side. Remove cake immediately and allow each piece to drain on a baking sheet lined with a paper towel.
Continue with each cake piece.
Be sure to avoid crowding your pot; too much food at one time will cause your oil temperature to decrease. If the cake is sitting in the oil too long, it will soak up the oil as well leaving you will a soggy mess.
Allow the tequila shots to cool slightly before dusting with powdered sugar; otherwise, the sugar will melt.
Sprinkle fresh lime zest along with the powdered sugar.
For the dipping sauce, whisk together the powdered sugar, lime juice, and milk; serve with fresh fried tequila shots.
These are best when immediately consumed.
.