This hush puppy recipe will knock your socks off with it's bold, tex mex flavor!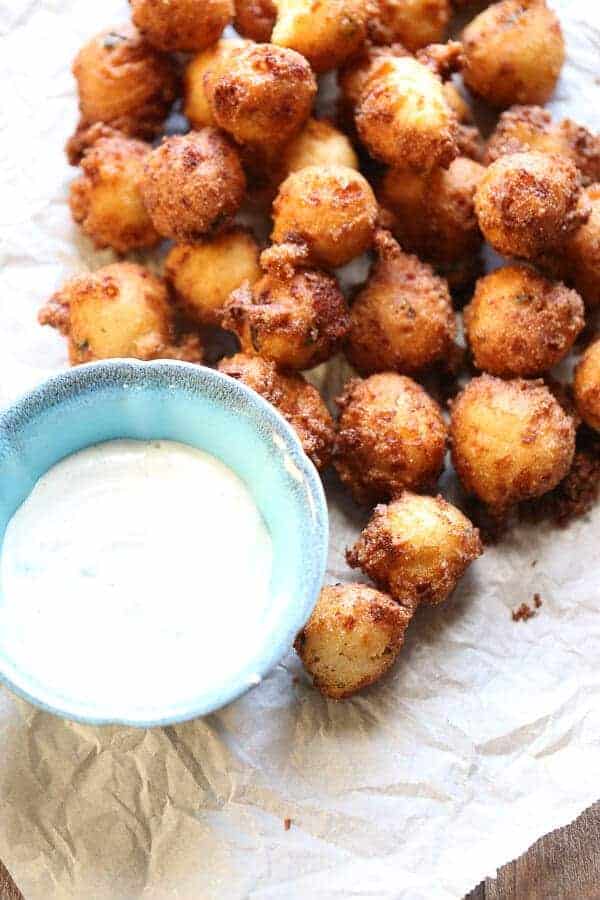 I am of the belief that all teenagers should spend some time working in the fast food industry. Seriously, you learn so much working in those types of restaurants. You learn responsibility, patience, tolerance and humility. You also learn the best shampoos and soaps to use to extract the greasy restaurant smell from your skin and hair. Pretty darn important don't you think?
Certain restaurants have scents that linger way more than others. Long John Silvers would be one of those restaurants. I remember my sister worked there when she was about 17. She would come home reeking of battered fish and shrimp. While her time there was limited she managed to work there long enough to introduce me to my first hush puppy. I'm sure by hush puppy standards these were sub-par at best, but for me they were pure heaven.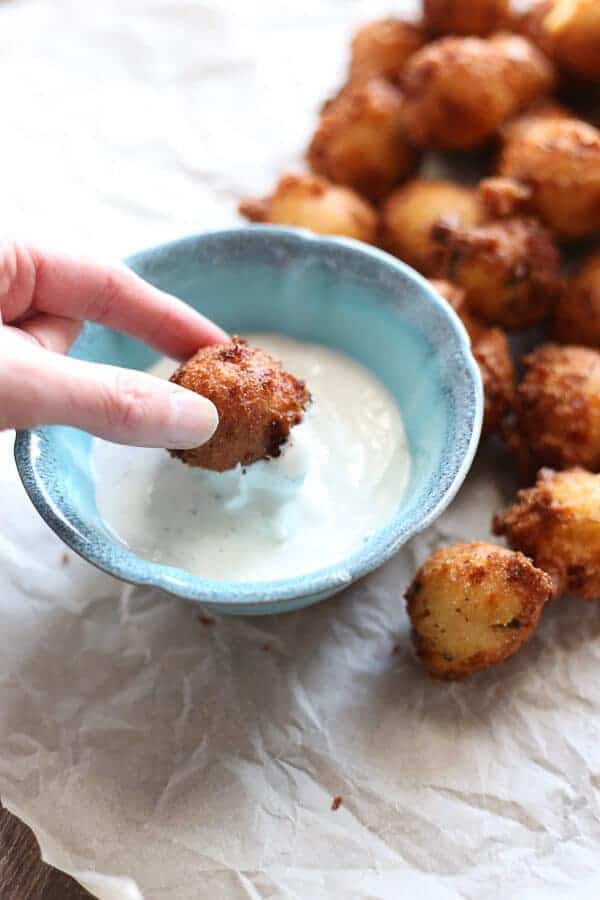 Oh I loved those perfectly poppable hush puppies with their fried golden exterior and their tender insides. I could have eaten buckets of them if my parents would have let me. Once my sister quit and we could no longer enjoy a family discount, we stopped going to Long John Silvers.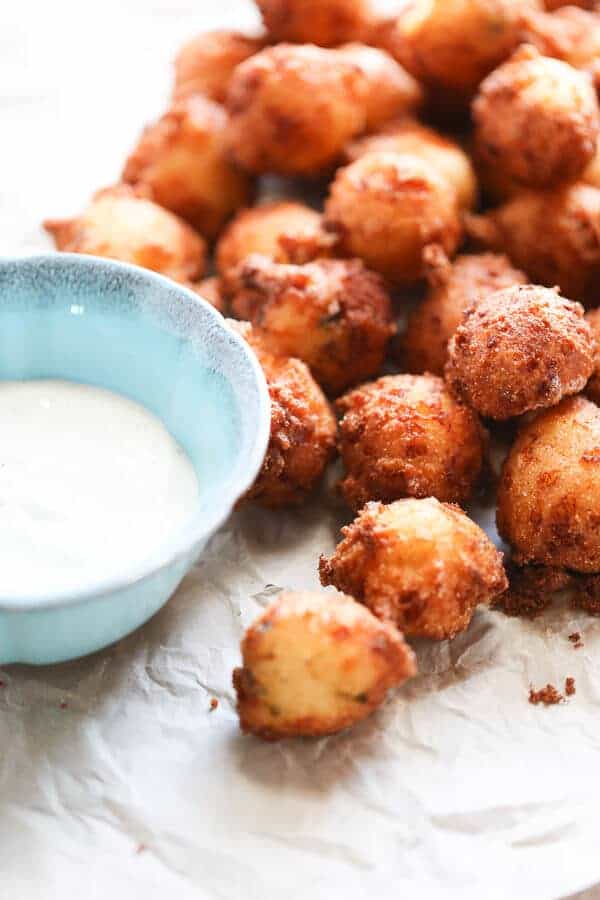 Since it is February and we've all given up on our resolutions (ok, ok, I've given up) I figured it's time to get in the kitchen and fry something! Which brings me to this hush puppy recipe. It is so very simple. The key is to use self rising cornmeal AND self rising flour, that will make the insides tender and fluffy. Secondly, mix the batter just until everything is incorporated and not a second more. Otherwise your puppies will be chewy. Finally be sure to invest in a good thermometer (affiliate link). You need your oil heated to 375 degrees. Do not fry too many hush puppies at once. Overcrowding your pan will cause your oil temperature to decrease. Only fry 3-5 at a time. They fry quickly. Keep a close eye on them so they do not get too dark.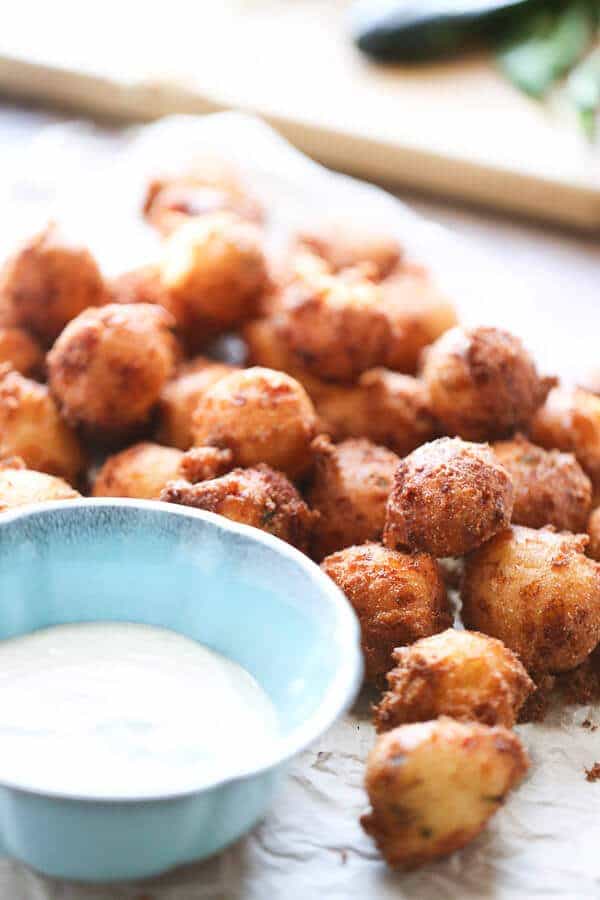 This hush puppy recipe is made with buttermilk. Buttermilk is one of those ingredients you buy for one recipe (like this buttermilk ice cream) but you never actually need that much of it. If you are like me you think you'll be resourceful and use it up somehow but it ends up curdling in the fridge instead. This is exactly why I whipped up a little buttermilk ranch to go along side my pups. I think the cool ranch is just perfect for the bold pepper jack cheese and the poblano peppers in these little puppies.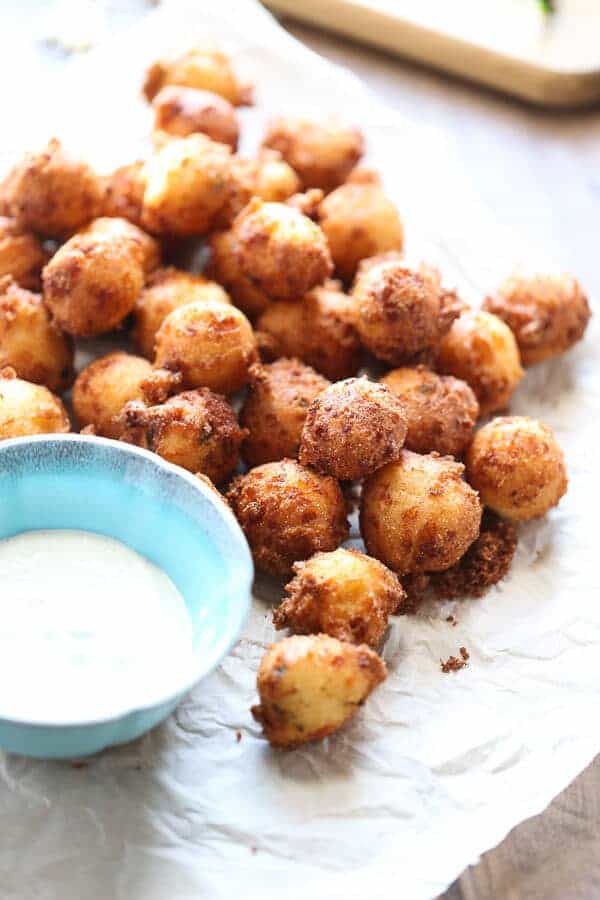 This hush puppy recipe will beat anything found in a restaurant, I guarantee it.
Since they are crazy easy to make, you literally could come up with any flavor combination. Sure there is little grease involved and yes your hair may smell like hush puppies, but it's all totally worth it. These would pair nicely with this Tex-Mex Chicken and Dumplings recipe too! Or serve them along side these Tex-Mex Hot Dogs. or this Slow Cooker Tex-Mex Chicken Stew!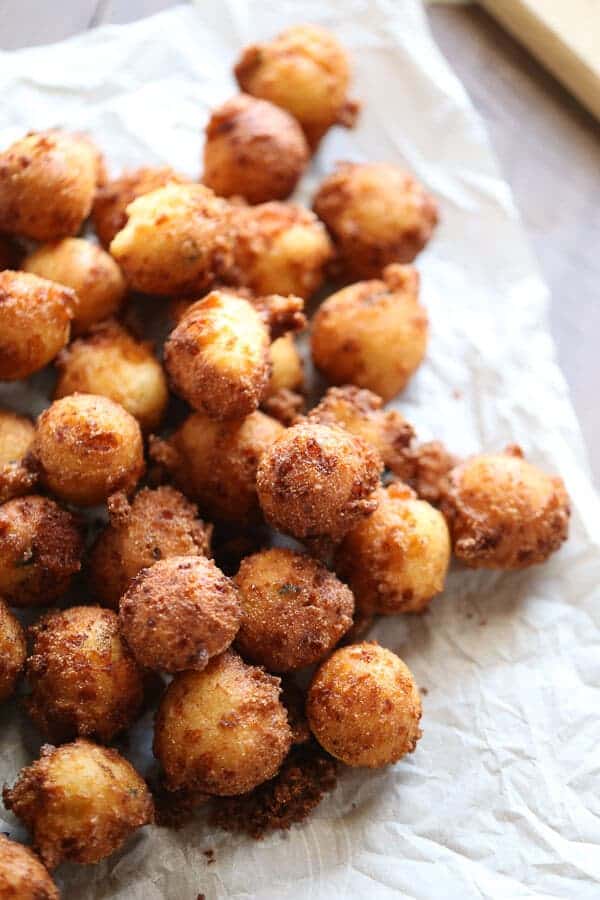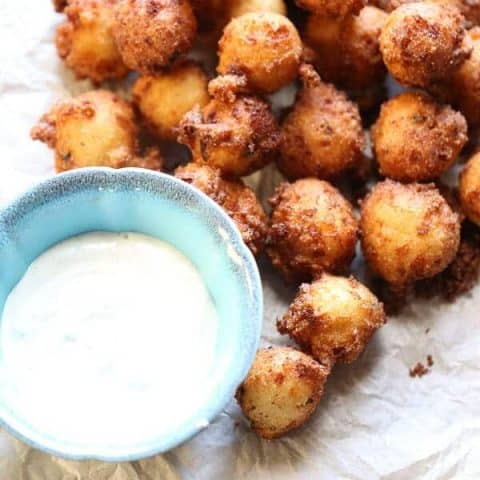 Tex Mex Hush Puppy
Hush puppies with a little Tex Mex flair!
Ingredients
For the hush puppies
1 1/2 cups self rising cornmeal
3/4 cup self rising flour
1 1/2 tablespoon sugar
1/2 cup shredded pepper jack cheese ( I used Cabot)
1/4 cup chopped poblano pepper
1 egg, lightly beaten
1 1/2 cups buttermilk
vegetable oil
For the Dipping Sauce
1/4 cup Greek yogurt
2 tablespoon buttermilk
1 tablespoons Ranch seasoning
Instructions
To prepare your hush puppies, combine cornmeal, flour, sugar, cheese and poblano pepper in a bowl. Add in egg and buttermilk. Stir mixture just until combine. Let batter stand for at least 10 minutes.
In a dutch oven or similar deep pot heat oil over medium-high heat. You need enough oil to come up the side of the pot 2-3 inches. Clip a thermometer to the side of your pot and allow oil to come up to 375 degrees. When oil reaches the correct temperature, drop batter using two teaspoons or a small cookie scoop. Only add 3-5 hush puppies at a time to keep the oil temperature from dropping.
Cook hush puppies for 1-2 minutes per side or until they are golden brown in color. Remove hush puppies to a paper towel-lined plate to drain off excess grease. Continue with remaining batter.
For the dipping sauce, combine all the ingredients in a bowl, serve.
Nutrition Information
Yield

10
Serving Size

1
Amount Per Serving
Calories

166
Total Fat

5g
Saturated Fat

2g
Trans Fat

0g
Unsaturated Fat

3g
Cholesterol

26mg
Sodium

545mg
Carbohydrates

25g
Fiber

2g
Sugar

4g
Protein

7g
(adapted from My Recipes)
I'm sharing this recipe as well as many others at Yummly.com! Head on over to see my recipe box! See what other's are sharing too!

SaveSaveSaveSave