Baked catfish are crunchy on the outside and tender on the inside!  
They are perfectly seasoned and so fun to eat!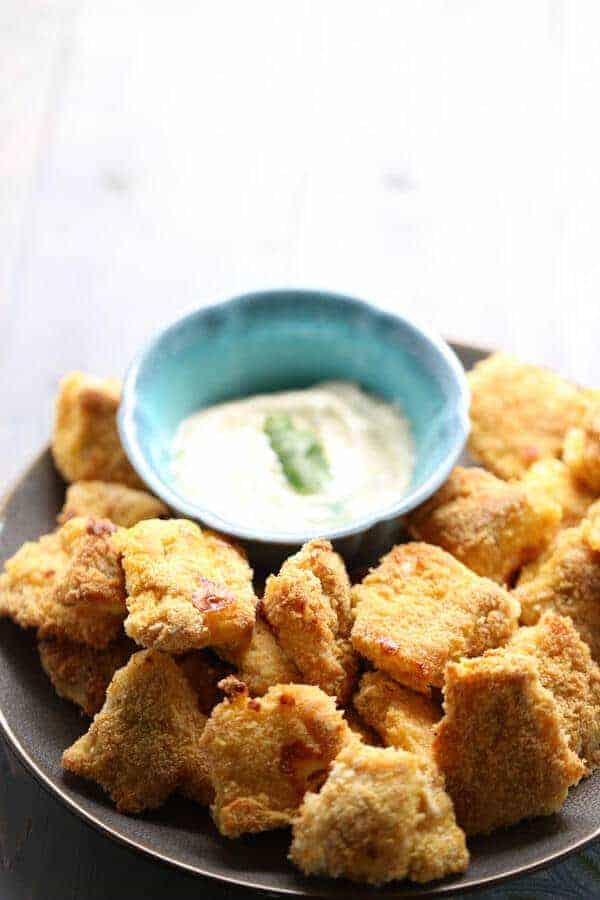 I was going to start this post off with a joke about how catfish are fish with an identity crisis, but that joke isn't  funny.   To be honest, I've only thought of catfish in two ways: alive or frying in a cast iron skillet.    I've pigeon holed catfish.  I picture catfish as the kind of fish big burly guys catch when they are camping alone in the wilderness.  They scale their catch and fry it up in their primitive cast iron skillets.
Catfish are way more than survival food for big burly men!  They are actually extremely versatile.  You can fry them, blacken them, grill them as is or in packets, you can crust them, and add them to any sort of soup or stew.  They have the ability to absorb so much flavor.  Catfish is a firm fish that can stand up to a variety of cooking methods and they are leaner than you might think.
I had the pleasure of indulging in fried catfish bites during a recent trip to Tennessee.   Those little fish nuggets were out of this world.  They were heavily seasoned and fried to a deep golden brown.  After my very first bite I knew I'd have to try to make my own.
I am super happy with my own catfish recipe. For one thing, like my fish sticks, these are baked which makes munching on these a little easier on the waistline.  The breading for these baked catfish is quite simple.  I combined flour with paprika and chipotle powder (I like a little spice), garlic and onion.  You can literally use whatever seasoning you like best.  Dip your breaded fish in beaten eggs then dredge them in a mixture of the panko bread crumbs and cornmeal.  The flour helps the egg stay in place while the egg helps the cornmeal stay in place.  And you have to use both cornmeal and panko.  I found this combination yields a perfect crust that is a crisp equivalent to any fried fish.
The catfish image that I've created in my head has been erased.  These simple baked catfish bites completely change catfish for me!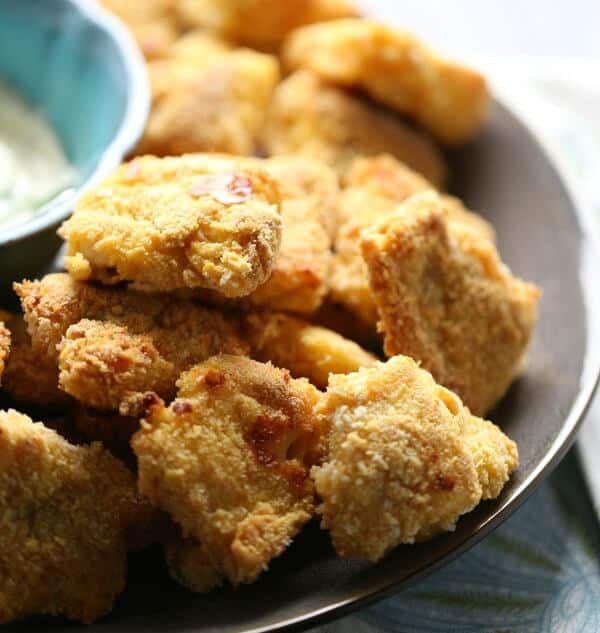 8
adjust servings
Seasoned catfish is lightly baked in the oven and served with a simple remoulade!
Ingredients
For the fish
1 1/2

lbs fresh catfish cut into bite sized pieces

1/2

cup flour

1/2

teaspoon paprika

1/2

teaspoon chipotle powder

1/2

teaspoon black pepper

1/4

teaspoon garlic salt

1/2

teaspoon onion powder

2

eggs

1

tablespoon water

3/4

cup cornmeal

3/4

cup panko
For the sauce
1

cup mayo

2

teaspoons chopped parsley

3

cloves garlic

1/2

teaspoon lemon juice
Instructions
Preheat oven to 425 degrees. Spray a baking sheet with non stick spray and set aside.
Cut catfish into bite sized pieces.
In a bowl, combine flour, paprika, chipotle powder, pepper, salt and onion powder. In a separate bowl, whisk eggs and water. In a third bowl, combine cornmeal and panko bread crumbs.
Working in batches, toss catfish with flour. Dredge fish into eggs and then press into cornmeal mixture. Place coated fish on prepared baking sheet.
Bake fish for 12 minutes, turn fish over and bake an additional 12 minute or until crispy.
For the sauce: combine mayo through lemon juice in a bowl, stir.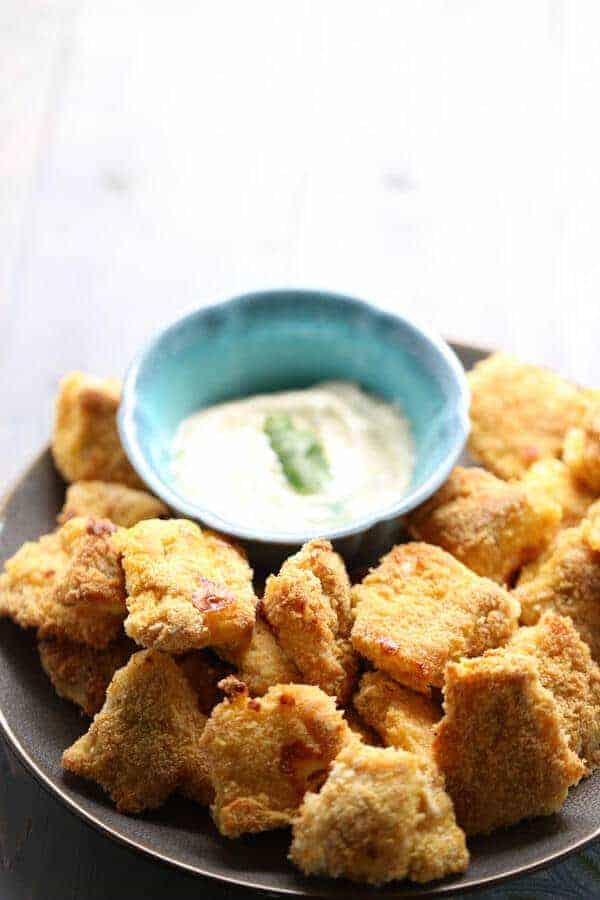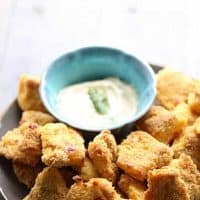 Disclaimer: Please note that some of the links in this post are affiliate links. There is no additional cost to you, but I may earn a small commission if you purchase through those links.